To mark International Women's Day, Hagerty is giving a platform to women driving change. Catch the other interviews in this series and read the bias women face in the car hobby.
Dorothea Smedley always reverses on to her driveway. That way, her Defender TD5 90 is always ready to go. A Yorkshirewoman who leaves little to chance, "if anything wants doing it gets done, and it gets done right," she has a steely commitment to keeping her Land Rover on the road. A diesel tank more than half full kind of woman, "never, ever leave a motor without fuel in it," she can be relied upon to turn up – and tow you out of a muddy field.
How much is your car to insure? Find out in four easy steps.
Get a quote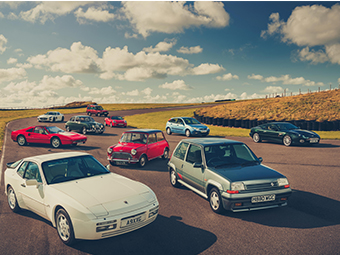 Prepared for a middle of the night emergency, although she'd prefer an invitation for adventure, Dorothea has a vivacity that belies her tiny stature. Driving in two-inch kitten-heeled shoes, she says, helps with that. At 82, Dorothea is the woman I want to be when I grow up. Fiercely independent, a trait that is intrinsically linked with her turbo-boosted "Landy", she is as inspiring as she is impressive when she's sat behind the wheel.
"Get yourself sorted," Dorothea instructs, as we approach her Zambezi Silver Defender. A purchase made in the aftermath of a misfortune that almost destroyed her go-getting attitude, "you can only be the strong one for so long and then eventually you just don't have it to do anymore," I notice the Defender bears a chivvying phrase: 1 life, live it. "The man that made that, made it wrong," she proclaims. "It should be one life, live it. Now come on," she says. Evidently not one to dwell, it's time to go out for a drive.
Save for Radley, Dorothea's sturdy Scottish Terrier, road tripping with a passenger is a rarity, "nobody else might ride in this Land Rover again this year." I feel privileged for the opportunity to buckle up. Accustomed to travelling alone since her husband Kenneth died in 2002, it's a freedom, that I sense, is bittersweet. "I think of him every day and I would give everything I have, and more besides, if I could have him back for a day," says Dorothea. "But, it ain't gonna happen. I've done 21 year now on my own so that's the way it'll stay." I hesitate, but am compelled to ask: "If you could have him back for a day…" I pause, leaving the question half finished and hanging in the air. "…where would you go?." Laughing softly, Dorothea graciously replies: "I don't know." She says it twice more before deciding upon Filey; a place where many happy family holidays were spent.
With 200bhp from the tuned diesel engine beneath her right foot, Dorothea is eager to move on from the sentimentals, and with a bit of pressure on the accelerator we to take off into the North Yorkshire hills. "It's all right, is my Defender." No ordinary production vehicle, Dorothea's 2003 Defender TD5 90 is an early customisation by Twisted Automotive whose mission is to re-engineer Defenders to extraordinary standards.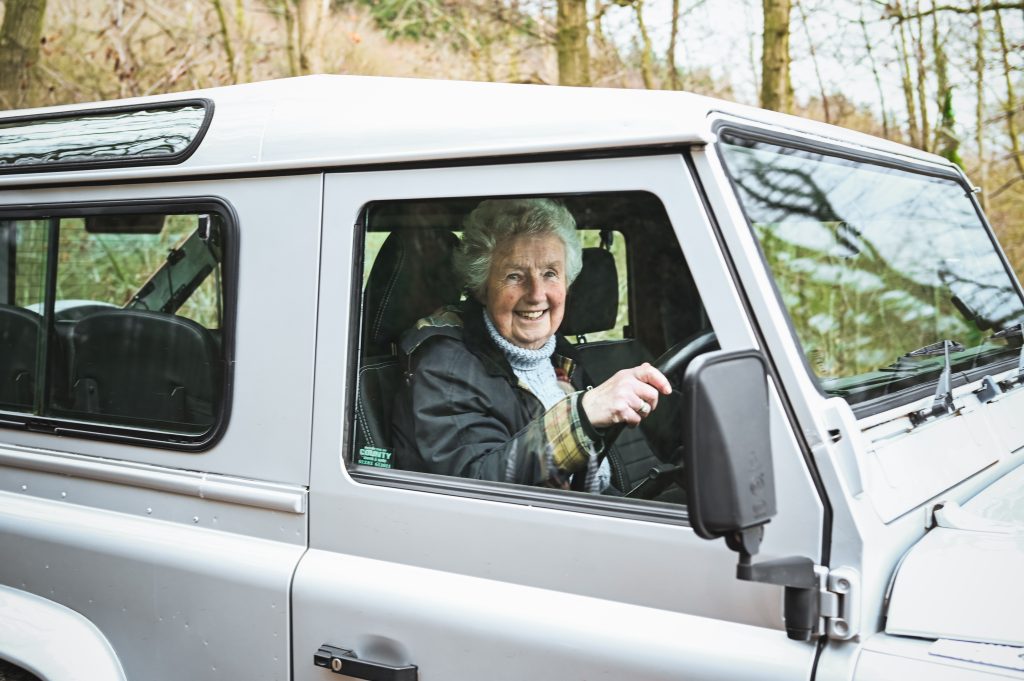 The car's makeover, completed 13 years ago, included an ECU upgrade to the 2.5-litre engine, "it sounds like it should do; throaty," as well as the installation of a high performance air filter and stainless steel exhaust system, uprated suspension and anti-roll bar, and more boost for the turbo. The chunky 18-inch hurricane alloys are a flashy finishing touch. Dorothea's one criticism? It's a little too electronics-dependent. "Heated windscreen, electric windows, air-conditioning, it's got everything that can and will go wrong. That's why I spend the money on having it serviced." There is, however, a special feature that gets her approval; the recently recommissioned heated seats. The warmth helps relieve the arthritic pain in Dorothea's spine.
A charmed example of her derring-do, the first time Dorothea "had a do" at driving was at the helm of her father's 1935 Riley on Southport Sands. An expansive and quiet stretch of the North West coast, it was ideal, I assume, for letting loose a twelve-year-old in a 2.5-litre engined vehicle. "My dad always encouraged me," says Dorothea, who was unfazed by her introduction to the workings of a pre-war, pre-selector gearbox. At 19, she met Kenneth; at 21, he became her husband; and at 24, now a young mother, Dorothea took and passed her driving test. "There wasn't many women [with a licence] but he [Kenneth] never believed a woman couldn't do it." I romanticise this as an empowering turning point, but Dorothea is far more matter of fact. The licence, she clarifies, made daily norms – the school run and shopping – much easier. It also made "the pleasure" of going to the seaside a more frequent treat.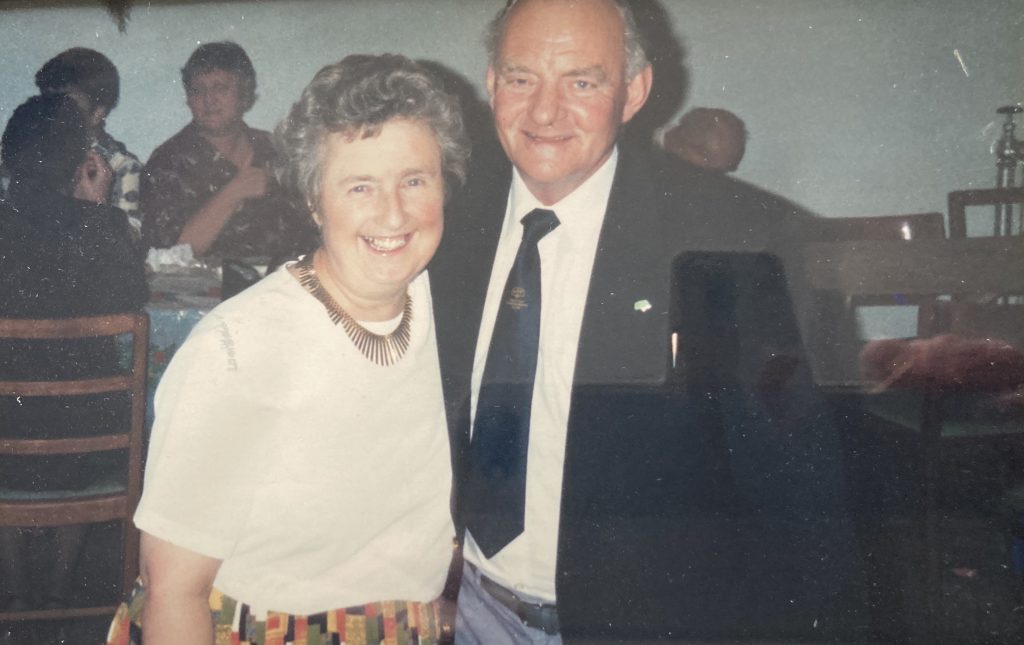 Dorothea's maiden drive in a Land Rover came thanks to Kenneth, a mechanic, when he equipped her with a Series 2a in the late sixties. As a "work horse," its purpose was to traverse the bumpy two-mile track that led to the farm where they lived, but as a mode of transport it marked the start of Dorothea's love affair with one of Britain's most iconic marques. "We've had the lot, you name it, we've had it," says the octogenarian as she finds fifth gear. The smile that flashes across her face tells me that putting her Landy through its paces is one of her greatest joys.
"If I get at the back of a wagon on't motorway I've got the power to pass. I've got all the confidence in the world with it." By all accounts, it's an unshakable union between woman and machine, but it's one that began in turmoil.
Married for 39 years and one month to the day when Kenneth died, the couple – who shared two children (Karen and Phillip) and a passion for caravanning – knew they were living on borrowed time. "My husband got a bee in his bonnet about getting a [Defender] 90 and he found one that was the bees knees," says Dorothea. "It was a lovely dark green one with 9,000 miles on the clock. He said it would be the last one I ever had." Three weeks after Kenneth gave Dorothea the keys, he was gone, and six years after that, the keys were gone too. "The thieves went in my caravan, which I hadn't locked, and tipped every cupboard up until they found my Land Rover keys – leaving them in there was the biggest mistake I ever made – but what annoyed me more than anything was they kicked the little Scottie dog that I had at the time."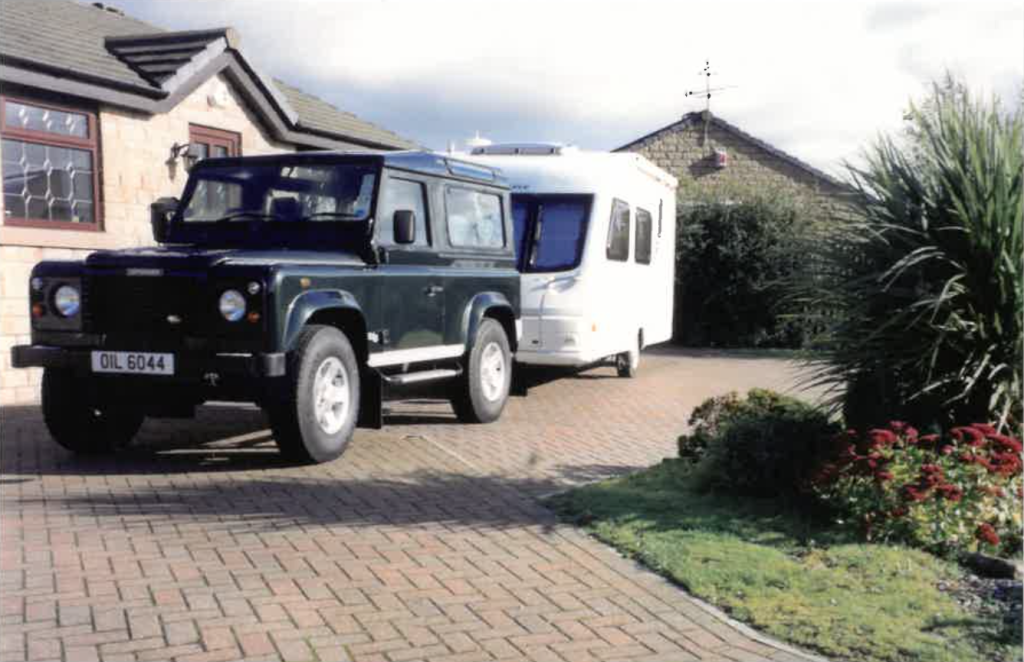 A car that's much-desired by criminals, the theft of Dorothea's Defender occurred at a caravan site near Blyth services on the A1 in October 2010. She suspects it was spotted and subsequently targeted when she stopped to refuel. Last seen "going like hell" on the motorway by the driver who came to recover Dorothea's caravan the next day, the Defender, sadly, disappeared. "I must admit, I cried, and cried, and cried. I used to keep Ken's disabled badge behind the sun visor so every time I pulled it down his photograph were there. When they pinched my Landy, they pinched me picture." The tale renders me speechless, but Dorothea has something to say to the thieves: "I hope it didn't bring you any luck."
Ready for a rejuvenative brew and some light refreshments – Dorothea takes her bacon on brown bread with no sauce but lashings of butter – we make a pitstop at Twisted's headquarters in Thirsk. It's a homecoming for the TD5, but I discover the team were also caretakers of the stolen green Defender and I get the feeling that for her, Twisted is a safe space. "When she [Dorothea] called me to say someone had taken her 90, it struck a chord," recalls Charles Fawcett, the company's founder. Supplying a replacement was a strange mix of business as well as lessening the devastation of Dorothea's loss. "Clearly she was quite upset, but she had a stiff upper lip and got on with it."
Arriving for a test drive at quarter to five on a snowy winter's night, "I were full of cold, but I wanted a motor," Dorothea found a familiarity in the TD5. Slightly more spritely than the one Kenneth had bought her, she sought a second opinion from her son, who agreed it was a "yes." Parting with £14,995 to make it hers, the Defender was the first she has ever bought. Today, the starting price for an equivalent vehicle has risen to almost double that. "Thing is, you need to buy one from someone that's right. I got mine with 55,000 miles on the clock and I've done well over 131,000 now with no real faults. I wouldn't have kept it this long would I if I weren't happy with it."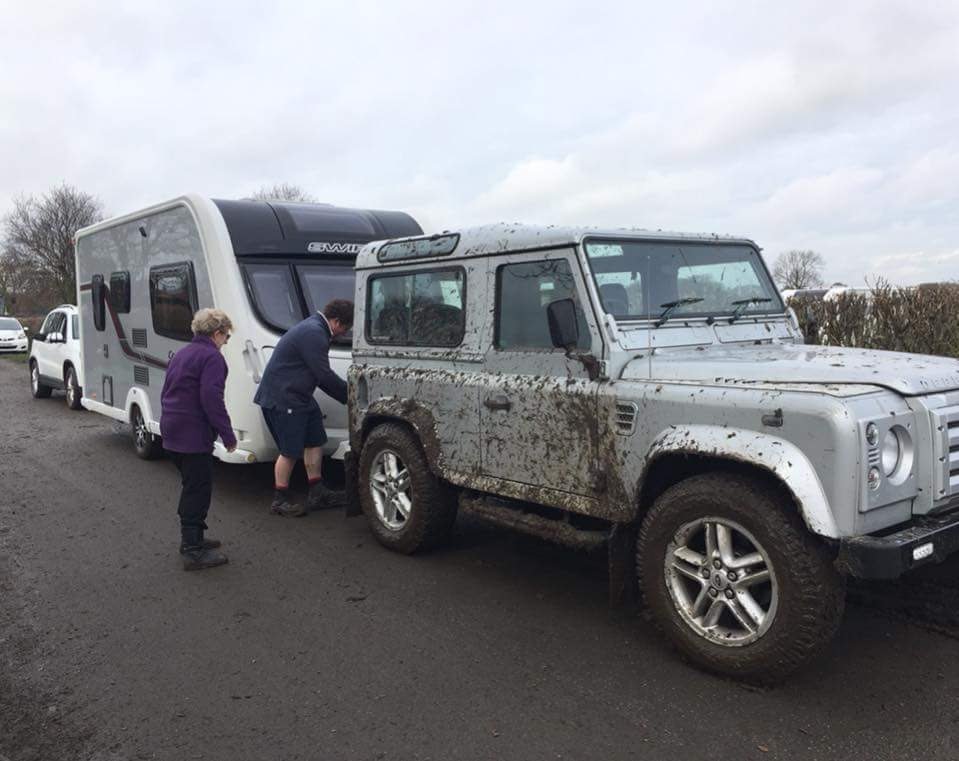 Fitted with a tracker, immobiliser and steps on the side and rear to make it easier for Dorothea and Radley to climb in and out, "we've only got short legs," Dorothea's Defender, by Charles's summation "has become her life partner." Perfectly imperfect, the 90's windscreen has sprung a new leak, but it's something that doesn't bother her as she know it's a straightforward fix. "She has an appreciation of the mechanics and a sympathy for how a Land Rover is put together. She sees its flaws but lets the charm and practicality rule her appreciation of the vehicle," says Fawcett.
Responsible for rescuing over forty stranded cars from a waterlogged field in a single day, Dorothea is used to getting others out of a pickle, but thrives on being self-sufficient. "People say to me 'why do you drive round in a mini wagon?.' I say because it gets me on a mucky field and it'll get me off a mucky field." Its road presence and ability to pull her caravan also accounts for a lot. "I've always said if I ever have a bump let me have one in a big motor with a bit of clout. This one does the job."
During our farewell exchange, I tell Dorothea to go steady. "It's like they say, better two minutes late in this world, than a minute too soon in the next," is her ever-pragmatic response.
Read more
More women are joining the car hobby but bias is still a barrier
11 women who made automotive history
Chloe Sales, a precision welder with zero-tolerance for gender stereotypes