Yannick Read doesn't set out to break records, his creative process is a little too haphazard for that, but his "weird and wonderful" inventions – including the world's smallest caravan – have made it into the book of Guinness World Records.
Dinky enough to be awarded the title but substantial enough to be deemed roadworthy, Yannick – who you can follow on Instagram – used the caravan for mini-breaks around the UK. Kitted out with a bed, interior lights, TV, kettle and drinks shelf, the tiny-tourer measured 2.39m in length, stood at 1.53m and was less than a metre wide. He also designed the paravelo, which is (unofficially) the world's first flying bicycle.
How much is your car to insure? Find out in four easy steps.
Get a quote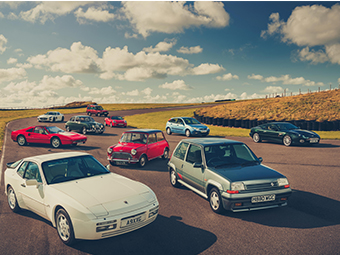 Attributing his flair for building miniature automobiles to growing up during the seventies in a world without the internet and with limited time in front of a television "I was always making stuff to amuse myself," Yannick, constructed his first micro automotive "Super Tinky" for his three children; Noah, Bertie and Olive.
Powered by a mobility scooter motor, the miniature Citroën H van had a top speed of 8mph, which feels nippier than you'd expect, says Yannick. With a gas griddle in the back, Yannick suspects his mobile BBQ could have been the world's smallest burger van, but he sold it before he was able to find out.
"I don't think I've ever built the same thing twice," says Yannick. "The miniatures are never exact replicas of what they're inspired by, but they've got to look right, they've got to be close enough that they capture the essence of the vehicle." says Yannick.
Perfectly imperfect, the part-time inventors' mini automotives have included a slammed Chevrolet Step-Van with "pimp my ride style modifications" and a collection of motorbikes inspired by classic Harley Davidson, Rudge and Indian Motorcycle designs. Not intended to be ridden, they do however, run.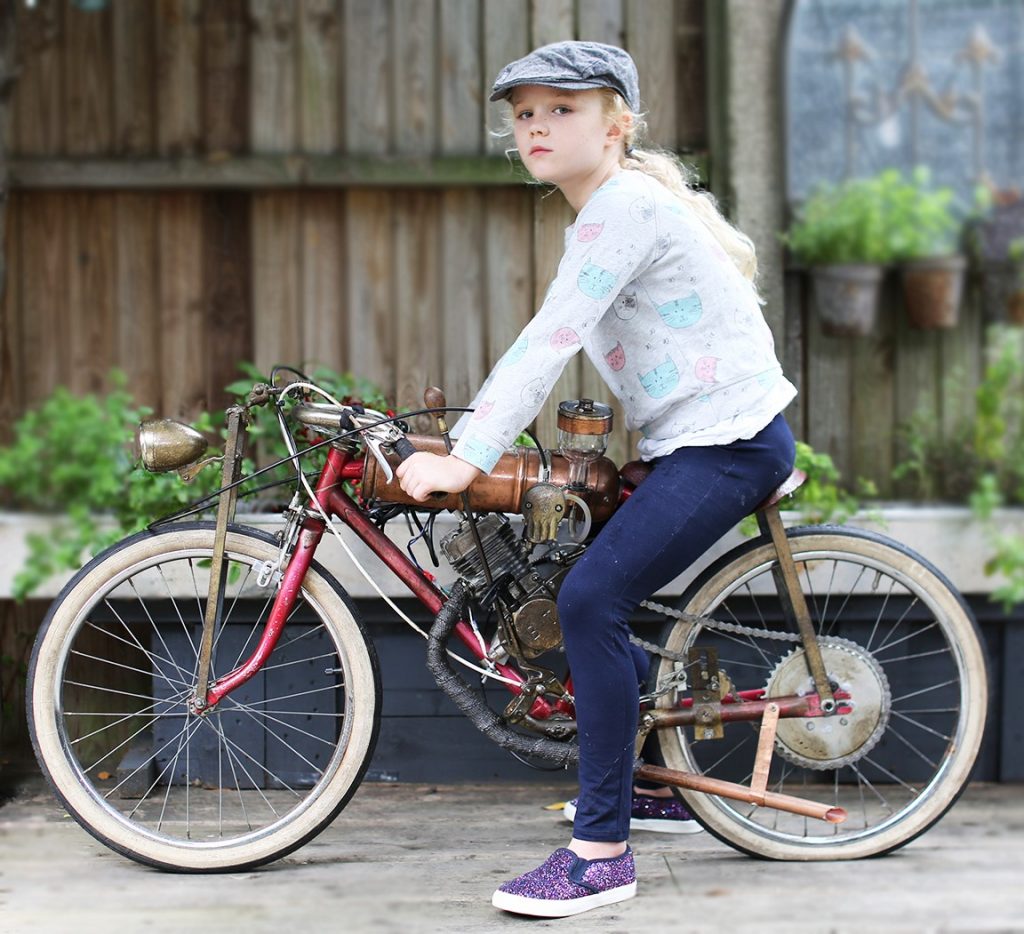 "They're not supposed to be specific bikes, they're tributes," he says. "To build them I start by welding a frame using steel from old bicycles and then just add stuff. If you're a purist motorbike collector you might be horrified by them, but I like that pastiche. I don't work to a plan or a sketch – unless it's a commission – I just have an idea and go with it. If I don't like the look of something or it's going wrong, I'll chop it in half, remove stuff and start again. It's not particularly, um, efficient."
There is some consistency to Yannick's output though – he keeps returning to the Citroën H van. "There's something so charming about the H van, they look like toys even when they're full size, so they work very well on a small scale and they're good fun to build."
In an uncharacteristically organised fashion, Yannick has used technical drawings to create templates for H van body panels, and depending on the specification (the starting price for a custom van is around £2500) he can build one from scratch in about a week.
"I don't really calculate how long things take because I enjoy it so much that it never feels like a chore. The beauty of the H van is that it's cartoon-like and very forgiving because it's made of mainly flat panels. I make a pick-up version, I can do one with a short or long wheelbase, a high top and offer different coaching equipment such as a Prosecco pump or refrigerated beer keg system."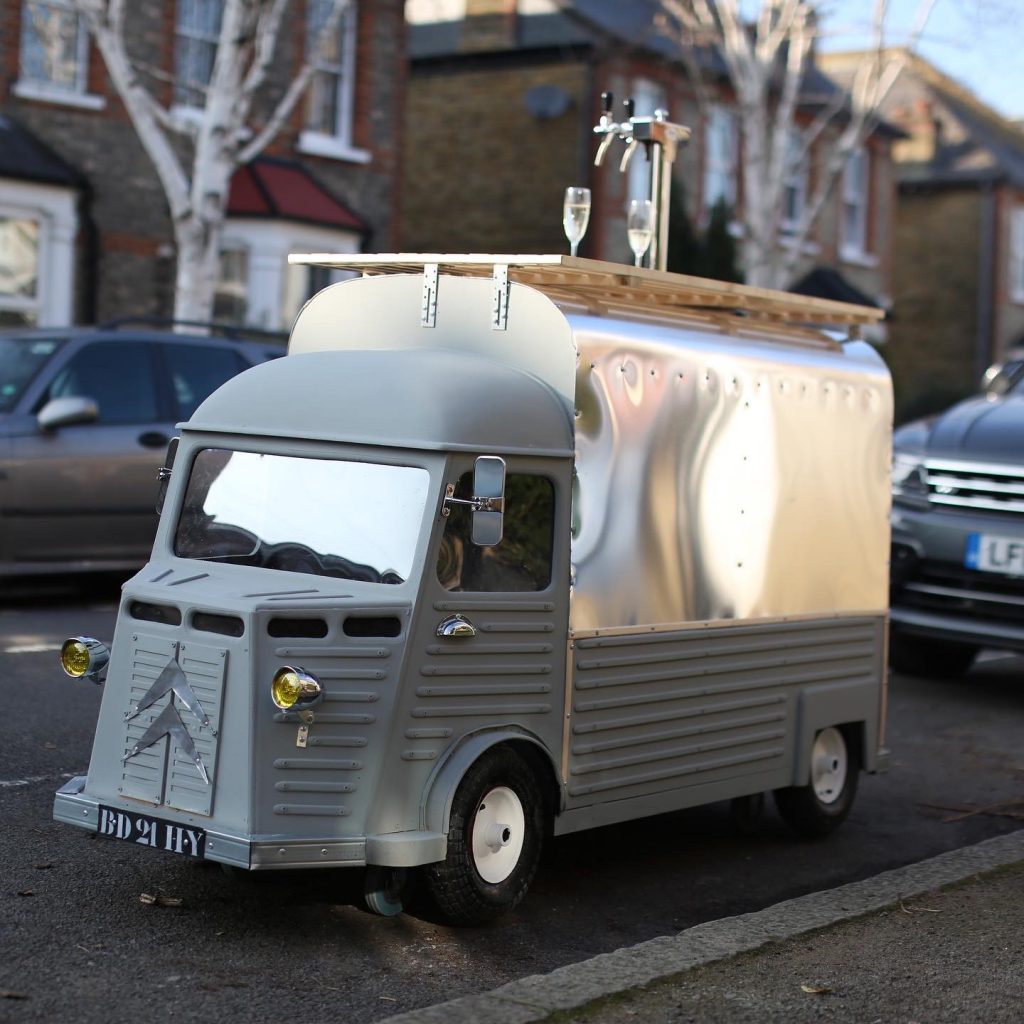 Fittingly, Yannick manufactures his miniature marvels in a narrow alleyway that runs along the side of his home in Kingston upon Thames, London, and although the lack of space to spread out is a factor that has contributed to building scaled down (but not to scale) versions of some of his favourite vintage vehicles, it's not the main reason: "These things spark joy, you can't help but smile when you see a tiny Citroën H van and it's nice to make something that makes people smile," he says.
Not all of them are road faring, but Yannick's designs have been known to stop traffic when he's wheeled them out into the street to show neighbours what he's been making – placating them with beer at the same time.
"It's a little bit ugly behind the scenes. It's not high level engineering but I use an angle grinder, a welder, and a whole load of cordless tools," says Yannick, who has experienced a surge in commissions since the pandemic began. A demand he attributes to the need for businesses to provide drinks in an outdoor setting. 
"I make so much noise when I'm putting these things together, particularly when I'm using the angle grinder, it's a bit of a payoff for the neighbours. We don't live on a busy road, but they look good and people stop their cars when they're passing because they want to know what they are."
Using recycled materials as much as possible, Yannick (whose 9 to 5 is producing web content for an insurance company), links his desire to live more sustainably and make new from old to his grandmother.
"She was amazing at making stuff, she was the war generation. People were much more keen to make do and mend back then, to do something themselves, they didn't think anything of it. It wasn't a big deal," says Yannick, who sources materials from skips as well as from a friend who restores bikes.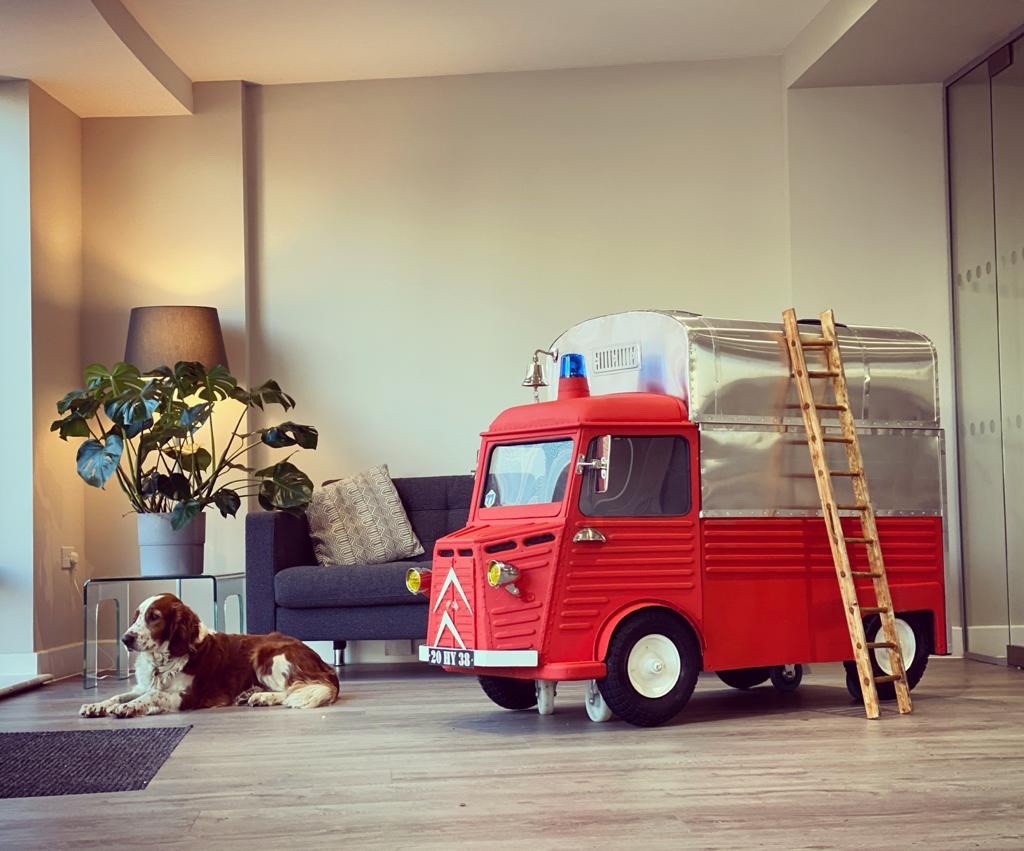 "I remember, she built her own caravan, canoes, all sorts of creative stuff – it was a cultural thing. When I go to the tip I'm always staggered by how much stuff people throw away. If I had the right to go through everything there, that would be my dream. Sometimes, when no one is watching, I do fish things out – it's like one of those games at the fair."
With Dinky car toy models in mind, for his next big, little project, Yannick wants to build a small fleet of vehicles with their own packaging. "I'll build a cardboard box for each one to sit on, like it's a toy that's just been opened. I love the idea of that nostalgia, imagine, it's the sort of thing you might have found under the Christmas tree if you were very lucky when you were a kid."
If he's ever able to find somewhere bigger to work, a "Weird Imaginarium of Yannick Read" could be on the cards. "If I had a huge barn I would probably keep a few of my creations. I think they'd look quite mad together as a collection of work, I quite fancy the idea of putting them together and doing an exhibition, it would be nice to have a weird, freakish museum. Just for the lol's really."
Read more
Hard Craft: Philipp Eissner, the man who makes lights from car parts
Richard Hammond launches new classic car workshop – and a TV show to go with it
Hard Craft: Jake Yorath, graphic designer and illustrator