In 2008 the Independent ran an article headlined 'Vertu: the Phone That Says Bling Bling' featuring the designer holding a gold example costing 24,000 euros. Back then this offshoot of Nokia was riding high selling pimped versions of regular mobiles remade with luxury materials. Fast forward to 2017 and the company had collapsed. In the intervening years, the phone went from having a screen to being a screen, removing Vertu's ability to add value through traditional craftsmanship.
A similar process is happening in the car world. While luxury and premium carmakers can still add value by covering seats with in the softest leather, door caps with delicately-pattened wood veneers and create handles from silky aluminium billet, the dashboard is increasingly becoming a space dominated by one, two or even three screens.
How much is your car to insure? Find out in four easy steps.
Get a quote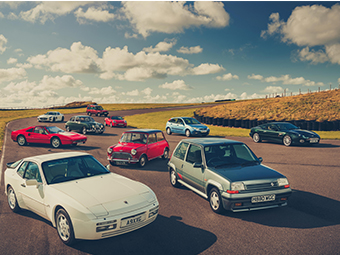 That presents a problem. How do you create that same feeling of exclusivity on the user interface when the gold standard is created no longer by a craftsman or craftswoman in a brown apron – the sort you might find at Bentley's home of Crewe or Rolls-Royce's Goodwood plant – but a programmer in Silicon Valley?
Bentley reckons it can combine the skills of both. "We're trying to develop ideas digitally that gives value to every pixel," Darren Day, Bentley head of interior design, told Hagerty. "We don't want to lose the craftsmanship". Bentley has assembled a team of what Day calls digital craftsmen to create beautiful instruments, seen first on the Continental GT and now on the facelifted version of the Bentayga SUV.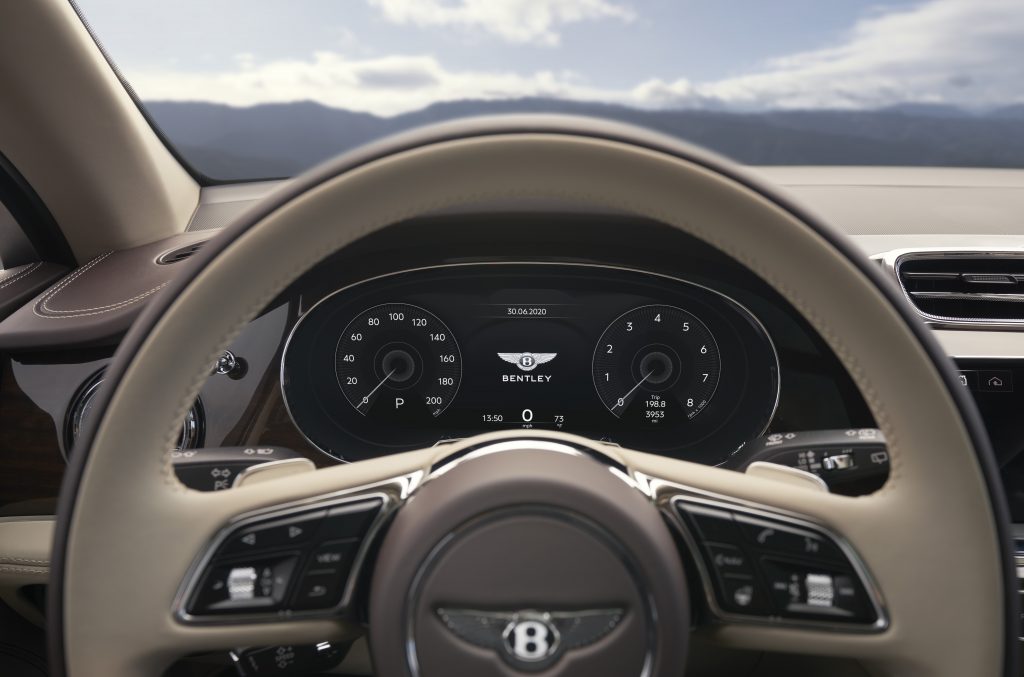 A word used a lot among designers of user interface (UI), or user experience (UX) is skeuomorphic, which means a digital copy of a physical object. For a model like the Conti GT with all its long grand tourer heritage, replacing the dials in front the driver with a screen was a scarily modern move. So Bentley created smart copies of traditional dials with needles that even reflected off the digitally recreated chrome as they swung around.
The Bentayga SUV with its rich history stretching back to, ooh last Tuesday in Bentley terms was seen as somewhere to be bolder. "We thought it would be nice to create something that's more like a piece of art as opposed to a skeuomorphic copy of something," Day said. The resulting digital dials are more reminiscent of the daisywheel of an old-school typewriter than anything found in a car but the mesmerising part is seeing the needles light up their path, interacting with the metallic surface in a clever display of refracting light.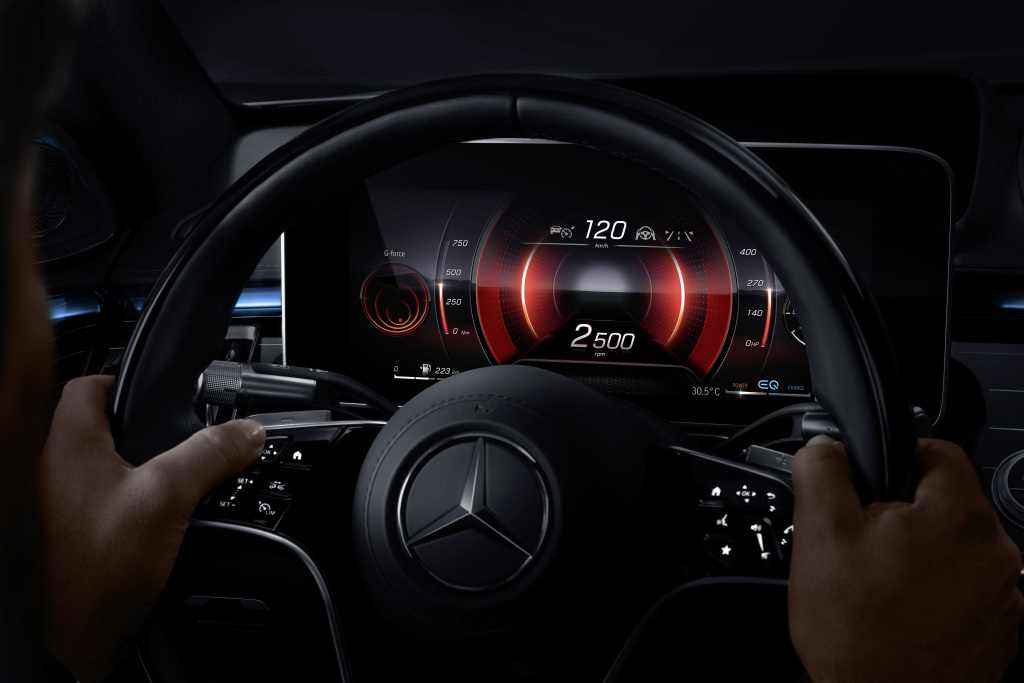 Of course, replacing physical dials with a screen means you can offer the customer a choice of what they want to see in front of them. Mercedes offers four different display styles in the latest iteration of its MBUX (Mercedes-Benz User Experience) system, Discreet, Sporty, Exclusive and Classic, all but one of which recreate the traditional twin-dial binnacle display, suggesting that old habits die hard.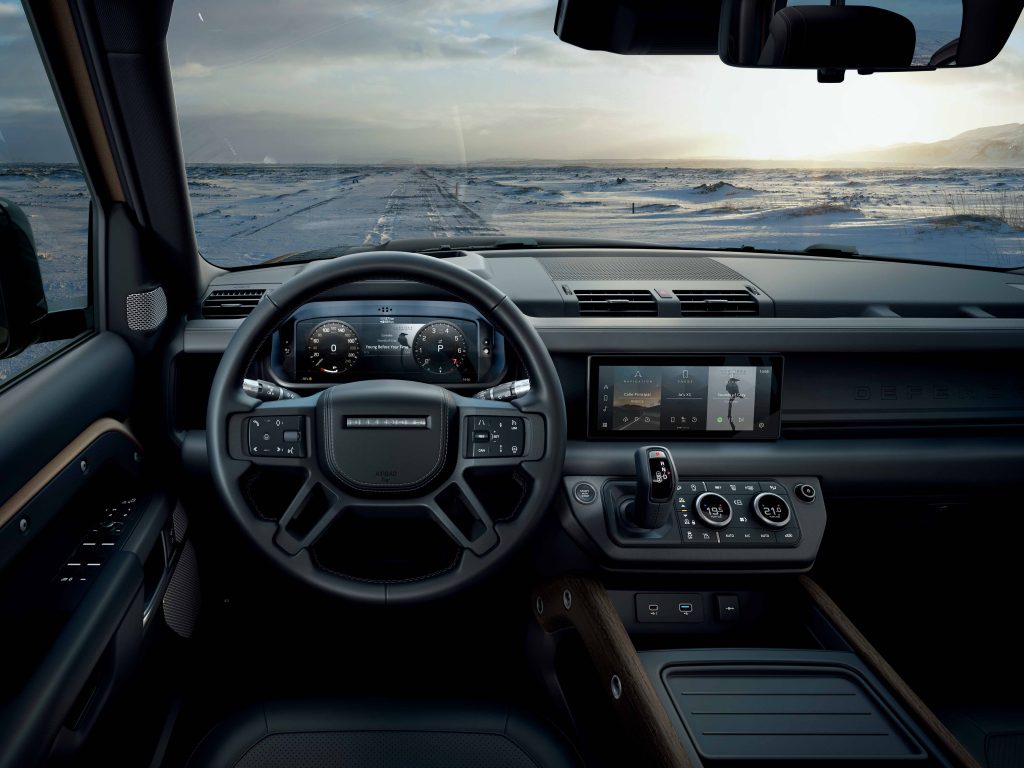 Jaguar Land Rover's latest infotainment system, called Pivi Pro, also offers up dials but the digital design team there were surprised to find a popular customer choice was a media option that did away with the tachometer (revcounter) altogether and displays speed in simple number form. Much of the screen instead is devoted to music choice. Phil Higgs, Interface Design Manager at JLR, was amazed it even made it past his design superiors. "I didn't expect that one to be picked, but plenty of people out there are not that interested in tachos any more, they just want to see what music they're listening to," he said.
With screens spreading through its new vehicles, Land Rover has updated the whole look of its infotainment compared to the outgoing InControl Touch Pro system. Out goes the different colours to indicate a different function, for example for media or maps. "We've gradually changed our thought on that and moved into more harmonious looking systems," Higgs said. "The overall theme was to have something that had a nice quality feel."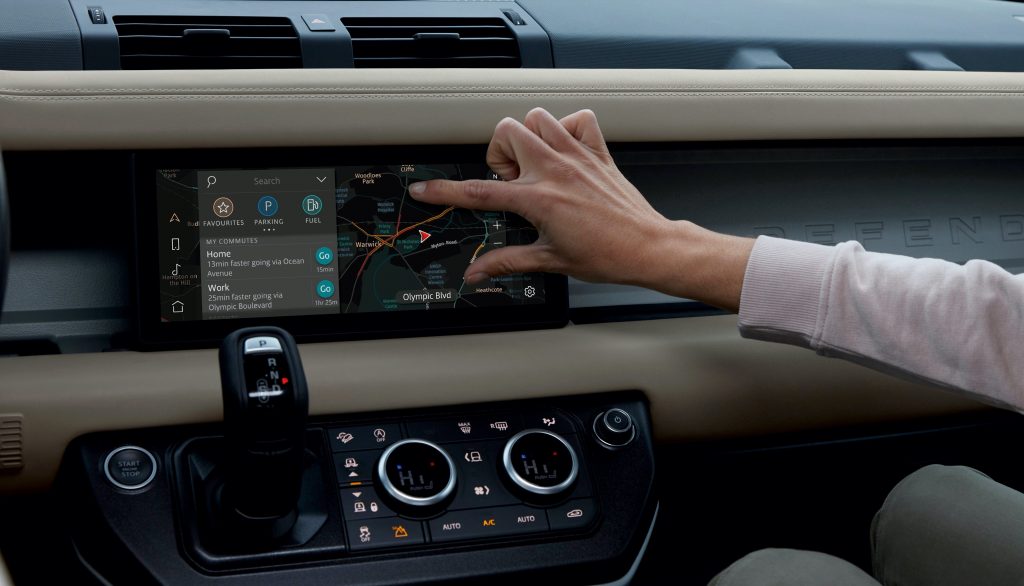 It's hard for car companies to move too far from the user interface found on the very familiar phone in our pockets, meaning whatever the Apple or Android programmers do has a direct influence on the car's touchscreen. However Higgs did look elsewhere for inspiration for the look of Pivo Pro, "One of the key influences was editorial. We looked high-end fashion magazines and to see how they're presented," he said. Another was luxury retailers. Fonts are more slender, more spaced apart and often presented in gold on a dark background. A subtle triangulated pattern is used in the background throughout to create a unified look, even when displaying information that requires a bolder font (there's legislation around visual quality and legibility that all automakers must adhere to).
Car companies love screens because they reduce manufacturing complexity but still allow for differentiation between models. For example the dials programmed in the Defender's screen in front of the driver have a chunkier, more robust look to them than those on a Range Rover.
They can also be updated in situ if you've got the latest over-the-air software, which JLR's PivoPro and Mercedes' MBUX have, to name but two.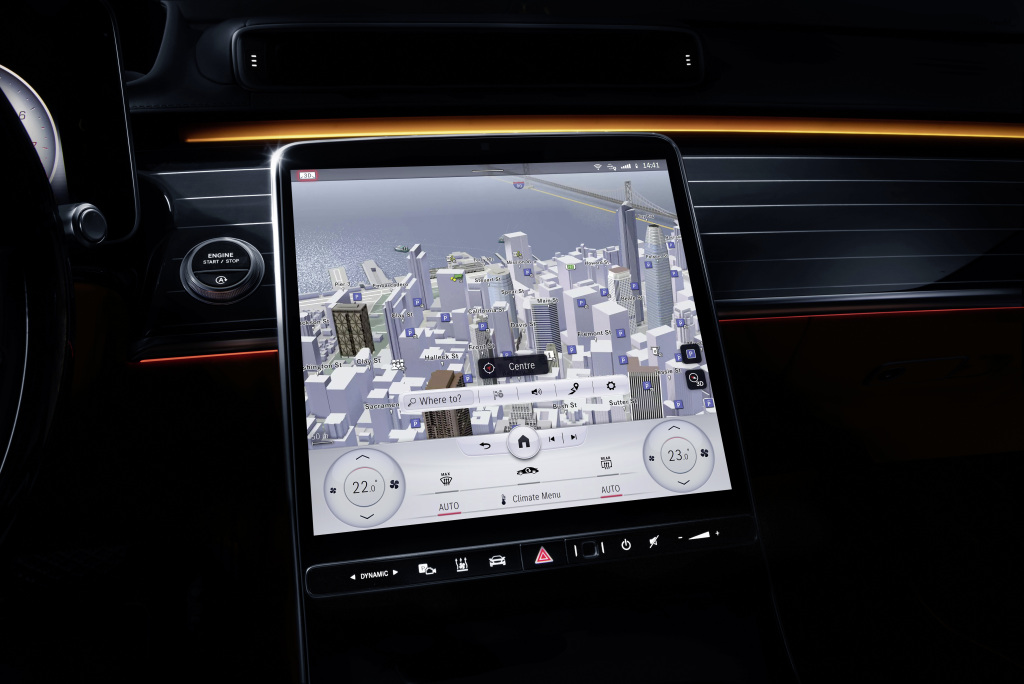 A new download can add new functionality but also change the look to give customers new viewing options. Higgs at JLR is reluctant however to go as far as opening up the choices to the level that, for example, smartwatches have. "Maybe that's a step too far. We like people to get into a vehicle and recognise it's a Jaguar or a Land Rover," he said. "But the beauty of over-the-air is that we can react to trends and what other brands are doing and that is the whole point of it".
The dominance of screens in our cars however could be brief, handing the surfaces and brand identify back to the traditional craftsmen and women. The future, according to a BMW interior concept shown at the CES technology event at Las Vegas in January this year, is all about 'shy tech'. The Interaction Ease concept had not a screen in sight. Instead the technology was hidden and activated by voice, a hand wave or even just a look. The enabler, according to BMW, is 5G connectivity and we'll see the first evidence of what that'll mean in 2021 with the launch of the iNext electric SUV, which promises to be the first 5G enabled car. This much larger digital pipeline into the car significantly increases its brain power by borrowing information from the cloud. Any information that does require a screen is projected onto the windows. It goes almost without saying the Interaction Ease was designed for an autonomous future, when most of us will be ignoring in-car screens to stare at our phones or smart glasses.

This might seem fantastical but already this shy tech is starting to appear. Gesture control is becoming less clunky and now Mercedes has added gaze control to its new S-class, giving hope that that the reduced use of physical buttons (Mercedes says the new S-class has 27 fewer buttons than the outgoing model) doesn't have to mean a distracting search through menus.
For one manufacturer however screens are already a distraction, not necessarily from the driving but from its signature craftsmanship. When we asked Rolls-Royce if its designers would want to talk about how they enhance the screen, we were given a polite brush-off from the communications department with the words: "…our focus would be on how we hide the technology until it is required."
Do the possibilities of digital craftsmanship excite you or do you prefer traditional craftsmanship? Share your views, in the the comments below.