Ramón Cubiró's story begins in the coastal town of Sitges back in 1923 – before he was even born. The opening of Autòdrom Terramar, Spain's first purpose-built motor racing circuit, brought glamour, innovation, theatre and danger to the seaside resort, as well as the country's inaugural Grand Prix.
The steeply banked 2km oval track was used for speed-record attempts, tests and races until it closed in 1957, but almost 100 years later, Spain's spiritual home of motorsport inspired Ramón, a painter and restorer, to set off a mission to first restore, then create his own painstakingly miniaturised slot cars that revived "unknown models with a beautiful story behind them" from the twenties and thirties, a period he regards as the "Golden Age" of motorsport.
How much is your car to insure? Find out in four easy steps.
Get a quote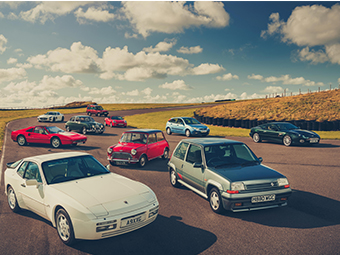 "The wonderful Autòdrom Terramar was a crucial find for me," says Ramón, whose workshop in Barcelona is a 45-minute drive from the historic circuit. "Here begins my hobby and passion for the beginnings of the motor world; personalities, iconic brands and emblematic circuits."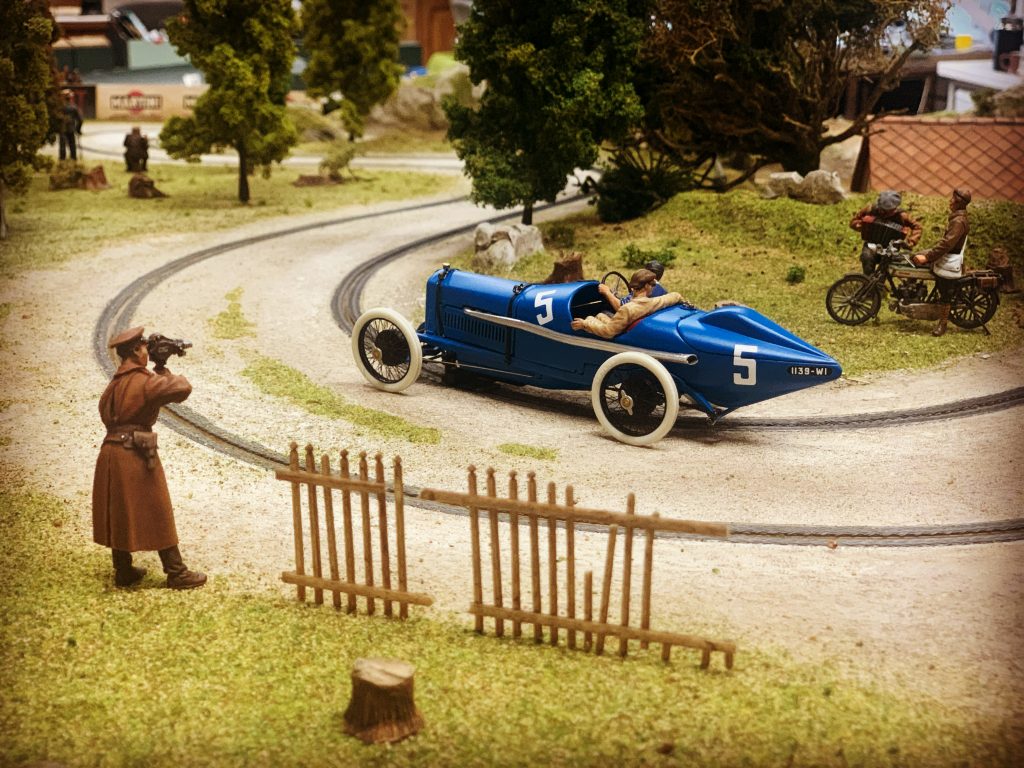 To accomplish his first release, a limited edition run of 250 faithfully reproduced 1922 Austro-Daimler Sascha slot cars, Ramón assembled a team of modelling artists who shared his vision for Velasor and were impassioned to accompany him on "this wonderful journey" no matter how many fiddly hours were involved. Working in their spare time and during the evenings, the project took twelve months to complete, and when photographed up close, the slot cars could momentarily fool the unwary into thinking they were the real deal.
Originally designed by Ferdinand Porsche as the car of his dreams, the Austro-Daimler Sascha was revolutionary for its time. Achieving a top speed of 89mph, the high-performance four-cylinder vehicle was known for its manoeuvrability, efficient use of fuel and the detachable fender which made it lighter for racing.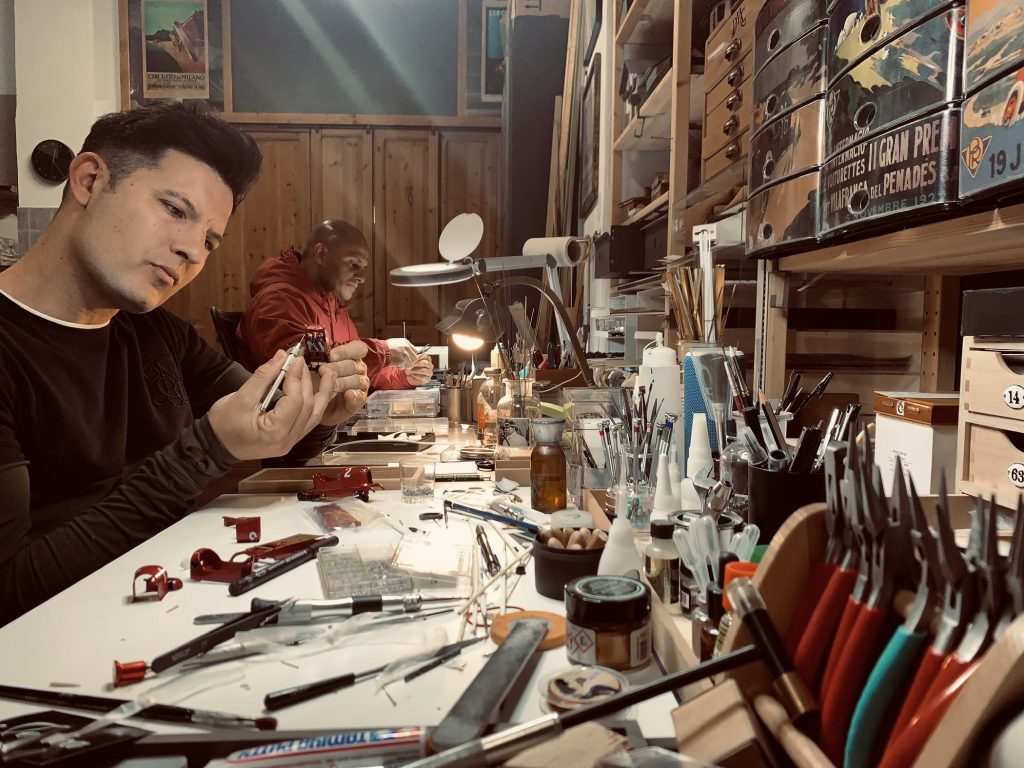 The 1:32-scale Velasor replica, known as VLM 1 ADR Sascha and released in 2017, weighs in at just 58 grams (more than ten thousand times lighter than the original vehicle) and measures 11.1cm long by 5.3cm wide. Four different versions were crafted, each depicting one of the Sacha's that were entered into the 1922 Targa Florio road race – where it scooped first and second places in its engine size category.
Piloted by miniature figures sculpted to look like the motorsport aces that raced them – Alexander Kolowrat, Lambert Pocher, Fritz Kulm and Alfred Neubauer – the cars are identified by the suits of a poker deck. "The little Sascha who gave life to Velasor took us to places and to meet personalities directly related to his history, such as the grandson of F. Porsche and Alexander Kolowrat," explains Ramón. "With each car that we reproduce we have a special bond and contact with some personality of the time, linked to a family member of the designer, driver or car."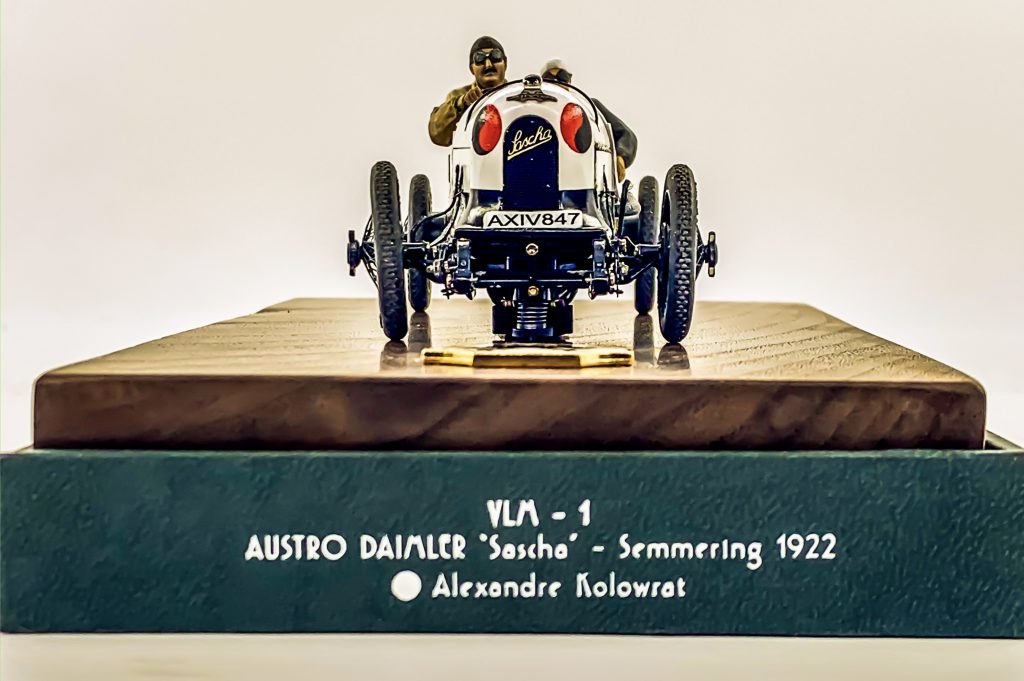 Meticulously fabricated with a minimum of ten functional and mobile features, Velasor models are a feat of quirky human endeavour. "Perhaps the most intricate part is the process of giving mobility and functionality to all the pieces with special characters that each model has," says Ramón.
A closer look at the Sacha, which comprises of 232 parts, reveals working front suspension springs, wheels that can be removed using a special key, and a toolbox that contains a full set of tools. Beneath the engine cover, which is fastened to the base of the chassis by a belt with four metal buckles, there's a replica of ADS-R engine, but as fully functional slot cars, it's not only the "how do they do that?" aesthetic detail that makes Velasor models so distinctive. "For me it is the charm of knowing that they have life on a track which many collectors like to do. We tune the cars to work and give them free after-sales warranties, with a wide assortment of replacement parts or repairs should they need it."
The second Velasor release, a replica of the 1914 Peugeot L45 Grand Prix Racer, or VLM 2 Peugeot L45, featured movable front and rear shock absorbers, a rotating starter handle, removable front drum brakes, and a tail box with two spare wheels inside.
To give Velasor models maximum credibility, Ramón and his team research and plan each project fastidiously. After all, when the worlds of slot car racing, miniature model making and historic motorsport are combined, the knowledgeable enthusiast is likely to have particularly exacting standards.
"It's difficult because I have to choose a model whose history, race, driver, have a special charm. I'm always trying to surprise both the collector and myself," says Ramón. "Once the model that we will make has been chosen, the process that I like the most arrives, that of collecting all kinds of documentation, contacts, plans (if any), photos, books. All of this is well studied by me and also by the designer, who at the same time begins to make sketches and drawings in 3D. Thus begins the construction of the prototype, through the pieces that are made in resin, until reaching the final modelling process. Once all these pieces are final, production begins."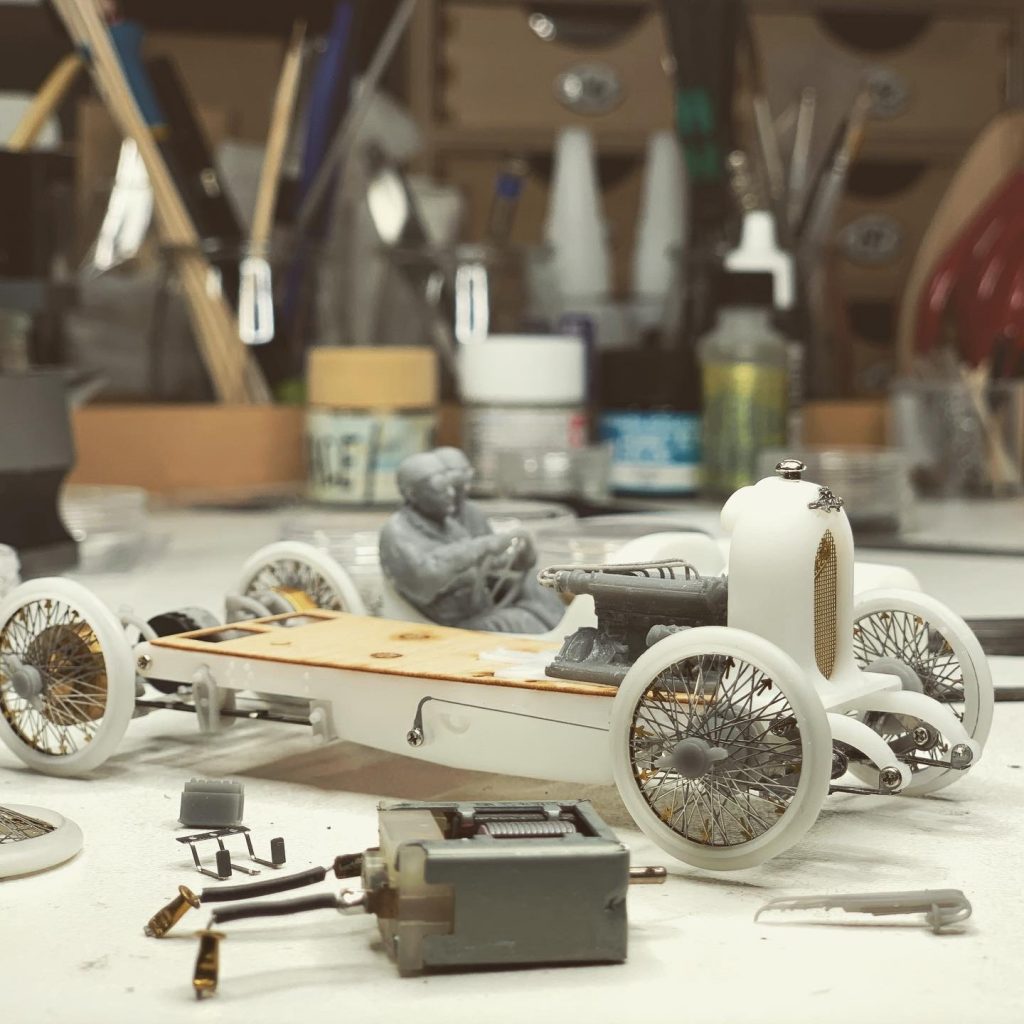 Measuring approximately 10cm and weighing just 70 grams, the VLM 3 Bugatti Brescia project is Velasor's latest and most micro design. Ramón describes them as "little gems." He adds: "With each model we try to improve ourselves, for this new reference, we are working with the original plans provided by the Bugatti Trust, which implies a challenge in reproducing it even more faithfully."
The materials chosen for each model reflect that which was used to build the original, full-size, automotive, and can include metal, wood, leather, brass, rubber for the tyres and resin for the body and chassis. "We use all kinds of precision tools and small machines such as lathes and milling machines, we are like a small watch shop."
Assembled and painted by hand, to overcome fatigue during the process, Velasor modelling artists take it in turn to tackle different stages. "A great deal of concentration is needed, but all the steps are so diverse until a model is made that we alternate between them," says Ramón. On occasion, parts are manufactured outside the Velasor workshop due to their complexity and finish, but "it is in our workshop that we give life to the more than 250 parts that can make up each car," Ramón emphasises.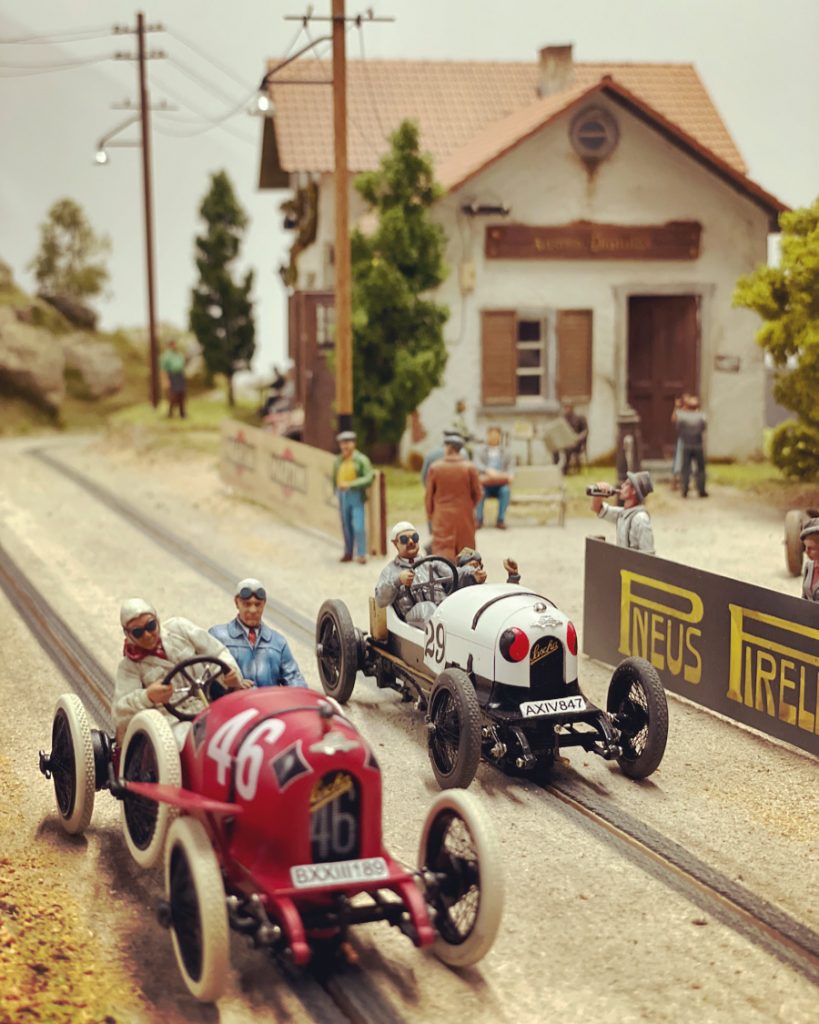 Fancy downsizing? Models cost between €500-650 each, inclusive of a wooden display plinth, an owners manual that tells you the history of the vehicle and a certificate of authenticity and specification card. It's possible to buy the full set of each edition, but as collectors items this depends on availability.
"Feedback is the greatest reward one can have," says Ramón. "It is incredible how after the work and dedication that one puts into each car, one is rewarded with precious messages, calls and visits to the workshop. The reaction that most moved me was that of an English collector who conveyed to me exactly what I felt about Velasor with his words. That someone who did not know me, could see in my work all the effort, passion and dedication invested and admire it in the way that he did is very gratifying."
When deconstructed and decoded by Ramón, the meaning of Velasor is as follows: 'Vel' stands for velocidad (velocity), 'as' represents aces of the steering wheel and 'or' is borrowed from the end of words including motor, honour and valour. When asked to reveal the subject of the next project, Ramón says we'll have to wait and see.
"There are several models that I would like to make, but only two keep me awake and not because of their beauty, nor because of their prestige as a brand, but more as a challenge as a miniature. Those are top secret."
Read more
Hard Craft: Yannick Read, miniature vehicle maker
Hard Craft: Jake Yorath, graphic designer and illustrator
Hard Craft: Joel Clark, artist and sculptor