The process of successful car production prioritises efficiency and cost above all else, so has a habit of quickly ironing out a new car's quirks, intricacies or even defining details. In-period changes were usually attributed to streamlining the production process, while other enhancements were meant to enhance the car's reliability, improve its performance or keep it up to date in a fast-changing world.
Quite understandably then the last car off the line ought to be the most desirable, but the collector car market often has a different view. Most prized among owners and prospective buyers are the earliest examples, which are often dripping with the philosophy of the designers and engineers and bear rare and, as many commentators will tell you, historically important features that were lost during the early stages of a car's life.
How much is your car to insure? Find out in four easy steps.
Get a quote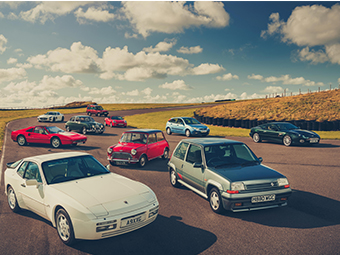 Over time these quirks have led to a small number of rare cars becoming the holy grail amongst car collectors – and pushed up their value.
As far-fetched as it may seem to those outside of the collector scene, a Porsche 356 built in Austria can be worth as much as five times one built in Germany. In Britain, an early Jaguar E-Type built with bonnet locks on the outer body can fetch more than double the price of cars without the locks – despite Jaguar doing away with the feature because it was deemed a nuisance by customers. Meanwhile, when it comes to Italian supercars, the world's collectors clamour for just 150 early examples of the legendary Countach, which featured a quirky periscope-type rear-view mirror that Lamborghini soon did away with.
We look back at the cars which ended up being changed, and compare their values – using the Hagerty Price Guide – with later versions that did away with the original quirks. Prepare to raise your eyebrows…
Porsche 356 – built in Gmünd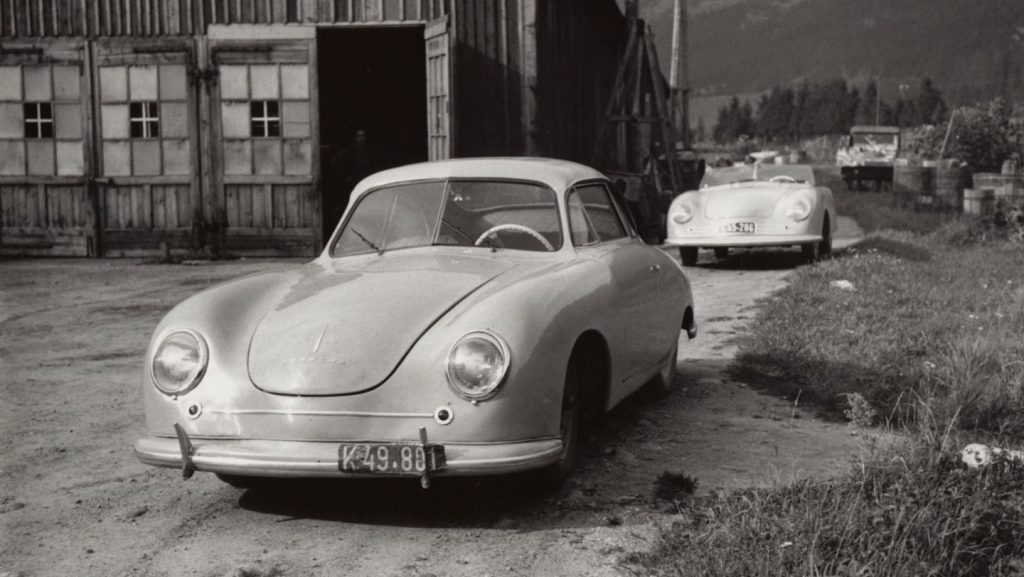 By 1944 Ferdinand Porsche's design consultancy had been well established in Stuttgart for over a decade, but relentless allied bombing during WWII led the engineer to relocate. With protection afforded by alpine terrain, an old sawmill in the central-southern Austrian region of Carinthia was procured. Ferdinand was interned by the French in 1945 and not released until 1947, during which time his son Ferry Porsche kept the company afloat with contracted projects like the Cisitalia Type 360.
1948 was a better year for Porsche as Ferdinand was fully exonerated and the company was established as a manufacturer in its own right, hand building the very first "Porsche" car – the 356 – in its adopted hometown of Gmünd.
Without overriders or the usual sidelight/grille units below the headlights, Gmünd 356s have an elegant purity. The hand-beaten aluminium bodies were supplied by specialist Austrian and Swiss coachbuilders and often featured delicate chrome detailing where a radiator grille would normally be. Trafficators are also indicative of the Gmünd 356s and are today the only clue that this otherwise very modern design was a product of the early post-war period.
Just 44 coupés and 8 cabriolets were built in Austria before Porsche returned to Stuttgart in 1950 and, while ostensibly identical to some later 356s, the few surviving examples seldom come to the open market and are considered as 'holy grail' Porsches. As you can see from the Hagerty Price Guide, with a 'condition 2, excellent' value of £1.26 million, a Gmünd 356 is almost five times as valuable as its immediate successor, which is worth around £212,000. If anyone ever tells you they've found an odd, egg-shaped Porsche in a barn, that appears to have been built in Austria, drop everything and get there in a flash.
Jaguar XK120 – alloy body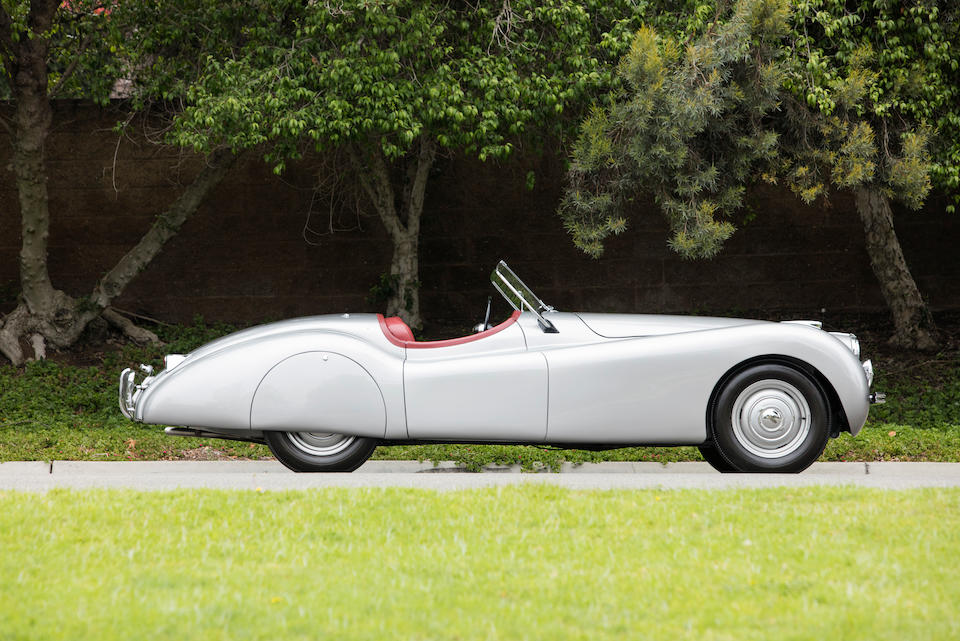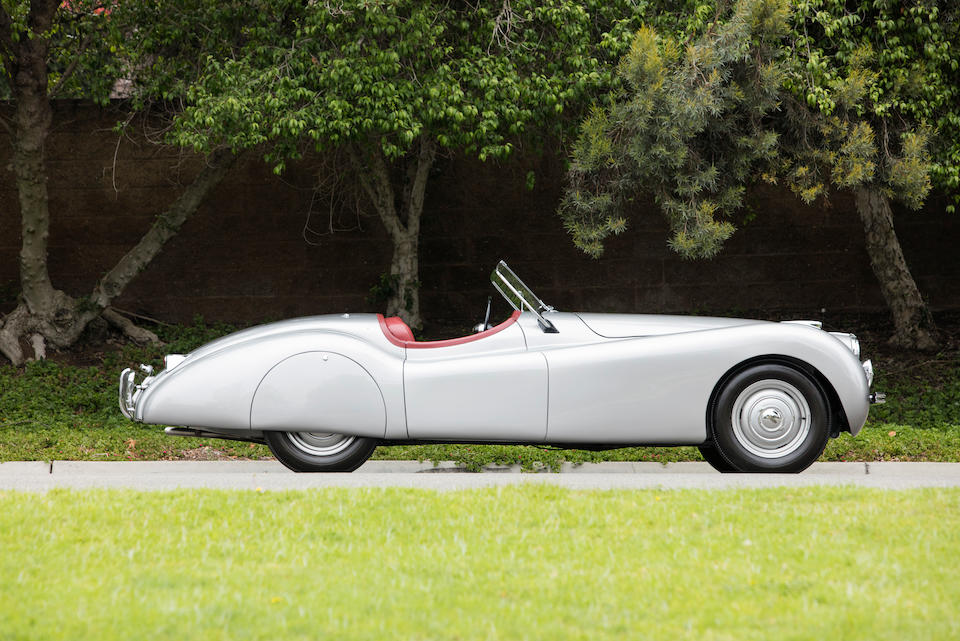 Britain in the late 1940s had all the potential to be a very bleak place with the slow-lifting mist of conflict still dampening daily life, but in 1948 the newly renamed Jaguar Cars (S.S. Cars was somewhat uncomfortable) gave the world a helping of desperately needed glamour, excitement and optimism. At its Earl's Court debut the XK120 stood alone as a new breed of motorcar, one that made Humbers, Standards and Hillmans appear staid by comparison. Even the simultaneously debuting Aston Martin 2-Litre Sports – the DB1 – looked old-fashioned.
As if the 120 needed any extra hype, Clark Gable took very public delivery of the first production left-hand drive example from William Lyons himself. And soon the rakish roadster was a familiar sight leading motor races at home and abroad. Demand quickly outstripped Jaguar's ability to supply.
While the factory was still in post-war need of raw materials and production equipment for steel bodies, the first cars were assembled the traditional way with aluminium skins over an ash frame. In total just 242 XK120s were hand-built with aluminium bodies, 184 in LHD and 58 in RHD, with no two exactly alike. Contrary to common conception the alloy XK120s are barely 51kgs lighter than the later cars, with the weight loss almost entirely cancelled out by the wooden skeleton.
Today our Hagerty Price Guide shows that the rarity and hand-built provenance of an alloy XK120 puts its value at about four times that of a steel bodied example. An 'excellent, condition 2' alloy bodied model is valued at around £490,000, four time more than the later version in the same condition which is valued at £123,000.
Chevrolet Corvette Sting Ray Coupé – split window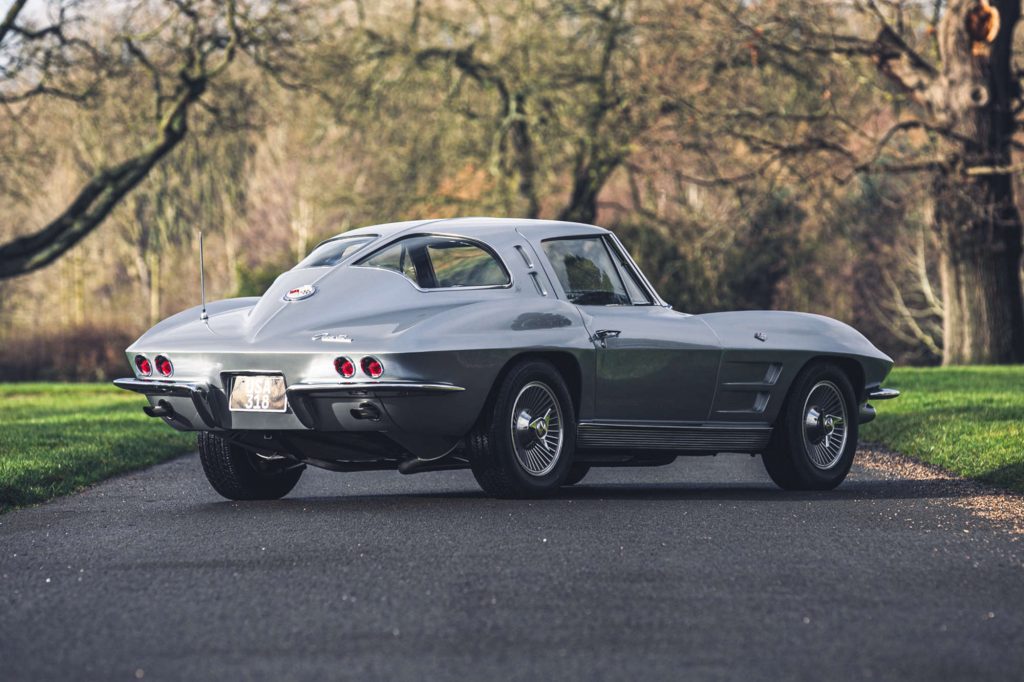 From its 1953 inception the original Chevrolet Corvette was exclusively an open-top roadster, except that is for the fabulous Nomad shooting brake (seriously, Google it) & Corvair Coupé concept cars, and despite a makeover for 1958 the 'Vette had begun to look a little twee. Lashings of chrome and two-tone paint might have cut the mustard under Eisenhower, but the Kennedys were spearheading a cultural revolution in the USA. It was a bold new world in which Bill Mitchell, GM's recently promoted Vice President of Styling, could flourish and a recent Bahamian diving holiday had given him new inspiration.
Using Mitchell's aquatic muse, and his 1959 XP-87 Stingray Racer & 1961 XP-755 Mako Shark concepts, Larry Shinoda penned one of the most important mid-century shapes: The 1963 Corvette Sting Ray. While the outgoing model was known as 'the American Sportscar', a lukewarm honorary title by European standards, the new Corvette (known colloquially as the C2) was to be a serious rival to the stupendously good value Jaguar E-Type and the incoming Porsche 911.
With continued development and a battle royale among manufacturers for horsepower one-upmanship, the Sting Ray became every bit an on-paper match for its contemporaries by the time it was replaced after 1967. Adding to the already standard independent rear suspension, the later examples could be found with disc brakes and a 427cu (7-litre) V8. The suspension may still have been crude, but there's no replacement for displacement.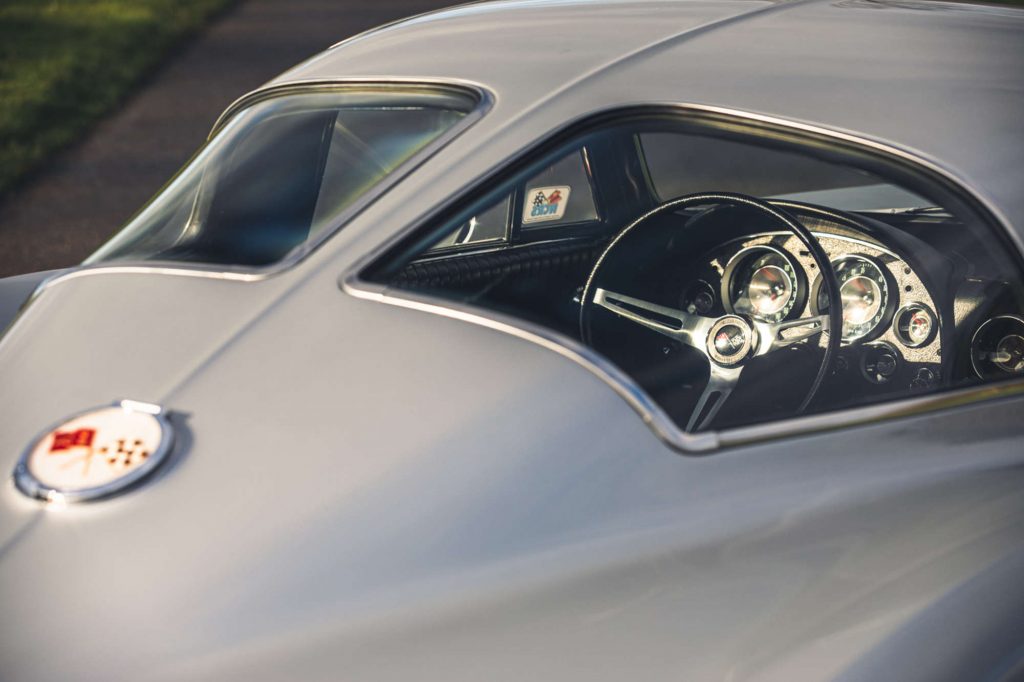 An early production 'remedy' was the replacement of Mitchell's hallmark split rear window, which lost favour quickly and was deemed impractical. As such it is a feature exclusive to the 1963 Coupés, of which just 10,594 were built out of a full Sting Ray production run of 117,964 cars. Today a concours condition '63 Split Window Coupé will change hands for in the region of £80,000 for an 'excellent, condition 2' car, almost twice the value of an otherwise identical car from the following year.
One anomaly to point out with the C2 Corvette is that while the '63 Split Window Coupe clearly has desirable and valuable early features, which is why we've included it in this list, the most valuable C2s (competition cars aside) are the very late examples with exceedingly rare factory options and the most powerfully tuned L88 version of the 427 engine. Make sure you're sat down before perusing this price guide, as they can fetch as much as £2.2 million.
Aston Martin DB4 Series One – no window frames and overriders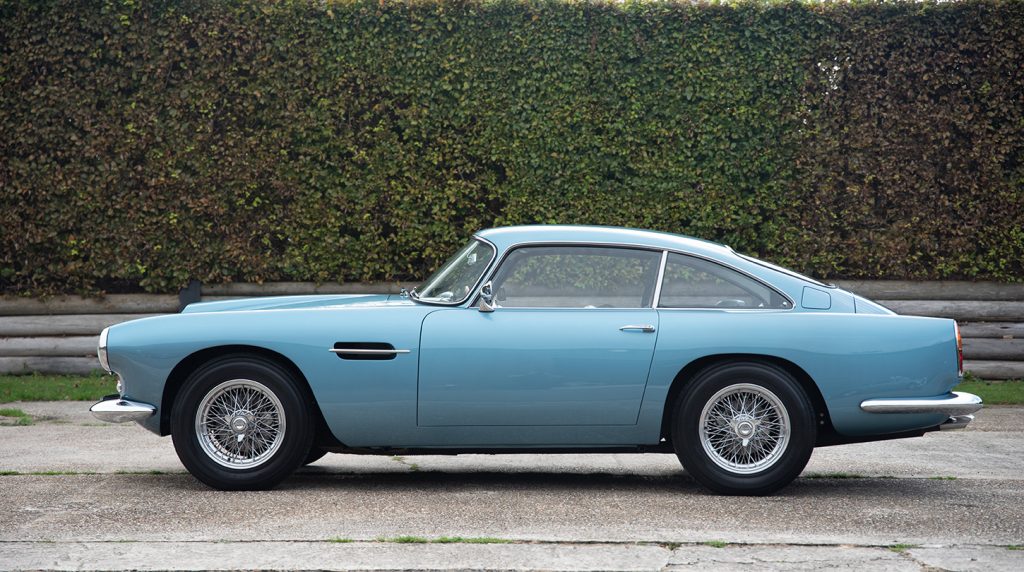 1958 heralded the arrival of the new Aston Martin, built in a new factory and using new methods. The formula was so good that Aston Martin's GT cars still follow it today. Certainly the outgoing DB2/4 Mark III, which was temporarily offered alongside DB4, was made to look every inch a car with origins founded in the 1940s.
A torquey 3.7-litre straight-six provided enough brawn to worry the continental competition, while the styling stole talent from right under its noses with a gorgeous body penned by the emperors of elegance at Carrozzeria Touring of Milan. A hugely successful model for a company that was forever flirting with insolvency, the DB4 went on to outsell almost all of its DB2-based forerunners combined. The most sought after are the Vantage, GT and Zagato variants, but here we're focussing on a handful of cars from the first of five retrospectively devised production series.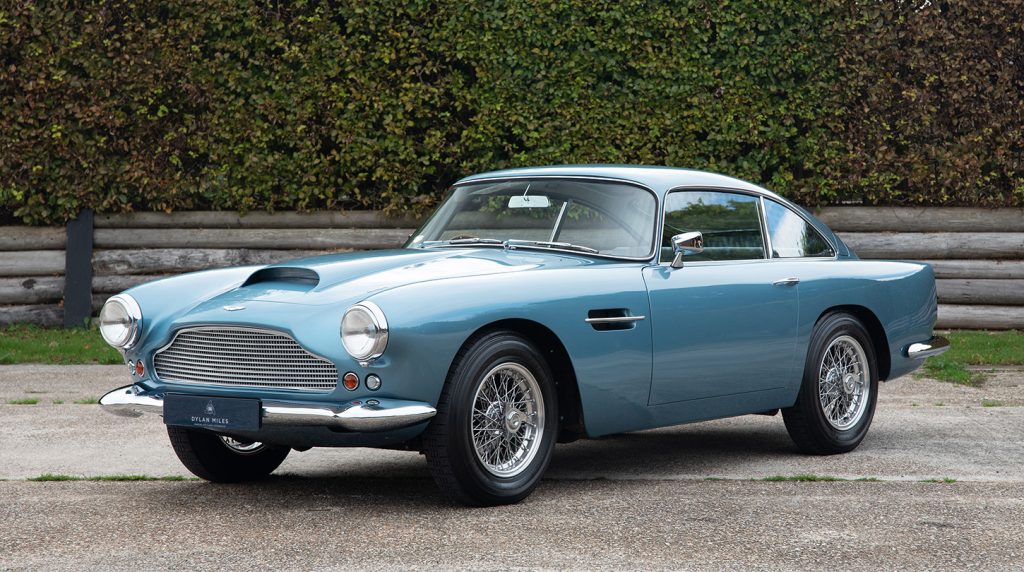 Series One DB4s are defined as having a rear-hinged, front-opening bonnet (like a crocodile's mouth, if you will) and already this whittles the numbers down to just the first 149 examples. But it was the first 50 of those which were completed without door window frames or overriders, giving them the most clean and unfussy profile of all. And while the windows might have looked neater without the chunky chrome frames that were to come, it was high wind noise and a need to seal against inclement weather that forced the rethink.
Jaguar E-Type – outside bonnet lock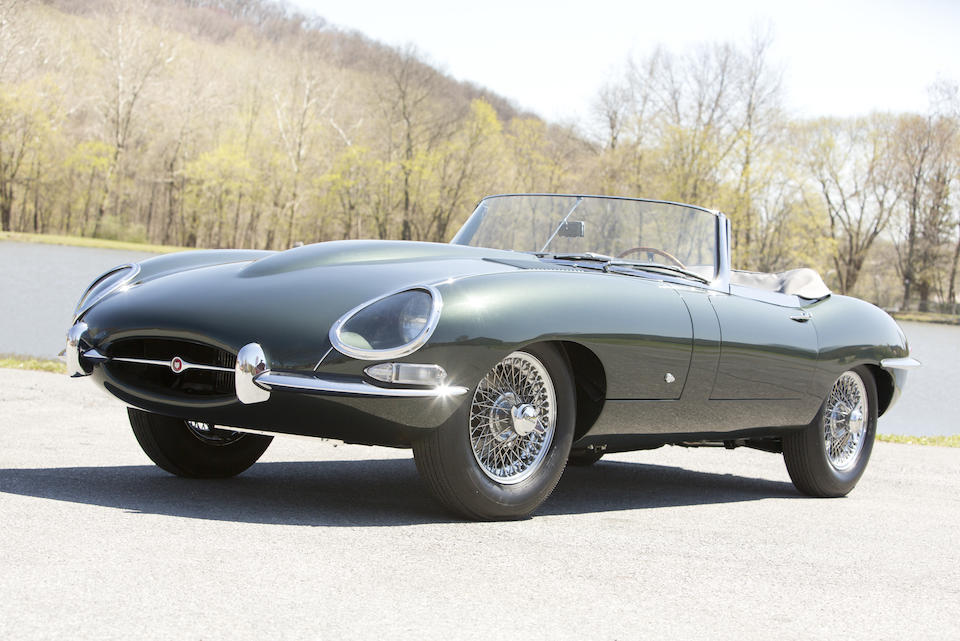 Just as it had been with the XK120, Jaguar was completely unprepared for the reaction to its latest jaw-dropping game-changer. No sports car has ever left such a cultural legacy. Show the average person a T57 Atlantic, a 250 GTO or a Miura and chances are they couldn't name them, but the E-Type has become an icon.
Available at a huge discount over both Aston Martin and Ferrari, the E-Type had delivered speed and style to the masses. Over the course of its 13-year, three-series production more than 72,000 were built and it was the access to this icon that catalysed its enduring popularity. But not all E-Types were created equal.
There are flat floor and welded louvre examples, but one early feature gets collectors particularly hot under the collar: outside bonnet locks. For a car that was so forward thinking, the method of opening that evocative clamshell couldn't have been more agricultural and required a T-shaped key to unlock a mechanism on each side of the bonnet. Each lock was concealed by a dainty chrome catch, but the system was not at all dynamic and the key was liable to go missing. Jaguar was relatively quick to remedy the situation and only the first 500 E-Types left the factory with this feature: 385 LHD Roadsters, 91 RHD Roadsters, 20 LHD Coupes and 4 RHD Coupes.
As you can see from our Hagerty Price Guide, an OBL Roadster is valued at up to £302,000, when rated 'excellent, condition 2,', which is twice as much as a marginally later example that 'only' features the flat floors.
Lamborghini LP400 Countach – 'Periscopio' rear-view mirror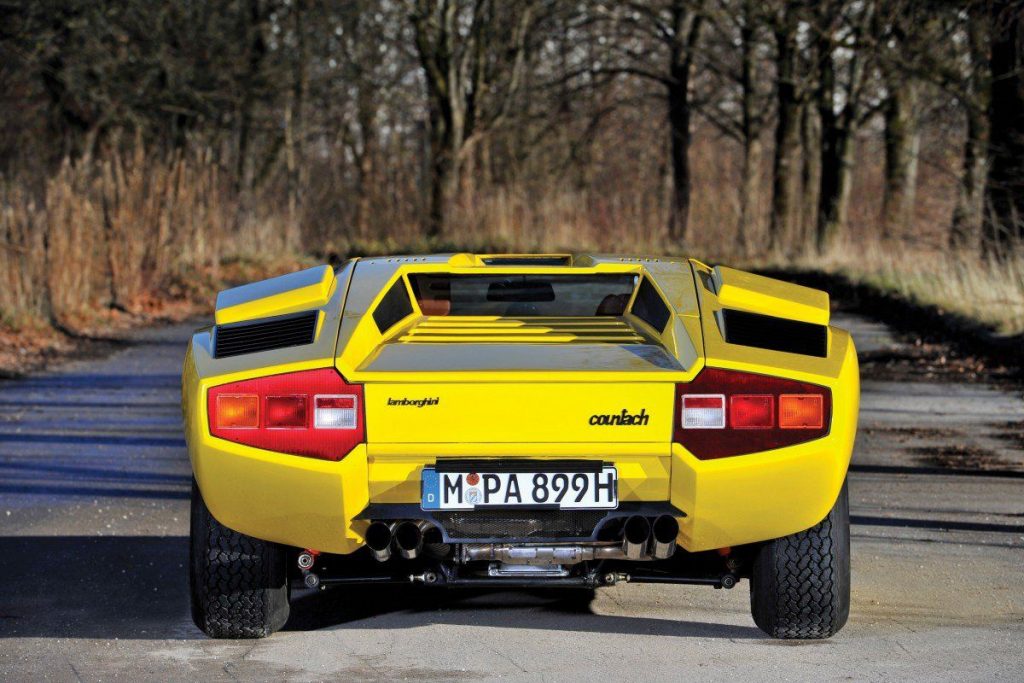 Very few production cars look identical to the wacky concepts that launched to great fanfare on motor show circuit before being mothballed and forgotten, and even fewer still look futuristic five decades later. In fact, we can think of just one: the original LP400 'Periscopio' Lamborghini Countach. Only one detail gives up the LP400's age – well four details actually – the wheels. The 14-inch Campagnolo alloys shod with Michelin XWX balloon tyres have nothing but 'the 1970s' written all over them.
Before the caricature-ish skirts, steam roller wheels and cartoon delta wings of later Countach came to epitomise 1980s pastiche, the sharp and shocking rawness of Marcello Gandini's original is still relevant today. Even Lamborghini's latest creation, the Siân, goes a long way in trying to recapture that magic.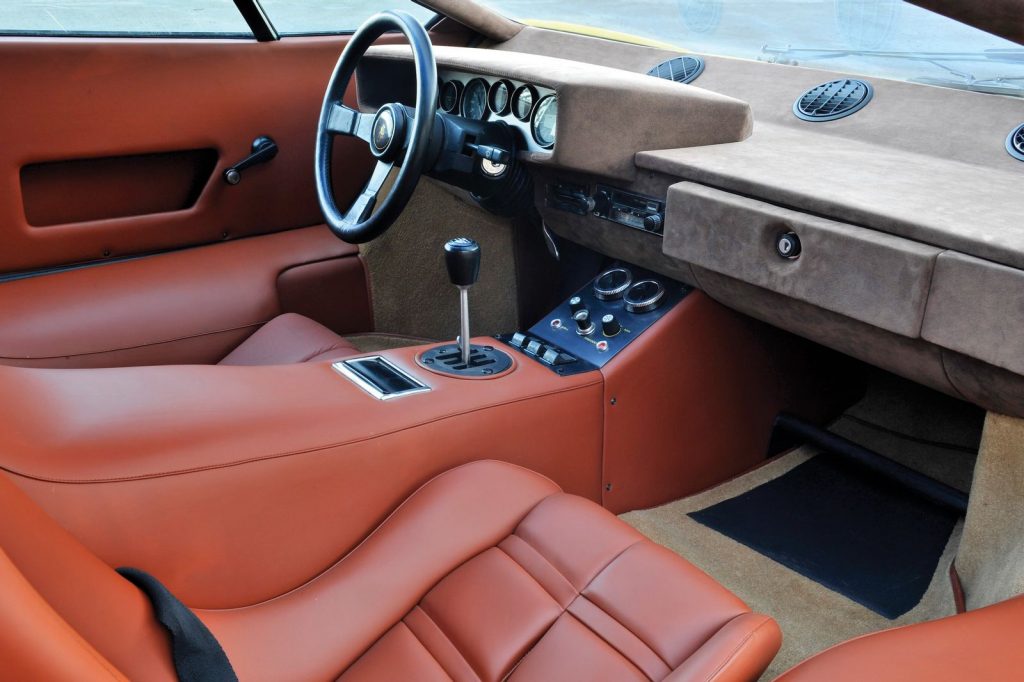 The word 'Periscopio' won't have gone unnoticed here and you don't need to be a cunning linguist to work out that it is the Italian for periscope. Looking at the roof will answer any question as to why, with Lamborghini's 'unique' solution for enhanced visibility clear for all to see.
Just 150 of these wedgy wonders were built before the LP400S Series One took over, albeit with the periscope roof filled in and the arches flared to accommodate Pirelli's widest rubber to date. Of those approximately 22 examples were completed for RHD markets.
Bentley R-Type Continental (A-Series) – unique chassis and trim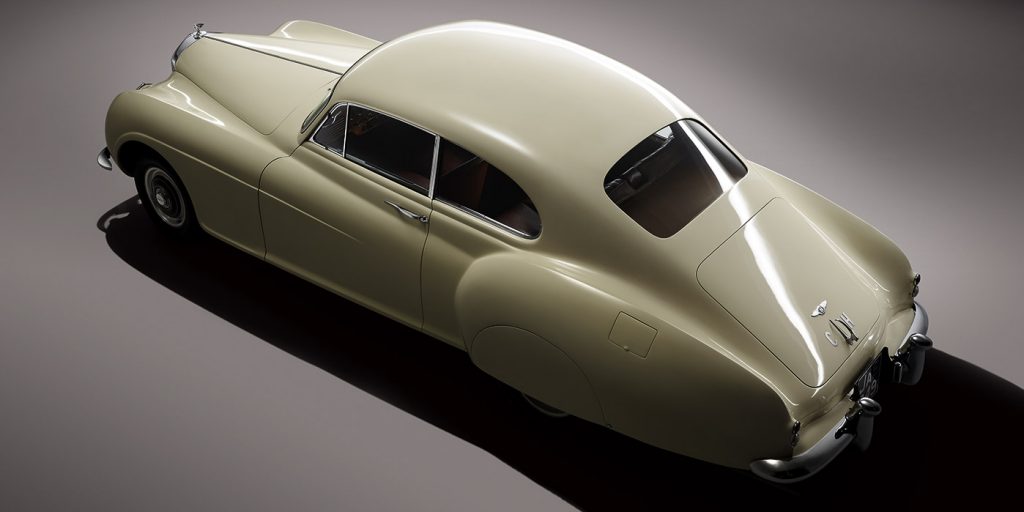 The jet set hadn't been invented in 1951 and, for most of the world at that time, a first-class cabin in a rail carriage was the height of luxurious high-speed, intercontinental transport. Enter the Bentley R-Type Continental. With space for four, although two people and enough Louis Vuitton cases for a proper grand tour was more likely, this record-breaking 120mph motor car could whisk you to St. Moritz or the Riviera comfortably, reliably and above all with style. While the train had a fully serviced dinner car, it didn't stop for you to collect a case of wine or two from Romanée-Conti or to be received and entertained by friends en route.
The R-Type Continental order book read like a who's who of 1950's high society; Gianni Agnelli, Ian Fleming and Aristotle Onassis were all customers. Briggs Cunningham was a particularly enthusiastic Conti' owner, using his to lope great distances between race meetings.
Just 207 were built over the course of five alphabetised series. The first series of just 25 cars – chassis BC1A to BC26A (Bentley always omitted number 13) – features a veritable platter of unique and now highly coveted early features. A-Series cars uniquely utilised the Mark VI chassis and were commonly fitted with the lightweight rear bumper, seats and sun visors. With the absence of an auto-choke, they also carried manual mixture controls on the steering wheel. Those details make all 207 cars sought-after.
Porsche 901 – name change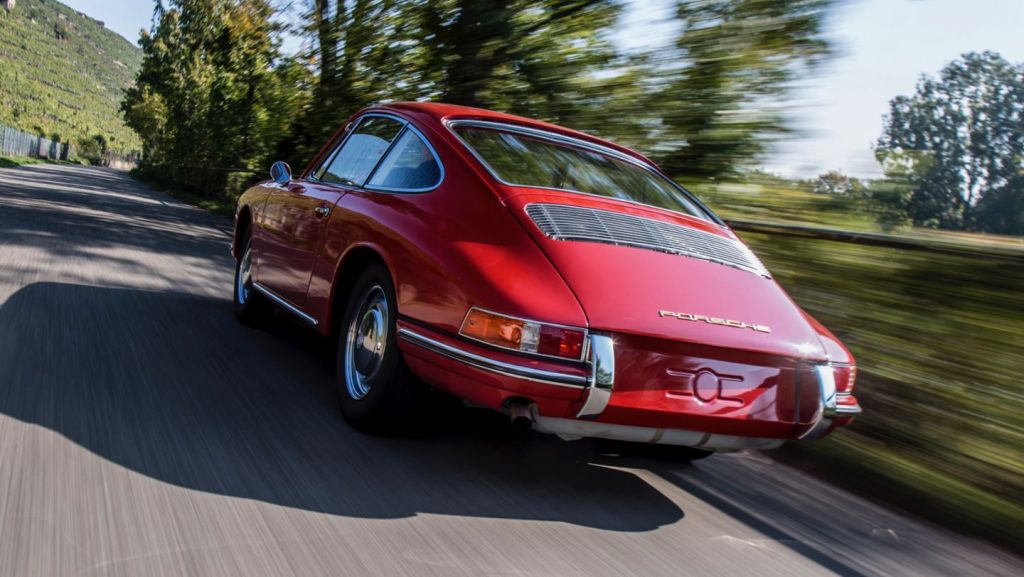 The 356 had served Porsche extremely well from the late 1940s and, testament to its intrinsic modernity, lasted all the way through to 1965. But with the E-Type redefining how a sports car should look in 1961, Porsche realised that the writing was on the wall for the model that underpinned its very existence. The concept for its replacement debuted at the Frankfurt Motor Show in September 1963 with production commencing 12 months later. The finished article was displayed at the Paris Motor Show in October '64 and its name was the 901.
For Porsche '901' was nothing more than its latest type number, but for Peugeot it was a contravention of its 'three numbers with a zero in the middle' trademark. Under pressure from the Lion Rampant Porsche agreed to change the 901's name, doing so by a single digit, and in the process created a cult icon – the 911. Even in conversation the new Nine-Eleven name flowed more seamlessly than the clunky and cold Nine-Oh-One.
But Peugeot hadn't been quick enough to nip this saga in the bud and 82 examples had already been dispatched from Zuffenhausen wearing their 901 chassis plates and boot lid badges. A further 150 with '901' chassis plates already stamped were externally rebadge with a '911' script before the new moniker was fully adopted.
Ferrari 365 GTB/4 Daytona 'Plexiglas' – safety regulations forced updates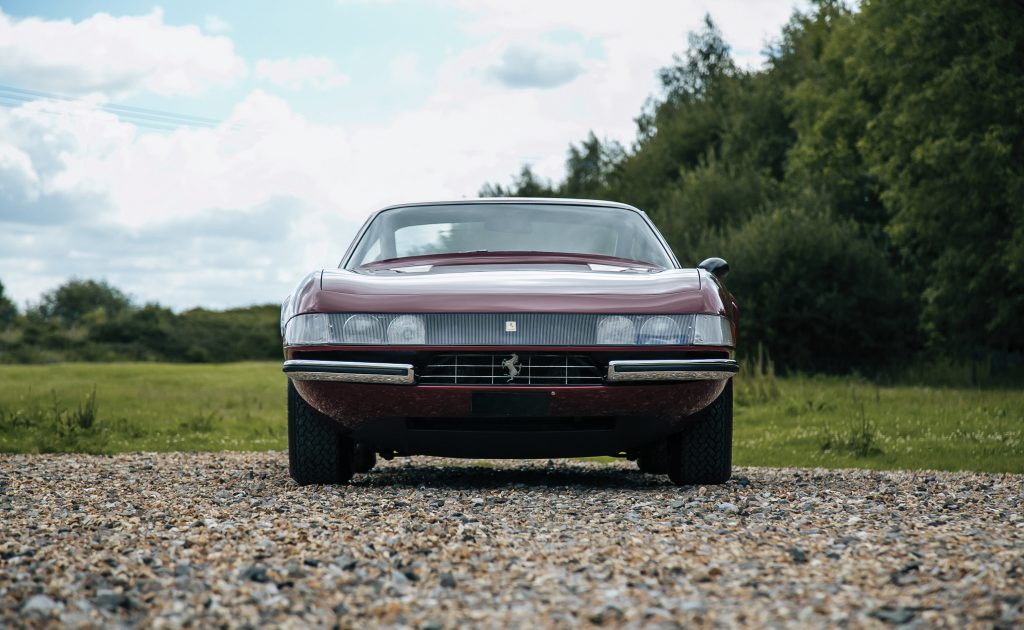 Against the Miura, the Ferrari Daytona stood defiant as an antidotally traditional front-engined grand tourer and gave the Dino naysayers a 'proper' Ferrari to buy. As the last V12 Ferrari of that configuration until 1996, the Daytona became a halo car and rightly earned cult status. But a warning shot was fired across the Daytona's bows almost immediately, with the USA's Federal Regulations stipulating a host of new environmental and safety criteria that it had to meet.
One such requirement was for the headlights, which could no longer be nestled neatly behind clear covers and had to sit above a minimum height from the road. For Leonardo Fioravanti's masterpiece a facelift would be required. Gone was the distinctive Plexiglas headlight covers, with flushed and body coloured pop-up light units providing the extra required height. There's no doubt that a 'pop-up' Daytona is more svelte when it's lights are down, but flick them up and it's a different story.
Approximately 411 'Plexiglas' Daytona Berlinettas were built prior to the US revolution (just 36 in right hand drive), with 873 'pop-up' variants completing the production run. Even more scarce was the Daytona Spyder, which itself was a victim of the Federal Regulations that threatened to outlaw convertibles. It was the view in the US that T-tops and targas would be safer in a roll-over situation and so just 122 Spyders left the Maranello factory – only the very first one had a Plexiglas nose.
Read more
Small is beautiful: 9 small cars that gave us luxury in miniature
11 alternatives to the Jaguar E-Type
20 rock stars' cars: For those about to rock – and drive – we salute you