"I don't really see the point in photo-realistic art," declares graphic designer and illustrator Jake Yorath. "Cameras exist for that. I prefer the bold simplicity of block colours and shapes."
If you want to see the world as Jake does, look at a car and observe where the light hits it. The sun, he says, will highlight the best bits and the coolest lines, and this is what informs the composition of the cars in his designs.
How much is your car to insure? Find out in four easy steps.
Get a quote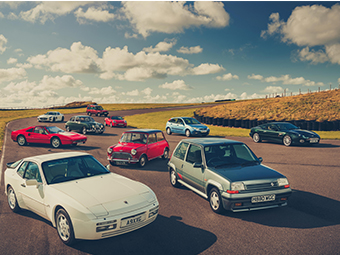 "The more you add the less you see," says Jake. "Rather than explicitly shout about a car's existence in my pieces, I hint at it and try to melt it into the background. I recently did a GT40 which was white on a white background, the car had no defined outer line but you can see it because your brain fills in the gaps for you."
Having worked in motorsport for almost fifteen years as a PR, journalist and photographer before finding his creative happy place as a graphic artist, Jake's designs have populated walls, magazines, clothing, chrome stickers and keyrings. 
His poster campaigns for the British GT and Formula 3 championships, as well as teams including Aston Martin, Bentley and Nissan, have helped to raise his profile but it's the Daikoku Nights 'lucky cat' logo that Jake designed for Caffeine&Machine, the petrolhead meeting place, that's making him a household name. 
"It's become quite famous, the merchandise it's on keeps selling out so we must be doing something right," says Jake, with a slightly reluctant undertone. Apologising for, and not being comfortable to talk about his own success is a habit he's trying to break. "Maybe it's a British thing," he ponders.
"I do have a confidence in my work now that I didn't have before," explains the 31-year-old. "I think, in part at least, that's probably down to antidepressants, but sometimes you do still feel like you're being arrogant or bragging. 
"For most of my adult life I'd had some kind of anxiety and depression, and last year I finally got help. I've been through stages when I haven't sent an invoice because I'm anxious about it for no real reason, but they have completely changed the way I work, and how much I am able to work."
To help further liberate himself from over-critical tendencies and to stop "endlessly revising and chasing infinitesimal gains," Jake set himself the challenge of creating an artwork every day for one month during lockdown in spring last year. He set up an Instagram account to publish a selection of them and launched an online print shop. "This was the first time I'd sold my personal work," he says. "I was blown away by the response."
Jake's digital sketch pad varies between Adobe Indesign and Illustrator, and his "unusual" instruments of choice to draw are a mouse or the trackpad on his MacBook. "Most people use a graphics tablet, and I can barely draw with my hands anymore, it's really bizarre," he explains. 
In another curious twist, Jake reveals that his highly contemporary style is influenced by Saxon art and craft due to its abstract nature. "It is intricate and complicated, but also quite simple. A pattern might have a snake in it, but that snake will be very simple; two eyes and teeth, that's it, that's my kind of art."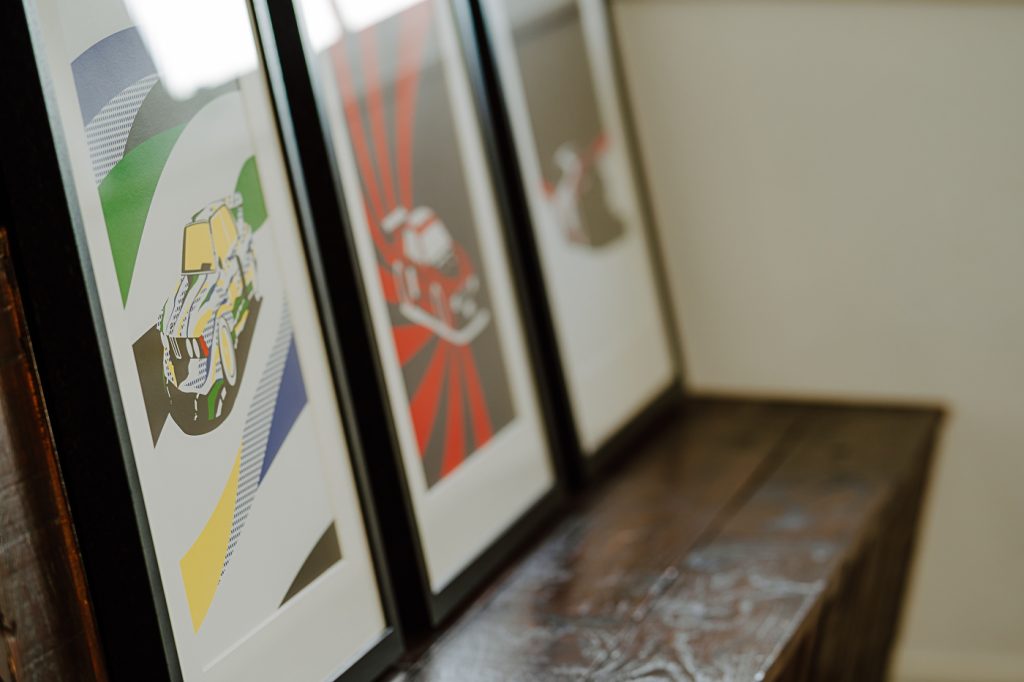 Based in Bristol, a city known for its vibrant creative culture, Jake finds inspiration from the street art, "weird" fashion and community that surrounds him to introduce non-motorsport related elements into his designs.
"Motoring and motorsport can be a very insular world and I want people to look at these recognisable racing cars in a different way. I fill the whole canvas, the colours, the background, the patterns, they are all references to something," he says. "The hardest part is getting the car right as even though they are quite limited in detail I want the details that are there to be perfect. What looks like quite a simple illustration will have gone through a lot deeper illustration process."
There's only one thing that Jake will, occasionally, overload on, and that's colour – but only a single shade of each. Remember, he says, "the greatest liveries, the greatest looking cars are simple."
To add an element of texture to his digital artworks in their final stage of creation, Jake uses a high-quality printing process called Giclée to transfer his designs onto thick, heavy paper. "It's just beautiful and tactile. Once it's framed, it takes on yet another dimension. It goes from art, to art, art."
Read more
Hard Craft: Pete Oldham, furniture maker
Hard Craft: Joel Clark, artist and sculptor
All sewn up: A lesson in perfection with O'Rourke coachtrimmers