Sparks fly when engineer Pete Oldham is feeling creative, because his hobby turned side hustle of fabricating furniture out of scrap car parts frequently calls for the implementation of an angle grinder.
"These parts scream at me to be something else," says Pete, who makes clocks, tables, seats and coat hooks out of castoff components he's found at car shows and auto jumbles.
How much is your car to insure? Find out in four easy steps.
Get a quote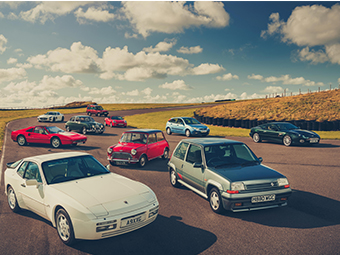 "I also have a good circle of friends that work in garages, they ring me up when they have interesting pieces that they've removed from old cars. It's important to recycle, for the environment and to raise awareness about not dumping and scrapping material without regard, but instead using the older parts which have so much character."
With the right tools (a plasma cutter, compressor, TIG welder, air brushes and spray guns) plus a bit of artistic vision and some welding skills, Pete has built up a catalogue of imaginative home furnishings – all of which has been accomplished in his garage, where he runs his business Auto Iconic.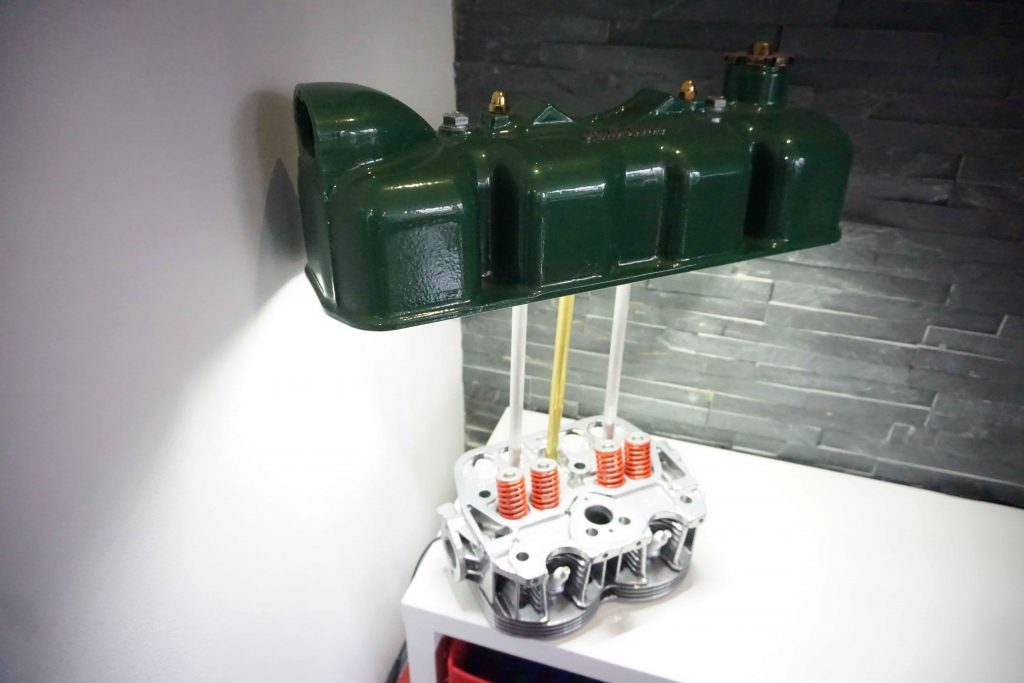 "My Auto Iconic motto is if you can think it, I can create it," says Pete whose pieces include a camshaft that's been flipped vertically to form the base of a desk lamp with a shade that formerly served as a rocker cover. Shock absorbers, jacks, petrol canisters, fire extinguishers and turbochargers have all been given similar treatment.
"I've always been fascinated with cars, motorbikes and motorsport due to being brought up by a petrolhead father so it was inevitable that it would form a large part of my life. My dad would buy old motorbikes and cars and restore them, that was his hobby, so I think that's where the bug came from – and here we are today."
As most of the scrap parts have to be stripped of rust and dirt before Birmingham-based Pete can get to work, he often enlists the help of Redditch Shotblasting to take them back to bare metal so that they're ready to be painted.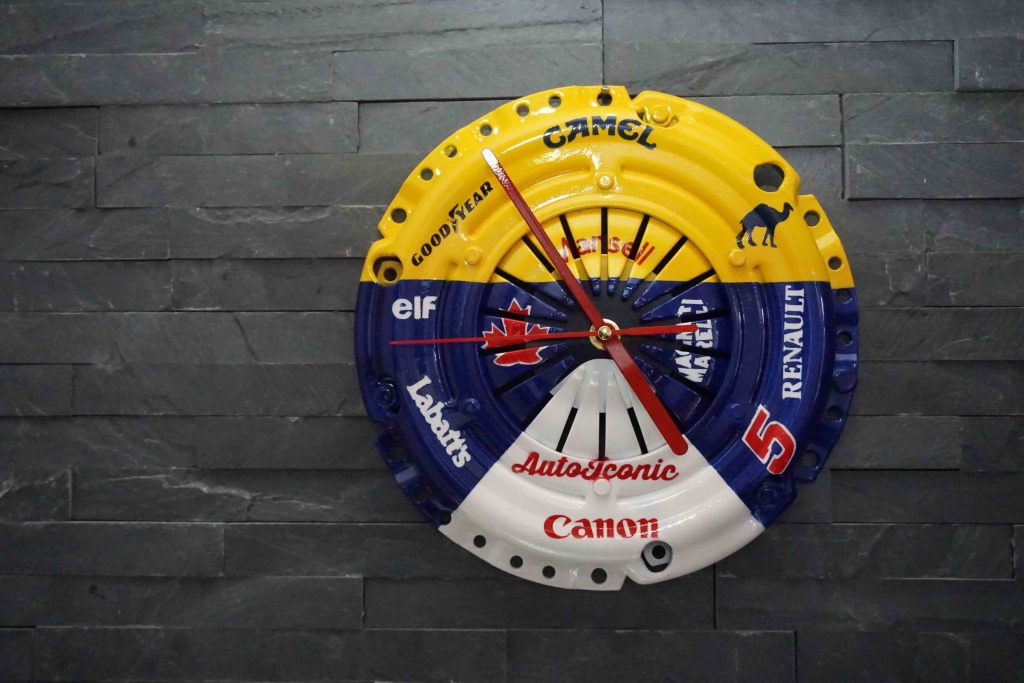 "Then I design how the piece will look on paper, or in my head. I work out how the bits will fit together, or what colours would suit it best, and then plot out all the logos before air-brushing and adding details. Then everything is clear coat lacquered and finally assembled."
Pete's custom-made recycled clutch plate clocks have been a hit with petrolheads and it's where he gets to showcase his airbrushing and hydro dipping skills – a method of applying printed designs to three-dimensional surfaces by floating the pattern or print on water and passing the product through it.
"It has been on car dashes and trims for many years but recently has come to the 'home DIY' market and can be extremely fun to do – with some amazing results. I often use it for the carbon-fibre look, unfortunately it doesn't always work first time. Then it's just a case of strip it off and start again."
Pete's most ambitious project to date? His first Auto Iconic piece, six years ago, when six months of "blood, sweat and tears" went into a sofa made from a BMW Mini's bonnet that has callipers and disc brakes made from MDF and genuine Cooper works wheels.
"Normally a Mini's bonnet comes as one piece with its wings attached," explains Pete, who took upcycling to the next level by installing working headlights, a USB phone charger and a Sonos speaker.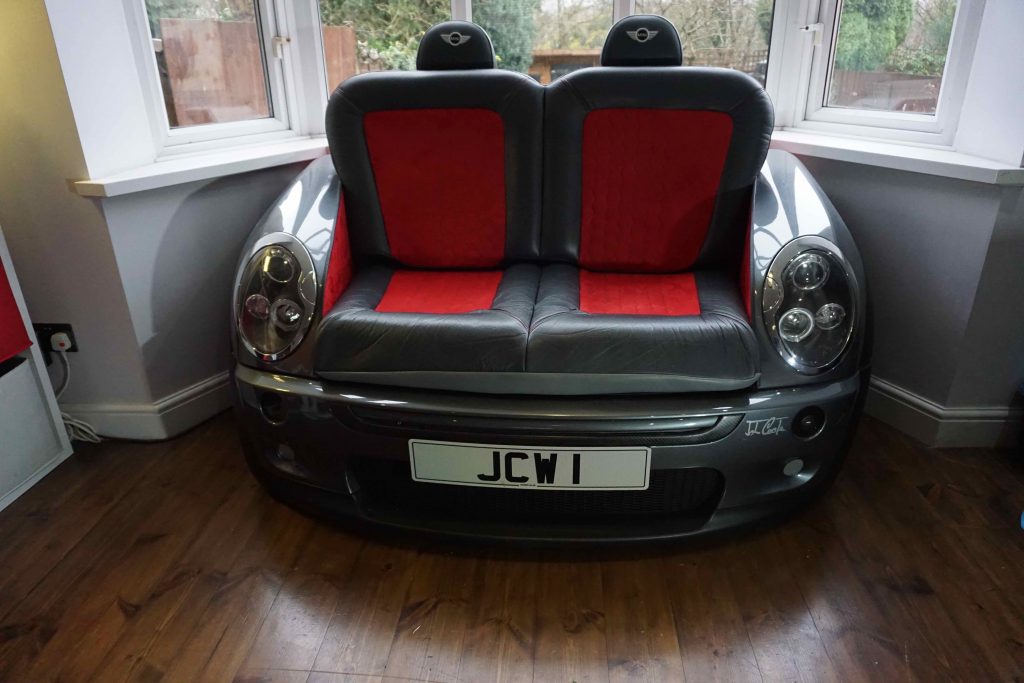 "It's called a clam-shell bonnet, which was no good for a sofa – so out came the angle grinder. The bonnet was cut out, leaving just the wings and gradually, a frame and sofa was formed before it went to an upholsterer friend, Mid England Retrims, who created twin bucket seats made from Bentley leather and Alcantara.
"It isn't just a statement sofa, it's actually a comfy seat that is used in my lounge daily. Everyone who sees it agrees that it does the genuine car proud and even today I still smile when I look at it – definitely one of my proudest pieces."
With ambitions to evolve his craft, Pete has sourced two original 1960 VW Beetle wings that he's going to use to make a sofa bed. He's also busy finishing off a 'tot rod' – a petrol or electric car for kids – which will be powered by the engine and electrics harvested from an old mobility scooter, which Pete says was "crying out to be repurposed." The fibreglass body is a 1/3rd scale replica of a split screen VW camper, painted cream and red.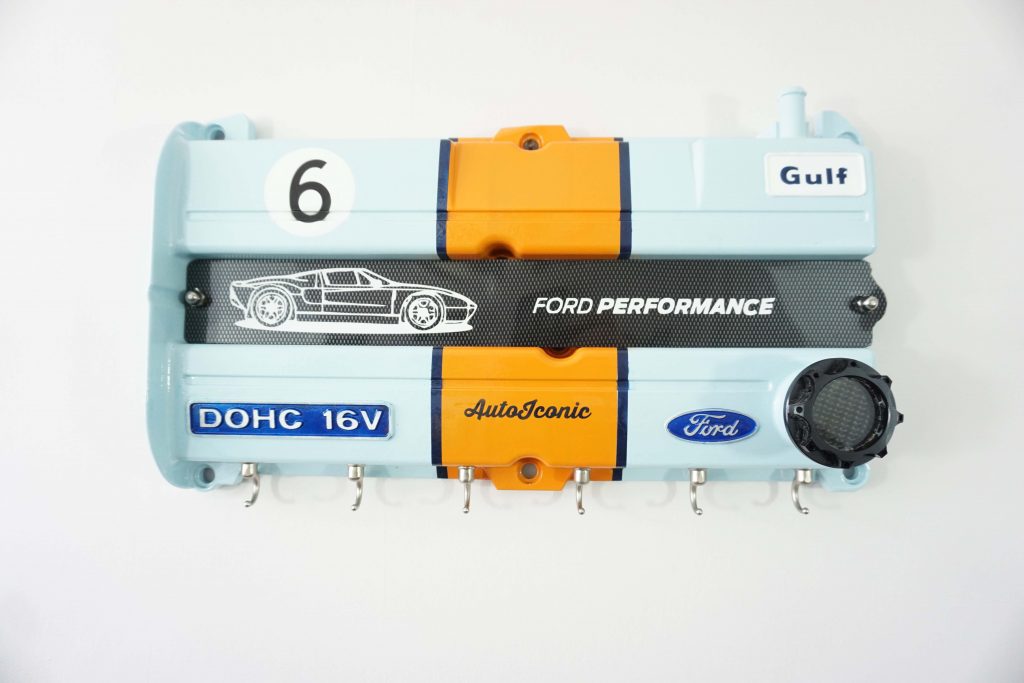 "It has been a back-burner project that was originally for my daughter, but as she's turned 20 I think it may be more suitable for my younger son now! Everything was stripped off the mobility scooter, bar the motor and main electrics. A steel tubular frame was welded to suit the shell and motor placement, then all axles and steering were fabricated by me."
Pete's passion runs so deep he has been known to make a second version of a piece to sell because he can't let the original go.
"At my last count I have approximately 20 pieces of furniture from clocks, tables, lamps and the Mini sofa."