Nineties kid Florian Weber idolised the Ferrari F40 when he was growing up. The sound, the smell, the form – everything about the F40 left a lasting impression, and eventually, it became the inspiration for his DIY paper car sculpture concept, Paperlegend.
"The F40 is very edgy and so lends itself well to paper crafting," says Stuttgart-based Florian, who launched Paperlegend in 2019 as an antidote to the dissatisfaction he feels towards the "complex" nature of contemporary car design. "I really admire the simplicity of 90s cars, and working with their proportions I reduce that simplicity further in my sculptures to make something really beautiful and yet easy to build," he explains.
How much is your car to insure? Find out in four easy steps.
Get a quote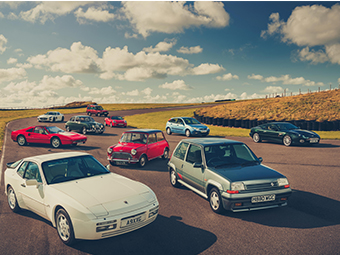 Made from lightweight FSC-certified metallic paper, there are currently six paper car models in Florian's build-it-yourself Paperlegend fleet. This includes the 'Geländewagen Verteidiger' which is inspired by the Land Rover Defender 90, the 'Whale Tail', inspired by the Porsche 935, and of course, the "Wild Horse" which is based on the Ferrari F40.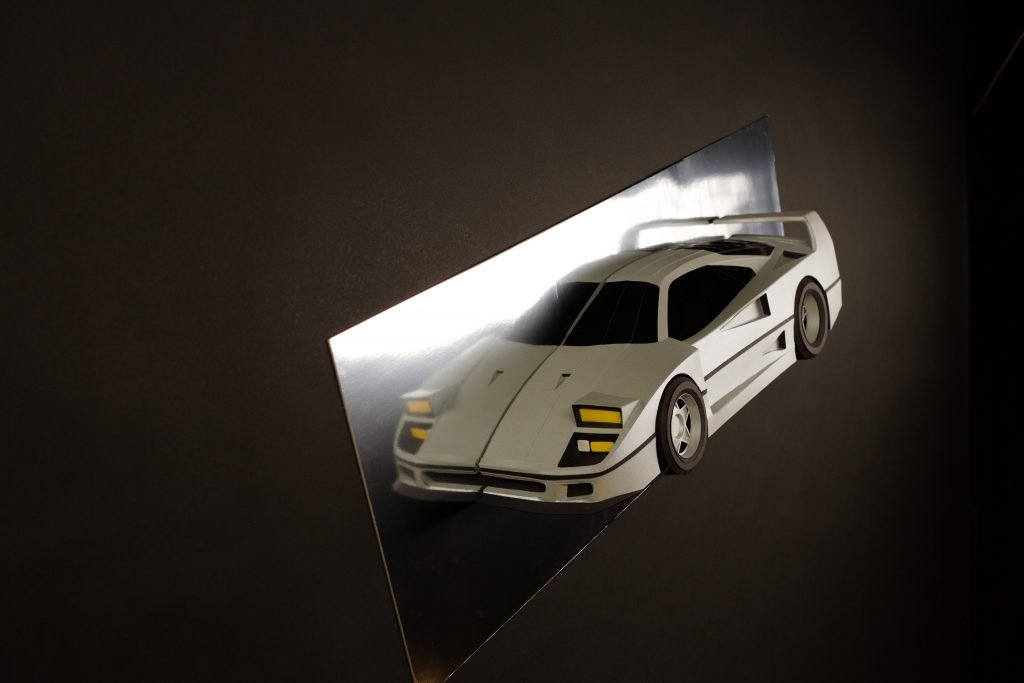 To customise the experience, most models are available in a choice of ten colours, with glossy black windows as standard to give the sculptures a sense of depth and realism.
"People desire these cars, they are childhood heroes, but they cannot be afforded because some people with money just park them in garages for investment, pushing up the price and taking the opportunity of owning them away from true petrolheads," says Florian.
"With the sculpture kits I wanted to give everyone the possibility to have at least a resemblance of such legendary cars in their living environment. People love that they can create it themselves and using paper meant it was affordable, and therefore accessible."
For those who haven't used lockdown to hone their crafting skills, Florian's paper car models, which cost from €29.95 (less than £22) are devised to make the build as straightforward as possible. Pieces are pre-cut and pre-creased to ensure a neat and tidy finish, and the step-by-step assembly instructions can be accomplished with a little patience and a bit of glue (the former isn't part of the package, but thankfully, the sticky stuff is).
In order to assign each build a difficulty level between one and five, five being the hardest, as well as an estimated completion time, which ranges from two to nine hours, Florian gets friends and volunteer test-builders to try out each model before it goes into production. This process also allows him to identify any particularly tricky bits and rectify mistakes. "I think a lot of people think, 'Oh that looks cool, but can I do it?' Well, yes you can," he says.
Mindful that a one-off piece can be considered art, but when something goes into production it becomes a product, Florian wanted to make his business as sustainable as possible: "I'm trying to improve, not destroy the planet, with cars." That's why, for each kit sold, he offsets its carbon footprint by planting a tree. Any waste that's created, which he calculates at 500g of paper per 1:8 scale DIY sculpture, is recycled.
"I wanted the sculptures to have a small as possible impact on the environment, so I did some research before I started the project," he says. "If you plant a tree for each sculpture, within one year of growth it will have collected more CO2 than was used to produce the model. It will keep growing and absorbing CO2 for decades, so my conscience is clear."
His desire to protect the environment was further enforced when he made the move from Berlin's "concrete jungle" to Stuttgart, where he has worked for Porsche. Whilst studying Transportation Design at Pforzheim University, which lies north west of the city, he previously completed internships at McLaren and Volkswagen.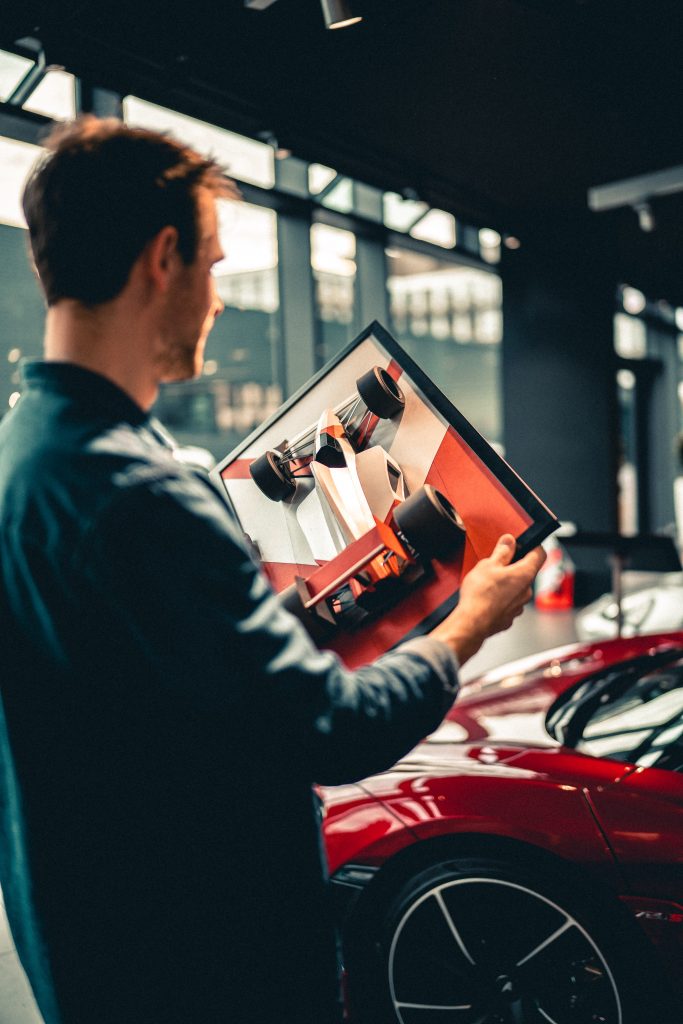 "I think a lot of people admire a nice drive on curvy roads, whether it's in the mountains, through the hills or in the woods, so we should protect that environment. There's a deep and strong connection between cars and the freedom they give you, and the nature you escape to. Stuttgart has the best surroundings for driving your car, in the Black Forest for example. For me, paper also has that link to nature."
Despite their characteristic polygonal styling, 80s and 90s cars carry curves – but doing them justice using a material that responds best to being folded rather than manipulated into an arc, is a difficult, but not impossible task. The first prototype Florian tackled that presented this challenge was the Porsche 935.
"I started bending and twisting the paper to see how it would behave. The limitation with paper is that you cannot bend it in two ways, like you can with something like metal, but thankfully it worked."
In the same way that he will design a vehicle in real life, Florian begins each sculpture project with a sketch to study a car's lines and shapes. This helps him to understand how each element will come together, and what composition – for example top, side or drifting view – will do it the most justice.
He then uses a piece of software called Autodesk Alias – a computer aided design (CAD) programme favoured by those who work in automotive design – to create a variety of 3D visualisations.
"That's the programme I work with as a car designer and that's why I chose it for this project as well. It has great control of lines," he says. "It's important to define the car accurately; most importantly the proportions of the car, the stance (how the car sits on its wheels), how much tension each curve has and finally what details to highlight and which to consider to leave out."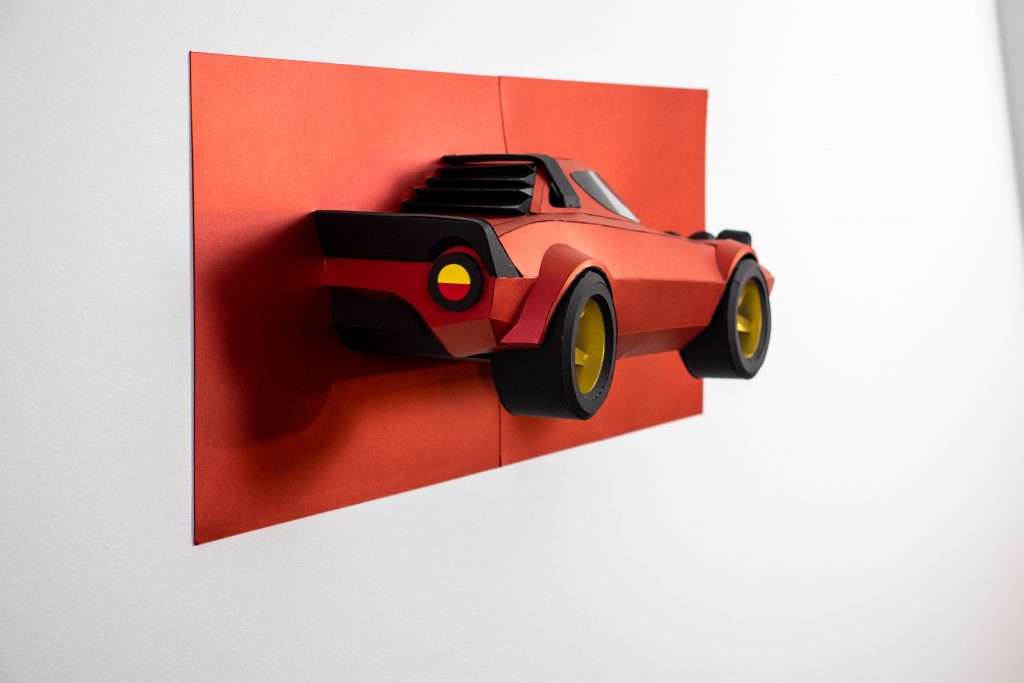 He then shares these visualisations on social media and asks followers to vote for their favourite. Once the model is chosen, and the CAD model is complete, Florian "unwraps" it in another piece of software – effectively separating the car into pieces and creating a template. This data is then entered into a knife plotter which cuts and creases the paper accordingly. Over the course of several test builds he will work out the best and easiest way to assemble the sculpture, a laborious but essential part of the process.
In time, Florian would like Paperlegend to become his full-time job, but for now, as well as increasing his line of DIY car sculpture kits – a model inspired by the BMW E30 M3 is up next – he's juggling freelance car design with bespoke projects and a few exciting collaborations.
As a child, Florian imagined his toy cars were fantasy drives. As an adult, he's now building them out paper. His biggest hope for the future? One day he'd like the opportunity to drive one of them.