When you own 170 rare classic cars and they're stashed bumper to bumper in a secret location that you don't want anyone to identify, you may think twice before agreeing to let Tom Cotter and the Barn Find Hunter team fly in and reveal them to the world.
Happily, the owner of the cars featured in the final instalment of Barn Find Hunter in Britain decided to let Tom Cotter and the camera crew take a peek around and share this barn find collection. Maybe it's Tom's honest face. Or his background in public relations. Or the friends who vouched for his character. Or all the promises that he and our film crew vowed to keep.
The rules of engagement were straightforward. Can't reveal the owner's name. Can't show his face. Can't mention what he does for a living. Can't reveal the area in which he lives. Can't show the exterior of the buildings or the surroundings – not even the farm animals nearby. Short of having pillowcases pulled over their heads and being driven to the location in the back seat of a black SUV, this is the most clandestine operation the Barn Find Hunter team could possibly execute. But boy was it worth it…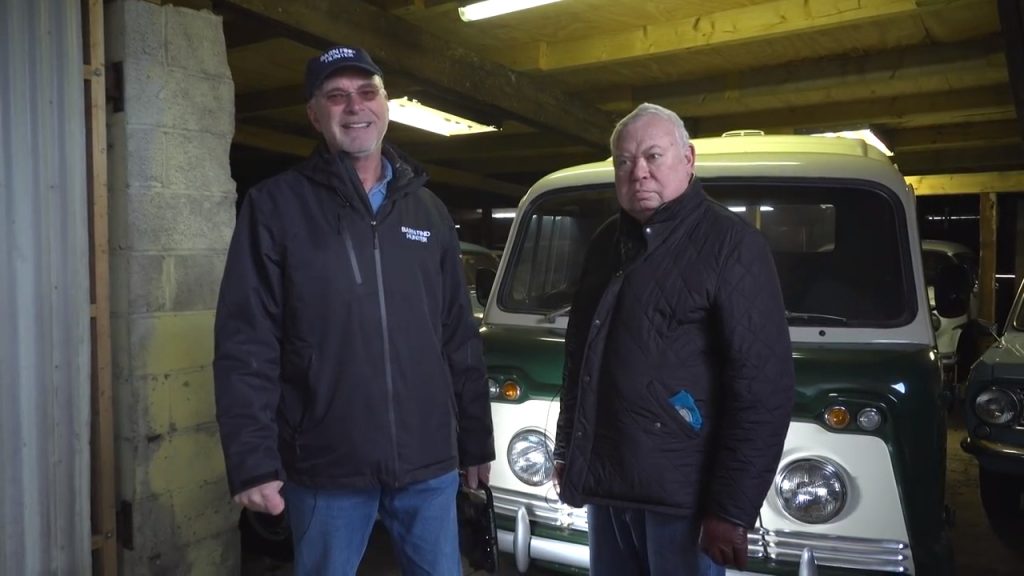 Upon arrival, the mysterious owner puts on the kettle and offers some insight into the mass of metal stored in barns and outside. Clearly, the cars and trucks mean a lot to him. "If you said, 'Sell everything and keep one,' I couldn't do it," he tells Tom Cotter. "I couldn't even sell everything and keep only 10.
"Don't even ask to buy anything. It won't work; people have tried. I don't sell anything; I just keep buying. To be honest, I've slowed down a bit, but I haven't stopped. I can't stop. When I see something unusual, I have to buy it. It's an obsession – a constant obsession."
This episode, which concludes Tom Cotter's search for automotive treasure in the UK, never would have happened had it not been for "Vernon from Charlotte." Vernon is friends with both Tom and the owner of the 170 classic cars, and he thought bringing the two together might be worthy of a Barn Find Hunter segment. He's a savvy matchmaker.
Vernon had already planned a trip to the U.K in mid-February, back before the pandemic halted international travel, and he volunteered to fly to Great Britain a day early to meet us and serve as a go-between—an on-camera interpreter of sorts, guiding us through the dozen or so barns and buildings that house the massive collection.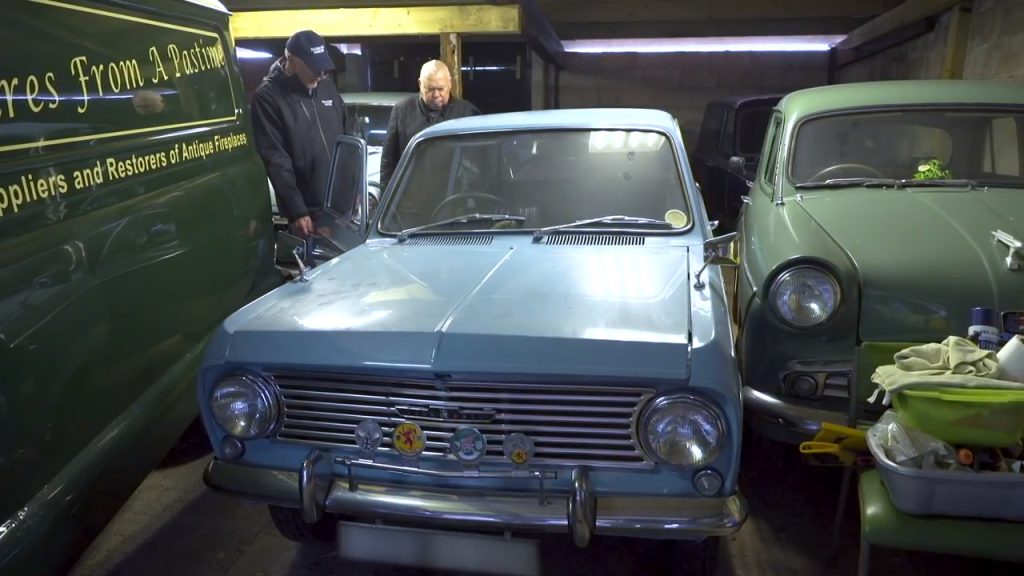 Although there is a smattering of cars outside, Tom Cotter applauds the owner's resolve to protect most of his vehicles from the elements. "This is a preservation effort," Tom says as we enter the first building, "as opposed to a deterioration effort." Off camera, the collector says, "I've heard of another guy in the U.K. who has 200 cars, but they're all outside. I couldn't do that."
The collector's love for everyday cars from Britain's past is evident. Tom and the Barn Find Hunter team begin by making their way through a maze of them, starting with a Standard 10 and moving on to a Ford Anglia, a Triumph Herald, and an Atlas cabover pickup with a new Mini body perched in back. Tom spots a late-1950s Fairthorpe Electron, a fibreglass two-seater that came fully assembled or in kit form. The rare little roadster features a sharply swept windscreen, 1098-cc overhead-cam Coventry Climax engine, and—as Vernon points out—wooden floorboards.
"I'd like to see this car," Tom says, "but it would probably take us four weeks to get it out of here." That rouses a laugh from the owner, who says off camera, "We've had to play a bit of Jenga in here."
Our discovery walk continues with a Ford Cortina Mk II 1600E, Vauxhall Firenza SL fastback, Vauxhall HA Viva with 10,440 original miles, and a 1963 Austin Armoured Security van – that's Armoured Security, in the UK – described as "axe proof." Tom demonstrates how the van's reinforced double doors work and says all of these vehicles were supposed to be destroyed after being decommissioned, making this, perhaps, the only survivor.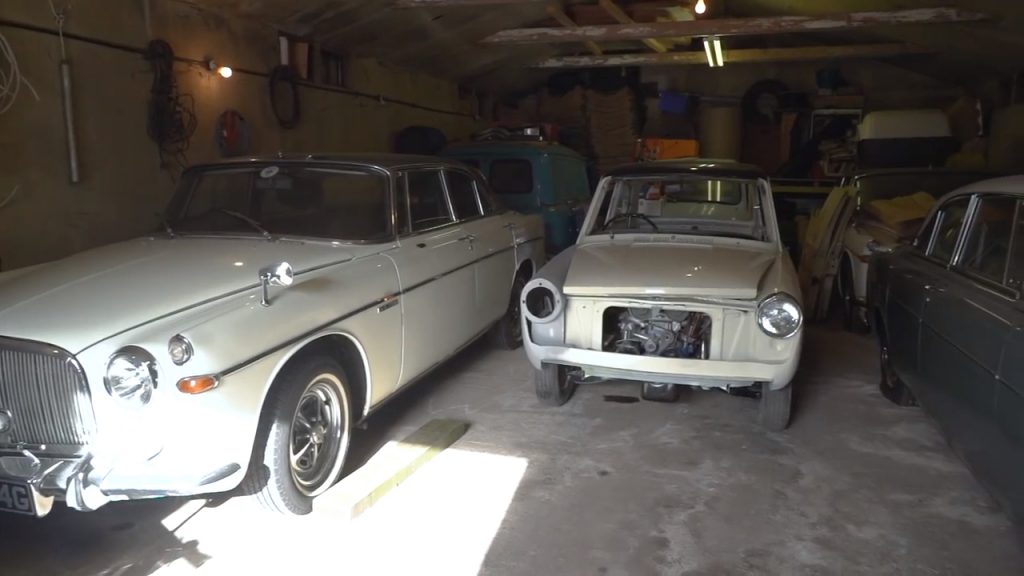 Upon seeing a 1969 Rover P5, Tom points out its aluminium-block V8 engine. Originally built by Buick, the engine's patent and tooling were sold to British Motor Company. "It started in a Skylark," Tom says, "and ended up in Range Rovers, TR8s, TVRs, and MBG GTs."
We check out an Austin A40 hot rod with a Fiat engine, a Humber Super Snipe, and a Morris Minor Traveler that requires Tom to use his best climbing skills. "All you guys sitting in your living room right now … remember I was doing this for you."
And then more Vauxhalls; a Bedford Rover campermobile and a Viva in Brabham configuration, which pays homage to Formula 1 champion Jack Brabham. After seeing more cars too numerous to mention or to show on camera, Tom completes his tour of the collection by checking out a turbo-charged Ferguson tractor. Vernon says it "would probably pull these buildings down," but we wouldn't want that.
"We want to thank Vernon, and we want to thank the owner, who's standing right over there," Tom says, pointing off camera. "I can't reveal who he is, but he's a really good guy. He knows these cars, and he loves these cars… That's pretty cool."
Cool doesn't even begin to describe it.