Price: £1895
Year: 1992
Mileage: 110,700
Condition: Very tidy, and very rare
Seller: Car & Classic
We know, we've done an R8 Rover recently in this section (not to mention the Honda version last week! – ed). But this is no ordinary R8. Chances are you'll never have seen one of these, but if you have, you may have walked straight by. This is no 414i, or 416Si – this is the Rover 420 GSi, a real junior executive with the kit and performance to match.
How much is your car to insure? Find out in four easy steps.
Get a quote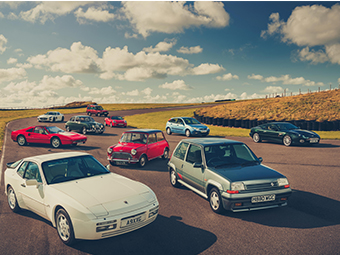 Nestling under the bonnet of this 400 is the 2-litre T-series engine from the Rover 820 – an engine which was already no slouch in a far larger car. In the 400, you'll see sixty in just eight seconds, giving this humble hero 'Dolly Sprint beating performance. Not quite up there with the 6.4-second 420 GSi Turbo from our list of the fast family cars disappearing from Britain's roads – but then few things were in the early 90s.
All round electric windows and leather trim complemented the Sterling-spec alloy wheels, meaning that this car looked at home in the executive car park, even if its size indicated you were on the bottom rung of that particular division of the company. And cars like this marked a shift away from the preference for something like a 2-litre Granada toward something with less clout, but more power and spec.
It evokes the manager in A to B: Tales of Modern Motoring who was proud of his Astra CDi saloon in place of a Cavalier GL, "which was one rung above my reps". And that social positioning marks this out as ripe for entry into the Festival of the Unexceptional. A car which is exceptional through circumstance rather than design, cars like this tell a story which the judges will love to see.
A recent service, alternator and fan belt count in its favour, non standard two-tone paintwork counts against – though a previous owner's efforts were clearly well intentioned given that it appears to match the shading used on the lower half of earlier examples of the R8. It's worth using some of this untidiness as a haggling point, but the result could be a car to treasure.
Also read
Vanishing point: The fast family cars disappearing from Britain's roads. How many are left?
Our Classics: 1989 Citroën BX DTR
11 sports cars powered by the Rover V8