At the wheel: Dan Goff
Owned since: October, 2018
Current condition: Concours de l'Ordinaire eligible
Hands-on or hands-off? Hands-off; the car's been fault-free
Dan Goff is Client Service Advisor Manager for Hagerty. He owns a matching 1980s shellsuit to complement his BX, and can be found wearing it with pride at the Hagerty Festival of the Unexceptional.
3 February, 2021: Alternative comedy
Let's address the elephant in the room first shall we? I acknowledge that a Citroën BX powered by something as unglamorous as diesel engine is a rather odd choice for a modern-classic car. So why, you may ask, did I buy one?
My father always liked running alternative choice cars as his daily drivers when I was growing up. That meant that instead of popular cars of the time, like the Ford Cortina and Vauxhall Cavalier and even the Austin Montego, he'd fix himself up with a Citroën GSA, Renault 14 or Renault 12. So it was no surprise that in time a Citroën would find its way into the Goff household. Not literally, of course.
How much is your car to insure? Find out in four easy steps.
Get a quote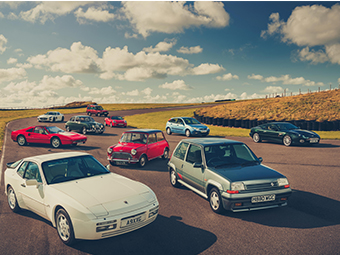 We had several as family cars. I remember family holidays to France loaded to the gunnels with suitcases and three lads in the back. If that sounds like a far less enticing mode of transport than a short-haul flight, I'd beg to differ. The BX was comfortable, and no matter how big us growing boys got, the BX would maintain a spirit-level horizontal stance, courtesy of suspension that was hydropneumatic.
As any teenager will attest, you can either follow in your father's footsteps or deliberately swerve in an altogether difference direction, but in the end how could I resist the ruler-straight lines of the BX, a car designed by the same stylist responsible for the Lamborghini Countach, Marcello Gandini? So I trod in those same footsteps and at the age of 19 ended up with my second ever car, a BX 17 RD, pre-facelift, with the nuts space age dashboard complete with satellite pods. My mates thought there was something wrong with me, as they were all running Fiestas and Novas at the time!
A few cars later I again ended up with a facelift BX 16 RS, off-white in colour. That brings me neatly on to the reason why I run a BX today. It's a car that is full of memories, which stirs emotions.
Oh, and I also happen to really like the way they drive. Magic carpet really does describe their ride quality.
The one I have came up randomly for sale locally, in late 2018, and a bit like going to look at a puppy, once I'd seen it I had to have it. My car was supplied brand new by Moto Baldet Citroën in Northampton in 1989, the same garage my father bought two Citroëns from, in '91 and '92.
It had had one owner until 2015, and even came with the original sales invoice showing they part exchanged a 1985 Ford Sierra 1.6 Laser for it. (Clearly, they saw the light.) I bought it off the second owner who loved it but wanted a Citroën CX instead. Given its history file and condition, there was no question that, for the second time, a BX would be coming home with me.
And I'm glad it did as I now own a well specified, (mine's a top spec DTR) late '80s classic that does 50mpg with ease, cruises fine at motorway speeds, is practical, very comfortable and of course has height adjustable suspension, which means I definitely won't worry if I ever find myself on a rutted track – or just crossing the concours lawn area at the Hagerty Festival of the Unexceptional.
It cost me £2,500 so it wasn't cheap for one at the time, but it had covered around 78,000 miles from new, had a full service history, and the front end had been rebuilt by Chevronics only a couple years before me buying it after the second owner found some rust under the plastic front panels and decided to just go the whole hog rather than a patch repair.
That car was displayed, with no small amount of pride, at the 2019 Festival of the Unexceptional, even winning Junior Judges Choice Award. I very much hope to return to what is, unquestionably, the highlight of the season. The question is, are you a Citroen fan and would you like to join me there? Let me know, in the comments, below.
19 April: A cold snap calls for a new battery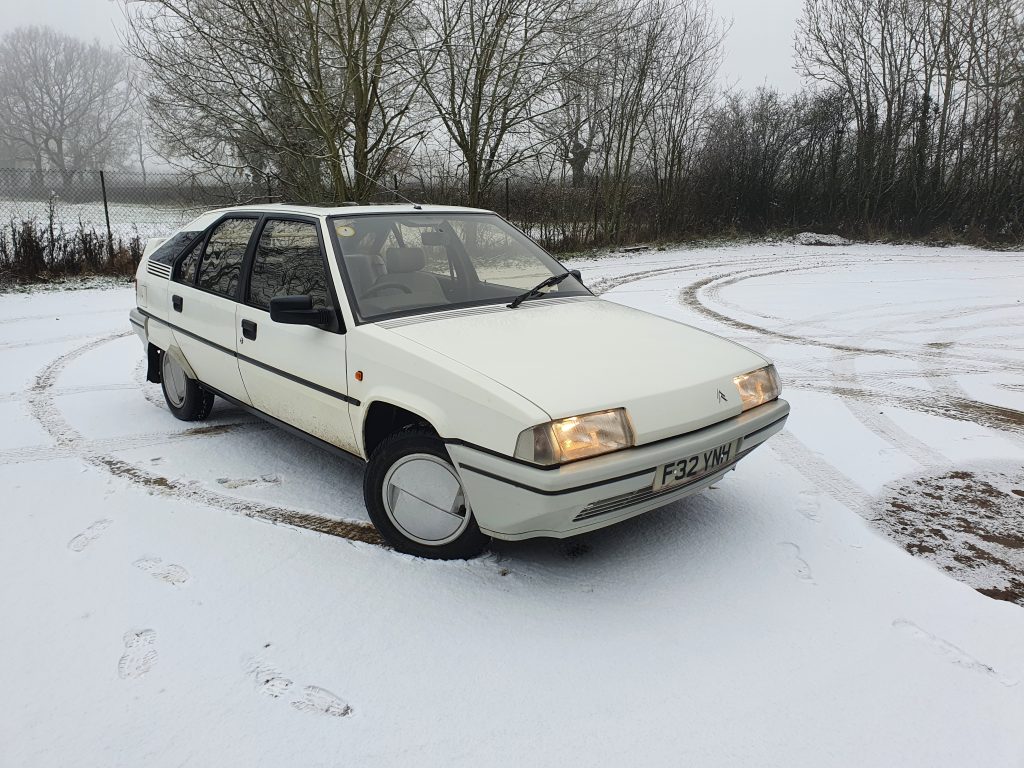 A couple of months back it snowed in our neck of the woods which means I can conclude in no uncertain terms that the BX – with its height adjustable suspension and torquey old diesel engine – is unstoppable in the white stuff. However, that is not the main development to report. Oh no. Instead, I have to tell you about my Citroën going wrong. But before those who don't hold French cars in the same high regard as me jump to conclusions, repairing it was as simple as it gets.
Recently I've had to put my hand in my pocket to actually replace something other than diesel (and occasionally oil and a filter) in my BX for the first time in a long time! Now, because the BX draws about as much power sitting there unused as my retro Casio digital watch it can be left for well over a month in the cold and start first time every time, after the glow plugs have taken what seems like an eternity to warm up in our click-for-instant-satisfaction internet age.
However, going back a month or so ago I was surprised to find that it was struggling to turn over after being left unused for only a week. This only got worse and culminated in me actually having to bother to get my jump box out to start it up, an annoyance I haven't had to put up with since I sold my 1978 Vauxhall Cavalier a couple years ago.
In my world, any extra physical effort involved in starting a car is totally unacceptable so off I went to a reputable car parts provider, where I bought a brand-new battery for it, which was even fitted for me! Now Claude the Citroën can be left for weeks and weeks in the cold garage and is raring to go again, the digital clock has even started keeping perfect time for the first time since I've owned Claude.
So – and I can't guarantee this – if you want a very low-cost modern classic that does 50mpg, and costs precious little beyond service requirements and fuel bills, there can be only one answer. Buy an old Citroen BX diesel with complicated hydropneumatic suspension.
BX fan? Bookmark this page as Dan will regularly report on his Citroën BX.