Price: £1850
Year: 1992
Mileage: 25,000
Condition: Impressively good
Seller: Car & Classic
It's easy to forget that the Honda Concerto ever existed. The Concerto is the very definition of an invisible car, almost indistinguishable from the Rover 200 to the person on the street, without the kudos attached at the time to the Rover name, and with a similar resemblance to the then current Toyota Corolla it's not surprising that the average British motorist has let the Concerto pass them by.
How much is your car to insure? Find out in four easy steps.
Get a quote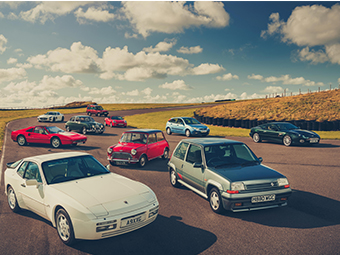 It's a shame though, because these are every bit the car the equivalent Rover was, with added rarity to boot. You could buy a 16v version with wheel trims and a staid interior – a 216GTi for those who didn't want to shout about it. The ride was OK, the driving position nice; the Concerto was a very good, very capable car.
And the 1.6i automatic we have here also happens to be a very tidy example. With just 25,000 miles under its tyres from new, it's no surprise that it looks very nearly as good as the day it left the showroom – and having spent 13 years in dry storage, this 29-year old car should feel barely half its age.
New brake pads and new tyres count in its favour, and while the MoT may be short (June 2021), slight discolouration to the headlamp was the only real advisory listed last time round.
The lacquer on its bonnet perhaps isn't the prettiest, but a bonnet respray will have this car looking a lot fresher. There are some cracks in the rear spoiler too which might prove trickier to sort unless you strike it lucky on eBay or at an autojumble. We'd be tempted to check the usual rubber hoses to ensure they're not suffering the effects of age, but the Honda engine itself should be about as trouble-free as cars of this age get.
And forgotten history, such as the Honda Concerto, is the raison d'être of the Festival of the Unexceptional. While there have been odd examples in the car park at previous events, we'd be keen to see this one as the first to represent the Concerto in the Concours d'Ordinaire.
Also read
Bland of the rising sun: 13 unexceptional cars that put Japan on the map
This rare Honda Civic barn find could save another
Branded Retro Mobility: Rover 200 BRM