Price: £7950
Mileage: 47,000
Condition: Handbuilt by robots, preserved by enthusiasts
Seller: eBay
The earlier Fiat Stradas don't really look like cars of the 1970s, do they? Some readers will no doubt recall public opinion when they were new, but viewed through the lens of hindsight, it's a 1980s shape through and through, from its integrated plastic bumpers to those wind-cheating door mirrors that look like they've been nicked off a concept car at the Geneva motor show.
How much is your car to insure? Find out in four easy steps.
Get a quote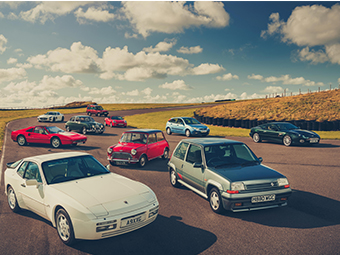 And yet, here a Fiat Strada is in all its 1979 glory, making it an early example given the Strada only appeared in 1978. That, in turn, somehow makes this oh-so-'80s-looking car both MOT- and VED-exempt, and it gives London's ULEZ charge a swerve too. Given genuine 1980s models are mostly subject to all three, that makes a car like the early Strada quite special.
Still unexceptional, though, as demonstrated by the later 1988 Fiat Strada Super that made it through to this year's concours at the Festival of the Unexceptional. The seller of this sky blue 1979 car is keen to distance it from those later, more conventional Stradas, not least so they can presumably get as close to the £7950 asking price as possible.
You'll struggle to find another, so it's probably a seller's market. But let's see what you get anyway: a five-door 1970s hatchback with, in 75 CL form (which was produced for export markets only), a 1.5-litre, 74bhp four-cylinder attached to a five-speed gearbox, though this one has the optional auto.
Italian horses always seem fairly healthy so this Strada probably feels peppier than that figure would suggest, while CL trim was a relatively upscale model, with such niceties as a rev counter and both heating and a wiper for the rear screen.
The caps-lock ad listing is a little offputting and it's a shame the seller hasn't whipped the furry seat covers off to corroborate promises the fabric underneath is still in good nick, but does highlight a couple of small areas of corrosion.
A quick check of previous MOTs shows a clean pass in January 2020 and a mostly clean one in October 2013, but no others on record – the car has, apparently, spent some time in storage. While the car looks good in the photos, we'd suggest a decent test drive if possible just to unearth potential trouble spots.
The Strada's original claim to fame was that it was "Handbuilt by robots", being an early example of automated body welding in the industry. Not The Nine O'Clock News then wryly appended this with "Driven by Italians", but it's good to see that at least one early Strada has survived more than 40 years, whoever it's been driven by.
Read more
Unexceptional Classifieds: Austin Maxi 1750L
Buying guide: Lancia Delta Integrale
This Fiat 126 beach car could make you much more Jolly