The mad Group B rally cars of the early 1980s were crazily fast and spectacular to watch, but some good things came out of the decision to ban them. Lancia's Delta Integrale is one such good thing. Group A Deltas, based closely on regular production cars, brought six World Rally Championship wins in succession to Lancia, and in the world of road cars a bit of a cult was born.
You can think of an Integrale, its abilities largely the result of its four-wheel drive and its turbocharged torque, as a later, lighter and more nimble interpretation of the Audi Quattro idea. Or, looking forward rather than backward, as the precursor of the Mitsubishi Lancer Evo series or the dynasty of Subaru Impreza Turbos. Either way, this is a car of huge car-culture significance. With, for the most glamorous versions, some extraordinary prices to match.
How much is your car to insure? Find out in four easy steps.
Get a quote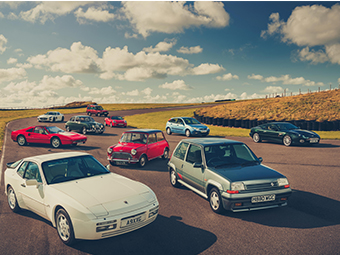 The Integrale's roots are in the humble Delta hatchback, styled with then-fashionable angularity by Giugiaro, based on the underpinnings of Fiat's Ritmo (Strada in the UK) and launched in 1979. A turbocharged HF version arrived in late 1983, with 1.6 litres, which pointed the way to the April 1986 launch of the 2-litre Delta HF 4WD, its 1995cc balancer-shaft engine still based on the venerable Fiat twin-cam unit designed by Aurelio Lampredi.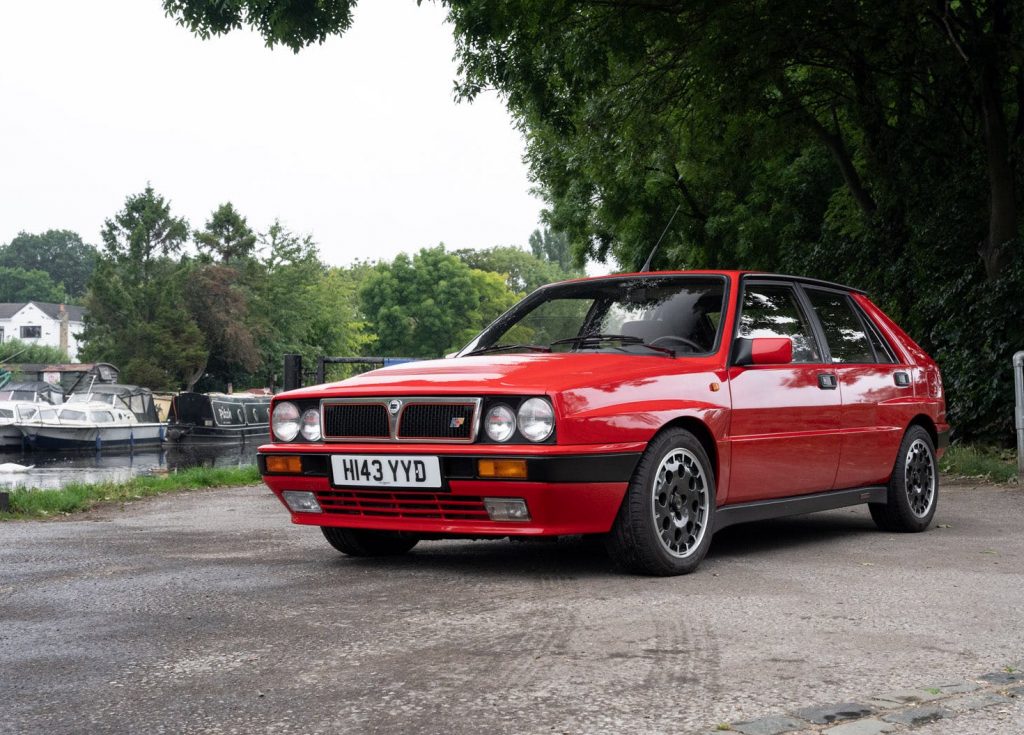 This 165bhp car, the basis for Lancia's Group A rally campaign, used a Torsen rear differential and an epicyclic centre diff with a viscous limited-slip system which split the torque, nominally, 56 per cent to the front wheels and 44 per cent to the rears. It came only in left-hand drive, had a quick steering rack and in its time was indisputably the hottest hot hatchback of all. Here, although we didn't realise it then, was the proto-Integrale, at this point still visually demure with little more than twin tailpipes to distinguish it from the regular HF Turbo.
Two years later, suddenly the hottest Delta didn't look so much like a Delta any more. Boxy, blistered, Quattro-like wheelarches covered wider wheels, and the bonnet gained some louvres to let the warm air out. Behind those wheels were bigger brakes, under that bonnet were a bigger turbocharger and intercooler to help towards a power hike to 185bhp. Here was the new Delta HF Integrale, the most thrilling and most driver-involving hot hatchback of all. As a roadgoing driving machine it was practically perfect.
Yet, as with all the best hot hatchbacks as much as with all the worst ones, there were people who thought they knew better. The Integrale, as with the Delta HF 4WD before it, had an overboost feature to give a short burst of extra energy, very useful for overtaking. Modifiers liked to make the extra boost permanently available, to the detriment of the Integrale's engine integrity. Also they favoured lowered, stiffened suspension, which spoilt the ride, the fluidity and, longer-term, the structure's cohesion. And sometimes the cars would get converted to right-hand drive using standard Delta parts, which included the slower steering rack and the consequent loss of a key part of the dynamic appeal.
Lancia itself modified the Integrale in stages, however, to homologate improvements to the rally cars. In 1989 it got 16 valves and a bonnet bulge to accommodate the resulting bulkier cylinder head, plus further widening of the wheels (they now looked like those of the rally cars, and used five bolts instead of four), a change to a rear-biased (47/53) torque split and a power rise to 200bhp. Two years later came the first officially-entitled Evoluzione version, with 210bhp, a wider track and wider arches to accommodate it along with new mountings for the front struts and some extra air vents. The last development, Evo II, arrived in 1993 with 215bhp despite its catalytic converter, thanks mainly to more sophisticated Marelli engine management.
A year later it was all over for the Integrale, and from a UK perspective for the entire Lancia brand which ceased to be imported from that point. But what a way to finish.
What's an Integrale like to drive?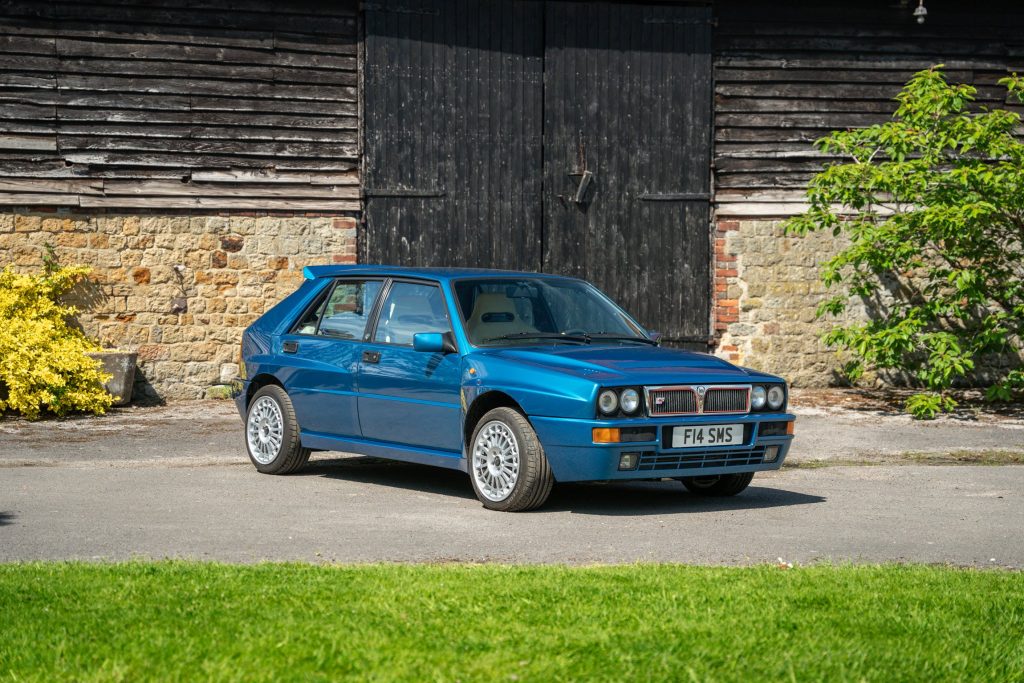 The brilliant thing about an Integrale is the way it is both incredibly adhesive to the road yet also fabulously chuckable, throttle-steerable and driftable. It was always much more fun, much keener to play, than its capable but rather inert Audi Quattro rival, and today more than ever the mix of suppleness and precision is a revelation. The quick steering is ultra-informative despite its power assistance, and the later the Integrale, the less the lag in its turbocharger response although even the Delta 4WD predecessor was unusually low in lag for its time.
These are all quick cars: even the original eight-valve Integrale hit 62mph in 6.6 seconds and maxed at 128mph, while the final Evo II managed 5.7 seconds and 137mph. Even better, all that pace is easy to trigger thanks to the ready torque from quite low engine speeds. As a rapid coverer of twisty terrain, the Integrale remains in the top tier as its turbo whistles and its twin exhausts bark.
You would think that the later and more evolved the Integrale, the better the drive. The truth is less simple. With their rearward torque bias and their wider wheels, the 16-valve versions are pointier, more nervous and more demanding of skill than the original eight-valve Integrale. They lost, especially in hardcore Evo guise, some of the forgiving fluency that makes the eight-valve car such an interactive joy on a fast but unknown road. It makes the 16Vs more like the rally cars for which they were homologated, but fitness for purpose – which purpose? – comes into play here.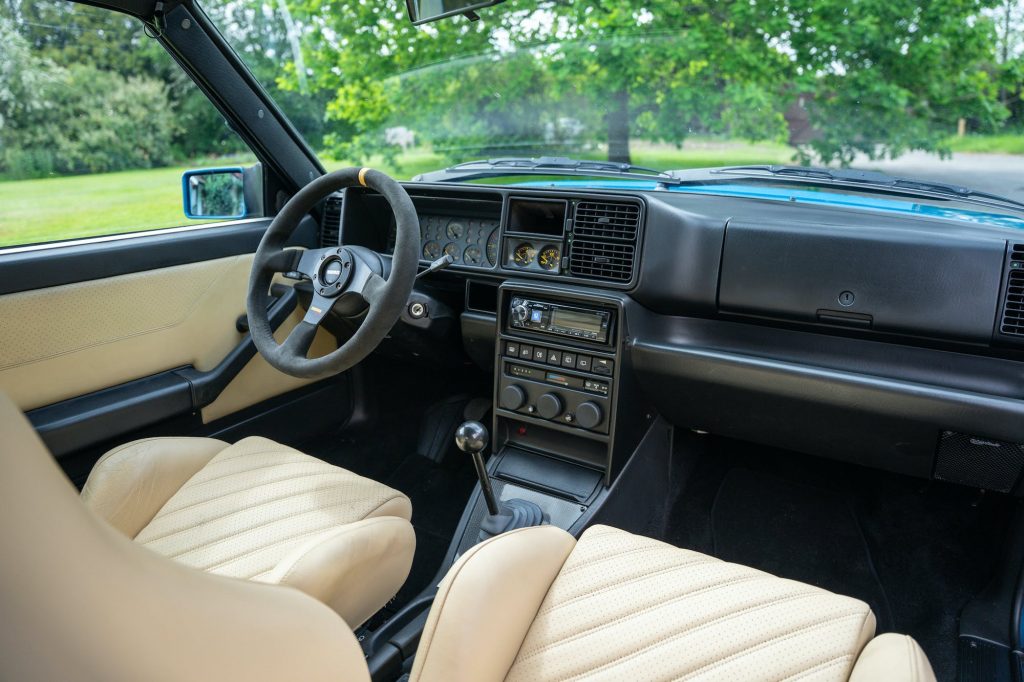 All of which makes an Integrale's innate and somewhat dated Delta-ness fade into the background: the rectilinear dashboard, the chaotic switchgear, the creaky plastics. You do notice, and enjoy, the Momo-esque steering wheel and the snug Recaro seats, though, and you have to love the diagonal-stripe cloth inserts, bounded by Alcantara, in the trim of all Integrales except those later, grander ones with leather. Deep windows and slim screen pillars make for a good view out; this, and that potent acceleration, make sitting on the left only a minor disadvantage.
Another thing: it's a five-door, which might go against the performance vibe but is very useful. At least there's no three-door version to envy – apart from the Delta S4 Group B rally car, that is. Which is, of course, the car that the Integrale was ultimately created to replace.
How much does an Integrale cost?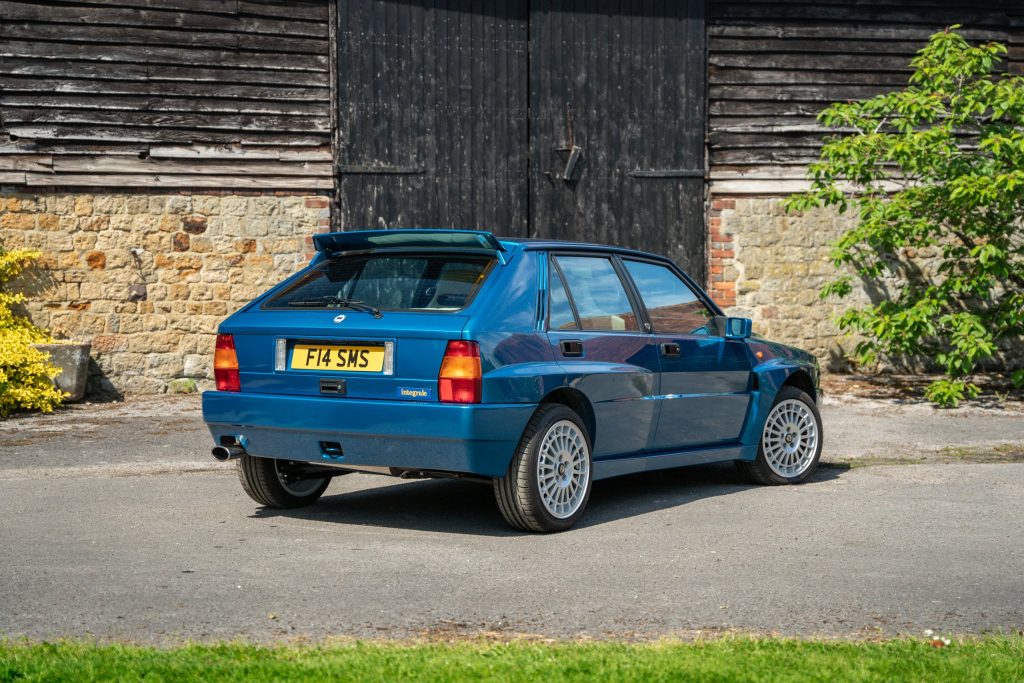 The Evo cars were the first to rocket upwards in value, but soon they were dragging the 16V with them. Even today, though, a 16V in any condition is still worth around half as much as an Evo II.
However, as recently as four years ago an original eight-valve Integrale could be had for a mere four figures rather than five. In early 2017, auction house Brightwells offered a high-mileage but well-maintained and lovely-looking example at an estimate of £3500-£5500. It was just at the point at which the market was starting to realise just what a bargain the eight-valve Integrale still was, even as pristine, minimal-miles Evos started to nudge six-figure asking prices.
That 8V actually sold for around £9000 (I remember – I seriously considered bidding for it), just as the tempting advertisements on internet classifieds for £6-7K cars were drying up. Since then the trend has been rapidly upwards: Hagerty's value guide puts a 'fair' 1987 example at £16,000, with £22,400 for 'good', £28,900 for 'excellent' and a hefty £40,100 for a concours car. These values are now close to those for a 1989 16V; the later car attracts a premium of £1000-£2000 at the most.
Howver, having fatter wheelarches and the magic 'Evo' tag makes a huge difference, far greater than the cars' intrinsic abilities would seem to a rational individual to be worth. Such are the rules of perceived desirability, supply and demand in the world of classic cars. An Evoluzione from 1991 starts at £31,200, rises through the condition hierarchy through £44,100, £55,800 and on to £72,100 for a concours car. Values are even more stratospheric for an Evo II: glance through the Hagerty price guide and you'll see the 1992 model is £40,100 to get your foot in the door, £52,300 for a 'good' car, £64,500 for excellence and a whopping £85,400 for a concours machine.
What goes wrong, and what should you look for when buying an Integrale?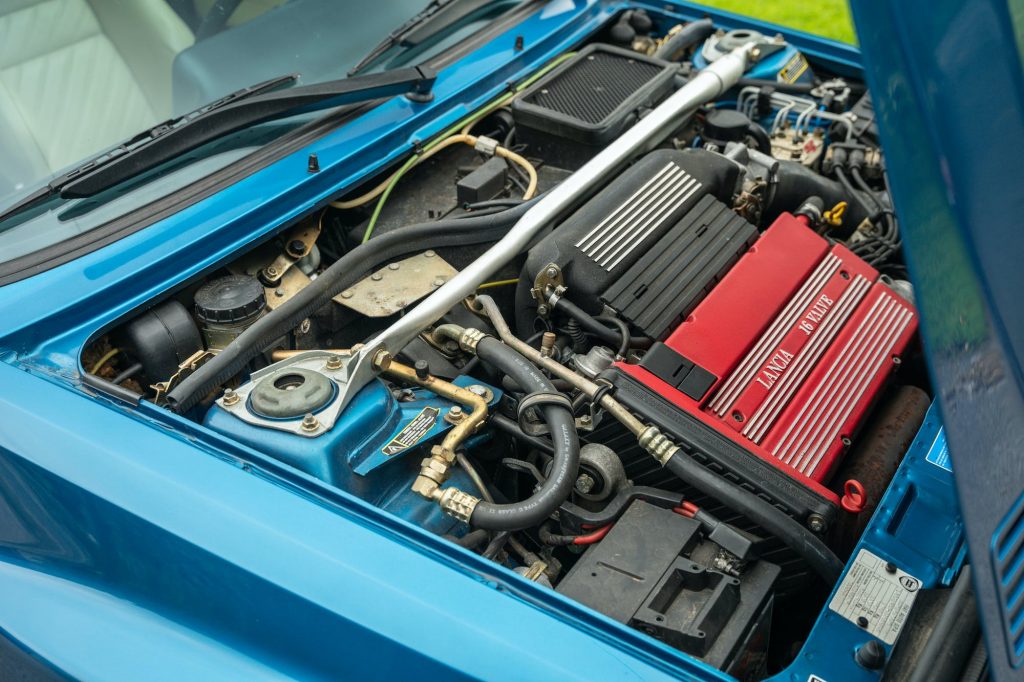 Rust, you're probably thinking. But Integrales don't have the sort of rust that so damaged Lancia's UK reputation in the 1970s. Neither are they immune – far from it – but the affliction is no worse than for many other cars of the time.
All the usual places need to be checked carefully: wings, sills, floors, inner and outer wheelarches, suspension mountings, door bottoms, windscreen pillars, the bases of A-posts and B/C posts, front and rear valances and the steel behind them. But there are a few more Delta-specific, and even Integrale-specifc, checks to make.
Curious as it may seem, the rear edge of the roof is prone to bubbling and disintegration, which ultimately affects the strength of the tailgate hinges' mountings. Check also the panel to which the radiator is attached, and even the radiator itself, as these are doused in rainwater through the bonnet vents.
Rust can spread in the steel at the front and rear screens' lower corners, and there's another potential worry in the case of those front screen-to-scuttle corners especially if the suspension has been lowered and stiffened: cracks, at both the bottom and top of the pillars. Look for cracks in the front chassis legs, too, especially on the right-hand one, and at the lower corners of the door apertures. This all happens because the structure isn't especially rigid, and extra shock loadings can tip it over the integrity edge.
The engine is obviously subject to a lot of stress, but copes well provided it's looked after properly and hasn't been subjected to power-boosting modfications. Higher-lift camshafts reduce the already short life of the cambelt (more turning effort, bigger vibrations); even with an unmodified engine, check that the belt has been renewed within the last 36,000 miles for an eight-valve or 24,000 miles for a 16V. Listen for knocks and rattles, look for exhaust smoke (worn valve guides? Failed turbocharger seals or bearings?) and check the gauge for a healthy oil pressure which shouldn't drop much below 1bar at idle. Oil leaks are most likely to come from the sump gasket.
The transmission, too, obviously has a hard life, so check for leaks, for operational gearbox synchromesh and that there are no untoward clonks, whines or vibrations. The suspension, likewise, works hard and its bushes, balljoints and anti-roll bar links all wear. Clunks, shudders and pulling to one side under acceleration all point to problems.
The more maintenance history the better, ideally from a specialist well versed in Integrales. Beyond that, check that everything electrical works as it should, that the interior trim is intact – and that the car you're looking it really is what it purports to be. An early car can be made to look like a later, more valuable one, and there's also the tripwire of buying a car originally sold in Switzerland. There, every Integrale prior to the Evo II had an eight-valve, catalysed engine.
Which is the right Integrale for you?
Any Integrale is a fabulous car to own and to drive, but it's important to ask yourself what you want from it. Do you want the ultimate expression of the breed's multiple World Rally wins, a car to keep in a heated garage to be admired but seldom driven? There are Evo 1s and IIs that will fulfil that need but they are extremely expensive.
If you'd rather drive your Integrale and enjoy its terrific dynamics, a top-notch late example might be overspecified for the task. You'd derive as much pleasure, at a rather lower outlay, from a regular 16V. It offers most of what an Evo offers and it's less of a worry to use regularly. But the truth is that the most enjoyable Integrale to use on the road, to bond with and to marvel at, the one with the most fluid and forgiving handling allied to a remarkably comfortable ride, is the original eight-valver.
That it's also still – just about – the cheapest makes it this writer's clear choice. If it's yours, too, start your search soon because there aren't many left to choose from.
Read more
Winter warmers: 7 modern classics for all-weather fun
Record results as collectors snap up Golf GTI, EVO VI and Quattro specials
Kimera is making Lancia great again with the new EV037 – a born-again 037 Stradale