It's difficult to think of a less appropriate vehicle for the UK than a beach car, but I absolutely love them anyway. From the traditional Meyer's Manx buggy to the Citroën Mehari, obscure Tangara Dunes and Renault Rodeos, to Mini Mokes and Volkswagen Things, beach cars are joyfully single-minded to the pursuit of low-speed fun in the sun.
As the monikers already mentioned suggest, even their names are enough to cheer you up, and none come more jolly than… well, Jolly. And while the original 500s and 600s are now achieving sales figures to make you rather less than jolly should you have let one go in the past, there is still a more affordable route to beach-going Fiat fun, and that's this 1972 Fiat 126 Jolly for sale on eBay.
How much is your car to insure? Find out in four easy steps.
Get a quote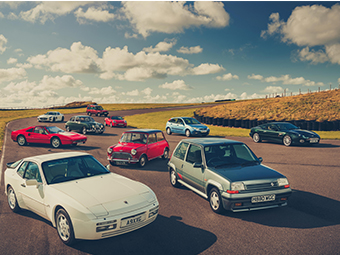 Fiat originally commissioned a run of sun-friendly 600s from coachbuilder Ghia in the late 1950s, but the smaller 500 Jolly is arguably even better known, with its cut-down sides, wicker seats and a roof like a Bedouin tent.
The low sides were perfect for hopping in and out and the seats allowed water and sand to fall through once you were in – though "in" is a somewhat relative term when it comes to beach cars. And if it looked like that thin fabric roof might fly away in the gentlest breeze, then remember that with a 13-horsepower, 479cc parallel twin behind you, even generating a gentle breeze would be something of a struggle.
A 1959 500 Jolly sold at Amelia Island for $106,400 back in May, which at around £77,000 is almost precisely seven times what you could buy the mint green 126 Jolly for right now. £10,995 is undoubtedly strong money for a 126, and as an homage rather than a true Ghia conversion, it doesn't have the cachet of those earlier, cuter Fiats.
But think of the benefits. For one, while beach cars are categorically not about going quickly, the 126's 594cc twin makes not far short of double the power of a 500, at 23bhp. The builder of this car clearly put safety as a slightly higher priority too, using more reassuring-looking tubing to hoist the roof and protect the cabin than the slim chrome tubes on a 500 or 600.
Thanks to the colour (and its matching roof) it's no less eye-catching either. And the 126 is cute in its own right these days, after spending so much time playing second-fiddle to the 500, with Polski Fiat 126 "bis" models giving it a slightly downtrodden image like other popular classics from Eastern Europe.
This 126 predates those Polski models, but Poland is land-locked anyway so you'd struggle to find a suitable beach. The Italian Riviera would be perfect, but if you're feeling brave, and catch the weather at just the right time, then for a few days a year a beach car like this might just be perfect, even in the UK.
Read more
Tiny Happy People: Driving a titchy classic kei car is big fun
Beware: Owning cars, and stuff, from the year you were born is catching
Every day is the Mille Miglia with this Alfa Romeo roadster