Driving a classic car gives you, if only briefly, the sensation of being in another time and place. And with the wind rushing over the flyscreen in this modified Alfa Romeo roadster and a classic Alfa twin-cam snorting away up front, that time and place must be one of the classic road races.
Based on a Alfa Romeo Duetto 1300 Junior sold new in 1969, Alfa's Spider was transformed to its current roadster form by a previous owner, who'd seen a drawing of something very similar in a Norwegian car magazine.
How much is your car to insure? Find out in four easy steps.
Get a quote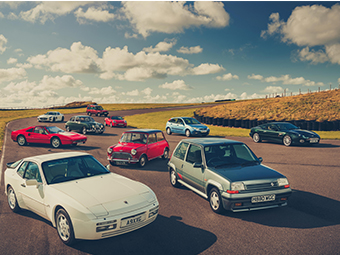 From a tired and abandoned car found in a garden, it was slowly built up into a back-to-basics roadster, fitted with Revolution wheels, painted in a metallic grey and its original 1.3-litre four-cylinder swapped for a modified 2-litre twin-cam.
After several years, the car was then bought by one of the founders of the magazine that published that initial sketch – and also the owner of the business now selling the car, Benzina Vintage Car Finder, Christer Lundem. Lundem put his own spin on the project, painting the Alfa a non-metallic grey, fitting Steel Auto wheels, and sourcing a collection of parts from other Italian flea markets and various other Alfas.
Lundem then sold the Spider after a couple of years, and it's been with the current owner for the past three years. It's apparently in strong mechanical health and is, as you might expect, an absolute hoot to drive, though a post on Benzina's Instagram page suggests it's hanging around a little longer than expected.
Perhaps the weather up in Norway isn't quite as conducive to roofless driving as say, the Mediterranean coast, and even if you brought it back to Europe's warmer climes it'd be a bit breezy over the first few hundred miles at least. Classic road-racing style goggles and perhaps even a helmet would be a necessity.
At €33,900 (just shy of £29,000) the price is also strong – the Hagerty Price Guide lists 1969 Duetto 1300 Junior at £24,400 in excellent condition, and while this roadster's previous owners will no doubt see its modifications as beneficial, a market that values originality won't necessarily take the same view.
Still, it's achingly cool, strikingly pretty, and in the right weather will make every journey feel like a stage of the Mille Miglia. If you're going to be transported to another time place, you could do worse than setting that time machine to Italy in the 1960s.
Read more
This Alfa 33 Sportwagon invites an alpine road trip
Finding my father's Alfa Romeo SZ
Tour a treasure trove of classic Alfa Romeos with Barn Find Hunter