It's tempting to assume that in this day and age there's no such thing as a barn find as everything's been found. Yet in America, where there are more barns than Britain has chickens, still people tour the States, roadtripping their way between Alabama and Wisconsin, stumbling across abandoned or unwanted cars and meeting all manner of characters along the way.
Tom Cotter has put the miles in and met those people. After selling his business, in 2000, he bought a 289 Cobra and drove across the USA, which inspired his barn find habit. Since then, Cotter has literally written the book on barn finds, starting with The Cobra in the Barn and followed up by five further titles.
How much is your car to insure? Find out in four easy steps.
Get a quote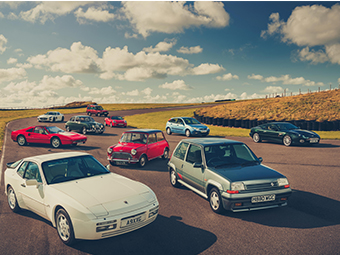 Cotter travels North America in his 1939 Ford Woodie Wagon, searching for forgotten classics in barns, backyards, dusty garages, and scrapyards. And for your enjoyment, it is caught on camera, in Barn Find Hunter.
In this episode, Cotter travels to Atlanta, in the south east of the nation, to meet with Paul Spruell and tour his treasure trove of classic Alfa Romeos.
It's rare to see so many European cars in one place. But Spruell's family ran an Alfa Romeo dealership, from 1980 to 1993 – a year before the Italian company pulled out of the US market. For five years, the dealership sold more Alfas than any other outlet. "We were doing great," recalls Spruell, "and we begged them to stay. They said 'We'll be back in five years.'"
Spruell still runs a classic Alfa Romeo garage. And inside, amongst race-prepared Alfas, sit all manner of Giuliettas, Giulias, GTVs, Spiders, Giulia GT Spider and even a Sprint GTA. Needless to say, none of them has managed to escaped the onset of rust, and all are awaiting an adventurous fan of Italian cars willing to take on a project.
It's quite a sight. And on the way home, Cotter even manages to fit in a stopover at his son's home, to take a look at his modern classics, a Mazda RX-7 (FD) and Porsche 911 Targa (G series).
Looks like a good day's huntin' to us.
Full stream ahead: the best car shows to watch on Amazon, iPlayer, Netflix and YouTube