Price: £6995
Mileage: 9989
Condition: Background of a Cowley street scene, circa 1981
Seller: KGF Classic Cars
In what seems like a sneaky ploy to get our attention, KGF Classic Cars in Peterborough has put the word "unexceptional" right there in the title for its latest listing, a 1981 Austin Maxi.
How much is your car to insure? Find out in four easy steps.
Get a quote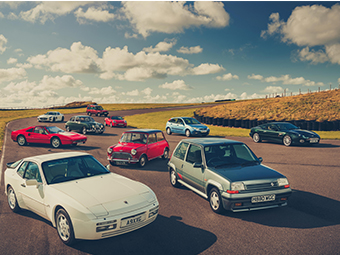 Well, it's worked. This Maxi has definitely caught our attention, though ironically it took a friend forwarding the advert on to spot this one, despite the fact that you could reliably use a photo of a Russet Brown Maxi to illustrate the encyclopaedia entry for "unexceptional".
Its year of manufacture, 1981, puts it smack bang at the end of production too, which is why this one's listed as a Maxi 2 – witness the 1980s wheel trims, and the use of plastic rather than chrome for the car's exterior trim.
You can almost see the lineage here between the Maxi and its similarly unexceptional replacement, the Maestro, though there's still a hint in the front end styling of the Mini, both square-faced Clubman and the Leyland-badged Citys that used to roam our roads.
The Maxi is Leyland through-and-through of course, as the first car launched after the creation of BL, and while certain components managed to sneak through from other Austin and Morris products (including entire doors from the Austin 1800 "Landcrab", hence the Landcrab-like styling), the platform itself was new and the E-series engines pretty fresh too. Space and comfort were both praised at the time, the latter thanks in part to the use of the brand's clever hydrolastic suspension.
While the car on sale with KGF is listed as an Austin Maxi, Maxis from 1977 onwards were officially known simply as the Maxi. The Maxi 2 really did come late, arriving in August 1980 and sticking around less than a year, the final Maxi 2 leaving Cowley in July 1981.
The car has become emblematic of that 1970s and 1980s malaise that dogged British Leyland, but like other unloved products from the time, such as the Marina and Allegro, is beginning to attract a small but fiercely loyal following.
Some of that is because their unloved, unexceptional status has kept them cheap, which is why a fiver shy of seven grand is a bit eye-watering for this car. Its condition goes some way to justifying it, with under 10,000 miles, a spotless interior, and a chunky history file. As an automatic, it's also rare even by Maxi standards.
We don't need much convincing to see the appeal, anyway. It's bang on target as a shot at British 1980s street furniture nostalgia, and while we'd be gentle with a car on such low miles, it's surely the perfect vehicle in which to turn up at next year's Festival of the Unexceptional. Oh, and it shows that sticking "unexceptional" in your used car listing is a great way of getting our attention.
Read more
Bad rep-utation: 7 company cars from the Festival of the Unexceptional
Who wants to live for ever? The Austin Metro did
Buying guide: Rover P6 (1963-1977)