It was your patriotic duty to love the Austin Metro. You absolutely had to. And not just the first time round, but all over again a whole decade later. To pick holes in the all-British supermini was as if to criticise the Queen, or drop litter in the countryside. Or say that you were a little bit tired of tennis during Wimbledon fortnight.
It simply was not the done thing to point out that the Metro was mediocre.
How much is your car to insure? Find out in four easy steps.
Get a quote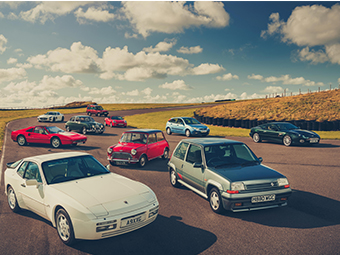 When it was launched in a blaze of nationalistic hullabaloo in 1980, media critics declared it the best car of its three-door hatchback type. With a whiny four-speed gearbox, noisy engine and upright steering column inherited from the Mini, that felt hard to believe by anyone who'd recently driven a Ford Fiesta or VW Polo, even if the tinny Metro was quite roomy and had an asymmetrically split back seat folding mechanism.
The thing was, we had to give it our love because the entire future of British Leyland – and so our British-owned car business – rested on its shoulders. So we dutifully bought it in our droves, and enjoyed its economy, dependability and reasonably tidy road manners on its Hydragas suspension as our hard-earned cash cascaded into the surly-mooded Birmingham factory.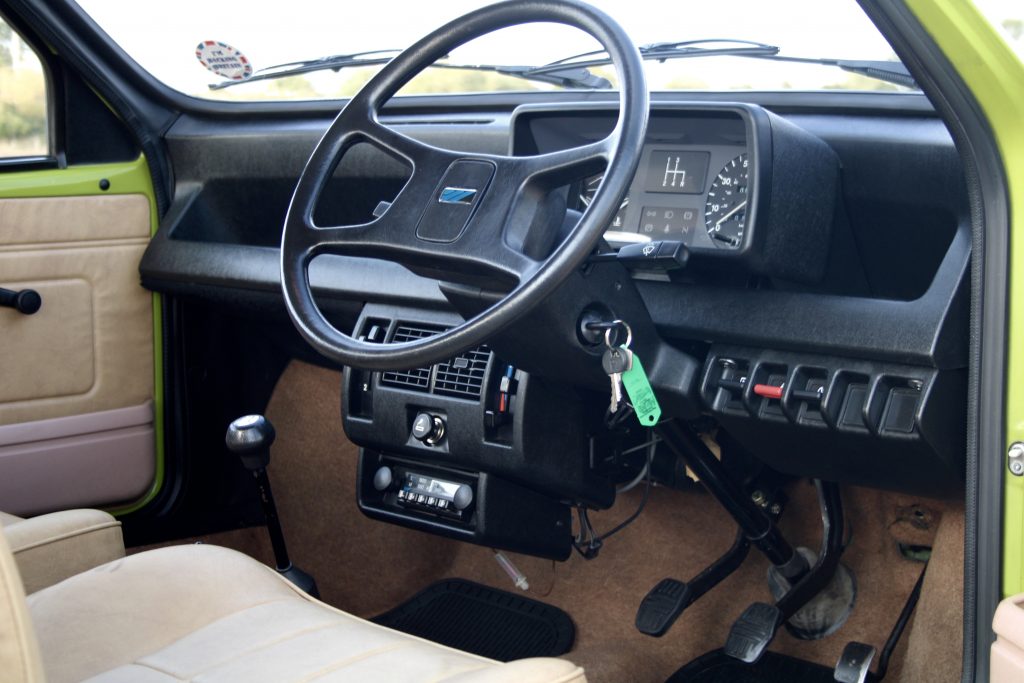 It didn't take long for the Metro to start lagging. By 1984, the Fiat Uno, new Renault 5 and Peugeot 205 left it for dead like the asthmatic kid on a cross-country run. A five-speed gearbox and major refresh put the ageing Ford Fiesta ahead too, and although there was much to like about the lively MG edition of 1982, and the new Austin five-door option, it seemed to be blind faith that kept the Metro selling.
By 1990, an entirely new car was in very desperate need. Instead, the eternally cash-strapped company designed just a new engine. And so, although the all-aluminium, twin-camshaft K-Series motors in 1.1- and 1.4-litre sizes were admirable (when new, at least – who knew that they contained small design faults that would blow their gaskets a few years down the line…) they had to be installed into the existing Metro structure. The transmission was new, too, a five-speed manual supplied by Peugeot, while the Hydragas suspension system was now interconnected front and rear, as originally advocated 10 years earlier by its designer Alex Moulton, for a much better compromise between ride quality and road grip.
The driving position was vastly better but the internal dimensions of the cabin were identical. What might have felt spacious back in 1980 was now something of a cramped animal pen. They did what they could to reshape the previously messy dashboard but there wasn't much room to manoeuvre. The car was described as bigger but that just meant a slightly stretched, redesigned bonnet, while yet another ruse to cover up the lack of genuine progress was to rename it the Rover Metro.
So, you could polish a turd after all; I am now incredulous to recall Autocar & Motor magazine declared the Rover Metro 1.4SL five-door 'the world's best small car' in July 1990. We were being ordered to support the home team once again, and something of the Union Jack-waver must then have stuck with me because, five years later and in sudden need of something small, nimble and inconspicuous for London life, I paid £4200 for what many still believe to be the best of all the Metros, a GTa.
The previous Austin Metro GTa was well-liked, with its MG Metro engine and MG Metro Turbo wheels and suspension. This new Rover Metro GTa continued along the novel 'warm-hatch' route with a 16-valve 75bhp 1.4 K Series engine but no go-faster addenda as the wheels were wide steels and no spoilers were fitted. Only the driver (me) in the body-hugging sports seat, clutching the chunky steering wheel and eyeing up the frantic little rev counter, would know the tyres were low-profile and there was a meaty front anti-roll bar to stop it heaving about.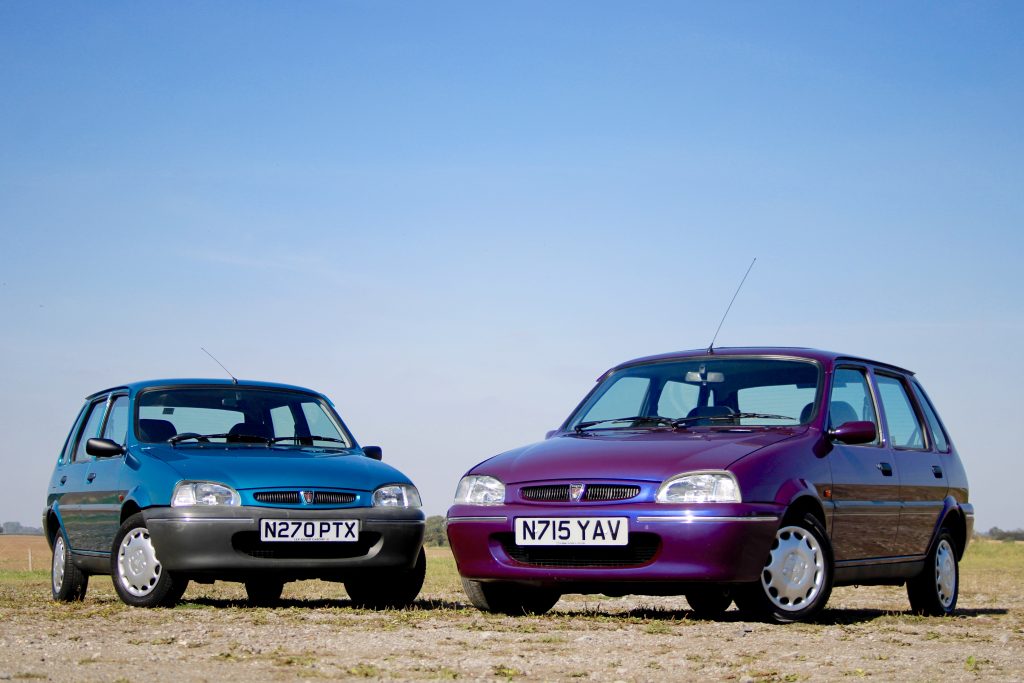 I understand now that this is quite a rare and desirable spec for the Gen-2 Metro. At the time, it was just my cheapo city runaround. Yet deeply unfashionable as an option when I could have picked a 106 or 206 GTi (both much more expensive to insure, mind), I loved the Metro. Its strong performance and nimble handling induced a kind of reverie that Autocar's cynical road testers experienced too – one where the drab cabin, coffin-like legroom and general naffness of fixtures and the fittings was zoned out and you could really thrill to what a latterday Mini Cooper (not Cooper S) ought to have felt like. With almost nothing to betray its sparkling nature externally, this humble red box could dart away from the lights and dance its way across lanes around the city fringes with aplomb.
Even its faults were endearing, such as wheels that were too wide at the front, so they grazed the wheelarches if you had to throw out the anchors. The unassisted steering was stubbornly heavy when parking, too, making this one of the last cars you had to really put your back into to manoeuvre at low speeds. Oh, and the creased-up styling, still awful after all those years, Rover insignia notwithstanding.
As with any car like this, you get rid at the first sign of trouble. My GTa started to make knocking noises in its rear suspension area, so after a couple of faithful years of service it was time to say goodbye and switch to a different banger.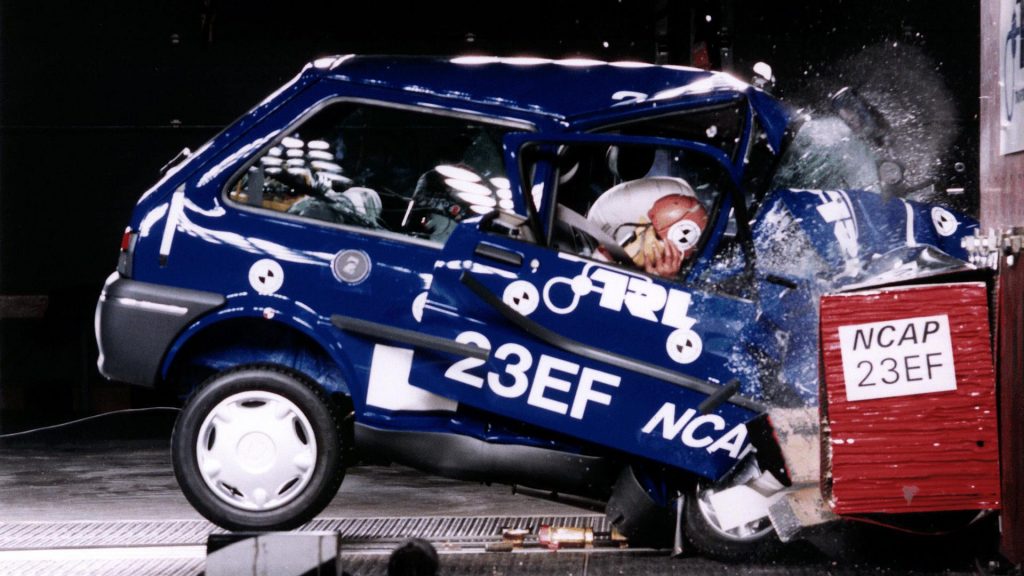 However, the Metro itself had miraculously continued its epic run in the new car showroom. In 1994 it was buffed up once again as the Rover 100; another new grille, a new confusion of model names and trim choices, yet more tacky cosmetics to make it punter-friendly – the so-called Rover 114 GTa could even be had with a purple paintjob, red seatbelts and leather upholstery.
The end came abruptly and brutally. In 1997 the Euro-NCAP crash tests were introduced, and when engineers propelled a Rover 100 into a crash structure designed to replicate another car, at 30mph, it crumpled like a Red Bull can stamped on by a teenager. No one then much fancied a deathtrap. Rover made the last one in 1998 and the Metro was obsolete two years before the classic Mini it was originally meant to supplant. So a car remarkable, really, for its very ordinariness and its uncanny ability to avoid redundancy year upon year, yet one in whose company happy memories were often created. It made us feel like Little Englanders long before Brexit had been contemplated.
Do you have your own, redemptive 'GTa moment' from the absurdly long life of the Metro you can share with us, below?
Read more
A British Car to Beat the World: 40 years of the Metro
The MG Metro 6R4: A Lesson in Punctuality
Move over dream machines – ordinary cars are coming through and rising in value