There were many common threads to be found on the ancient and immaculately manicured lawns of Grimsthorpe Castle, in Lincolnshire, at this year's Hagerty Festival of the Unexceptional. The cars were polished, the owners and visitors were all pleased as punch to be at an event, and you couldn't move for all the solid-paint coloured motors vying for your attention.
Everywhere you went, and whoever you spoke with or overheard, the conversations between fellow car enthusiasts or just casual observers involved Great Aunt Rita or Uncle Harold having owned an Austin Allegro, Triumph Toledo or Mitsubishi Sapporo. Maybe mum had a Renault Espace, or Dad drove a Vauxhall Cavalier.
How much is your car to insure? Find out in four easy steps.
Get a quote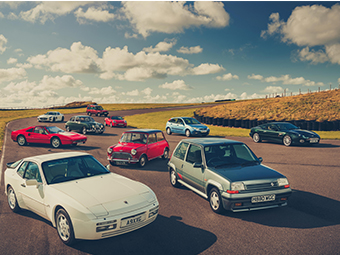 For many of a certain age, the common thread will have been company cars. Otherwise known as the repmobile, the concept of the company car was a wheeze dreamed up in the 1970s by company chiefs, against a backdrop of a poor economy, surging inflation and high income tax. Oh, and thanks to James Callaghan, the prime minister, there was a freeze on wages, too. In an attempt to attract and retain staff, the perk of the company car was born.
It proved popular, ultimately peaking at about 1.3 million new cars registered each year, and still is. The majority of working and middle class motorists made do with what they could afford before the company car came along, and that usually mean something a bit tired and tortured by previous owners. With a company car, you could have a spanking new car parked outside home and set the neighbourhood's curtains twitching in envy.
Some of those cars were displayed with pride at this year's Hagerty Festival of the Unexceptional. Let's take a trip down memory lane, and see which cars told the world you'd had the equivalent of a leg-up the corporate ladder.
1983 Vauxhall Astra GL 1300S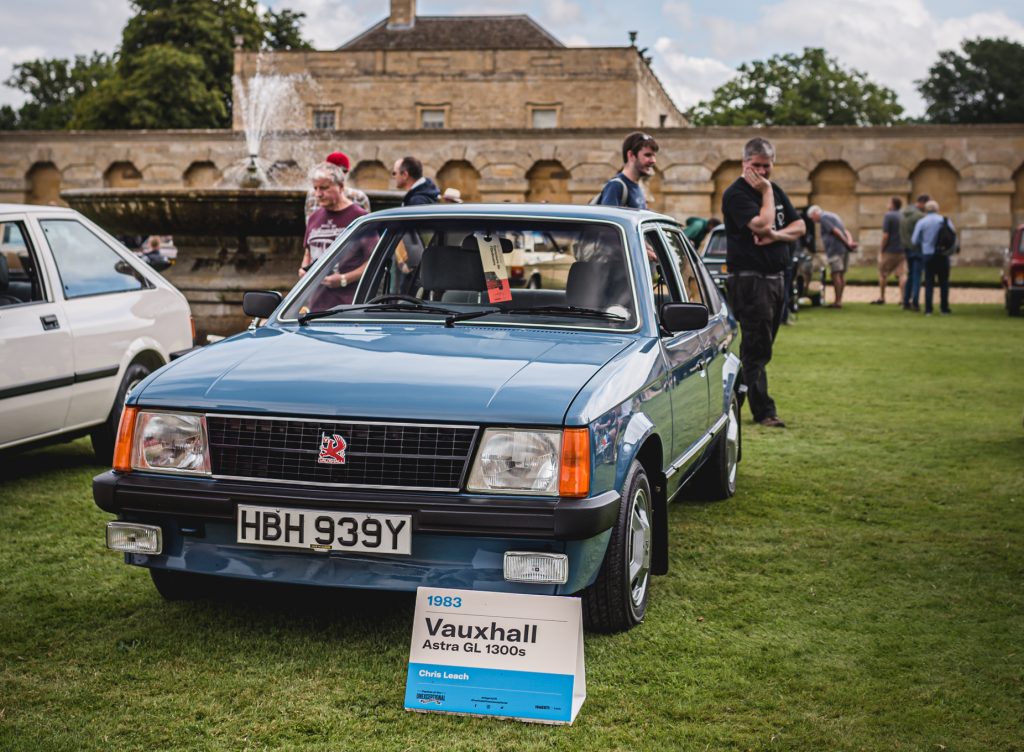 The rise and fall of the Vauxhall Astra can't be crammed into a few short paragraphs in this list of company cars. So let's just focus on the rise, and the original Astra, launched in 1980.
The Astra was a big deal for Vauxhall. It quite literally dragged the company into the front-wheel drive hatchback class, squaring up with the Volkswagen Golf. And Vauxhall (and Opel) got the recipe right, because the car went on to bring home the bacon for the company.
This 1300S example would have kicked out 75bhp back in the day. Who knows how many of those horses are still coming out of the stable to play, but at the time that same engine and the car's overall driving dynamics, not to mention its practical packaging, were enough to see the Astra scoop the coveted What Car? Car of the Year prize in 1980.
We are rather taken with its crisp lines and the similarly straight lines throughout the cabin, which is awash with blue-dyed plastic and blue velour seats and even blue carpets. Dare we say it, the first owner – who we like to imagine took on this Astra as a company car – probably felt a little blue to see it go.
1984 Nissan Stanza 1.6 GL Jubilee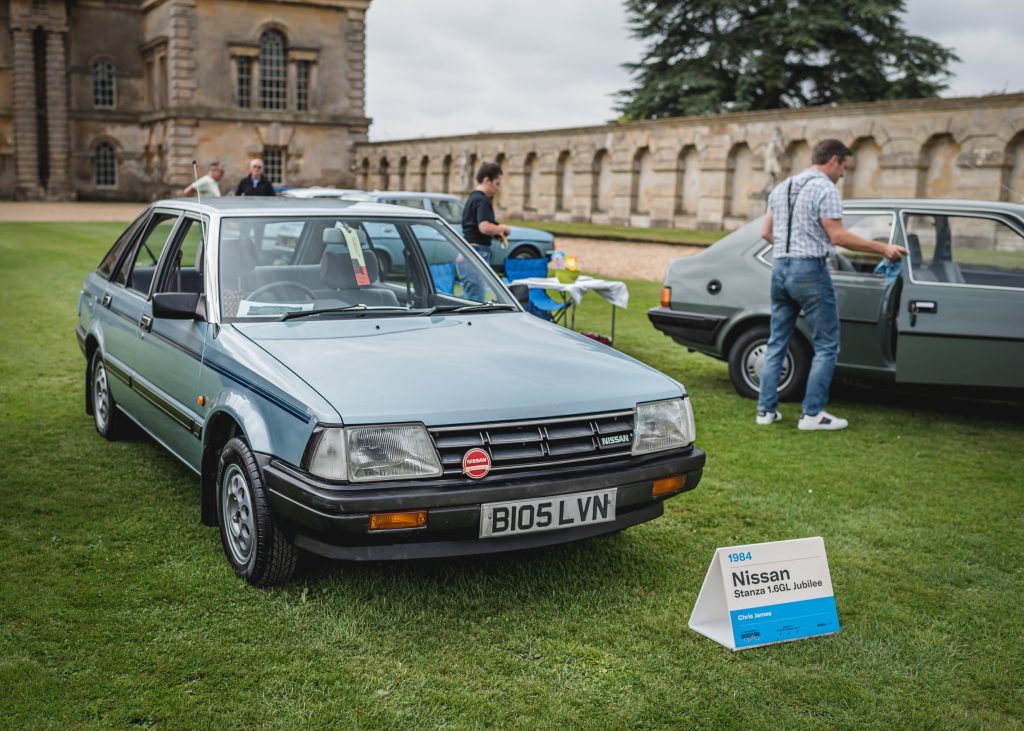 Phwoar, would you get a load of those twin coachstripes? And what about the mudflaps, hanging behind the wheels? Oof. And check out that special edition badge on the grille, would you? This is no ordinary Nissan Stanza.
No ordinary Stanza indeed. This 1984 Jubilee model was built as a special edition to mark 50 years of Nissan. That was surely a big deal for the Japanese car company that had slowly but surely been getting a foothold around the world – just as the T11 generation Stanza was a big deal for engineers. It took Nissan into front-wheel drive territory, brought hatchback practicality to the market and gave the company a small but significant presence in the company car market.
True to mid-market, Japanese car stereotypes, the cabin of the Stanza is a sea of grey. Only the knowing addition of a wooden-bead seat cover – a hint at the car's eventual descent into private hire use – does anything to break up this monochrome vibe. This particular car ended up being left in the garage by its original owner for 32 years. Little wonder it has survived.
1986 Renault 11 TXE Electronic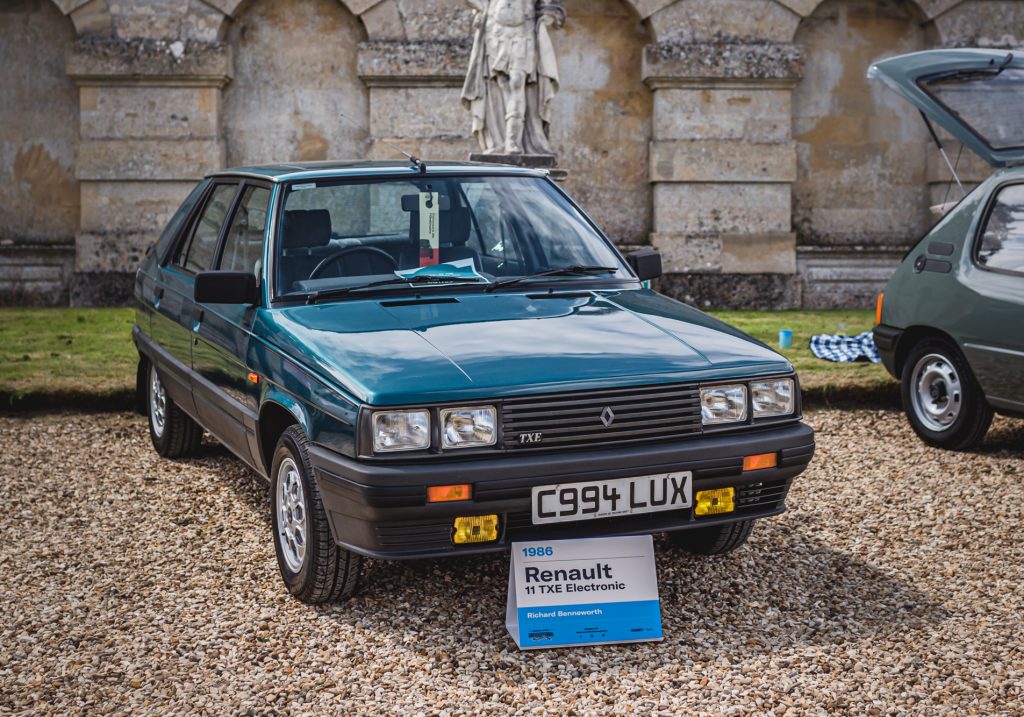 If you owned this Renault 11 TXE, back in 1986, it's likely you'd have been the envy of your company car peers. The French family hatchback – which, we have to say, still looks as inviting as a bottle of Beaujolais, fresh baguette and wheel of Camembert – came with all the bells and whistles. That means a digital instrument display, a speech synthesiser system, fancy radio cassette player with a graphic equaliser system and innovative remote control for the stereo. And guess what? It all still works.
That isn't the only reason that owner Richard Benneworth is so pleased with it. In the late '80s, he worked as a apprentice technician at a Renault dealer, and owned an 11 TXE Electronic for a couple of years. 25 years later, he has found this one, and is pleased to be able to care for it so future generations of car enthusiasts can enjoy it. It is now said to be one of two registered on the road.
1989 Ford Escort Popular
We can't be the only ones thinking how good this fourth-generation Escort – so roundly criticised at the time of launch – looks today. Perhaps it's the shine of its Maritime Blue paint, set against the deep shine of those unpainted, black plastic bumpers? Or the lashings of tyre dressing contrasting with the bright flash of silver from the steel wheels?
Regardless, what we have here is a very basic but very significant Escort. The Popular was affordable but bog-standard because of it, and to see a survivor in such remarkable condition like this '89 example, kindly brought to the Festival of the Unexceptional by Adam Pipes, is rare indeed. Most were driven around the clock by high-mileage company car drivers, fleets and hire-car companies, and then unceremoniously dispatched to the great scrapyard in the sky.
While the Mk4 was considered a modest makeover of the more radical Mk3, which made the switch from rear-wheel drive to front and heralded the rise of the hatchback, it is pleasing to see this example (which was kept by the first owner for 30 years and serviced by the same Ford dealer all that time) has made it to 2021 – if only so we can all reminisce about the time mum or dad brought one home.
1989 Nissan Bluebird 1.6 Premium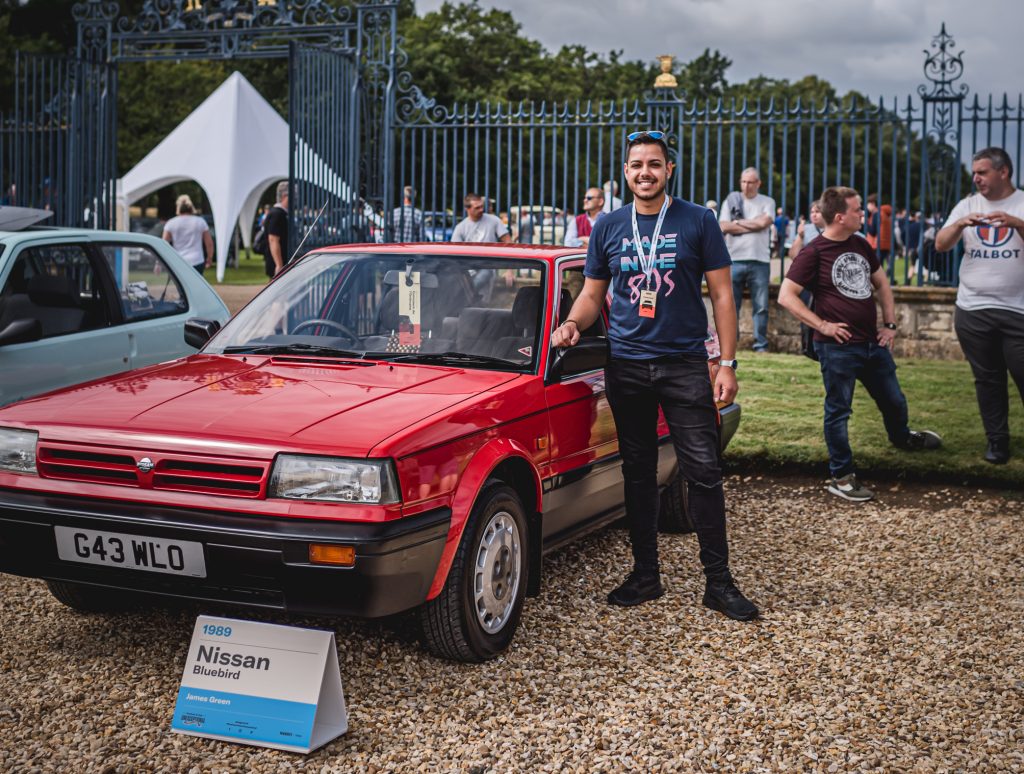 Long before any Bluebird would have fallen into the hands of a minicab driver plying their trade on the streets of Brixton, Bristol or Birmingham, the British-built family car would have been – more often than not – registered first to a company car driver who, we suspect, was fed up with owning British brands.
Fed up, because they were notoriously unreliable. The Bluebird, on the other hand, wasn't. Why do you think it lived on for so long at the hands of those 'cabbers?
That goes some way to explaining how James Green's example is such a survivor. It has kept on trucking all this time, but mainly because the original owner kept it until 2019, when they sold it to Green. And clearly, a whole lot of love has gone into maintaining and preening the car – if you gave it the once-over at the Festival of the Unexceptional, you'll have seen that it is in truly concours condition.
This generation of British-built Bluebird hails from a time when other Datsuns and Nissans were imported by Octav Botnar, who had amassed Nissan an impressive six per cent market share, by 1989. But Botnar and the Japanese company would fall out and part ways, Nissan taking over the concern and failing to recover lost ground.
1994 Renault Clio RN
As company cars proliferated in the 90s, you no longer had to be a regional manager with a team beneath you. More and more companies would offer them as a perk to staff, with affordable models like this 1994 Renault Clio RN automatic often seen nipping about the suburbs with estate agents doing property viewings, rushing from one late appointment to another.
The Clio was introduced in 1991 and intended to replace the ageing 5, although the two remained side by side in showrooms for some time. The young upstart accounted for nearly half of Renault's new car sales by 1994, yet despite its popularity decades of wear and tear at everyone from students through company car drivers to older owners means it's a rare sight on roads today.
This RN model was shown in the concours by Glyn Hayler, and its two-tone seat fabric is very à la mode. Although the Clio's interior was considered robust and well-made at the time, today it looks every inch the sea of plastic it is, while the 1.4-litre engine and three-speed automatic mean performance is a little different to the Clio Williams, launched the year before this example was registered.
1994 Austin Maestro Clubman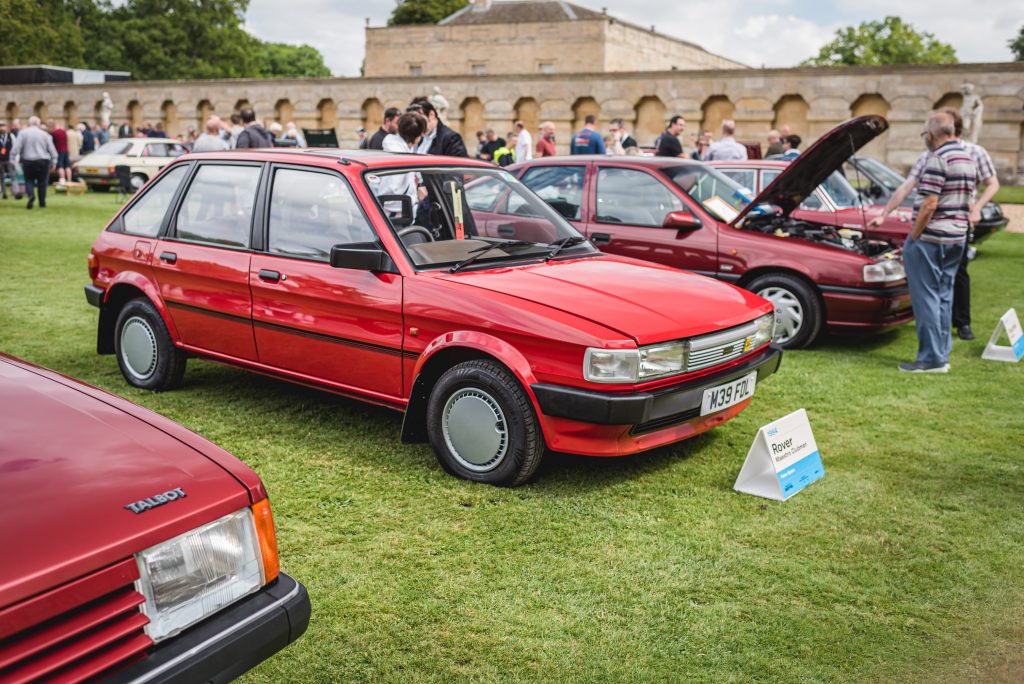 It took the likes of Ford and British Leyland a surprising amount of time to catch up with the Volkswagen Golf, which popularised the more efficient and economical template of making a front-engined, front-wheel drive hatchback. VW got in there in 1974; BL and Austin only launched the Maestro in 1983.
If you are a child of the '70s and '80s, you'll remember the Maestro as the talking car. Company car drivers and private motorists alike could opt for the flagship Vanden Plas or MG version and get a digital dashboard, or add it as an option with the HLS. This allowed Austin to include a voice synthesiser, boasting a 32-word vocabulary that could warn the driver when the fuel level was low or the seatbelt needed fastening. The problem was, the tech had a habit of talking when it wasn't meant to…
Perhaps the standout feature of the Maestro was its cabin space. The car was impressively accommodating, making it idea for company car drivers who had a family to consider. Yet a lack of development and curious decisions by the management meant the Maestro was discontinued, its name cast aside, as Rover and Honda worked together on a new generation of models. Models, which it must be said, many company car users were grateful for.
Read more
My unexceptional story
Young guns blaze at the 2021 Hagerty Festival of the Unexceptional
9 British factories that built the unexceptional concours stars