You may have seen the happy news in recent weeks that Vauxhall's Ellesmere Port factory has been 'saved' thanks to a plan to build electric vans there. Now, and right here, it's time to meet the car that gave the Cheshire plant – one that's often been overshadowed by dark threats of closure – its bargaining power.
Yes, although obsolete 30 years ago, the second-generation Astra worked wonders for Vauxhall in the 1980s. The workforce simply could not put in enough overtime to meet the soaring demand for a car that, for once, could stand up to the market-leading Ford rival, the Escort.
How much is your car to insure? Find out in four easy steps.
Get a quote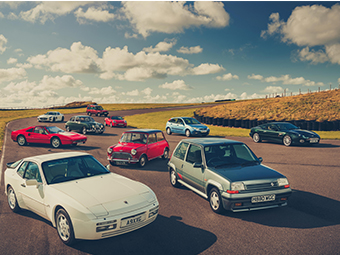 Vauxhall overall was on a roll. The Cavalier was a huge hit; the Nova was seriously bothering Ford's Fiesta and the Austin Metro. In January 1985 Vauxhall stole 20 per cent of the UK market, out-selling Austin-Rover for the first time ever. Within a few months of its launch, Vauxhall had 40,000 Astra orders, was selling almost 7000 cars a month, and had easily trounced the Austin Maestro for popularity, grabbing the 1985 European Car Of The Year award along the way.
The days of second-rate rustbuckets with flashy American styling were a long way in Vauxhall's past.
This startling new Astra joined the fight in 1984, with its curvaceous, aerodynamic body shape achieving an exceptionally low drag co-efficient of just 0.32. Amazingly for those who were still driving a Viva, the Astra had about it something of that pure-engineering look that defined the Alfasud and Citroen GS.
Much of the rest of the car came from the undistinguished outgoing MkI Astra, with a heavily revised front MacPherson strut/rear torsion beam axle suspension set-up, and a wide roster of engines from 1.2 to 1.8, added to which was a 1.6 diesel and a powerful fuel-injected petrol 2.0 in the rapid (134mph, 0-60mph in 7.7sec) GTE hot hatchback.
In the sphere of car fanaticism, it's this model, perhaps along with the Bertone-built convertible with its standard power-operated hood, that will bring on the wistful sighs. Because although its road manners were markedly inferior to the fantastic fluidity found in the VW Golf and Peugeot 205 GTis, it was cheap, fast and the most powerful offering in its class.
However, these Astras were definitely not what most people experienced. The standard three- and five-door hatches and estates offered goodly comfort and refinement to offset a fairly average driving experience with, for example, heavy steering that you wouldn't want to put up with today.
It was the diesel Astras that really changed motoring life in Britain. They made for especially ponderous performance, with just 57bhp on tap even from the later, larger 1.7-litre engine (0-60mph in, um, 17sec…), leaving the driver raking through the gears even on modest hills, and fearing an all-day headache from the coarse racket and shuddering of the power unit in low-speed traffic.
The consolation was fantastically good fuel consumption at a time when diesel sold at a much lower price than petrol on British forecourts. The Astra was vastly cheaper to buy than its vastly better VW Golf equivalent, so company fleet managers anxious to secure their annual bonuses by keeping within their budgets started to order Astra diesels by the lorry-load.
They would be allocated to staff doing their rounds in towns and cities across the land, and for any employee obliged to buzz along the motorway all day at between 50 and 70mph, the Astra could eke out a gallon of diesel over 50 miles or more. Expenses claims duly tumbled.
The Astra MkII enjoyed its stellar ride in the sales charts for seven years, and its curvy shape and solid build quality lived on in the bigger, safer MkIII from 1991. Back in 1984, Ellesmere Port was retooled to the tune of £85m to bring the Astra MkII to Britain. It was money well spent, as we all must hope the £100m for the place to go electric is today.
Read more
The Vauxhall Frontera was bulky, crude and heavy – and those were its good points
Don't drag me down: 10 cars that mastered aerodynamics
Unexceptional Classifieds: Vauxhall Cavalier GLi