The longer you contemplate the Volkswagen Golf GTI, the more remarkable it seems.
Just one year after the German company replaced its venerable Beetle with a startling new family car, renegade VW engineers – working in their own time and in an atmosphere of disapproval – tore up the sports car rulebook.
How much is your car to insure? Find out in four easy steps.
Get a quote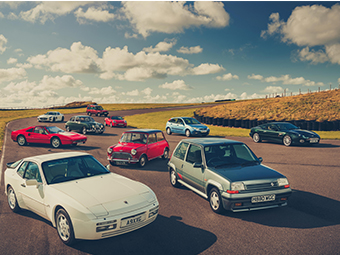 For the next eight years, their feisty baby was the only car to plump for if you wanted driving first and foremost…yet it was entirely practical, and so reliable that traditional roadsters from MG, Triumph and Alfa Romeo became motoring relics almost overnight.
Volkswagen's transformation from rear-engined, rear-wheel drive, air-cooled Beetle to front-engined, front-wheel drive, water-cooled Golf began in 1968. First came the K70 in 1970, but Volkswagen then borrowed transverse-engine engineering from sister marque Audi to quickly launch the Passat, and extended it to the 1974 Beetle replacement: the original Golf.
This narrow, compact vehicle was aimed at the family car mainstream which, in those days, was dominated by 'three-box' saloons – one 'box' for the passenger compartment, with a smaller one at either end for the engine and luggage compartments. The 'two-box' Golf, though, offered the benefit of a hatchback with folding rear seats, so the car could adopt cargo-carrying capacity akin to a small van. Italdesign's styling was neat and chunky, timeless and classless. There were 1073cc and 1471cc four-cylinder engines, and three- and five-door models in L, S and LS trim levels. Every mainstream European manufacturer cloned it; few could match its excellent road manners, and none were anything like as well built.
Within months, it had crested the German new car sales charts.
A sporty Golf was never envisaged. Still, a hardcore of five engineers led by Herbert Schuster couldn't resist a bit of experimentation in their spare time. They installed the fuel-injected 1588cc engine from the Audi 80 GTE (turning the engine through 90deg to fit the Golf's transverse layout), and took it in turns to drive the car home, often spending their weekends fettling, adjusting and modifying it.
The performance of the 'Sport Golf' thus modified was so exhilarating, and its driving dynamics so fantastic, that the marketing department suddenly got interested.
It agreed to sell a small run of the car, and unveiled it in August 1975 wearing the 'GTI' logo – for Gran Turismo Injection. The public launch was at the Frankfurt motor show that September. There would be just 5000 examples…although by the end of 1976, all thoughts of keeping it as a limited edition had been swept aside.
Under the short, flat bonnet, its four-cylinder engine, with Bosch K-Jetronic fuel injection, developed 110bhp at 6100rpm, and produced 101 lbs ft of torque at 5000 rpm. It was high-revving and eagerly responsive, smooth and refined. There were anti-roll bars front and rear, and Bilstein telescopic shock absorbers. Steering was rack and pinion, with 3.3 turns lock-to-lock, although the gearbox remained a four-speeder and there were disc brakes, ventilated, to the front wheels only. Those wheels themselves were wide, plain 5.5×13 steels.
The Golf's innate solidity and the modest overall unladen bulk of 810kg hinted at the GTI's nimbleness. Its quoted 0-60mph acceleration time was 9sec, and its top speed 110mph.
As to livery, it was plain and purposeful, with matt black trim and a subtle front airdam. The driver sat snugly in a bucket seat facing a sporty three-spoke steering wheel, and a light-hearted finishing touch was provided by the gearknob shaped like a golf ball.
Autocar magazine was first in Britain to publish a full road test, on 12 March 1977. It confirmed the car's place in history as the first true Hot Hatchback. The handling was an absolute revelation. The testers found the GTI more rewarding the faster they drove it.
'When the GTI is extended, one immediately begins to appreciate all the attention that has been given to the suspension', they said. 'The car remains flat even at extreme cornering speeds, and the big Continentals [tyres] are held square on the road, gripping very well. With so much power, the GTI tends to approach corners at a very high speed, and it makes much more demands on the skill of its driver than does the standard car'.
The steering was praised as 'crisp and extremely responsive' and, although prone to wheelspin, 'the car remains fully controllable and again stays remarkably straight'.
You had to pay for such thrills, though. As a specialised import – with left-hand drive only – it was priced at £3707 in 1977, when a Ford Escort RS2000 was just £3124. In July 1979, the official right-hand drive car belatedly went on sale, and from October 1979 came with a five-speed gearbox and alloy wheels.
The definitive GTI, in the eyes of many, arrived in February 1982 with a bigger 1.8-litre edition. The power increase, up 2bhp to 112bp at a reduced 5800rpm, was minimal but the added torque – now 109lbs ft at a lower 3500rpm – gave lots more mid-range power, pushing down the 0-60mph time to 8.2sec. Maximum speed was very slightly higher, at 114mph. There were more worthwhile improvements outside the engine bay too. All UK-market 1.8 cars came with four headlights, new alloy wheels, and a sliding steel sunroof as standard.
As this was the age of silly electronic gadgets, the car now also came with a trip computer in its dashboard, complete with a yellow warning light to tell you when to change up a gear for optimum fuel economy – like any GTI driver was going to take much heed of that.
Volkswagen had spent £500m on the Golf MkII, to be unveiled in August 1983 and launched in the UK in March 1984. This car – bigger, wider, more comfortable and safer – would, if anything, make the GTI an even more invincible sports saloon package, perhaps at the expense of some of the raw charm of the original. Early GTI owners now blessed with children could go for a five-door option, and VW also offered a 16-valve engine, instead of chasing turbocharged hot hatch rivals, although few eight-valve owners rated it a better car for everyday driving kicks.
The one-millionth Golf GTI, a MkII, was delivered in November 1990.
And to think, it was all down to the Sport Golf, the engineers' weekend plaything…