Price: £3750
Year: 1991
Mileage: 124,000
Condition: More florist than brickie
Seller: Car & Classic
We've reported before how the survival of certain vehicles hangs more perilously in the balance than that of others. Nobody is surprised to find a Ferrari still happily roaring along in its dotage for instance; even if it's had two dozen previous owners, each and every one will have driven it sparingly and likely had it maintained regardless of cost.
How much is your car to insure? Find out in four easy steps.
Get a quote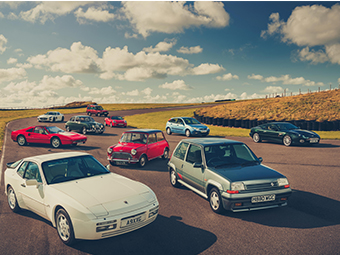 But an old supermini? It could have a fraction of the previous owners of that supercar, but when all those previous owners have been cash-strapped first-time drivers, survival is unlikely. Old repmobiles too – the Cavaliers and Mondeos of this world – may be well maintained initially, but after a hundred thousand miles pounding Britain's motorways and a few owners paying a few hundred quid a pop, most are destined for the crusher.
Vans probably work harder than any vehicle this side of a taxi, so it's no surprise they also succumb to the ravages of time. Apart from this 1991 Austin Maestro 500L van apparently, which the seller describes as a time capsule and for once, using this term doesn't make us want to slam our heads in a rusty BL doorframe.
While not pristine, it's about as unmarked as you can expect a from a 30-year old commercial vehicle that has worked for a living. The advert points out some bubbling on the A-pillars and at the edge of the bonnet – the former likely to become an issue before the latter does – but the arches, sills, and other typical Austin Maestro trouble areas are apparently in fine fettle.
The ply-lined load area also looks clean – check out those arches – and while there's a smattering of brown under the bonnet, the 1275cc A-series (the smallest engine available in a Maestro) benefits from a new battery and is said to start on the button. Those familiar with these engines will know that may be no exaggeration either, as a good one fairly bursts into life at the first twist of the key. Not bad for 124k miles, if that's the case with this one.
Other than some non-original seats – which may be from some kind of Rover – the cabin looks as period-correct as the exterior. Is it just us, or is Austin's three-spoke steering wheel from this era quite a sporty-looking thing, too?
The van is currently listed as SORN but it's MOT'd until December, which provides some peace of mind. But then look at it: if a van has made it this far without falling into disrepair, it's probably got plenty more life left in it yet.
Also read
Unexceptional Classifieds: Toyota RAV4
Your Classics: "Norman" the Austin A35 van
A British Car to Beat the World: 40 years of the Metro