At Hagerty we know every classic car owner shares the same passion for their car, whether it's an elegant Aston Martin DB5 or a plucky Mini Cooper. That's why we decided to celebrate some of the overlooked classics at our recent Festival of the Unexceptional and meet the people who still love them. This week's Q&A comes from Ian Pennick who we met at the festival and whose pride and joy is an Austin Maxi 1750.
As something of a trendsetter, the Maxi was Britain's first family hatchback. John Lennon was one of the Maxi's most famous owners and once even installed a Maxi on a plinth outside his Tittenhurst Park home after he had crashed it into a ditch. Usually found in classic British Leyland colours of Russet Brown or Harvest Gold the Maxi gained a reputation for being unreliable and low on quality. But, for many this was all part of its charm and the Maxi still embodies a certain under-celebrated era of British motoring.
How much is your car to insure? Find out in four easy steps.
Get a quote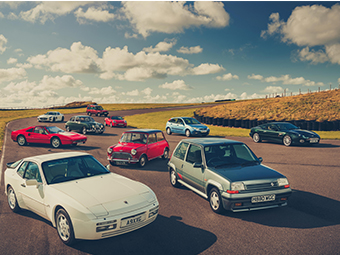 We found out what drives Ian's love of Austin Maxis:
1.) What was your first car?
It was an Austin Maxi 1750.
2.) Tell us about your love of classic cars
It all came from my father was into the Maxi and we used to have one when I was a kid.
3.) Which classic car(s) do you currently own?
One Nissan Leaf and two Austin Maxis.
4.) What do you love about your classic cars?
They bring back good memories every time I drive them.
5.) What is your dream car?
Green Mallard Austin Maxi
6.) Are you a member of a car club?
Yes, the Maxi Owners Club.
If you would like your classic car to feature in our next customer Q&A please complete our Q & A form.