Price: Auction (Hagerty Price Guide value £4300)
Mileage: 19,300
Condition: A vision in beige
Seller: Car & Classic
I remember my dad once coming home in the early 90s and announcing that for an upcoming conference, work was supplying him with a Montego in which to undertake the journey.
How much is your car to insure? Find out in four easy steps.
Get a quote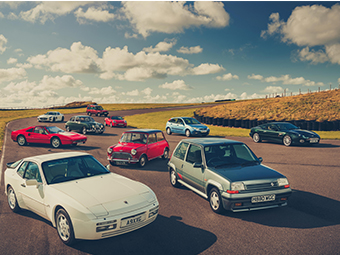 Naturally, me and my brother were horrified. An Austin Montego? That was a punishment, not a perk – surely our dad's own Renault 19 would be better suited to the job?
Imagine our relief and even excitement then, when he arrived home the next day not in a Montego, but a brand new Mondeo. Good grief, that was a close one. Ford probably never considered this kind of confusion when it paid millions to have someone name its Sierra replacement, but thankfully the car itself – proudly wearing a little 16v badge on the bootlid, which to an eight-year-old's eyes meant something much sportier than the reality – was a much better effort.
The best part of three decades later, both Montego and Mondeo have taken on a different profile, each falling into that delightfully beige melting pot we know as unexceptional classics. Peak mk1 Mondeo spec? Probably a 1.8 LX hatchback in blue, with that matching blue plastic and velour interior. A pool car to be proud of.
And the Austin Montego? Very much like the car you see here, being sold at auction from July 18 by Car & Classic. Gold over grey, beige interior, L specification and with a modest 1.6-litre petrol engine. It's covered little over 19,000 miles since 1988 and since 2014 it's been very much a show car – and in the kind of condition you'd expect.
As we've come to expect from Car & Classic, there's a bit of a story behind such a well-preserved car too. The first owner used the Montego relatively sparingly. The second owner, from 2014, was stunt driver Russ Swift, who you might expect to have used maybe half the car relatively sparingly, but apparently it was merely part of his collection.
There's a letter in the paperwork stating as much, so you can rest assured the handbrake has been used for nothing more than its intended purpose and the car has remained on all four wheels for most of its life.
After Swift the car bounced around (not literally) a few more times before ending up with the current seller, who is apparently moving it on to make way for a Mercedes SL, which some might suggest is a bit like selling a two-up-two-down to move in to Goodwood House.
Only one of those cars would be able to take pride of place at Hagerty's Festival of the Unexceptional though and it's not the Mercedes. This year's entries have now closed (and tickets have sold out!) but if you end up as the buyer of this Montego (or indeed find a blue over blue Mondeo…) then make sure to put your name down for 2022's show.
We'll be keeping an eye on what it sells for – currently, a concours-quality example of the Montego 1.6 is listed at £4300 in the Hagerty Price Guide…
Read more
Unexceptional Classifieds: Austin Maestro van
Who wants to live for ever? The Austin Metro did
Unexceptional Classifieds: Ford Sierra L