Price: £3950
Mileage: 24,000
Condition: Wouldn't look out of place in W1
Seller: eBay (Now sold)
Certain cars are better at evoking nostalgia than others. The original Austin Metro was, some of you will be distressed to hear, slightly before this writer's time (my grandparents had a couple of the heavily-revised 1990s Rover model though, as did a friend as his first car), but plenty still roamed the roads when I was becoming conscious of cars in the early 1990s.
How much is your car to insure? Find out in four easy steps.
Get a quote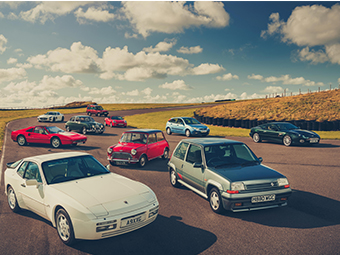 Many of them were much like this 1300 Mayfair too, complete with the practical five-door option and in a higher level of trim than those Spartan yet still charming Metros of the early 1980s. So spotting this car in the classifieds, older yet somehow in much better condition than most of the later Rover Metros and 100s that also cropped up, felt reassuringly familiar.
The Metro was of course British Leyland's attempt to replace the ageing Mini. It was a logical decision at the time, the little Issigonis nugget being 21 years old at the Metro's launch. But much like Porsche underestimating the love for the 911 when it attempted to depose it with the 928, it turned out buyers were still quite fond of the Mini, and the two simply ran alongside throughout the Metro's production run.
And while the Mini eventually outlived the Metro – finally bowing out in 2000, six years after the last Rover Metros left the Longbridge line – that isn't to say the Metro wasn't successful. It was among Britain's best-sellers in its early days, backing up (if not justifying) the jingoistic marketing promises it would help send "[foreign] invaders back where they came from]".
Sales were already tailing off by the mid-1980s, which is coincidentally when an influx of special editions began to appear, with names like Studio 2, Jet Black, Knightsbridge and of course, Mayfair.
The upmarket London-themed models took over from the previous upscale Vanden Plas badge that had adorned, with mixed success, small BL models for decades. The Mayfair was surprisingly well equipped as a result, with features like central locking and even a digital clock mounted in the roof panel.
Our Unexceptional Classified (which unfortunately sold before we published this) being a 1986 Metro, also benefits from the changes wrought in 1984, with a more modern dashboard design and that five-door shell. The velour-trimmed seats look plush (those headrests wouldn't look out of place in an SD1) and small details like the chrome-effect door handles really stand out.
In fact, the whole car stands out, given just how tidy it is. Peer at those arches and there's certainly very little to worry about. The seller provided a photo of the underbody, which is remarkably clean, and with only around 24,000 miles on the 1275cc A-series, it apparently drives well too.
As is often the case with our Unexceptional Classifieds, the price is towards the upper end of what you'd expect for a car of this type, though still below our £4400 valuation for a 1986 1300 in concours condition. Given it has already sold, the price clearly wasn't much of a barrier, and will no doubt bring a nostalgic glow to any car show its new buyer attends.
Read more
A British Car to Beat the World: 40 years of the Metro
Bad rep-utation: 7 company cars from the Festival of the Unexceptional
Unexceptional Classifieds: Austin Maxi 1750L