As we charge towards an electrified future in the new-car market, models like the Alpine A110 and Mazda MX-5 increasingly look like the last gasp for internal combustion sports cars. Lotus, with its Emira, has even confirmed it – and now AC Cars is hinting at the same with its latest sports car.
According to Alan Lubinsky, AC Cars CEO, "The new AC Ace RS may well be the last ever new AC model to be powered by a petrol engine". Blimey. Still, it's a chance for combustion to go out on a high, and the latest Ace features a new engine, and keeps weight low to deliver performance figures appropriate for the brand.
How much is your car to insure? Find out in four easy steps.
Get a quote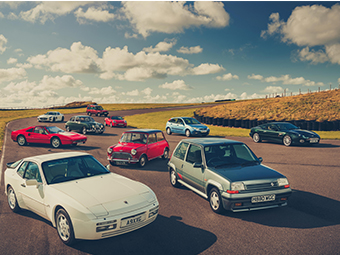 That engine is a 2.3-litre four-cylinder petrol good for 350bhp and 325lb ft. AC is light on details, but those numbers suggest a turbocharged Ford unit, such as you'd find in the eponymous RS-badged Focus.
Here, it's apparently good for what's presumably a traction-limited 0-62mph in 5.8 seconds, aided by a 1000kg kerbweight. That's around a second slower than the claimed acceleration of the Ace RS's most natural competitor, the 255bhp BMW-powered Morgan Plus Four, but with minimal bodywork around the driver it should feel vivid nonetheless.
Visually, you'd be hard-pressed to distinguish the Ace RS from the original Ace of 1962. No bad thing, we reckon. The photoshopped graphics in AC's images are hopefully just an option though.
As of course is electric power, if the petrol motor doesn't appeal, and while the availability of another combustion sports car is welcome, AC's EVs will inevitably be the power sources to keep the company going further into the future. If that future isn't for you, then the Ace RS will arrive in summer 2022, and AC is taking orders for the £89,500 sports cars now.
Read more
Kei-terham returns: 660cc Caterham Seven 170 revealed
Electric Cobra returns as AC readies Series 1 EV
Lotus Emira First Edition priced at £76,000 ahead of spring launch