Want a fun car with a minimal environmental footprint? Forget about heavyweight electric sports cars with their 3-second 0-60mph times and two-tonne kerbweights. If you want a plaything that's appropriate for the world in which we find ourselves – by being locally-produced, using minimal resources, and meeting all current emissions standards – then the new Caterham Seven 170 might just be perfect.
A follow-up to the Seven 160 that debuted in 2013, the Seven 170 features the same mechanical layout, only with the usual four-cylinder Ford engine making way for a tiny 660cc turbocharged three-cylinder from Suzuki.
How much is your car to insure? Find out in four easy steps.
Get a quote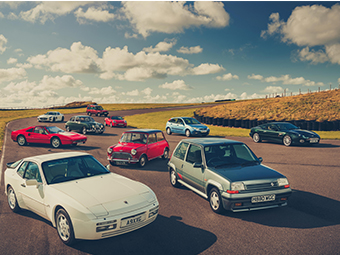 Designed to power Japan's class of lightweight, limited-size kei cars, the minuscule engine is tuned for greater power in the Seven, at 84bhp compared to the 64bhp allowed in Japan. Not a lot in the greater scheme of things, but the new 170 weighs only 440kg, making it the lightest Caterham variant ever, and granting it a power-to-weight ratio of 170bhp per tonne – hence the name.
It's also tinier than any other Seven, keeping the regular car's length but coming in at only 1470mm wide, 105mm narrower than usual. Like the old 160, that should give it the compact feel of a genuine classic, enhanced further by the hilariously narrow 155-section tyres, and the use of a live rear axle.
With little weight, a tiny engine and skinny tyres, it's also incredibly frugal – a 109g/km CO2 figure corresponding to around 60mpg. Past experience of the 160 suggests the fuel needle moves at a glacial rate, so it's about as close as you'll get to a guilt-free sports car experience – while still having enough power to nip below seven seconds to 62mph.
The old 160 had a charmingly old-school look, and while you can probably pick and choose parts to replicate that, Caterham's promo images do show off a few of the more modern features now available, including LED headlights and tail lights, alloy wheels, and a new stripe design. Maybe Caterham can rummage around in the back of the factory for some old-school steelies.
For the first time, the entry-level Caterham is also available in two forms. First there's a more road-biased 170S, with more relaxed suspension settings, a windscreen with weather gear, leather seats and a choice of four colours. But there's also the 170R, with sport suspension, composite race seats with a four-point harness, a limited-slip diff, and carbon dash, plus four more colours.
The only potential sticking point is the price, which starts at £22,990 in kit form, with finance from a penny shy of £200 a month (with a £6312 deposit and a final payment of more than £11,000).
When the 160 debuted in 2013, you could get one of those for £15,000 as a kit or £18,000 fully built, which would be about £17,500 and £21,000 today. The new price looks a bit painful next to that, particularly given you can still find used 160s around for under £20,000. But often there's no better feeling than knowing you're the first owner, especially of a fun machine like a Seven.
Read more
Sweet 1600: Caterham Super Seven review
Cars That Time Forgot: Caterham 21
Tiny Happy People: Driving a titchy classic kei car is big fun