With more than 40 Isle of Man TT starts so far both solo and with a sidecar, as the first woman to stand on the podium in a race around the TT course and as holder of the female lap record for five years, not to mention having set umpteen other motorcycling milestones, you'd have thought that pioneering bike racer Maria Costello MBE would have nothing left to learn on two wheels. But here she is, sat in front of a whiteboard, taking in tips from an instructor in advanced motorcycle training, all in the name of being a better rider.
As the British trailblazer freely admits, however much experience you have, you can never stop learning – and she embraces that powerful knowledge.
As a strong advocate for enhancing skills – including a stint as an ambassador for IAM RoadSmart – she's passed on her baton to countless motorcyclists via track days, advanced training and coaching. Yet she is still open to regularly refreshing her own riding, which is where her long-time friend and colleague, Sean Hayes, a veteran of the training sector, enters the picture. Both he and Maria share an unbridled passion for bikes, and using them responsibly.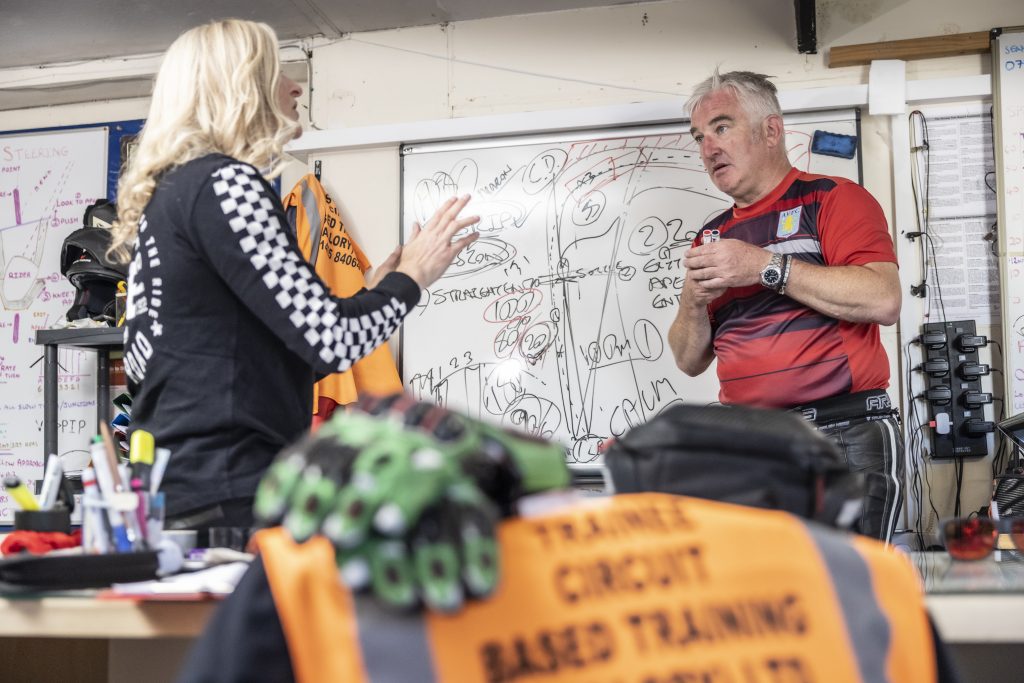 "I've known Sean and his Mallory Park-based company Circuit Based Training for many years," explains Maria. "I understand how valuable such courses are; motorcyclists are so vulnerable, yet the UK's existing compulsory rider training – which is entirely centred on passing your learner test, before letting you out loose on the roads – is not nearly enough to equip you for the realities of today's heavy traffic and questionable driver standards." It's a viewpoint backed up by the stats: according to the Department for Transport, the UK saw 17,369 motorcycle accidents in 2019, 389 of those proving fatal.
Maria continues: "Getting your licence is only the start. Riding motorcycles is just fantastic – it's all about excitement, enjoyment and freedom – but I believe you should have the humility to constantly be enhancing and refreshing your skills, and learning new techniques. That goes for me, too! We all let bad habits creep in – and yes, I've got an ego! There was time when I did think I knew better, but then I've grown up, put myself in other situations and gone 'Oh God, why didn't I do this years ago?'" The fact is, any kind of rider and bike-control training will open your eyes, polish your abilities and give you confidence – from flat-track and off-road training to circuit days and even stunt-riding courses."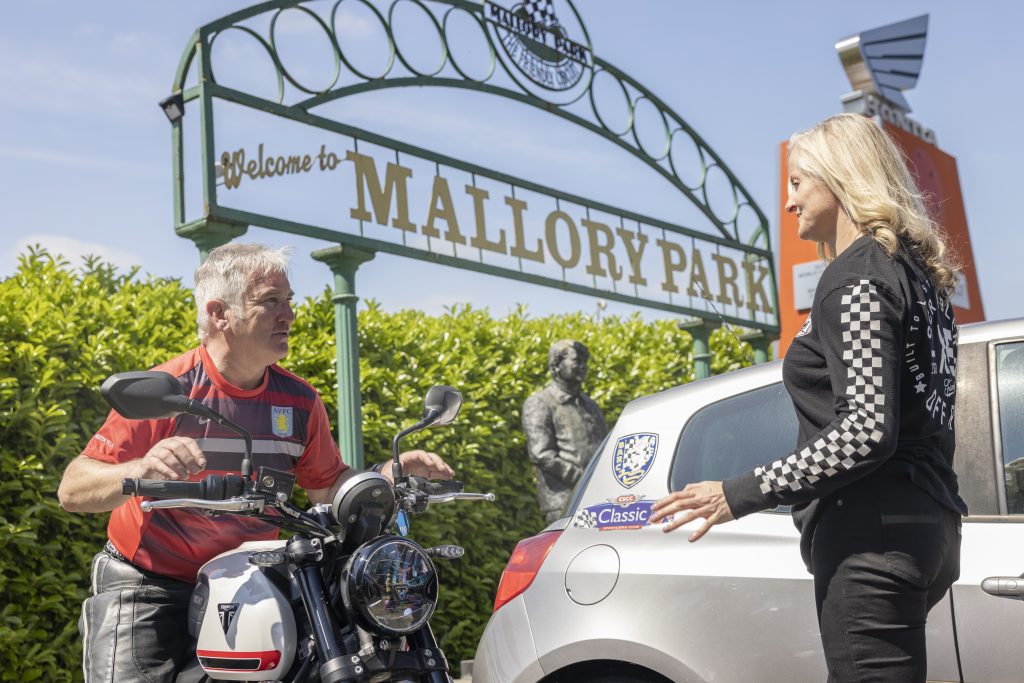 That's exactly why Sean – who has decades of road and race experience under his belt, as well as co-wrote the book Pass the Bike Test (And Be a Great Rider, Too) – started his training company nearly 30 years ago. As he explains: "Whether you've got L-plates or you're fast round the TT course, we're all made of the same stuff; none of us wants to die on our bikes. Yet people keep having unnecessary accidents because they're not as proficient as they want – or need – to be. We can teach you skills that will hopefully save you. You'll be doing everything you can to protect yourself. You can't odds other bad drivers, but you can at least try to anticipate what they're going to do and know how to avoid it."
He goes on: "We offer a huge range of training at Circuit Based Training, on both two wheels and four. Specifically for riders we have everything from Compulsory Basic Training and Direct Access sessions for learners, to Advanced Cornering, Wet Weather and Knee Down courses for more experienced riders. We pride ourselves on getting the best out of our clients, developing their riding, optimising their fun and ultimately helping to keep them safer."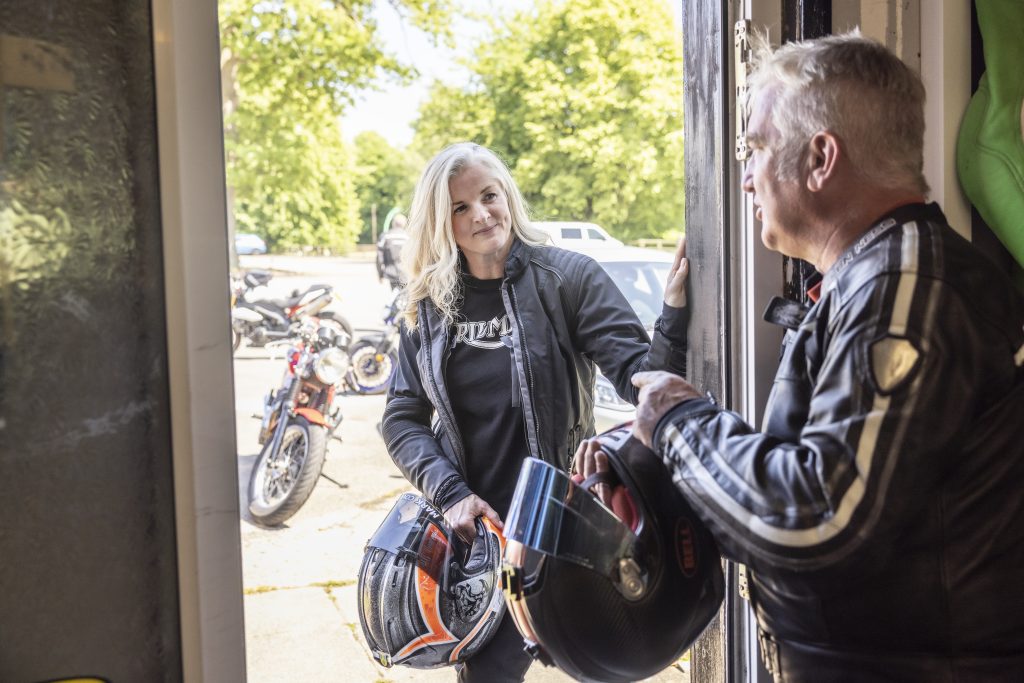 As Hagerty found out when we joined Maria and Sean for a taster of the aspects of riding covered, it's a process that starts in the classroom, followed by plenty of riding action on your own machine. Courses run over one or several days, or even a couple of weeks, dependant on the kind of training you're looking for and the end goal.
The impact on real-life riding can be immeasurable. As anyone who has undertaken further training will agree, it's as though the blinkers have dropped away. Preparedness for a multitude of potentially dangerous situations is boosted a hundredfold.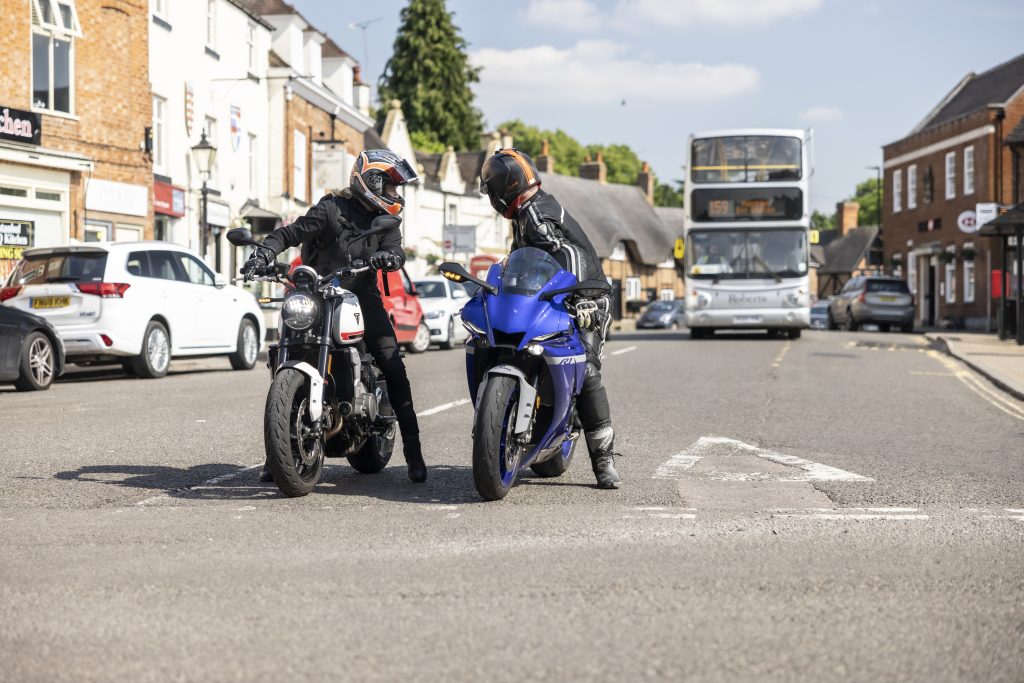 Pedestrian runs out in front of you? That's when in-depth understanding of how both you and your bike behave under emergency braking is invaluable. Fast road opening up in front of you with some inviting overtaking opportunities? Enhanced observation and forward-planning skills will highlight that hidden dip, tractor pulling out or sharp right-hander at the end.
Encounter gravel or a pothole on a fast corner? Boosted handling proficiency will help you keep control and get out of trouble at a point where lesser riders would simply panic at the loss of grip. The benefits of this are clear; bends are notorious for high incidents of injury and death, at a point where a lack of experience can quite literally lead to the end of the road.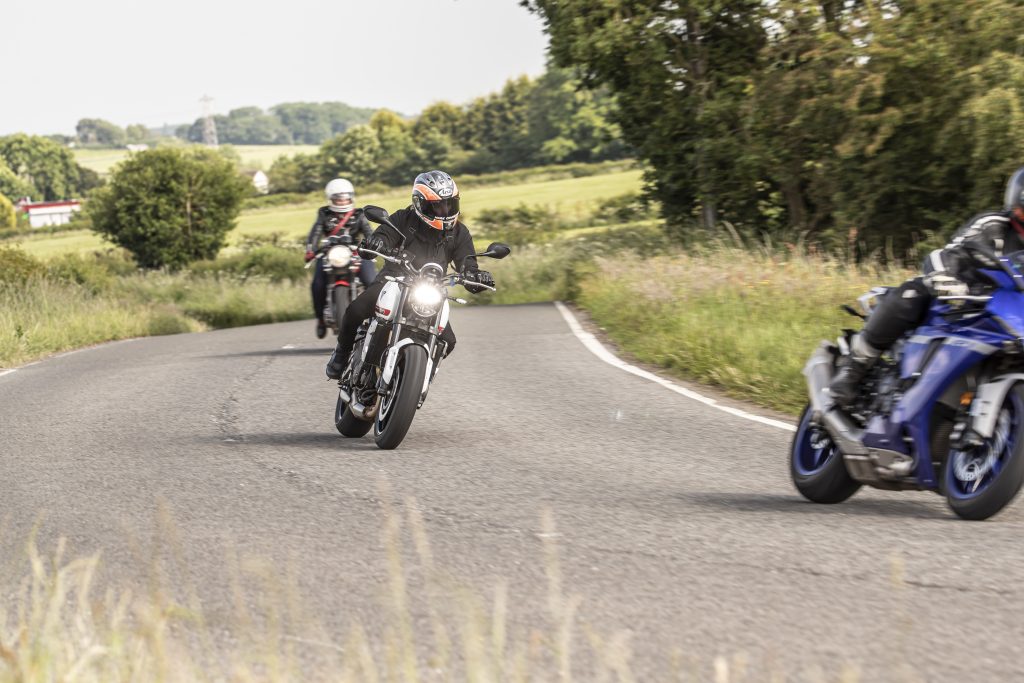 Sean knows the roads around the circuit intimately, which means he can pinpoint ideal corners on which to safely optimise positioning and hone reaction times, as well as the best junctions for practising observation skills. Meanwhile, the track at Mallory Park itself allows the riders to augment their abilities with no fear of traffic, unexpected obstacles and unpredictable road-user behaviour, which can pay dividends back on the public highway. Sean doesn't mince his words: "You can learn things on a closed circuit that you don't want to learn on the road – where there is no margin of safety, where you're going to hit something and really mangle yourself."
Maria is living proof of how track skills can translate into real life. "I don't ride on a public road in the same way as I do in closed-road motorsport, because there are so many more variables," she says. " However, I've learned so much from racing that translates across. For instance, reading the road; we travel so fast when competing, we have to be really good at absorbing things at speed. And then there's the understanding of how late braking can send a bike out of shape… how you can lock the brakes up, how the forks react, how the weight shifts, how the bike feels…
"These are all very important for how you ride a motorcycle, so that you're not afraid when it happens in different scenarios. Learning all of that in a controlled environment will give you confidence – and confidence is a massive thing when you're riding. Gaining a better understanding of how it all works means you can enjoy your bike more in any situation."
Yet as Maria and Sean both lament, challenging the general motorcycling community's traditionally reticent attitudes towards enhancing their skills can be difficult. "Less than one per cent of riders take up further training," says Sean. "I don't know if that's because of cost, hubris or lack of opportunity, or whether people are put off by the historic (if often undeserved) staid image of advanced riding, but we really need to change things. Demonstrably, people's lives depend on it."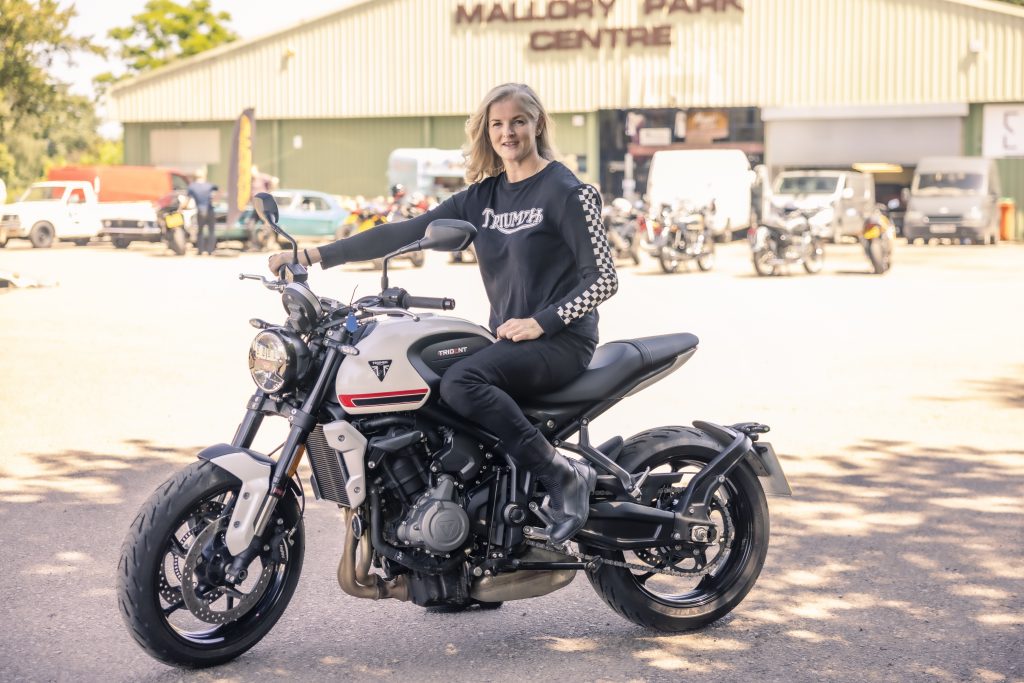 There are plenty of options for DVSA-approved training in the UK, from the market leaders such as IAM RoadSmart and RoSPA to independent specialists like Circuit Based Training. However, as Sean explains, it's not a one-size-fits-all approach. "Different skills can be taught in various ways, and it's important that whatever training route you take, the methodology suits you personally and makes complete sense. Some of the more traditional techniques don't work for everyone. Ultimately, of course, the point is to have fun – and instilling the confidence and knowledge to get the most from your machine in a safe, competent and progressive way is the ultimate path to achieving that."
Naturally, there are rider-training schools and there are rider-training schools. Some, lesser outfits simply seek to churn through student numbers by offering the minimum allowable training – think L-plated pizza-delivery workers on 50cc scooters, who are all too often the victims of a shamefully negligent attitude towards road safety on the part of their employers.
But if you want to take a bit of time to gain a high-quality riding education, get know your bike and master it to the very best of your ability, Sean's your man. The fact that Circuit Based Training has the full backing of such a motorcycling luminary as Maria Costello can assure you of that. "You're never too old or knowledgeable to learn," says Maria, "in riding, as well as in life."
Read more
When Steve Hislop came to the rescue of Maria Costello
Start them old: Learning to drive in classic cars
Giacomo Agostini recalls the 1967 Isle of Man TT: "Mike Hailwood hugged me and said I was the moral winner"