The cars have cooled and cones have been packed up – the first-ever Hagerty Driving Experience has run its course.
Through this Operation Ignite! initiative – held Friday, 8th July, at the Automotive Hall of Fame in Dearborn, Michigan – young drivers between 15 and 20 years old had the chance to celebrate Collector Car Appreciation Day behind the wheel of classic cars learning to drive a manual transmission.
How much is your car to insure? Find out in four easy steps.
Get a quote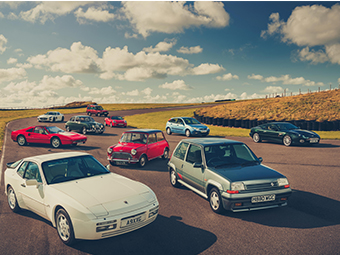 The day began with a short classroom session, in which more than 30 young adults learned the basics of how a clutch and transmission work. Participants then entered the closed course and received one-on-one driver training from classic car owners.
Each participant had the choice of a 1928 Packard Phaeton, 1930 Ford Model A Tudor sedan, 1940 Buick Super convertible, 1955 Porsche 356 Cabriolet or 1963 Corvette "split window" coupe. Two modern cars were also available – a 2011 Camaro SS convertible from Ken Lingenfelter (Lingenfelter Performance) and a 2011 Ford Mustang GT coupe provided by Ford.
Not only did the young people learn to drive these cool cars, they also learned the basics of taking care of their own cars during a "Car Care Essentials" seminar. Instruction was given on checking fluids, tire pressure, battery connection and safety.
"In order to keep classics on the road for future generations to enjoy, we have to give youth access to these rare cars and teach them the ins and outs of driving such unique vehicles," said McKeel Hagerty, CEO of Hagerty Insurance. "The feedback we received was incredible. They really seemed to embrace the event."