Welcome to Freeze Frame, our look back at moments from this week in automotive history.
28 May 1907 – First Isle of Man TT
The Isle of Man Tourist Trophy is one of the few remaining untamed road races on the planet. If you were to pitch it anew in the year 2021 you'd be laughed right out of the planning meeting; fatalities have averaged more than one a year since the first race in 1907. Yet year after year, it attracts an enormous roster of both road-racing specialist riders and enthusiastic fans; there really is nothing quite like it.
How much is your car to insure? Find out in four easy steps.
Get a quote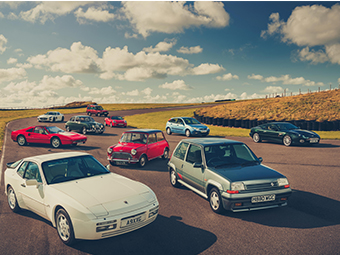 While the name is the same, the TT has nevertheless changed significantly over the years. That first event, which took place on May 28, 1907, was held not on the Snaefell Mountain Course as it is today, but a smaller circuit of just under 16 miles known as the St John's Short Course, based around the eponymous town located between Douglas and Peel.
There was a single race of ten laps, comprising two classes – one for single-cylinder motorcycles and the other for twins. A total of 25 riders set off in pairs, and much as today's TT classes are required to stop for fuel during the longer races, the first TT included a compulsory 10-minute "replenishment" stop.
If that sounds excessive for a race of around 158 miles, then remember these early machines could be as recalcitrant as the horses they replaced. Punctures were common, and for a rider named Oliver Godfrey, the rest stop was less than restful when his five-horsepower Rex caught fire.
Charles Collier won the single-cylinder race on a Matchless, averaging 38.21mph over four hours and eight minutes – nearly 100mph slower than Peter Hickman's TT lap record set in 2018.
His counterpart on the twins, Rem Fowler on a 5hp Peugeot-engined Norton, might have missed out on his own victory were it not for the encouraging words of a spectator. Fowler's bike suffered multiple problems with spark plugs and drive belts, and skittered down the road when a tyre burst at high speed.
Ready to retire, he was informed that he was over 30 minutes ahead of the next competitor, and struggled home with an average speed of 36.22mph – plus a fastest lap of nearly 43mph. The speeds might have been tame, but it seems the herculean effort needed to win the Isle of Man Tourist Trophy hasn't changed a bit.
Also read
Opinion: Riding a motorcycle is the last great escape – let's keep it that way
Tanked up: Learning to make aluminium fuel tanks with Tab Classics
Daredevil Debbie: America's motorcycle jump queen who took on Knievel and won