Welcome to Freeze Frame, our look back at moments from this week in automotive history.
11 December 1979 – Eddie Kidd jumps 80ft over viaduct in Maldon, Essex
Eddie Kidd returned to the public eye last month thanks to an emotional tribute on BBC's Top Gear TV show. Host Paddy McGuinness covered the former stunt performer's spectacular career – before putting on an action-packed show as the 62-year old Kidd looked on.
How much is your car to insure? Find out in four easy steps.
Get a quote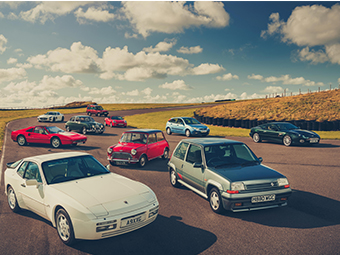 Kidd was a London lad who became a skilled daredevil and true showman who found a following worldwide. Yet tragically, following an accident during what appeared to be a relatively straightforward jump at a motorcycle show in 1996, he was paralysed and left with brain damage.
He started his stunt career at the age of fourteen, becoming something of a British Evel Knievel. Kidd took part in multiple jumps over buses and cars, but his skills also proved attractive to the film and TV industry.
Most notably, that included a string of Bond films, serving as stunt double for the likes of Timothy Dalton, Roger Moore and Pierce Brosnan. But one of the most famous jumps Kidd ever cleared was for the 1981 film, Riding High.
The movie starred Kidd himself as Dave Munday, a motorcycle messenger, bored of small-town life, who trains as a stunt rider to clear a jump known as the Devil's Leap.
The jump itself took place across an old viaduct in Maldon, Essex, on December 11, 1979. Recorded in multiple angles for the movie's closing scene, Kidd cleared the 80ft gap with room to spare.
As Top Gear reports, the jump had been a concern to the film's production crew, particularly as it had rained before shooting. That required the use of a front mudguard, in turn changing the way the bike would take off, fly, and land.
And as the movie footage shows, it was far from a smooth return to earth, the Yamaha coming down hard on the back wheel. He barely hangs on as it skims the wall lining the side of the viaduct, but he made it – and Kidd, as Munday, returns to the threshold to celebrate as the credits roll.
Read more
Freeze Frame: Nader changes the car industry for good
Evel Empire: Knievel's stranglehold on the Seventies
Christmas 2021 sorted: The best gifts for bikers