Is there anything better than rising with the lark on a summer's day, grabbing the keys to your cherished car and enjoying empty roads? Well, yes, there is – knowing that your classic or modern-classic car has proved to be as good an investment as it has been enjoyable to drive and tinker with.
Which is why, this time last year, we launched the first Hagerty UK Bull Market List. The aim was simple. We wanted to help fellow car enthusiasts identify cars that would be a great buy. To do so, the Hagerty Valuations Team began work on using its extensive insurance data and all the good stuff that powers the leading Hagerty Price Guide to identify 10 classic and collectable cars that every car enthusiast should keep their eye on in 2021.
How much is your car to insure? Find out in four easy steps.
Get a quote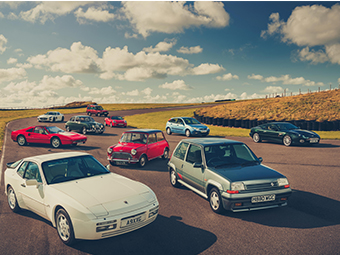 This was more of a challenge than we first thought. We wanted to flag up different types of cars across different price points, and that meant we had an exhaustive 'long list' to argue our way through, before eventually arriving at the 10 cars featured in the 2021 report. Our ultimate hope was that we could inform petrolheads, so they in turn could weigh up whether to snap one up before they were potentially priced out of the market.
So how did we perform? A year on, we've looked at the Hagerty Price Guide condition 2 'Excellent' value of all 10 cars, and are pleased to report five have increased in value. Two have remained unchanged, and three lost value.
The models represented by the more exclusive marques – Ferrari, Porsche, Mercedes-Benz and Aston Martin – either fell or remained flat. Meanwhile, the more humble Mini Cooper and Jaguar Mk II performed strongly.
As ever, the headline figure is not where the real story is. When we're tracking thousands of different cars and tens of thousands of transactions each year, there are always some changes that need more explanation. Below, we dig deeper into each car from last year's Hagerty UK Bull Market List and reveal how the values have changed in the past 12 months.
1994 – 2004 Aston Martin DB7
2021 Bull Market value: £31,580
Current Hagerty Price Guide value: £31,580
Movement: Nil (Average of inline-6 and V12 values)
The Aston Martin DB7 is the car that saved Aston Martin in modern times. The V12-powered Vantage model convinced Ford that the British brand had potential and deserved serious investment to secure the car maker's future.
Yet the DB7 has had a mixed year. Discounting the rare Zagato version, the number of cars we've quoted for insurance in 2021 fell five per cent compared to 2020, and the average value of the cars quoted fell by a significant 15 per cent. That said, the number of policies wasn't large, so these changes are probably stronger than they look.
Auction results were mixed, too. Outwardly the car did well: 36 sold from the 43 we tracked at public auction, but we noticed an interesting trend, where of those auctioned up to the start of October this year, only three of the 11 with reserves exceeded that figure. Since then, five of the seven tracked exceeded their reserve. So, although our team decided not to adjust the values of DB7 models in the Hagerty Price Guide this year, it looks like the trend we predicted has started, and we'd expect prices to rise in the new year.
1961 – 1971 Austin Mini Cooper 997
2021 Bull Market value: £24,100
Current Hagerty Price Guide Value: £26,500
Movement: +10% (Average of Mk 1)
Thank heavens for Alec Issigonis and John Cooper, because the Mini Cooper concept – an early attempt at a hot 'hatchback' – was at once both brilliant and enlightening. Its formula of affordable fun would go on to be widely followed.
In its earliest, Mk 1 guise, the Mini was our second highest climber of the 10 cars highlighted in the 2021 Hagerty Bull Market List, gaining a 10% increase in its Hagerty Price Guide values. This growth was theme throughout all versions of Mk 1 Mini Coopers, the increase based on a combination of strong auction results and our own policy quotes. Of the 28 Mk 1 Mini Coopers Hagerty tracked at live and online auction this year, only five failed to sell and of those with an estimate, only one failed to reach it. Two, both 1275 S models, sold for over £50,000.
Quote activity for the Mk 1 Mini was also strong this year, with an average of £22,662 in the UK and a global increase of 10%. Interestingly, we received 23% more quotes for this car in 2021 than we did the previous year.
1985 – 1998 Ferrari 328
2021 Bull Market value: £80,650
Current Hagerty Price Guide value: £79,750
Movement: -1.1% (Average of GTS and GTB)
Last year, we wrote how one of the last of the truly analogue Ferraris provides an experience that is somehow magical, a fairytale from a fading era. So it's interesting to note who would find such a car appealing – or not, as the case may be – and ponder whether that has had any impact on its values.
The Ferrari 328 was an unexpected faller, dropping in value 1.1% over the year, when looking at the average of GTB and GTS values. This was mainly due to poor auction results: only four of the ten we tracked at worldwide auction sold, and of the three offered at UK and EU sales, only one sold, achieving less than its lower estimate. Our quote traffic was also down, by 26 per cent from 2020, but with an increase in quoted values of eight per cent.
However, the change in the ages of people quoted is really interesting. In 2017, nearly 70 per cent of owners were Baby Boomers (born between 1946 and 1964) and under 20 per cent were Millennials (born 1981 to 1996). Since then, there's been a huge rise in Millennial interest in the car: 40 per cent of quotes this year were for members of that demographic, compared to 48 per cent Baby Boomers. With Millennials driving much of the online buying market, that's a good sign for the model.
1998 – 2004 Ford Focus
2021 Bull Market value: £1400
Current Hagerty Price Guide value: £1500
Movement: +7.1% (1.6 Zetec)
We praised Ford for raising its game when it launched the Focus, in 1998. The family hatchback succeeded the lacklustre Escort and had been approached from the outset with a mindset of "We can and have to do better". Sure enough, it was a game-changer for the company, and that's why we felt it deserved its place on the 2021 Hagerty Bull Market List.
The Ford Focus is still a very young car to be tracked by Hagerty (we track the popular 1.6 Zetec version), but this future Festival of the Unexceptional star has crept up by £100 on average in the Hagerty Price Guide. That's a big rise in percentage terms, but mainly just a healthy nod that values are on the up. Without any auction sales to go on, the change is based on policy data (which had already increased year-on-year by 64 per cent by the beginning of 2021) and also advertised prices.
1959 – 1967 Jaguar MK II
2021 Bull Market Value: £27,700
Current Hagerty Price Guide value: £33,234
Movement: +20% (Average of 2.4, 3.4 and 3.8)
The Jaguar Mk II is a car that has built up a stellar reputation for an old saloon – and during the making of last year's Bull Market it was a delight to find that the reputation, for once, turns out to be thoroughly deserved.
In value terms it's an interesting car, because buyers appear to be picky. A very high quality 'matching numbers', manual-overdrive gearbox 3.8 in the right colour combination will generally sell extremely well, but a very similar vehicle in a less desirable colour in a lower spec could be worth half of the 'better' one.
Sales of the Mk II have continued to be strong in 2021: Hagerty tracked 69 at public auction this year, of which 48 (or 70 per cent) sold. Five fetched more than £50,000 and one (offered by Silverstone Auctions, in March) was estimated at £115,000. It did not sell on the day, but attracted a bid of £80,000, which with commission would have been close to our auction record. Hagerty has also seen an uplift in quotes in the second half of the year, both in number of quotes offered and the value of the cars we're covering. That shows that interest is still very strong.

That said, the 20 per cent increase in Hagerty Price Guide values (as an average of 2.4, 3.4 and 3.8 values) was not quite as it seems. The rise in Jaguar Mk II prices had been so quick that we felt that we'd dropped behind the curve a little, so we have made some corrections to our values this year. Our US guide has shown a more gradual rise: 11 per cent year-on-year for the 3.8 models and 7 per cent for 3.4 and 2.4 cars. A mean of these (9 per cent) would be more indicative of the global rise in values of the car.
1989 – 1998 Land Rover Discovery
2021 Bull Market value: £9800
Current Hagerty Price Guide value: £9800
Movement: Nil (V8)
The Land Rover Discovery may have scaled mountains for drivers and moved mountains for the car maker, but it has not moved in value this year. Although the number of examples covered by Hagerty continues to increase, the average value of insured examples has dropped very slightly by 2%. It's a similar pattern in our auction results: of the 20 examples we tracked, the vast majority sold within estimate, with just two over, and two under.

Mind you, Hagerty believes the outlook continues to be good for the Disco. An impressive 18 of the 20 offered at auction sold, which is a very strong sale rate for a vehicle of this type. It speaks volumes about the following that the Land Rover brand enjoys in the UK and beyond, and the significance of the Discovery in the company's fortunes.
2010 – 2015 Mercedes-Benz SLS
2021 Bull Market Value: £166,500
Current Hagerty Price Guide value: £163,500
Movement: -1.8% (Average of coupé & convertible values)
The SLS marked the start of AMG's evolution into a sub-brand in its own right, and immediately showed the true potential of AMG. The front-mid mounted 563bhp 6.2-litre V8 was claimed to be the most powerful naturally-aspirated engine in production at the time. The design of the car was unashamedly different in character to any of its peers, which range from the Lexus LFA to the Ferrari 599, and a noticeable nod to the glorious 300 SL of 1954.
Hagerty values of the Mercedes-Benz SLS have dropped slightly this year, the result of a steady decline in the median quoted value until the end of the summer. Advertised values were also slightly down on last year. Since then though, things seem to have picked up. Quoted values have risen, and interestingly the number of quotes has increased by 24 per cent year-on-year. With the ages of the people we're quoting spread quite evenly between Baby Boomers (42 per cent) and Generation X (34 per cent), that suggests there's still a wide level of demand for this modern supercar.
1988 – 1992 Porsche 944
2021 Bull Market value: £17,550
Current Hagerty Price Guide value: £15,700
Movement: -10.5% (Average of S2 coupé & cabriolet values)
We know what you're thinking… this looks bad. A drop of 10.5 per cent in a year is a lot, and at first glance it seems as if the heat has come out of the market for front-engined Porsches like the 944.
But that's not what's really happening. Although the number of quotes we made this year for the 944 S2 fell by 8 per cent, the average value rose by 12 per cent year-on-year, and 24 of the 29 we tracked at auction found new owners, a healthy sell-through rate. No, what happened here is that we lowered our top values quite significantly, as we're just not seeing the very top sales that we had previously experienced: this year, only two cars sold for (just over) £20,000.
In December 2020, our top Price Guide values were £26,200 for the 944 S2 cabriolet and £28,800 for the coupé. Those have now dropped to £22,000 and £24,000 respectively, while the lower values have remained relatively constant. So, we still believe the outlook for the 944 S2 is good: it's a great car, there's lots of choice for the buyer and it combines practicality with style and Porsche's legendary build quality.
1986 – 1991 Renault 5 GT Turbo
Bull Market Value: £17,700
Current Hagerty Price Guide Value: £18,000
Movement: +1.7%
They don't make hot hatchbacks like the 5 GT Turbo any more, and more's the pity, as this is a riot of a car that faithfully tells its driver what's going on as you push it to its limit – limits, it has to be said, that are so much more approachable than any modern hot hatch. We loved driving it all over again.
With that in mind, the Renault 5 GT Turbo hasn't gained as much as Hagerty thought it would: we expected more than an increase of 1.7 per cent over the year. But the signs are still good: we're receiving more on our insurance books, the auction sell-through rate is a very healthy 86 per cent, and there's still a great deal of interest in them.
But just like the Porsche 944, we're not seeing big money being spent on the very best examples as we are for some of the Turbo's peer group such as the Peugeot 205 GTI, the Audi Quattro and the BMW M3. In fact, the majority of auction sales this year have sat between our condition 2 'Good' and 1 'Excellent' values, with nothing above in the 'Concours' zone. Those cars we condition-rated were sold at exactly the price we'd expect however, maybe suggesting that when an exceptional car eventually comes to market, it could break records.
2000 – 2006 Toyota MR2
Bull Market Value: £4100
Current Hagerty Price Guide Value: £4200
Movement: +2.4%
If you've read great things about the original Lotus Elise but found yourself deterred by reports of iffy durability, consider the last generation Toyota MR2. In some ways it's even better to drive, especially on the road, but more dependable with it.
It's a message that appears to be noticed by those in the know. Of all 10 cars in the 2021 Hagerty Bull Market List, the Toyota MR2 is another gainer, this time up by 2.4 per cent, although in real terms that's just £100 at our 'Excellent' value. Mind you, it is moving in the direction we predicted and has been especially popular at auction with a very impressive 86 per cent sell-through rate.
Hagerty also noted that the MR2 is now the 7th most shipped classic vehicle from the UK to US. With the list including other Japanese cars such as the Nissan Skyline R33 and Toyota Supra, both of which have seen prices rise significantly in recent months in the US, this could be the indicator of increased interest in the model.
Read more
2021 Bull Market List: 10 of Britain's hottest collectable cars
2022 UK Bull Market List: 10 cars going places this year