Many are the attractions of the Aston Martin DB7. The way the British sports car looks is the obvious one. Vigorous pace and fine handling are two more. But perhaps the greatest and most useful is this: there is no cheaper way into Aston Martin ownership. You could be the owner of a well-kept and highly desirable Aston for under £20,000 – a fact Hagerty brought to the attention of Britain's car enthusiasts when it highlighted it in its 2021 Bull Market list.
That's tempting. Is there a catch? It's a question of purity, because on its 1994 launch the DB7 owed nothing to any previous Aston, it wasn't made at a historic Aston factory and it had a Jaguar engine. There was quite a lot more Jaguar under the skin and in its past, too. But did any of that matter when many a pundit declared it to be one of the best-looking cars on sale, never mind the best-looking Aston Martin?
How much is your car to insure? Find out in four easy steps.
Get a quote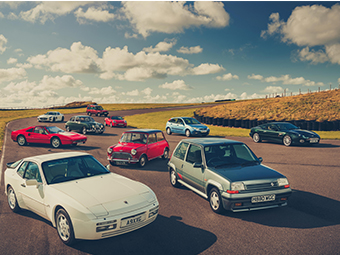 Here, briefly, is the background. Aston Martin, teetering on the brink of the latest of its financial crises, was rescued by Ford which needed a new, cheaper, more profitable Aston model and needed it quickly. Tom Walkinshaw's TWR organisation, already well versed in racing and developing Jaguars (a brand also then-recently acquired by Ford), had designed a possible replacement for the Jaguar XJ-S, lighter and cheaper to build than the factory's own abandoned F-type project. Ford, however, rejected the TWR proposal and pressed ahead with what became the XK8.
So TWR had what its designer, Ian Callum (later to head Jaguar design), called 'this half-done car'. Soon he had Aston-ised it with, mainly, a new nose, but beneath lay what was fundamentally a 1975-vintage XJ-S platform albeit with revised suspension settings and many detail improvements. The first prototype had a Jaguar V12 engine but Aston chief Walter Hayes (Ford PR supremo and impetus behind the GT40 in an earlier life) considered that too grand for an entry-level Aston. So Jaguar's AJ16 straight-six, in 3.2-litre form and fitted with an Eaton supercharger like that of Jaguar's own 4.0-litre XJR, did duty instead.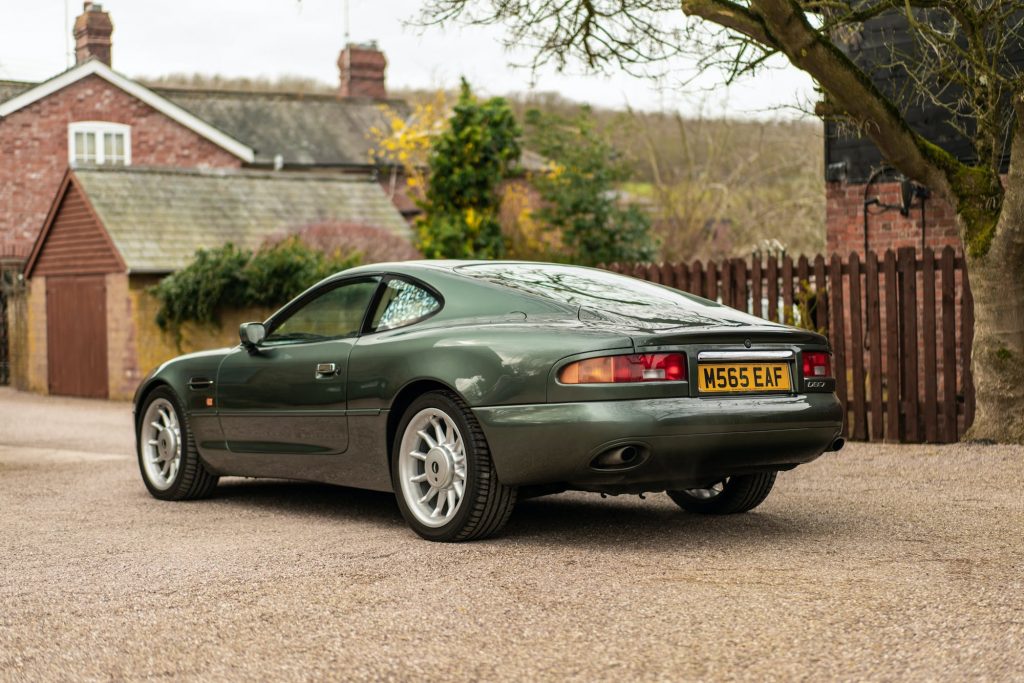 TWR's little factory in Bloxham, on the A361 between Banbury and Chipping Norton, was serendipitously available now that Jaguar XJ220 production had ended, and the stage was set for what some unkindly dubbed the 'Jag in drag'. Sniping aside, the DB7 was a fine car – and there's no question that it saved the Aston Martin brand with 7091 examples built from 1994 to production's end in 2003 and replacement by the first Gaydon-built Aston, the also Callum-designed DB9.
As launched, the DB7 offered a hefty 335bhp when fitted with a five-speed Getrag manual gearbox, pegged back to 317bhp with the optional four-speed ZF automatic which eventually accounted for three-quarters of the 2451 six-cylinder sales. These stopped in 1999 when the DB7 did, after all, get a V12 and became the DB7 Vantage, of which 4640 were sold. (You can identify one by its combined front indicators and foglights and by door mirrors mounted at the front corner of the window instead of on the door itself.)
It wasn't the Jaguar V12 engine, though. Instead it was the first production application for the unit Ford had developed from a prototype made from two Mondeo Duratec V6s. From 5.9 litres it offered 420bhp, or 435bhp in the later GT version, and the engine went on to power many later Aston models. Again an automatic was offered, but this time the manual found more friends and the auto tally was down to 60 per cent.
What is a DB7 like to drive?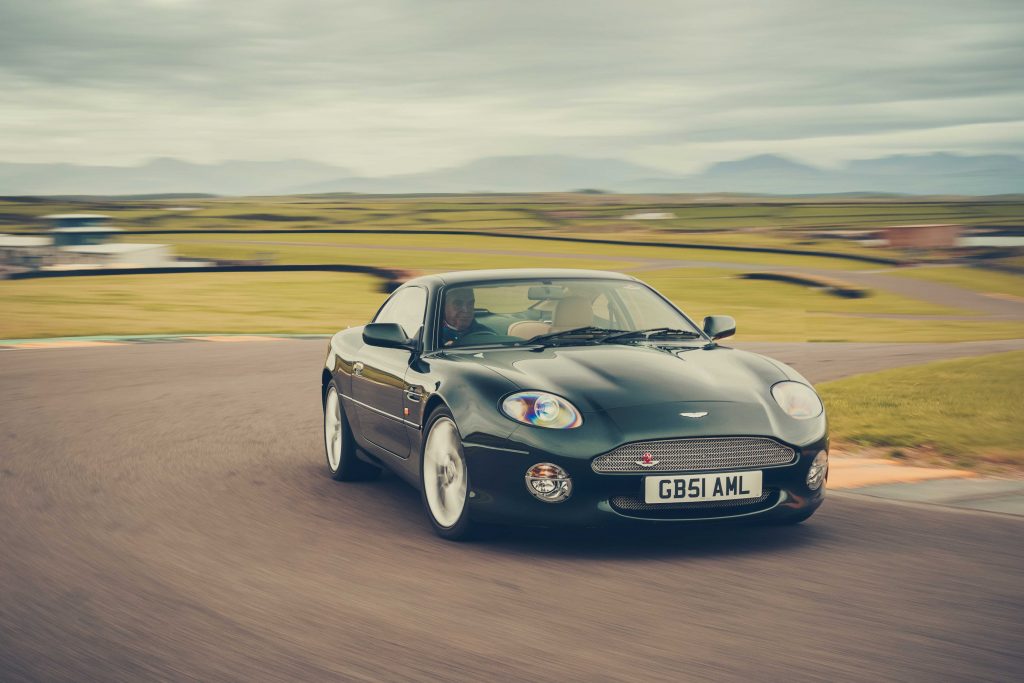 These aren't the most spacious of GTs. 'Snug' best describes the feeling you get once settled in the driver's seat – which is low to the road in the best sports car tradition – as the wide transmission tunnel and low roof mean it's cosy in a comforting, rather than uncomfortable, way. While there is plenty of space for two, the rear seats won't suit occupants approaching adult size but you'll find that the boot is far more accommodating than a Porsche 911's 'frunk'. This makes it a useable car, one you can pack for a week away and which will be perfectly comfortable racking up long distances.
The way it was conceived, and the ample evidence of corporate Ford fittings, might conspire to distract you from assessing the DB7 as an entity of its own. That would be a shame, because a healthy DB7 is a delightful drive with a firmer, meatier, more sporting feel than its serenely-wafting Jaguar ancestor. The six-cylinder manual offers a torquey thrust and a keen exhaust note, but the duller, sleepier automatic is best avoided if you're to enjoy the full DB7 experience.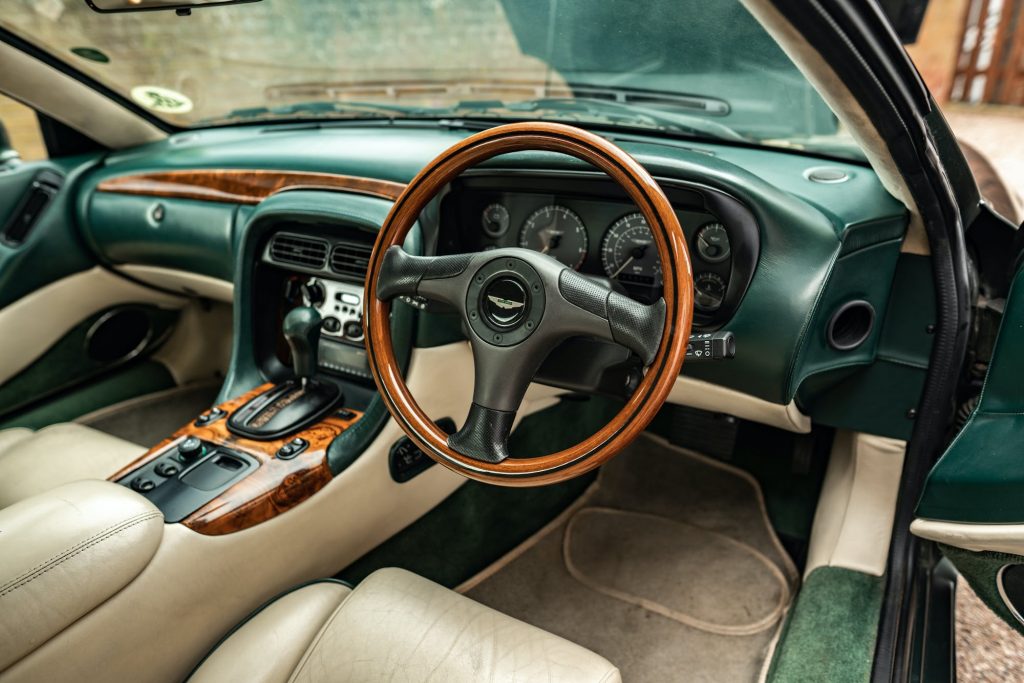 As you would expect, the V12 is altogether faster, punchier and more tuneful but it's also heavier and doesn't handle quite as sweetly. Where the DB7 really scores over the more aristocratic Astons that preceded it, though, is in the quality of its detail finish, in its sense of integrity and in the way it can generally be relied upon to work properly. That's what made it a credible Porsche rival, and it set the tone for all the Aston Martins that followed. The future started here.
How much does a DB7 cost?
The good ones are creeping up in value but, if you're very brave, you might find a tired, neglected, needy six-cylinder automatic for just over £10,000. We strongly recommend not to do that, though, because the cost of restoration will probably be far more than the extra you would have paid for a good car.
The Hagerty Price Guide – which you can browse by clicking here – doesn't distinguish between manuals and autos but, for the six-cylinder cars at least, specialists such as Chiltern Aston Martin reckon that the rarer manuals are worth about 20 per cent more. The very best of those are in the mid-£20,000s now, or even the high £30,000s for the Volante convertible version. But a very smart and usable coupé could be yours for maybe £19,000, a Volante for £30,000.
And the V12s? Introduced from 1999, these cost rather more as you'll see from the Hagerty Price Guide, starting around £16,000 for a sad example, passing £30,000 for a good one and reaching nearly £40,000 for the best specimens. Again, add commensurately more for a Volante – and more again for the 435bhp GT, launched in the last year of production and featuring improved aerodynamics, bonnet vents, a mesh front grille, shorter gearing for the six-speed transmission, sharper yet more compliant suspension, Brembo brakes and 18in wheels. There's a five-speed auto version, too, called GTA. The values of both are tracked in the Hagerty Price Guide.
And finally, Zagato built a small run of 99 rather handsome special-bodied DB7s in 2003. You'll need to find at least £200,000 for one of those, half as much again for the best.
What goes wrong, and what should you look for when buying a DB7?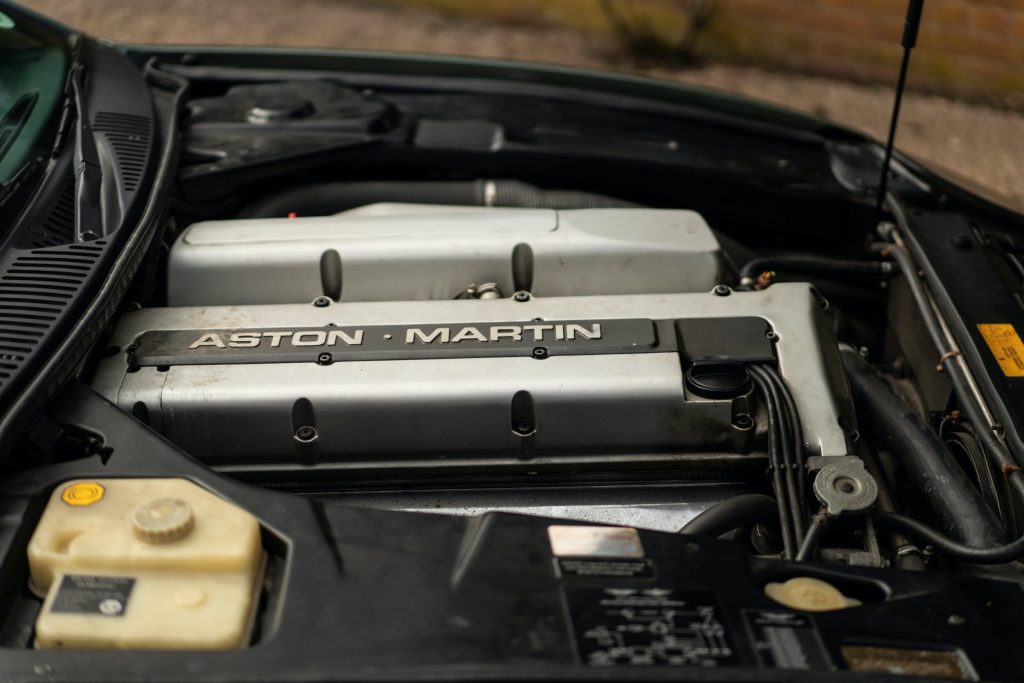 Its Jaguar-derived gestation means that the DB7 is the only Aston Martin ever to have been built around a conventional steel moncocque. That said, the front wings, the bootlid and – on early cars – the bonnet are all heat-pressed, resin-impregnated composite panels. The variation in panel gaps as the panels heated up soon caused the bonnet to be superseded by a steel one, however.
As well as the gap problems, a composite panel goes porous if its outer layer is perforated and bubbles duly appear. The six-cylinder DB7's boot-mounted badge can encourage rust as well, which is why the V12's badge was moved to the number-plate surround.
Turning to the steel panels, check the rear wheelarch lips and the bottom corners of the rear window aperture, and then take a look underneath. Like so many cars of this era, a DB7 will have been used in all conditions and sometimes as a daily-driver, so rust can take hold in any DB7 but it's more likely in a V12, because cost-cutting led to less protection. The main trouble spots are the front floorpans, inner wings and suspension turrets, rear radius-arm mountings and rear chassis legs.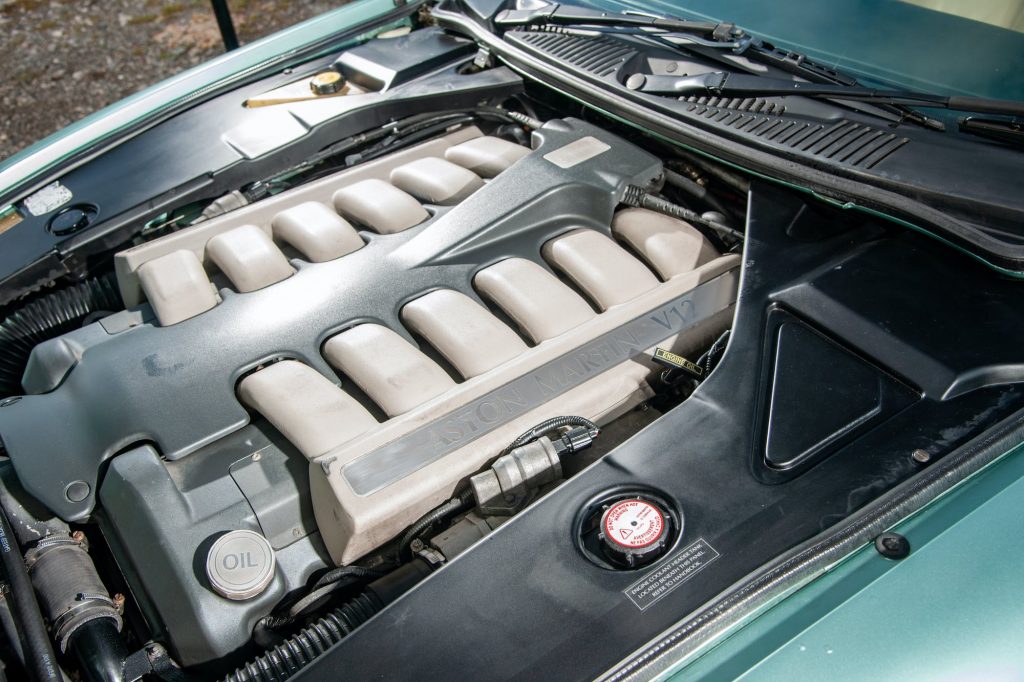 While there, look at the suspension bushes for obvious deterioration – likely to manifest itself with clonks and vagueness when driving – and at the tyres for signs of uneven wear. This could be down to those bushes, or because the suspension's fully-adjustable alignment is maladjusted. A check of the service history – vital for a DB7 – should reveal whether the alignment has been attended to in the past. It will also betray infrequent oil changes, which can clog the straight-six's hydraulic timing-chain tensioner and cause chain rattle. That otherwise durable engine's exhaust manifolds have been known to crack, too.
With the V12, beware of misfires which can happen when the 12 coil packs break down with heat and age. They're hard to get at, buried under the intake plenum chambers, and consequently expensive to replace.
Now check out the interior, noting on the way in whether the door glass drops as it should when the door handle is pulled. It's vital to try the air-conditioning, because blockages can blow the evaporator apart if the car isn't used fairly regularly. Fixing this involves dismantling most of the interior. If the carpets are damp, a failed windscreen-to-scuttle seal is a common culprit. And, of course, check that a Volante's hood opens and closes as it should, and that its fabrics are in good condition.
A final point. Aston Martin had its own DB7 colour range, but it was also happy to paint the cars in any colour that the customer specified, within reason. So a non-standard colour needn't be a worry.
Which is the right DB7 for you?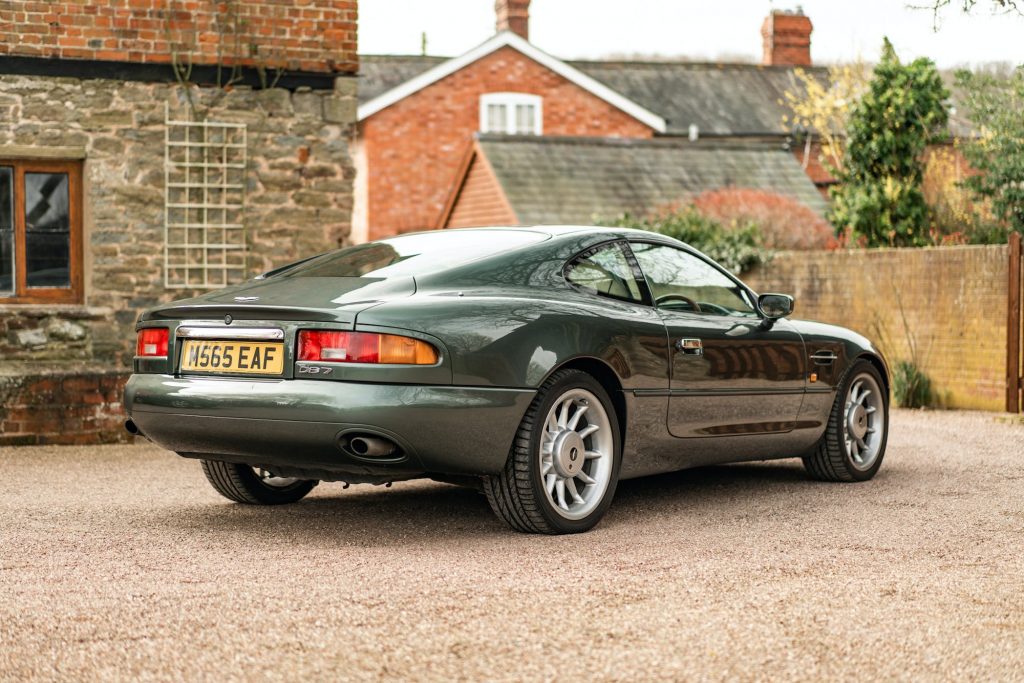 Enthusiasts may wish to stay away from the automatics although they have many devotees. We'd also recommend buying the best DB7 you can possibly afford, because it should be cheaper in the long term than a needy example would be.
But straight-six or V12? Coupé or Volante? The V12 is faster and its engine is unique to Aston Martin, so it offers the more intense Aston experience. Whether you favour open or closed is your choice. But an early, manual, six-cylinder coupé, ideally still with the now often-lost, large-diameter aerodynamic discs covering much of the wheels' area, would be an intriguing reminder of how the car that saved Aston Martin started its career. It's also the best value. There's no better introduction to Aston Martin ownership.
Read more
Seven cars that have saved Aston Martin from collapse
Find out why the Aston Martin DB7 made the 2021 Hagerty Bull Market list
Will the restored Aston Martin Bulldog hit 200mph?