It was the car that was built to power Aston Martin into the 'double-ton' club and now, 40 years after it first attempted to reach 200mph, the wild Bulldog concept car will tackle the top-speed challenge once again.
The striking, William Towns-designed Bulldog owes its wedge-appearance to the need to slice through the air as efficiently as possible. However, despite looking like something from the set of Battlestar Galactica, during high-speed driving in 1981 it fell short of its 200mph target, touching 191 mph.
How much is your car to insure? Find out in four easy steps.
Get a quote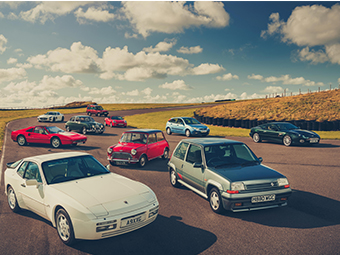 Now, the one-of-a-kind car – codenamed Project K.901 – has undergone a total restoration by Classic Motor Cars in Shropshire, and works driver Darren Turner will take the wheel later in 2021 to target that double-ton top speed."I'm looking forward to becoming part of the story of bringing Bulldog back to life and finally achieving what it set out to achieve all those years ago," said Turner.
The Bulldog was based on the Lagonda luxury saloon, itself a car that appeared to have been designed with a set of rulers and set squares. It was to be the brand's ultimate performance car, the first in the world to crack the magic 200 mph mark and the plan was to build between 15 and 25 cars for some of the world's wealthiest individuals.
Naturally, that sort of clientele demanded extravagant features from any supercar. So it featured gullwing doors and concealed headlamps, although the Bulldog's centrally-arranged cluster of headlights was like nothing seen before. The Bulldog was powered by the same 5.3-litre V8 as fitted to the Lagonda, but two Garrett turbochargers were added, boosting it to around 600bhp. With a low drag coefficient of 0.34 that should have been enough to take it beyond that evasive target speed.
However the Bulldog failed – both in its attempt to reach 200 mph and to attract the wealthy customers Lagona and Aston Martin so badly wanted. The single prototype was reportedly sold to a buyer in the Middle East for £130,000 (approximately £550,000 today).
Over the years the Bulldog has changed from its original colour scheme of silver and light grey and the interior has also changed from the dark tan finish. As part of its 18-month long restoration process, it has been returned to the original colour schemes.
The car's new custodian, a car collector from America, will be hoping the Bulldog can achieve its original goal of joining the double-ton club, even if it is 40 years later than intended.