It was the fastest car in Jaguar's history and now the big cat is ready to bear its claws once again. A 1992 Jaguar XJ220, fresh from a £62,000 service, is going under the gavel on April 17. The car is number 97 out of the 281 built by TWR and Jaguar Sport, and has covered 14,100 miles.
Originally delivered to a Belgian Jag fan it is now for sale in the UK at Historics Auctioneers' upcoming Ascot Auction. The car underwent a major recommission by Don Law, an XJ220 expert, in December 2020, including the fitment of new timing belts, all seals and gaskets, and a brake overhaul, with seemingly no expense spared.
How much is your car to insure? Find out in four easy steps.
Get a quote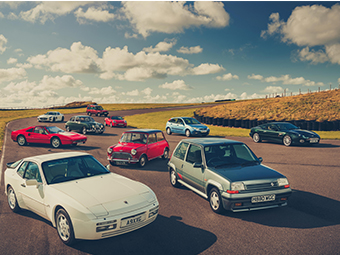 The metallic green supercar with light tan leather interior is now said to be in first-class condition, and is estimated to fetch £325,000-£375,000. According to the Hagerty Price Guide, which you can browse here, a condition #2 car that is 'excellent' is valued at an average of £348,000. The very best, condition #1 'concours' XJ220s can fetch £445,000. Sounds expensive, right? A Porsche 959 from the same era is twice as valuable, according to the Hagerty Price Guide, while a concours Ferrari F40 would be £1.2m.
The story of the Jaguar XJ220 is one of inspiration, perspiration and litigation. Jaguar's head of engineering Professor Jim Randle is said to have first had the idea for the car during a Christmas break in 1987. The car was to be powered by a V12 driving all four wheels, and clothed in aerodynamic bodywork with an underbody that used ground effects to suck the car onto the road. Jaguar designer Keith Helfet was said to be greatly influenced by the work of Malcolm Sayer and the XJ13 prototype racing car, of which only one was built in 1966.
Randle and his colleagues worked out of hours on the car in a group known as "The Saturday Club" and a concept car was ready to unveil at the 1988 Birmingham Motor Show. With its 48-valve 537bhp V12 mounted amidships, all-wheel drive and spaceship styling, the XJ220 looked like it was going 220mph even when parked. No wonder the order books quickly filled up, and the £50,000 deposits (around £137,000 today) rolled in.
Actually building the XJ220 was not so simple. Jaguar didn't have the facilities at its Browns Lane factory, so enlisted TWR to fully develop and construct the car. Over the next four years the recipe changed significantly. The V12 was swapped for a more compact twin-turbo V6 that had been developed for the MG Metro 6R4 Group B rally car, while the four-wheel-drive system was also dropped to save complexity and cost.
Despite the changes, the price of the car rose from the originally-advertised £290,000 to almost £490,000 (just over £1 million today!). Customers who placed their early deposits where not happy and took legal action. Jaguar won in court but the car's reputation was tainted. Having planned to build 350 cars, only 281 were sold.
Via Hagerty US
Read more
This Helm E-Type restomod goes hell for leather
Hagerty market analysis: Jaguar E-Type Series 1
Could this Bugatti EB110 with matching bags be the ultimate road-tripper?