When Hagerty asked its community of thousands of classic car owners to choose their favourite British-built car, to mark the last St George's Day, there was a clear winner: the Jaguar E-Type. Sixty years after the sports car was revealed, the Hagerty valuation team looks at how prices of the E-Type have fluctuated over the decades.
Background
The Jaguar E-Type was first unveiled in March 1961 and available in roadster (Open Top Sports, or OTS) and coupé body styles. Combining the straight-six 3.8-litre engine and triple SU HD8 carburettors with Jaguar's streamlined body, developed using aircraft engineer Martin Sawyer's designs, it was an instant hit. The price – £2,098 for the roadster in the British market – also hugely undercut its rivals, a cost that would be the equivalent to £47,000 today.
How much is your car to insure? Find out in four easy steps.
Get a quote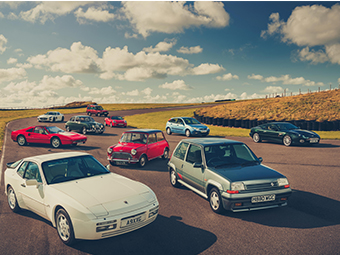 Values
Hagerty looked at advertised, trade and our own Hagerty Price Guide data to see how values have changed since its introduction. We chose the 1961 E-Type roadster, the first of which came with a flat floor. Although quickly updated for practical reasons, these early cars are now the most prized by collectors: Hagerty Price Guide values show a 25 per cent uplift over the standard cars, on average £147,500 compared with £110,075.
By December of 1961, trade values were actually higher than the car's list price. A dealer in The Motor magazine advertised a six-week-old roadster resplendent in British Racing Green paintwork and with just 920 miles on the clock for £2,200.
The following October, prices had fallen. An advertisement in Autocar offered a Carmen Red example complete with chrome luggage rack with 8,000 miles and six month's warranty for £1,535. They continued to fall until around 1967, when another Carmen Red car (maybe the same one?) with new clutch and timing chain was offered at just £695.
Throughout the 1970s, the Series 1 E-Type was in the dark realm of the 'used car' with car magazines rarely listing them. We could find just one advert: in Motor Sport in May 1976, for a white with black interior car with 42,000 miles selling for £2,000.
In the 1980s, the concept of the classic car emerged, and the E-Type began its rise to collectable prominence. Throughout that decade, right up to the mid 2000s, specialist magazines showed values gradually rising. When the UK Hagerty Price Guide was launched, in January 2012, we noted that an '#2 Excellent example' was worth £71,600, although at that point we didn't differentiate between flat floor models and standard cars. By 2014 this had more than doubled and by March 2016, it peaked at £186,000. In the last few years, the market as a whole has corrected, and prices have dropped. In our April 2020 figures, values of the same car fell to around £135,000. By this March, the average value of a Series 1 roadster in #2 Excellent condition stands at £121,500, the coupe about 25 per cent less.
Tracking the values of the Jaguar E-Type Series 1 from 1961 to present day
| | | | |
| --- | --- | --- | --- |
| Source | Date | Price | Adjusted for inflation |
| Jaguar (price new) | Mar-61 | £2,098 | £47,008 |
| The Motor | Dec-61 | £2,200 | £49,294 |
| Autocar | Oct-62 | £1,535 | £32,966 |
| Glass's Guide | Nov-64 | £960 | £19,582 |
| The Motor | Apr-67 | £695 | £12,697 |
| Motor Sport | May-76 | £2,000 | £14,490 |
| Collectors Cars | Dec-88 | £25,000 | £67,479 |
| Your Classic | Feb-91 | £27,950 | £60,402 |
| Practical Classics | Dec-05 | £32,500 | £48,848 |
| Classic Cars Magazine | Nov-09 | £52,000 | £70,211 |
| Hagerty Price Guide | Jan-12 | £71,600 | £85,106 |
| Hagerty Price Guide | Oct-14 | £153,000 | £172,426 |
| Hagerty Price Guide | Mar-16 | £189,000 | £207,312 |
| Hagerty Price Guide | Nov-19 | £148,000 | £152,923 |
| Hagerty Price Guide | Apr-20 | £135,000 | £135,000 |
| Hagerty Price Guide | Marc-21 | £121,500 | £121,500 |
Analysis
Adjusted for inflation, the prices show interesting trends. The E-Type traced a pattern followed by many prestige cars, rising within the first few months, when order books were full and public interest was at its greatest, then dropping away over the next few years as people sought newer models.
When the classic car hobby boomed in the 1980s, it was inevitable the E-Type was at the forefront of collectable models, but following a dramatic rise in oil prices due to the 1990s Gulf War, values crashed. The loss of over 10% in value in real terms between 1988 and February 1991, when the crash was still in its very early days, illustrates this.
The other major movement in values has been in the last eight years. In the mid-2010s, 'flat floor' E-types became the car to have, with even total restoration cases finding buyers at over £70,000. Although still collectable, these prices were not sustainable, and values have corrected.
Our most recent update shows a fall again: although examples sold consistently in 2020, prices have ranged between £84,000 and £157,000. Those that appeared at auction all sold for less than the pre-sale high estimate.
Outlook
As Hagerty's St George's Day poll illustrated, last year, the Jaguar E-Type remains one of the most well-loved classic cars and early versions will always be especially collectable. Those with superb provenance, originality and matching numbers are most prized, with high-quality, well-documented restorations a close second. The earliest cars still demand a premium; they are considered the most elegantly designed, with even Enzo Ferrari purportedly saying they were the most beautiful car in the world. As such, their outlook is good. Although our most recent Hagerty Price Guide values have fallen, this is in line with the rest of the market and as we have stated, values during the COVID-19 lockdown are unlikely to be indicative of the market post-pandemic.
Hagerty Price Guide values: Jaguar E-Type S1
This is an exclusive preview of the values for the 1961 Jaguar E-Type 3.8 OTS 'Flat Floor' that will be published in our March 2021 update to the UK Hagerty Price Guide.
| | |
| --- | --- |
| Condition | Value |
| #1 Concours | £190,800 |
| #2 Excellent | £121,500 |
| #3 Good | £103,500 |
| #4 Fair | £87,300 |