A 1995 Bugatti EB110 Super Sport has hit the market and it comes ready for a weekend roadtrip. Immaculately presented in the best possible colour, the car features a matched set of suitcases.
The EB110 was first introduced on September 15 1991, exactly 110 years after Ettore Bugatti's birth. The Marcello Gandini-designed supercar was powered by a 3.5-litre V12, with five valves per cylinder, and no fewer than four turbochargers. The V12, when it eventually came on boost, sent 553bhp to all four wheels through a six-speed manual transmission.
How much is your car to insure? Find out in four easy steps.
Get a quote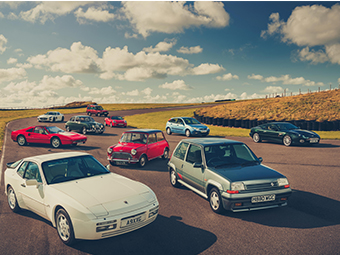 The Super Sport that followed in 1992 saw engines tweaks, a new ECU and a different exhaust hike power to 603bhp, while around 150kg of mass was removed by using carbon-kevlar body panels. The Super Sport would accelerate from 0-60mph in 3.26 seconds and outrun its rivals from Porsche or Ferrari by topping out at 221mph. This was, quite simply, the fastest car of its day.
This 1995 example is a smidge faster still as it was upgraded with an additional 20bhp before being delivered to its original Swiss owner, who also had the seat raised nearly an inch, added a fire extinguisher and that all-important luggage set to to match the grey leather interior.
The car has spent its life in the hands of a racing driver in Barcelona, Spain, and with owners in Monaco and Austria. In 2019 the car took part in a grand union at the Campogalliano factory. It's now sitting in the showroom of DK Engineering ready for its next keeper to take it on a proper grand tour.
Read more
Jay Leno drives the world's only naked carbonfibre EB110
A Bugatti engine installation party is my kind of party
The Bugatti Divo and Type 35 hit the historic Targa Florio route together