Lights, camera, action! The small screen has delivered some big hits over the decades – and more often than not the car has been the star, too. Here are 20 of our favourites, revisited whilst wearing a pair of rose-tinted glasses. See how many you remember.
The A-Team, 1983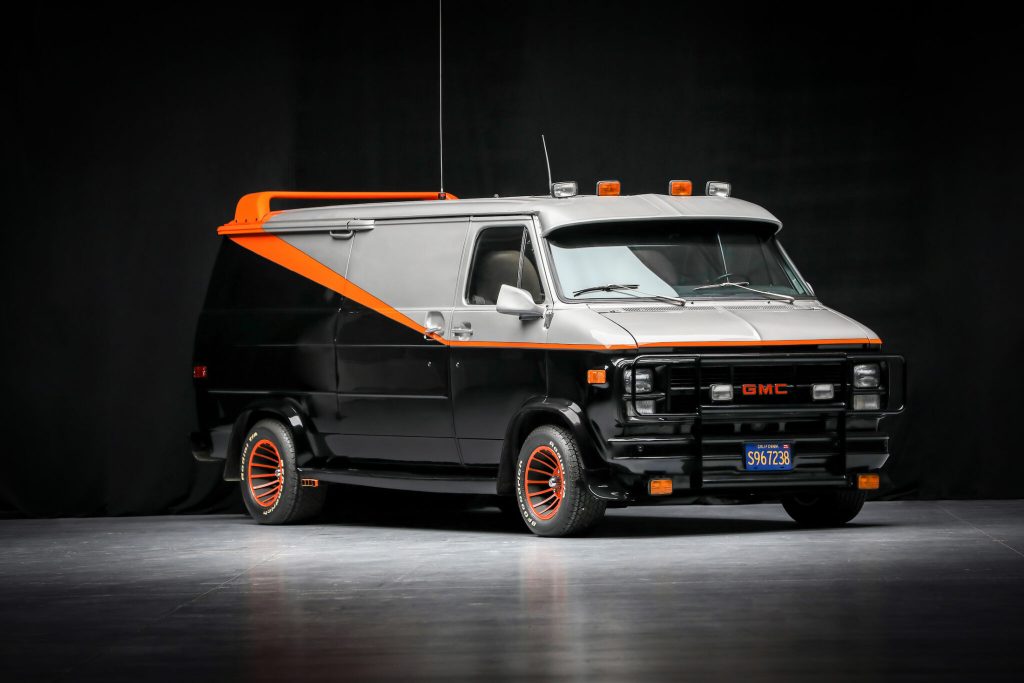 Only contactable through their bizarre aliases, the ex-Vietnam vets led by Colonel John 'Hannibal' Smith in the A-Team travelled everywhere in a customised GMC G15 van. Its distinctive get-up included roof spoiler, sweeping red side stripes, 15in turbine-style wheels and exterior sun visor, with bucket seats and a large gun locker inside.
These vigilante do-gooders got through six of these vans through the making of 98 episodes; there were plenty of shoot-outs in The A-Team but almost all confrontations left everyone involved unscathed, even in car crashes. Lt Templeton 'Face' Peck, the team's resident fixer, had a separate ride, a Chevrolet Corvette with its own, distinctive red stripe.
The Avengers, 1962, & The New Avengers, 1976
The late Brian Clemens, from 1964 the producer of The Avengers and creator of its style, wit and action set intangibly in the world of British counter-intelligence, was a devoted petrolhead. The characters all received cars he knew would work, especially the Lotus Elan S2 and S3 driven by Emma Peel – a pairing, Clemens said, worth £5 million in publicity to Lotus; her replacement Tara King got an AC 428 and Lotus Europa, although John Steed stuck to vintage Bentleys throughout the '60s. A short-lived revival as The New Avengers in 1976 had British Leyland supplying the wheels, which included a modified Jaguar XJ5.3C, XJ-S, Rover 3500 SD1, Range Rover, MGB and Triumph TR7.
Charlie's Angels, 1976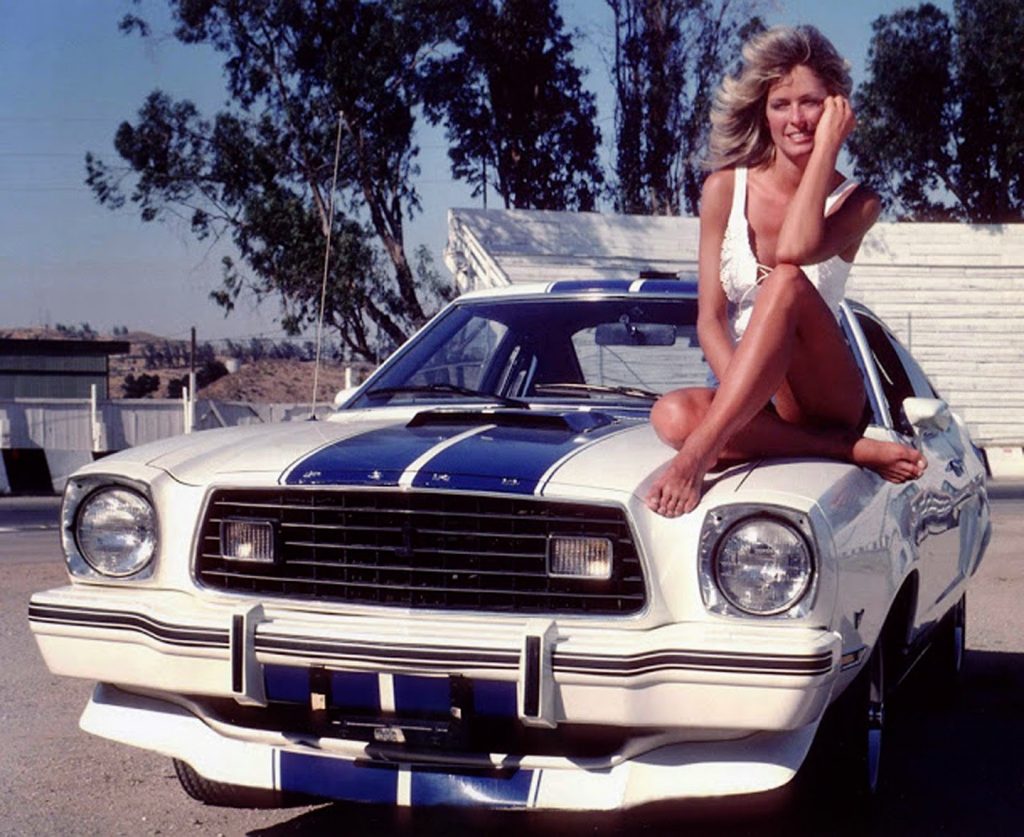 Charles Townsend, owner of LA-based Townsend Investigations detective agency, gives his all-female operatives their instructions through a loudspeaker in his deserted office. Charlie's Angels came high-kicking on to our TV screens and stayed around for five series until 1981 – 115 shows in all – complete with lipgloss, big hair, handguns and some rather lame 1970s Fords. The original line-up was Jaclyn Smith as Kelly Garrett, Farrah Fawcett-Majors as Jill Munroe and Kate Jackson as Sabrina Duncan, all supposedly ex-LAPD officers. Sabrina drove a Pinto and Kelly a Mustang II, but it was Jill's V8 Mustang II Cobra that became synonymous with the show, even after Fawcett-Majors left after the first season and Cheryl Ladd grabbed the Cobra's keys.
Dempsey & Makepeace, 1985
Would it really happen, a New York cop sent to London on an 'exchange basis' with Scotland Yard for his own good, following a Big Apple corruption scandal? Such was the premise for James Dempsey (Michael Brandon) who was then partnered with aristocrat detective Harriet Makepeace (Glynis Barber) for on-screen chemistry between the busts and car chases. Oh, yes, the cars. It was 1985 so Dempsey had a Mercedes-Benz 500SL (on a police salary?), although Makepeace's Ford Escort 1.6i Cabriolet was more believable, albeit no less conspicuous. The two stars got married in real life in 1989.
The Dukes of Hazzard, 1979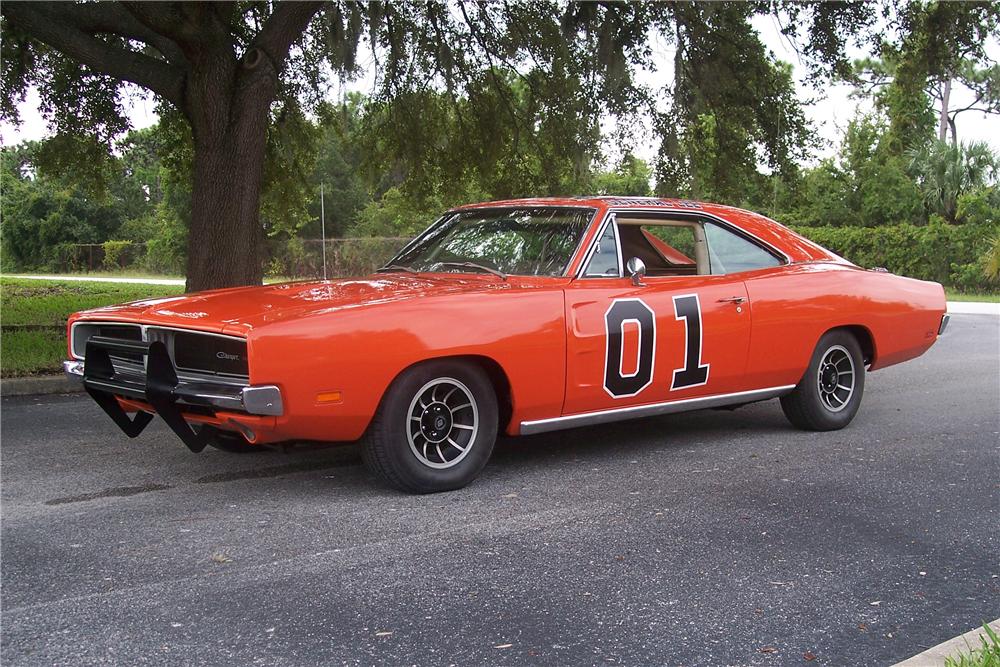 The Dodge Charger achieved domestic acclaim in the late 1960s and early '70s when it became the car to beat in American NASCAR racing. But it was nothing to the international fame bestowed by The Dukes of Hazzard – a TV action-comedy that defined early '80s Saturday night entertainment. In the spirit of American independence brothers Bo and Luke Duke in the Deep South county of Hazzard are maverick rule-benders who use their Dodge Charger for high-speed escapes and to outwit dodgy lawmen.
The orange 1969 Dodge Charger was known as 'The General Lee' after Robert Edward Lee, a Confederate general in the American Civil War. Every episode involved breathtaking driving staged by expert stuntman Jack Gill, as the Charger, its doors firmly welded shut, hurtled through the air. It's calculated over 280 cars were destroyed for filming, with about 20 surviving.
The Equalizer, 1985
The vigilante justice-seeker taking centre stage in the hour-long The Equalizer was British, played by a scowling Edward Woodward. However, it was through the streets of New York that he prowled in his black, 1984 model Jaguar XJ6 Series III with registration number 5809-AUG (it also appeared prominently in the credits). Robert McCall was his character, a dour former spook with a shadowy espionage agency known only as 'The Company'.
McCall set himself up as a private detective determined to give something back for free to deserving 'ordinary' people. They contacted him by answering his newspaper small ad, which read: 'Got a problem? Odds against you? Call The Equalizer, 212-555-4200'. The Jag was a perfect match for the immaculate McCall image, complete with his black driving gloves, throughout the 88 shows made.
The Fall Guy, 1981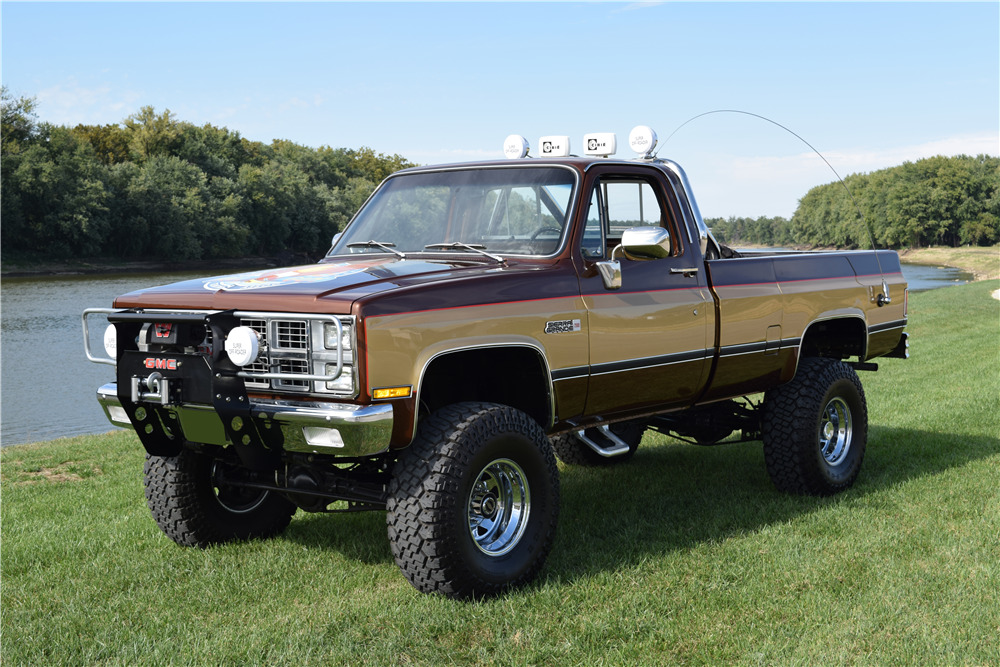 There was so much action-adventure packing US TV screens by the early 1980s it was getting impossible to devise any new scenario mixing crime with squealing tyres and hair-raising oversteer. So Glen Larson stripped it all back for The Fall Guy and simply made a stuntman the central character. Lee Majors was Colt Seavers, daredevil to the Hollywood studios, but he still needed an unexpected side, and so was also an illicit bounty hunter. As well as the many cars he pounded to scrap in the name of cinematic gold, his regular wheels were a GMC K-2500 Wideside pick-up, and GM furnished three of these with centrally-mounted engines, to stop the hefty truck from pitching forward, nose-heavily, when cannonaded for the camera.
Hart to Hart, 1979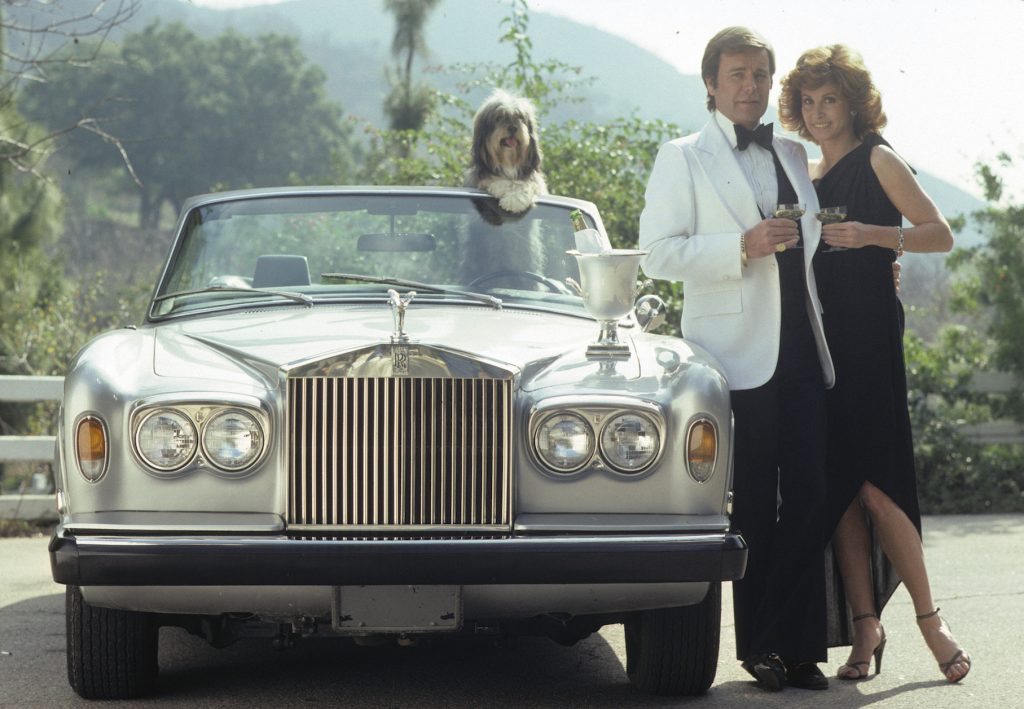 Robert Wagner, as Jonathan Hart, was the epitome of a self-made American, the millionaire owner of Hart Industries. His wife Jennifer Hart (Stefanie Powers) had that utterly implausible occupation of the idle rich: authoress. They live with cute canine Freeway and wrinkled retainer Max. Having, literally, everything, the Harts turned to amateur detective work to get their kicks out of righting wrongs.
The plebeian products of Detroit were not welcome here in 1980s LA: the Harts drove strictly imports. For Jonathan it was the cushioned splendour of a black Rolls-Royce Corniche registered 1 HART, for Jennifer the louche pleasures of a yellow Mercedes-Benz 450SL registered (cringe) 2 HARTS, and upgraded to a 380SL in 1981. This show was extraordinarily popular, syndicated in 60 countries and with 110 instalments shot in five series until 1984.
Knight Rider, 1982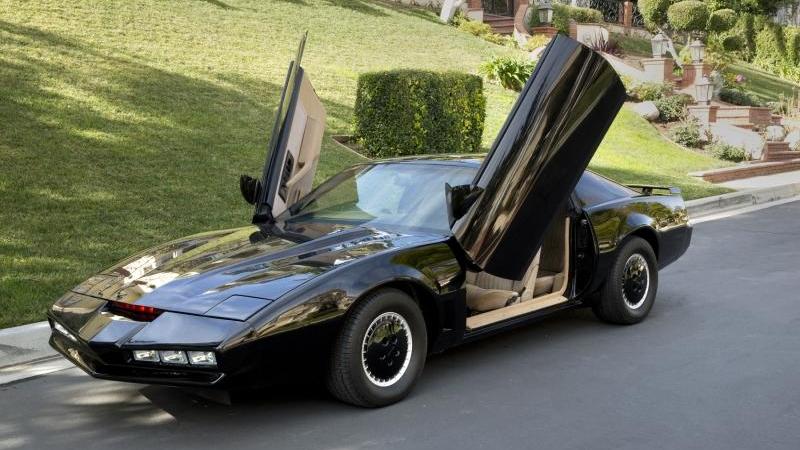 Few action dramas have been as much of a 'car' show as Knight Rider. After all, one of the main characters was itself a car. Its creator Glen Larson has said: "I wanted to do The Lone Ranger with a car…a kind of sci-fi thing with the soul of a Western". The main protagonist here was Michael Knight (David Hasselhoff). He was a former undercover cop turned justice-seeker, and was assisted not by a trusty stallion but with the autonomous, 200mph KITT, standing for Knight Industries Two Thousand – the ultimate in high-tech cars. This was essentially a fantasy version of the third-generation Pontiac Firebird Trans-Am. Some people genuinely believed KITT's gadgetry came as standard, plaguing Pontiac dealers to such an extent that Larson was commanded by General Motors never again to credit the car as a Pontiac or a Trans-Am.
Kojak, 1973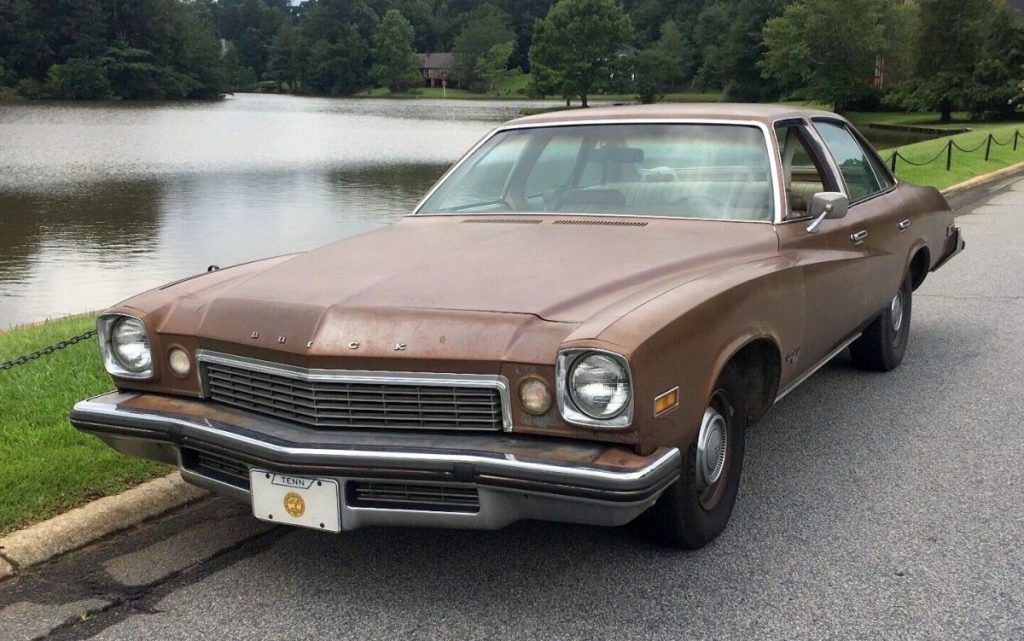 In outline Kojak was pretty much a routine cop show, but for the fiesty performance of Greek-American actor Telly Savalas in the title role. Theo Kojak, while cussed, was immune to corruption in the New York City Police Department where he served, and conducted himself with a swagger commensurate with his stocky, dapper appearance. The show made a TV star of an otherwise humdrum automobile, as Theo used successive, brown Buick Century sedans to screech around town – you'd never have seen one in the UK, even though you might have owned the 1:36 scale Corgi version. Cigarette smoking was an increasing no-no in the mid 1970s, so Kojak instead sucked continually on lollipops.
Magnum, P.I., 1980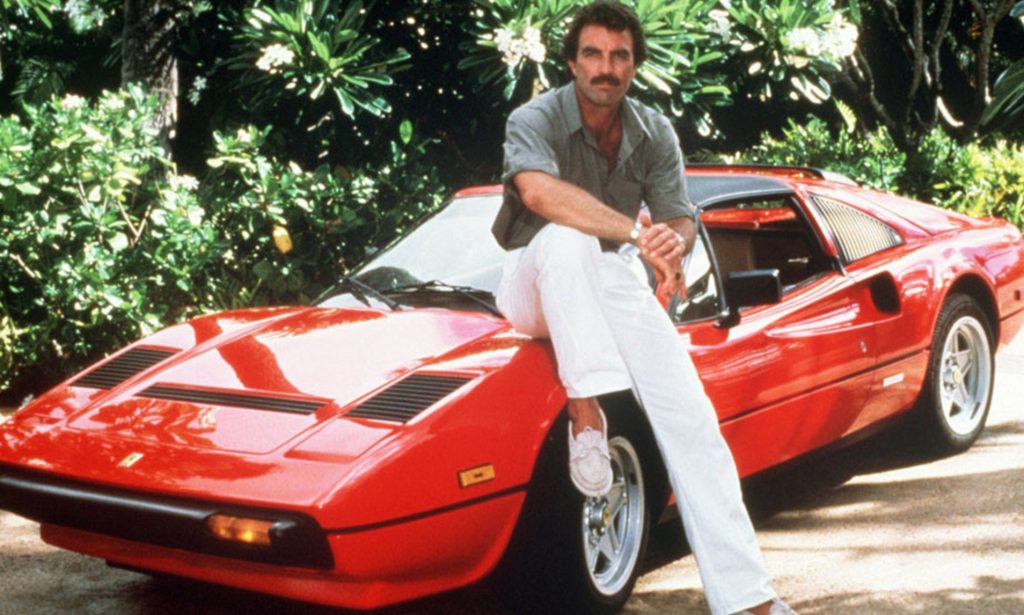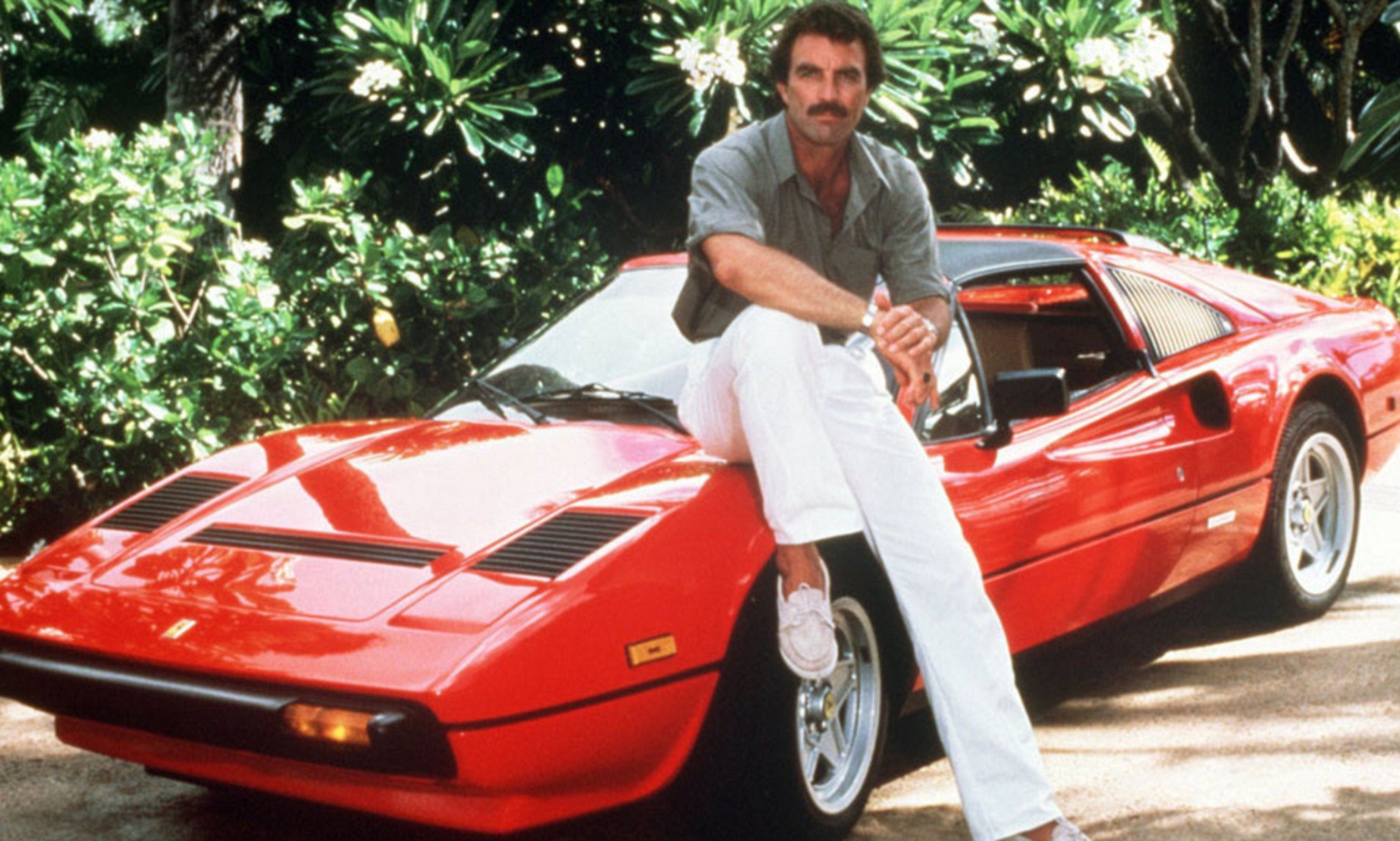 Tom Selleck was Thomas Sullivan Magnum III, Private Investigator, a man adjusted reasonably happily to life after serving with the US Navy in Vietnam. He was resident security man at a private beach house where he's employed by sniffy Englishman Jonathan Quayle Higgins, called "Higgy Baby" by Magnum. He was, though, even more memorable as TV's most famous Ferrari driver.
Throughout the entire run of Magnum PI, Magnum gets to drive a Ferrari 308 GTS. In fact, this could be one of three cars because filming began with a 1979 308 GTS, shifting to a 1981 308 GTSi and then a 1984 308 GTS QV. As they all looked near-identical, any of these Dinos quickly became known as "the Magnum PI car", yet Selleck was so tall – and the Ferrari so small – the padding had to be removed from the driver's seat cushion so his head wouldn't poke out of the Targa top during filming.
Miami Vice, 1984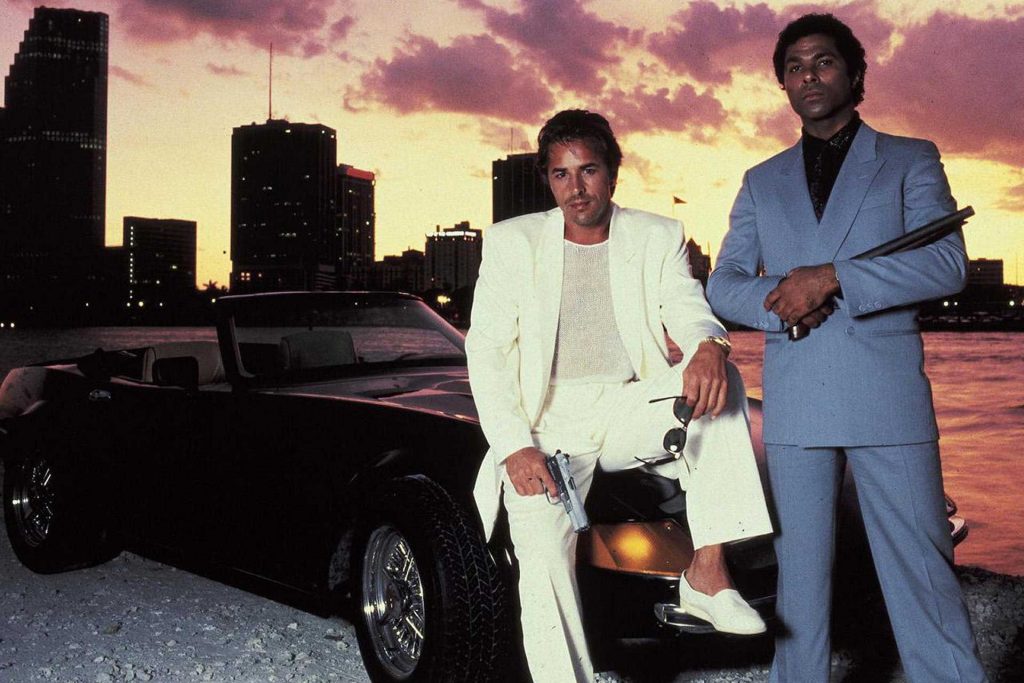 Detective James Crockett's appearance, unshaven and with a T-shirt under his pastel-coloured, sleeves-rolled-up jacket, was a seminal 1980s style statement. Don Johnson's Crockett enjoys an apparently high-octane lifestyle thanks to the Miami-Dade County Vice Department. As 'Sonny Burnett', he lives on a yacht and drives a Ferrari. However, all these toys are simply part of his undercover disguise as one of the drug-runners he's tasked with catching.
His Ferrari is a black 365 GTS/4 Daytona Spider, and it certainly put in some spirited performances chasing villains through the Miami streets. In fact, it was a McBurnie replica, based on a 1980 Chevrolet Corvette. The show's wild global popularity proved uncomfortable for Ferrari because viewers believed the car was genuine. So they offered the producers a brand new, 180mph Ferrari Testarossa in white for the third season in autumn 1986.
Minder, 1979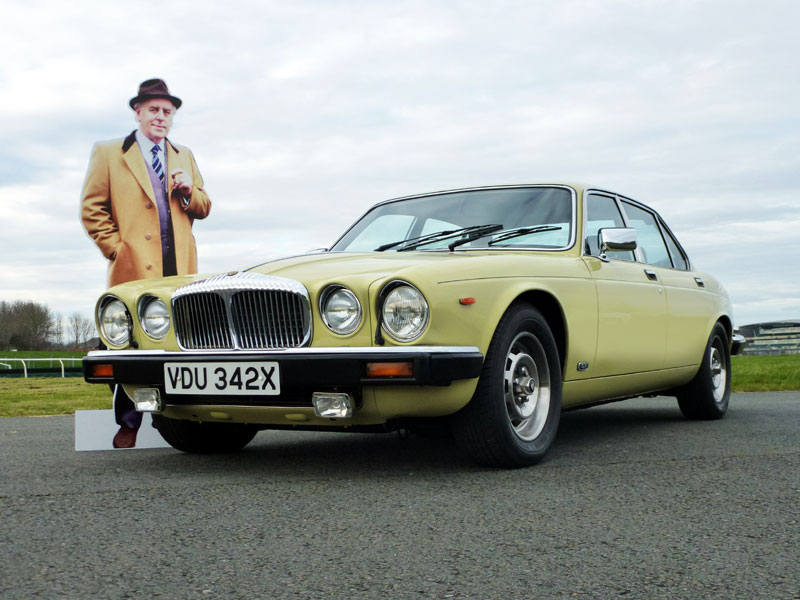 Arthur Daley is a character as vividly drawn as anything Charles Dickens could imagine, a prosperous but dodgy west London used car salesman who employs a former jailbird as his bodyguard (the Cockney word 'minder' wasn't widely known then) and general dogsbody. There was a magic to the casting of comedy legend George Cole as Daley with Dennis Waterman (ex-The Sweeney's hardman) as Terry McCann. Creator Leon Griffiths said: "Arthur could only ever have driven a Jaguar. It has always been the kind of car the people he admired aspired to."
In the earliest episodes, he does indeed run Jaguar XJ6 Series IIs, but then moves on to a succession of Daimler Double Six Series IIIs. Jaguar even loaned the show a 1987 XJ40-style XJ6 3.6 for series seven, such were Minder's enormous viewing figures. Terry McCann drove at least three Ford Capri MkIIs throughout the series, including the 2.0S registered SLE 71R which appeared in the show's opening credits. After 70 episodes Waterman departed the show and was replaced by Gary Webster playing minder Ray Daley, as Arthur's nephew.
The Monkees, 1966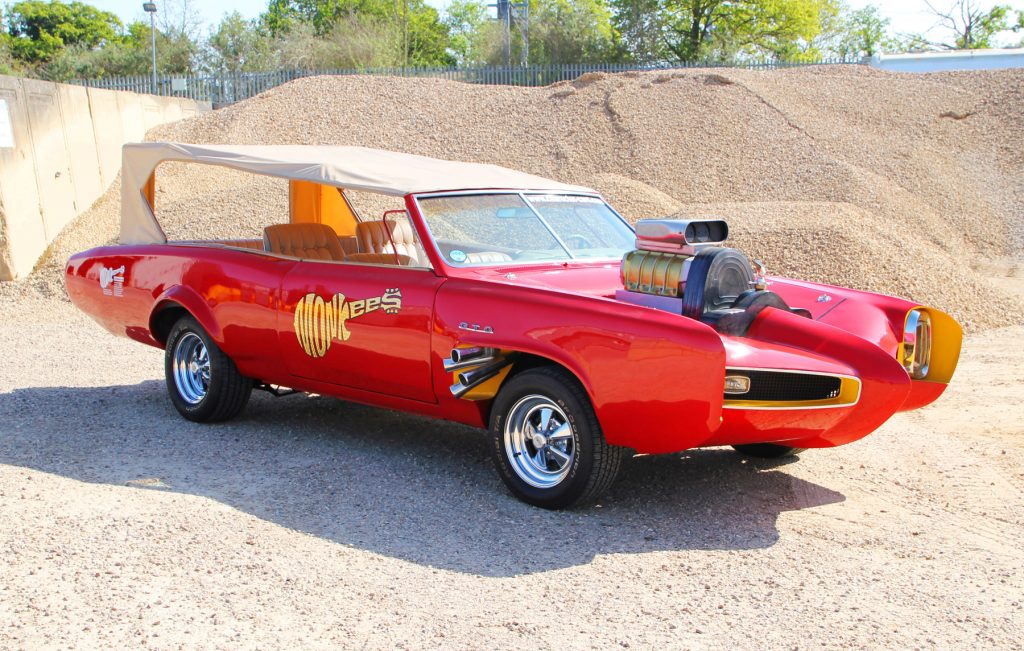 The Monkees were famously dubbed the 'Pre-Fab Four' because the band featured in this comedy show were Beatles clones invented by the American TV industry. Micky Dolenz, Mike Nesmith, Peter Tork (all American) and Davy Jones (British) were working musicians when they auditioned for the parts, but their numbers were recorded by session musicians during production; only later did they use the show as a springboard to an actual pop career.
The Monkees' on-screen car was also craftily fabricated. The Monkeemobile was designed by renowned US customiser Dean Jeffries, his flamboyant rethink of a Pontiac GTO. He made two of them, one for filming and another for promotions, in just one month. The transformation included a convertible top like a Ford Model T 'bucket' hot rod's, a third row of seats in the boot, and radically altered front and rear styling. Pontiac hated the eccentric-looking end result but it was too bad – the cameras were already rolling.
The Persuaders!, 1971
Two wealthy playboys who spent their days lounging around on the French Riviera were roped into justice-seeking by a retired judge, who kept files on villains he'd still dearly like to bring to book. This scenario would have been too contrived for words had not the casting been so perfect. Roger Moore was allocated the part of Lord Brett Sinclair, a racy British aristocrat, and Hollywood A-lister Tony Curtis became Danny Wilde, a New York business tycoon who'd come from nothing in the Bronx.
The rapport on-camera and off was immediate, and producer Bob Baker knew he'd have to find the right cars for his characters. Aston Martin provided a six-cylinder DBS in Bahama yellow for Lord Sinclair, and Ferrari supplied a bright red Dino 246GT for Wilde. While a reasonable hit worldwide, it flopped badly in the US where ABC scheduled it opposite CBS's Mission: Impossible, and just one series was made.
The Professionals, 1977
No responsible parent in the late 1970s let their children stay up to watch the violent goings-on of The Professionals on a Saturday evening on ITV. It revolved around the elite Criminal Intelligence 5 government agency, overseen by George Cowley (fiercely played by Gordon Jackson), and his two finest operatives Ray Doyle (Martin Shaw) and William Bodie (Lewis Collins) in pursuit – literally – of everyone from terrorists to racial supremacists.
The lairy driving filmed on London's streets only enhanced its laddish appeal. Initially British Leyland supplied the metal, which included Princess, Rover SD1, Triumph TR7 and Triumph Dolomite, but in 1978 Fords swept them away. The tyre-smoking Capris and Escort RS2000s Ford provided certainly gave Bodie and Doyle more on-screen grit, with bronze, silver and gold 3.0-litre Capri Ghias defining it.
The Rockford Files, 1974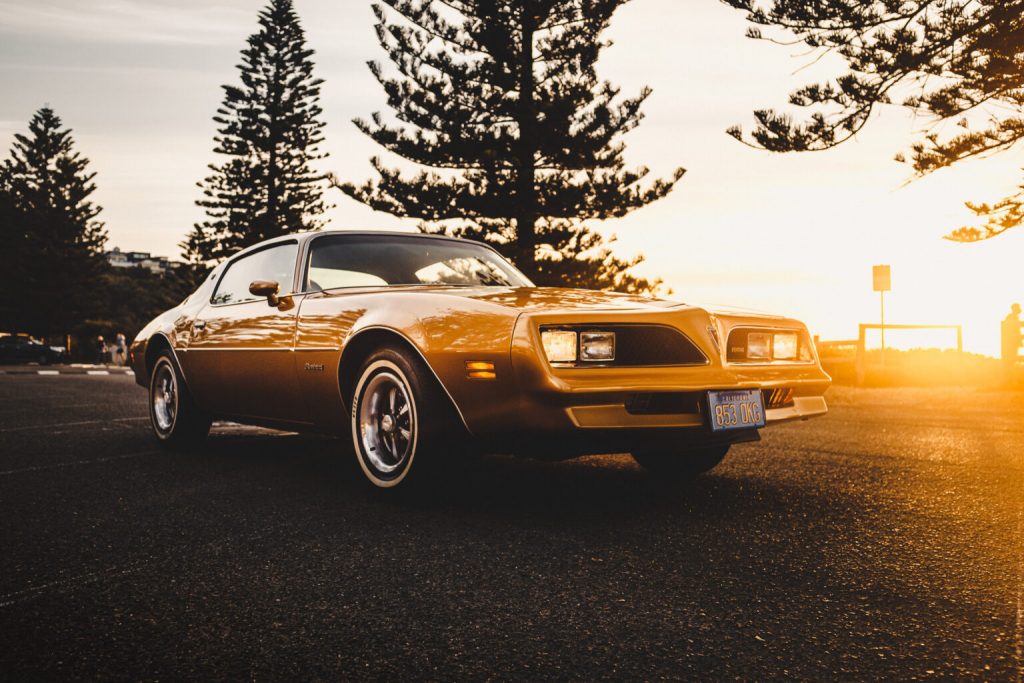 The show did more to stoke the desire for telephone answering machines than cars. Every episode opened with the main man's recorded message croaking out of his push-button gadget. "This is Jim Rockford. At the tone, leave your name and number. I'll get back to you". Beep. It was usually a client whining about late payment of his "$200 a day, plus expenses" rate. A compelling James Garner inhabited the sardonic, slacker role as freelance private dick.
Rockford lived on an LA trailer park but drove the latest Pontiac Firebird. For the celebrated opening season this was a Firebird Esprit, gold with tan interior and a portable printing press in the back to produce fake business cards for various disguises. Each year, as a new series was aired, he'd have the latest model, always gold but in later series the Formula 400 version dressed, by the studio, to resemble the more modestly priced Esprit, as stuntmen favoured the Formula 400's stiffer suspension, tidier handling, and pokier 400cu in V8. Nonetheless, car-mad Garner did most of the on-screen driving himself.
The Saint, 1961, & Return of The Saint, 1978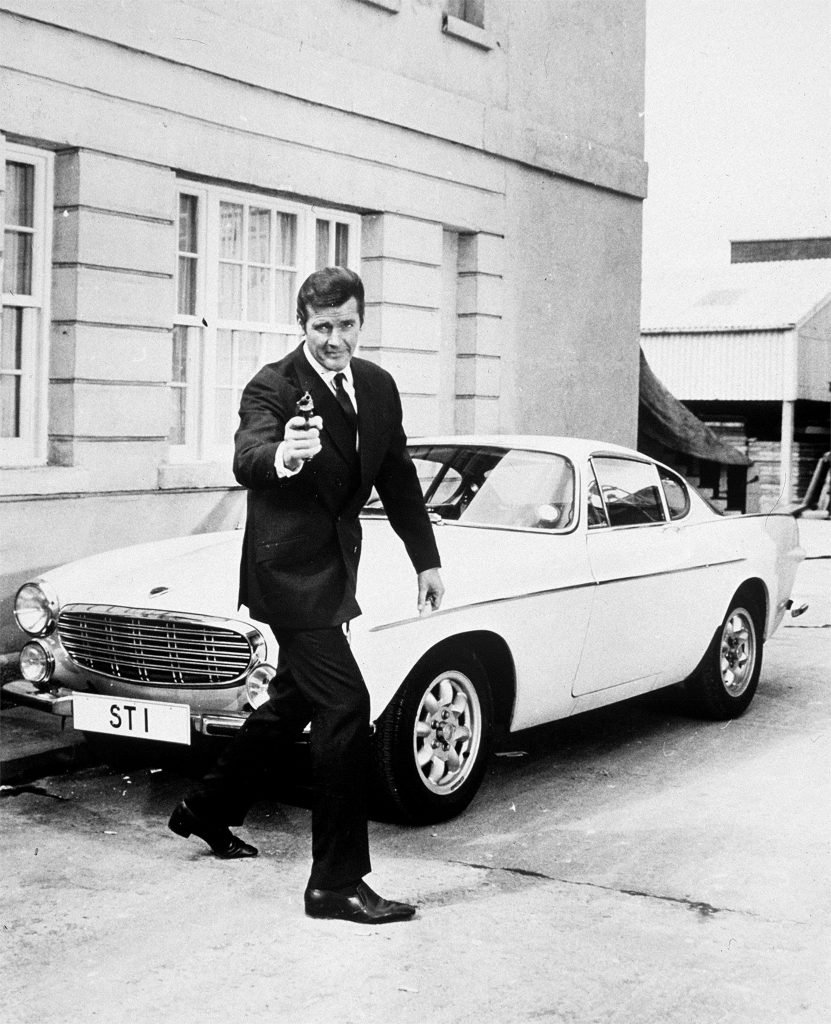 Roger Moore's modern-day Robin Hood Simon Templar propelled the Volvo P1800 to instant worldwide recognition in The Saint – although only after Marcos turned down producers. For the TV series based on the best-selling thrillers by Leslie Charteris, he needed an eye-catching and rapid car, but when TV company executives couldn't secure a Jaguar, they turned to this, the next most desirable car of the day.
ST 1 number plates were always fakes, and used on four successive white P1800 and P1800S cars throughout the 1960s. The show got a reboot in 1978 with Ian Ogilvy replacing Moore as the lead and a Jaguar, a white XJ-S, finally on-screen to whisk him around the European locations, with a rare factory sunroof and manual gearbox…
Starsky & Hutch, 1975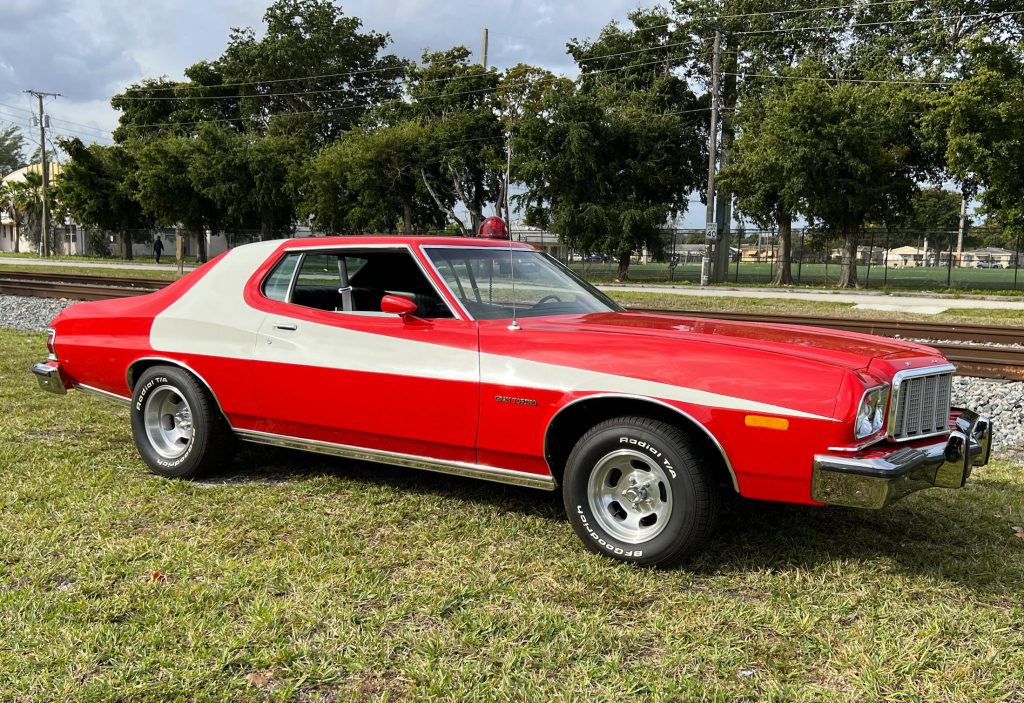 For many, the ultimate 'TV car'; when the first series of Starsky & Hutch was broadcast on America's ABC, the switchboard of Spelling Goldberg Productions in Beverly Hills was jammed with calls from people eager to know what the car was, and where they could get one. The way it had been dressed up for filming was almost as sensational as the pin-ups Dave Starsky (Paul Michael Glaser) and Ken 'Hutch' Hutchinson (David Soul) – TV's first detectives ever to be plastered on girls' bedroom walls.
Starsky's '76 Gran Torino got its distinctive livery of red bodywork with a white stripe along the flanks and over the roof at the suggestion of producer Aaron Spelling. It also gained fat, five-slot kidney-bean mag wheels, and jacked-up suspension. Around a dozen cars were used for all kinds of sequences, including action scenes with an innovative roof-mounted camera. Ford slaked demand by building 1000 limited edition replicas for public sale, now very valuable.
The Sweeney, 1974
The car chases in The Sweeney are some of the finest in TV history, choreographed by stunt gurus Peter Brayham and Frank Henson. The Sweeney grew out of Regan, a 1974 TV film written by Ian Kennedy-Martin and starring John Thaw as tough Flying Squad detective inspector Jack Regan, with Dennis Waterman as his sergeant George Carter. It was a de facto pilot, and the first of four series began filming the following year (there were also two Sweeney movies).
Euston Films crew eschewed the studio set and took to the streets with its fleet of cars and novel lightweight 16mm film cameras for the ultimate in tight, realistic action. In real-life, Flying Squad detectives all had a driver, a specially-trained Traffic Division constable in plain clothes. That's why you rarely see any Ford Consuls (in the early shows), Granadas (in the later ones) and Granada MkIIs (in the final episodes) being hustled by either Carter or Regan in pursuit of scruffy old Jags…
Read more
Fallen star: Driving The Saint Marcos 1600
10 marvellously mundane cars to get you mildly excited about the 2022 Hagerty Festival of the Unexceptional
Built on a whim, abandoned for decades and discovered by accident, this is the story of the Furia GT