In his time, The Saint has driven a fair number of different motor cars, although in Leslie Charteris's original books they were all fictitious: the mighty Hirondel and according to the Saint fan club, the equally mythical Furillac and the Desurio.
In my father-in-law's copy of the 27th Saint novel, Call For The Saint, 1948, Simon Templar, Charteris's gentleman/loveable-rogue hero, is driven around in a big blue convertible by his associate, Hoppy Uniatz. Takes all sorts I suppose.
How much is your car to insure? Find out in four easy steps.
Get a quote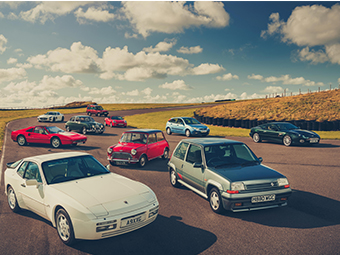 For the ITV television series, which ran from 1962 to 1969, the producers had originally wanted Roger Moore as Templar to drive a Jaguar E-type. Jaguar wouldn't play ball, though, and it was Volvo which stepped into the breach with five examples of its then-new 1800 coupé. So, history was made, just so long as you don't count Ian Ogilvy's Jaguar XJ-S and BMW motorcycle in the Seventies remakes, Andrew Clarke's Lamborghini in an Eighties TV pilot show, Simon Dutton's Jensen Interceptor in a series of Eighties TV specials, Val Kilmer's Volvo C70 in the eminently forgettable 1997 Hollywood movie The Saint, or this car, the Marcos 1600, which was the star of the 118th and last-ever episode of ITV series of the The Saint, called The World Beater.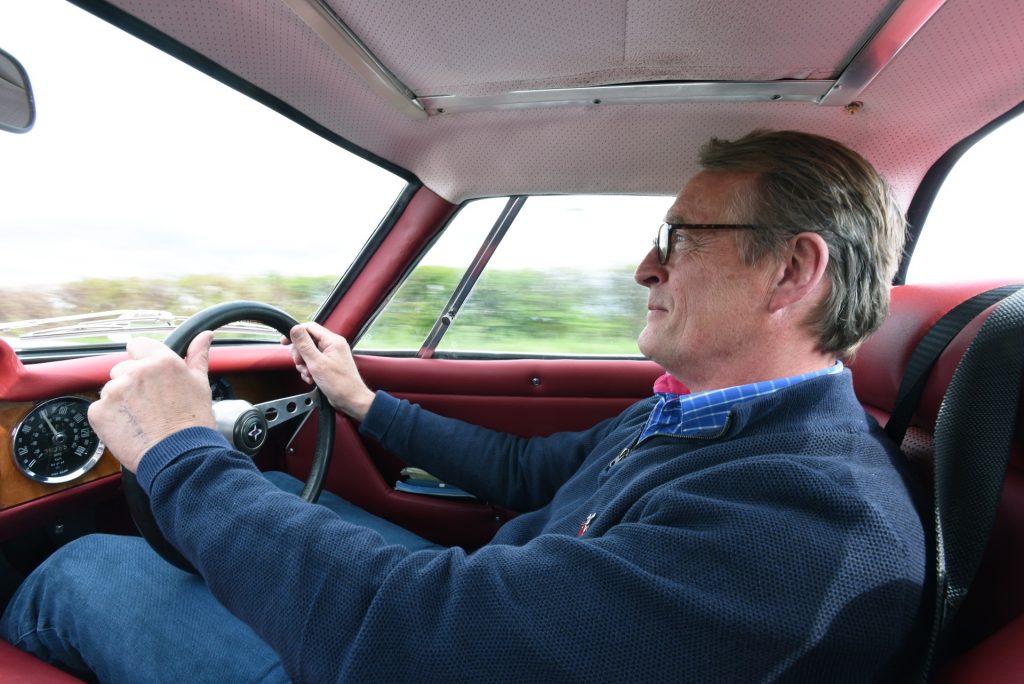 Marcos was founded in 1959 by Jem Marsh and designer and aerodynamist Frank Costin, its name formed from MARsh and COStin. It started in North Wales, building plywood-framed sports cars after Costin's experience designing the Mosquito aircraft in World War Two. It swiftly moved to Bradford on Avon and in 1964 introduced its most famous car, the 1800 GT using, somewhat ironically, a four-cylinder Volvo B18 engine. Ford engines soon followed along with Triumph and other Volvo units.
The company went bust in 1971, was bought out but remained dormant before Marsh bought back the rights in 1976 and built redesigned cars with V8 engines until it went bust again in 2000. The name was relaunched by Marsh and Canadian entrepreneur Tony Stelliga in 2002 with production of fearsome V8 cars, but it was in voluntary liquidation in 2007 whereupon most of the drawings, rights, jigs and spares were purchased by Rory MacMath, proprietor of Marcos Heritage at Littleton Garage in Trowbridge, who had worked with Marsh at Marcos for years.
Anyway, back then, the producers of The Saint really liked the swooping lines of the Marcos and paid a visit to the irascible Jem Marsh asking for a free car for Simon Templar to gadabout in. Like Jaguar before him, Marsh sent them packing.
The producers then decided to include a Marcos anyway in the last-ever episode, which is introduced by Roger Moore with a Swiss Tony-style soliloquy: "To me driving a rally car is more than just a test of skill," he says. "It's an experience of extreme sensuality, a partnership between car and driver, of power, speed and satisfaction…"
Hum, what's that about making love to a beautiful woman?
Beautiful and swooping it might be, but the Marcos is very low and the opening scene shows something of Roger Moore's dexterity as he climbs into the car in one effortless movement without making a single old-bloke-getting-out-of-a-chair noise. The other piece of heavy irony about that Saint episode given that the Marcos has the ground clearance of a well-endowed Dachshund, is that it is supposed to be a rally car.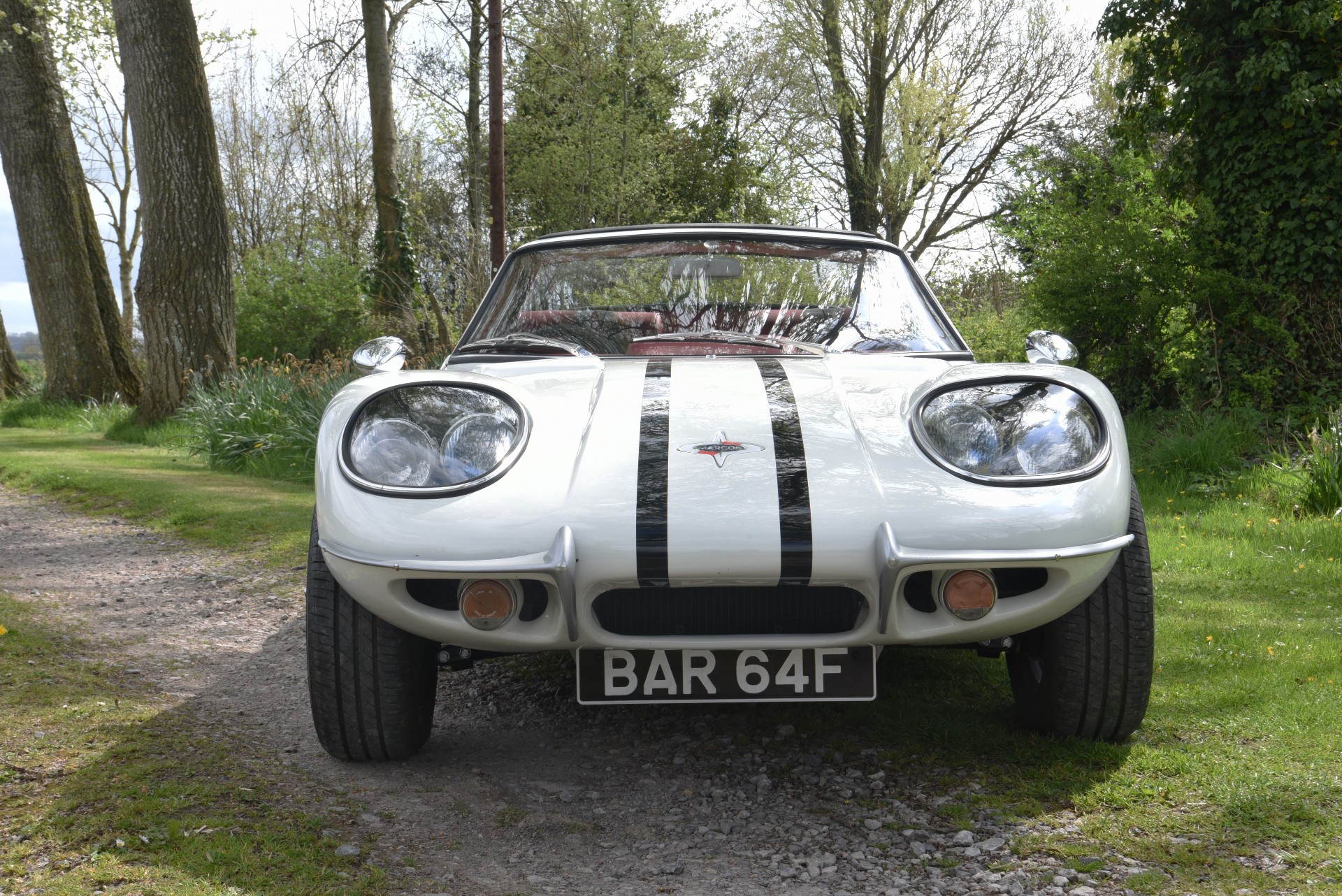 What happened to the car that gave Marcos the sort of publicity it could never otherwise have afforded? Marcos Heritage's MacMath says it disappeared after filming and only came to his notice about a decade ago. The years hadn't done it any favours. While Marcos cars have glass-fibre coachwork, the tub type chassis of the early cars, like that of the Mosquito's airframe, was made of wood, marine plywood, which gives great strength and lightness, but doesn't last forever. The steel front and rear frames had suffered the ravages of time and the mechanics weren't up to much, either.
"It was a mess, totally derelict," says MacMath.
"And the wrong colour," chimes in Michael Poole the owner of this car.
"I didn't want to sell it," says MacMath, but it's the old, old story…"
The garage man's car is always the one that gets ignored as customers' cars come first, so MacMath and Poole struck a gentleman's agreement whereby Poole took ownership and MacMath's workshops did the restoration. Early estimates of £30,000's worth of work proved well wide of the mark.
"It was much more than that," says Poole, who had a silent partner to help foot some of the bills.
And now it's done and while it looks fresh out of the paint shop, there's an authentic patina which comes from keeping the slightly foxed original door trims and brightwork; this is a lovely job, done by people who know of what they speak.
Without too many old-man noises I gain entry to the cabin in the most dignified manner possible, which isn't very.
It was 1956 when Charles and Ray Eames released their famous 670 Lounge Chair and modern furniture was officially born. The Marcos picks up the drift and its semi-reclined seats feel redolent of those Eames Chairs, slightly weird and very comfortable. The pedal box moves instead of the steering, which gives a fairly decent driving position, but the newt's-eye view from the driver's seat means the world looks like a much bigger place than it is.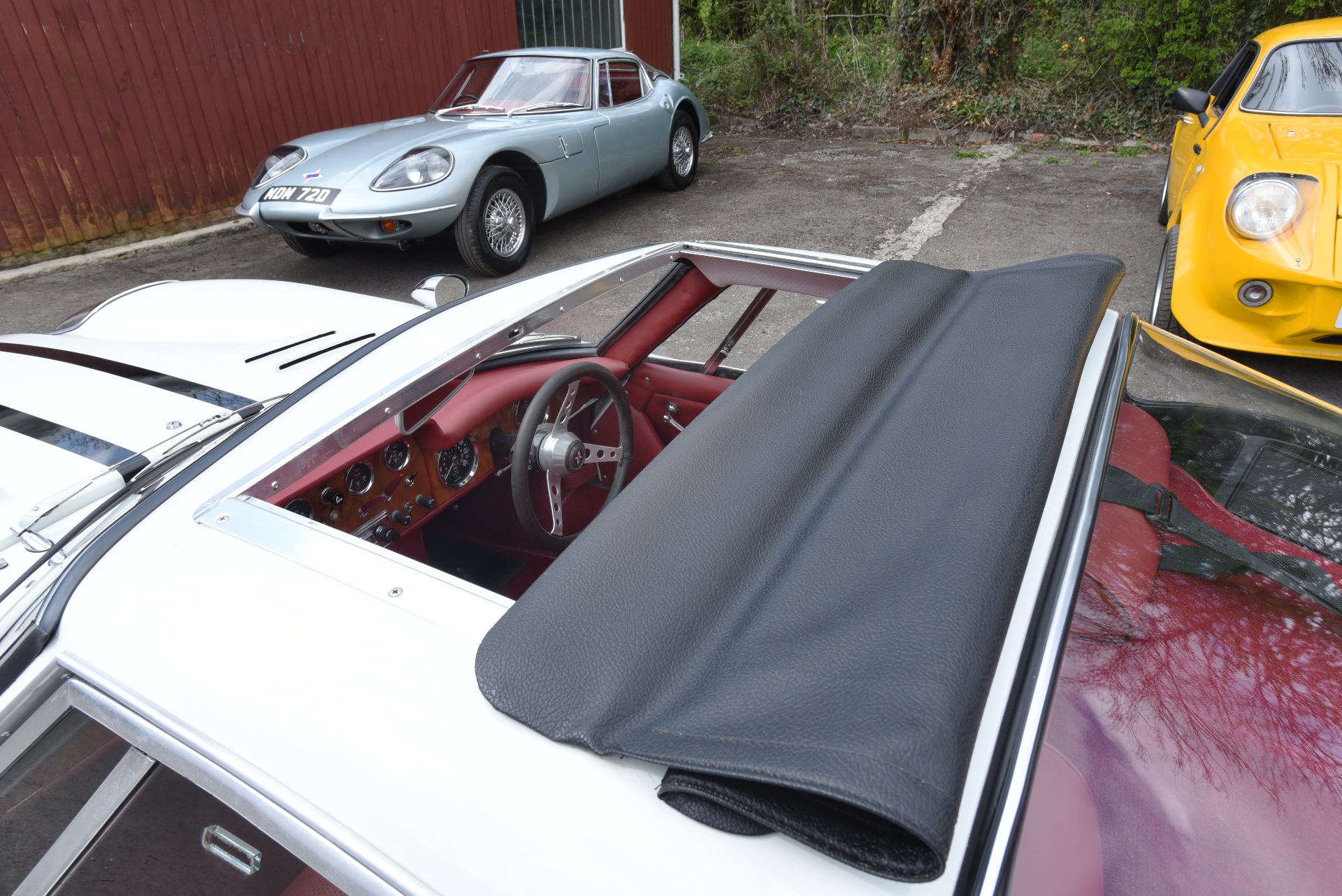 The six-dial wooden dash is typical of the period with fine leatherwork on the dashtop and over the massive transmission tunnel – with an ash tray, of course. Most things are within reach, but the centre console switches have Mini style switch extenders (just as they did when they appeared in The Saint) and you need to start the engine before putting on seat belt, or you won't reach the ignition key.
The Ford Kent block 1600 is bored to 1,750cc which is its limit, so power peaks at about 135bhp, breathing through a couple of double body DCOE Webers, which spit and hiss when you start up. Power goes back through a Ford four-speed Type-E (Rocket) gearbox into a coil-sprung, solid rear axle with twin trailing arms on each side and a Panhard rod for lateral location. Front suspension is the ubiquitous Triumph Spitfire wishbone set up (also used by Lotus and numerous kit cars), with coil-over-dampers and the wheels are 14-inch with 185mm-wide Toyo tyres.
Although the steering is light, manoeuvring is tricky partly because of that ultra-low vantage point, but also because this car has a conk to rival that of Cyrano De Bergerac. There's over half the nose sticking out of a T-junction before you can see the on-coming traffic. You sort-of get used to it, but driving this car in a city would require all of Simon Templar's savoir faire.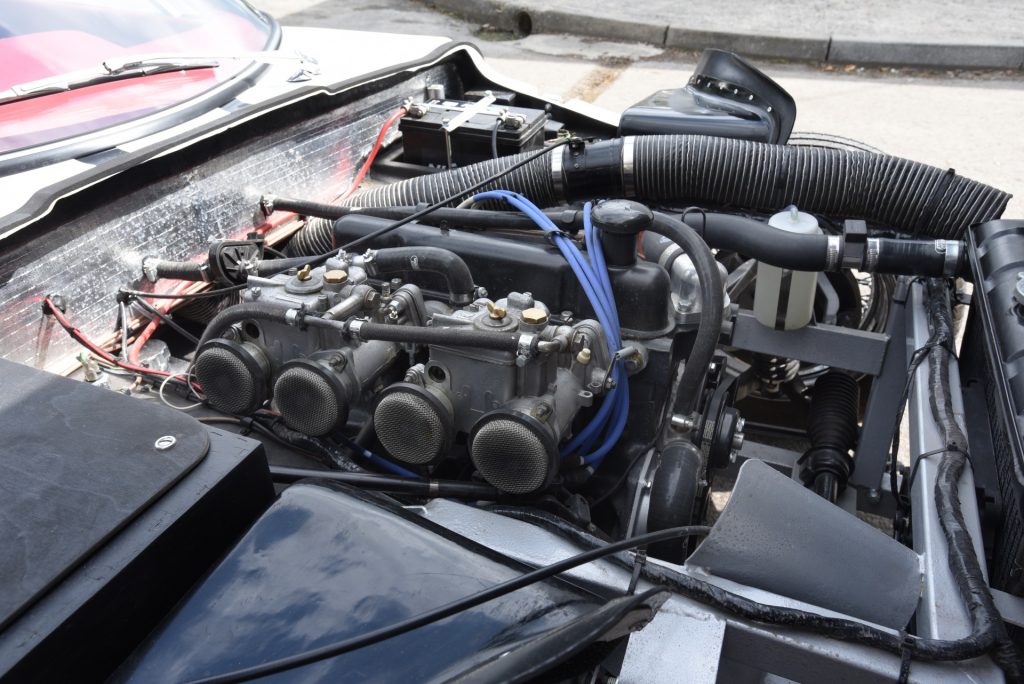 Poole asked that the car should sound and feel rorty enough to be credible as a rally car and though the power is quite modest, with a kerb weight of 850kg, the engine picks up quickly and feels fast and wieldy. In-gear acceleration is rapid and strong and the Ford roar is really nice, although probably a little tiring on a motorway journey. Doing 70mph in top shows 4,000rpm on the rev counter and it's pretty noisy.
"That's the trouble with all-wood construction," says MacMath, "is you're sitting in a sounding box."
So, you'd probably not want to do too many motorway miles, even if the car is willing, but then Britain's first full-length motorway, the M1 had only been opened in 1959, so this car wasn't designed for that sort of driving. You could swap out the Type-E four-speed transmission for a Ford Type-9 five speed to give it motorway legs and make it slightly less frenetic, but MacMath says it would "totally change the nature of the car".
The way this car steers, though, is a sheer delight and it's small wonder racers loved these cars in period. The unassisted rack-and-pinion tells you so much about the road surface and the availability of grip, and the chassis balance is sensational, you line up the nose with the next apex and power the car through; it seems so natural. The unseen dimensions of the Marcos become less of an issue as you speed up and you can drive nearer the limits with a greater safety margin than you could with a modern performance car. Need to watch that ground clearance, though, as several times we grind the exhaust on the road surface.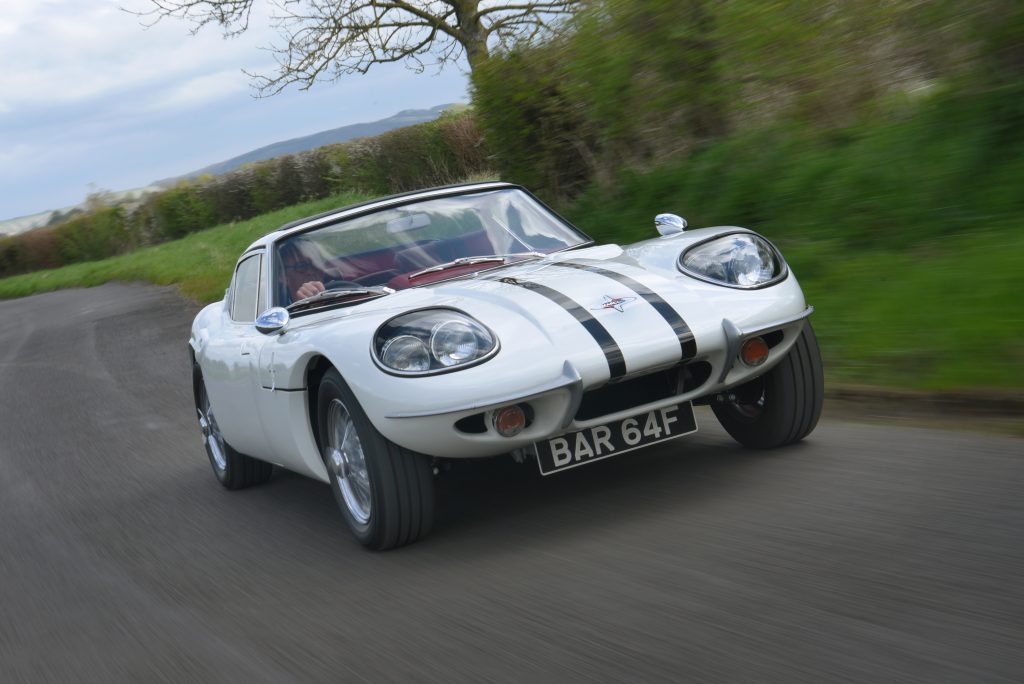 It's a useable car, though. It might sound as fierce as scrap-yard dog and there's a bit of caminess about its performance, but it idles quietly and the water temperature remains constant.
BAR64F's screen career was short lived, just over two and half minutes in fact, before Moore/Templar crunched into a bank after the steering is deliberately sabotaged by dastardly villains. Some think this might have been the producers' way of putting two fingers up at Marsh for turning down their original offer and what would have been a seven-year, six-series advertisement for his cars.
Almost 60 years on, however, The Saint connection might help sell this car at least, when it goes on the block at the Bonhams Festival of Speed auction in late June.
Prices for these old wooden-chassis Marcos models range hover around £40,000 to £50,000, but Roger Moore's saintly connection, plus MacMath's lovely restoration should bring lots of interest.
Read more
Super saloon vs Shelsley Walsh: Can I tame a Lotus Carlton up the hill?
Driving the Mercedes 300 SLR "Uhlenhaut coupé" – the world's most expensive car
7 underrated British modern classics