The Sweeney and Minder star Dennis Waterman passed away on Sunday, aged 74, having left behind a fine legacy of classics on screen.
He became a household name after The Sweeney, Euston Films' police procedural following the Flying Squad, playing Detective Sergeant George Carter, alongside the late John Thaw (Detective Inspector Jack Reagan). Thames Television's film wing had a tight budget; many of the stunts, while planned and co-ordinated, took place without the prior approval of local councils.
How much is your car to insure? Find out in four easy steps.
Get a quote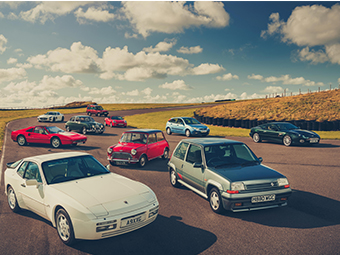 As The Sweeney ended in late 1978, so began Minder, the programme which brought Waterman to the forefront of British television. A ratings smash, he appeared for seven series as Terry McCann, a mostly reformed ex-boxer who acted as bodyguard for the never-entirely-scrupulous Arthur (Arfur) Daley (George Cole). While comedic at heart, the plotlines varied considerably; the underworld was not always kind.
On-screen motorsport and glamorous cars characterised many of Waterman's early appearances. He was bound for adult roles almost as soon as Jan Darnley-Smith's Go Kart Go was in the can; four years after playing the prize-winning Jimpy on track, he was taking Suzy Kendall's Polly to the seaside in a stolen flat-floor Jaguar E-type, swapping Rye House Kart Raceway for Worthing's sea front in Up The Junction. Its director, Peter Collinson, would direct The Italian Job in 1969. Waterman's co-star, Suzy Kendall, would later appear alongside Vanishing Point star, Barry Newman, in the criminally underrated Fear Is The Key, an overlooked car chase standard.
While neither Go Kart Go's karts nor Up The Junction's E-type are thought to have survived, Waterman's other three cars have fared somewhat better.
1973 Ford Consul GT – The Sweeney
"Who taught you to how to drive, Evel Knievel?!"
Waterman's George Carter took a literal back seat to whomever was driving the Flying Squad in each episode of The Sweeney – and while the Copper Bronze Ford Consul GT of 'Stoppo Driver' was later supplanted by a Granada Mk1, it was the earlier the Consul GT that became as much of an icon as Waterman and Thaw. It even appeared in the first three series' title sequences.
Although fitted with power steering and extra bracing on the shell, the car was basically standard – but well up to the job of apprehending thieves in Jaguar S-types. 'Stoppo Driver' was the Consul GT's crowning episode – Waterman utters the line about Evel Knievel at the beginning of the episode when the Squad trail thieves across Hammersmith and Wandsworth; the boys collar their mark after Brian Cooney (Billy Murray) corners the stoppo driver.
The Consul GT used during filming survives to this day. Having being acquired by its current owner in 1988, it underwent an extensive restoration in time to appear for the 2019 Classic Motor Show.
1977 Ford Capri 2.0S – Minder
Played by an entire fleet of Capri MkI and Capri IIs, Waterman's Terry McCann was seen buying 'SLE 71R', a white Capri II 2.0S, from Arthur Daley at the beginning of each episode between 1979 and 1989.
The car was Terry's transport; a far cry from the Ford-heavy second unit action of The Sweeney, it nevertheless anchored the programme and became one of Britain's best known registration marks – though it appeared at least once on a Rolls-Royce Silver Shadow associated with The Professionals, according to research conducted by fan site, minder.org.
After Waterman left Minder, 'his' Capri passed from owner to owner, eventually ending up in the hands of Capri Club International founder, Jon Hill by 1991. Realising its significance, a full renovation followed, and by 2016, in the hands of another custodian, it sold for £56,250 during H&H's Imperial War Museum Duxford sale.
Disaster struck in 2020, when, upon returning from an MoT, an under bonnet fire gutted the front half of the car. The anonymous owner, after having the remains appraised, sent the car to Classic Car Restorations in Kent, where, for a rumoured £12,000, the Capri was brought back to its former glory.
1977 Triumph Stag – New Tricks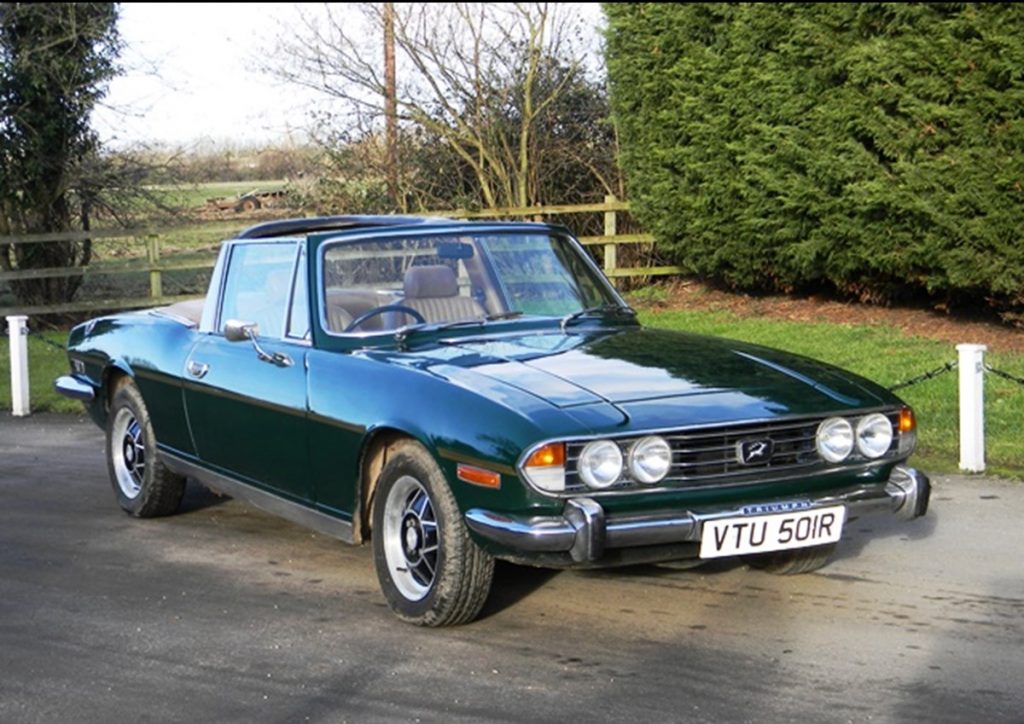 Last but not least, Gerry Standing's Triumph Stag, a genteel GT that was the antithesis to the Fords of the The Sweeney and Minder.
New Tricks was another must-watch goldmine from 2003 to 2015, featuring an established ensemble cast as the officers behind the Unsolved Crime and Open Case Squad inside London's Metropolitan Police. Like Minder (for which he also wrote the opening theme song) Waterman sang in the opening credits, and was later parodied in Little Britain.
Waterman's former detective sergeant drove three Stags across much of the first and second series, identical in appearance but in fact three separate cars, the latter of which, VTU 501R, went to auction in 2015 with Historics. It had been owned by a car production firm since 2005, and appeared on screen with Waterman in 2009.
Read more
The Hagerty Power List 2022: Movie stars
Top 10 most valuable Steve McQueen cars sold at auction
First Aston Martin Virage Shooting Brake heads to auction