"Why spend so many words describing what a car sounds like when you can just record the car and show what the experience of driving it is like?"
Ian Seabrook, otherwise known by his YouTube channel name HubNut, has a point. There will always be a place for artful prose and beautiful photography, and for some the written word is an escape for a world increasingly dominated by screen time, but the rise of automotive video, including Hagerty's own YouTube channel, isn't difficult to understand.
How much is your car to insure? Find out in four easy steps.
Get a quote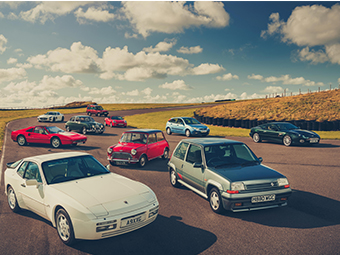 Short of being able to imbibe the smells of the vehicle in question, feel the road through your fingertips and scraping your own knuckles on a repair, the medium of video makes the classic car experience all the more tangible, and expands its appeal to a global audience.
As such, it's becoming a significant part of the hobby. Many enthusiasts now start their own channels almost as a matter of course – with a phone in your pocket, you've already got access to technology far beyond those old home video camcorders, editing software can be found for free, and a YouTube account is simple to set up.
But those who got in there early and carved out a niche have developed strong and loyal audiences, and their impact is such that the recent NEC Classic Motor Show set aside dedicated space for three of the most popular: Seabrook, plus Steph Holloway of idriveaclassic and Matt Richardson of Furious Driving.
The stand was swarming with fans all day, keen to chat to the YouTube trio (with online audiences of 84,000, 31,000 and 57,000 respectively, at the time of writing), buy their merchandise, and pore over their cars – Seabrook's Invacar and Citroen GS, Holloway's Proton 1.5 GL, and Richardson's Volvo 740.
All started small. Richardson is a photographer by trade, and began recording videos when he was out and about doing jobs for magazines. "I was doing these small used car features for Classic Car Weekly – a few photos, 500 words – but on the side I'd just bring along a couple of GoPros and make a three-minute video of driving each car."
When YouTube changed its monetisation policy, requiring more than 1000 subscribers to allow you to earn income – coinciding with a decline in magazine sales, incidentally – Richardson simply expanded on both fronts, creating more videos alongside more short-form articles for magazines. "It grew quickly enough that I was able to get re-monetised within a matter of weeks."
The real tipping point came with Covid though. As work dried up, along with the driving opportunities, Richardson began to work on his own cars, and grew his audience further as people engaged with the DIY content. Now, out of the other side of lockdown, he has a different problem: a backlog of around 70 cars he's been offered to drive for videos.
Unsurprisingly, Holloway and Seabrook have found themselves in a similar situation. "I'm now on over 80 cars that I've been offered and haven't done yet," says Seabrook. "And I just feel terrible about it, but it's great that people are passionate about it."
Seabrook's break came in writing, first for club magazines and then the popular AROnline website, before moving on to various classic titles. After going freelance in 2010 – and conscious of the decline in print also referenced by Richardson – he explored the YouTube scene, and set up a channel called, at the time, Classic Hub.
"The first video on Classic Hub was actually a Nissan Leaf. But the more electric stuff I did, the more I realised Classic Hub was the wrong name, so that got refined into HubNut."
As all three tell me, early drives came from being offered friends' cars, and as the audience grew, the offers came rolling in from elsewhere. HubNut now has more than 1000 videos, idriveaclassic more than 130, and Furious Driving more than 550. Among the three channels, that's hundreds of combined hours of classic car footage and experiences.
Seabrook sees the success of channels like his as being down to the realism. "We're not trying to be big TV celebrities" he notes. For Richardson, video plays a similar role to the car magazines. "You're opening people's eyes to the hobby, and perhaps reinforcing their enjoyment and education on old cars". Richardson also suggests that seeing your car in a YouTuber's video is akin to the thrill of seeing it featured in a car magazine.
Holloway echoes the realism element. "We're all slightly chaotic, but it's great" she says. "When you're signed up for a television programme, your content is dictated by whoever's making that programme. They decide what you're doing, when you're doing it, how much time gets spent on it. On YouTube, we get to decide all that."
Steph notes that one of her most popular videos, on a Bedford Bambi camper, is the kind of thing that would have fallen between the cracks on TV, despite being a hit on YouTube (after two Proton videos – Malaysian audiences love them – the Bambi is currently Holloway's third most watched video).
But Holloway has another, potentially even more important role in the hobby: Bringing in more female fans.
The classic car scene remains somewhat dominated by the same demographic it always has: older men. Even younger enthusiasts sometimes feel shut out (though recent work by car clubs has gone a long way to improving that), but female fans, as well as enthusiasts in the LGBTQ+ sphere are often under-represented. Channels like idriveaclassic have the potential to really turn that around.
"If women are watching me do this, and especially younger women, they can see you don't have to fit a certain stereotype to be part of the hobby and to put out content. I hope I can inspire more women to drive classic cars… but also to fix them, because we're just as capable as men.
"One of my friends is a technician at Porsche Classic, and she's incredible. You've now got Sarah Crabtree, you've got writers like Charlotte Vowden… all these amazing women in the automotive hobby. It's becoming a really supportive network."
There's still work to be done, of course, and for Holloway that's as much still about the younger audience in general as it is women. "So many clubs are doing great things at the moment, but there's still a lot of gatekeeping. You've got to get people involved. I've got a friend called Kev who's in his 50s but he's so fantastically supportive – he's showing me how to do all kinds of jobs. You've got to have that to keep this hobby going, and safeguard its future."
And YouTube is proving to be a fantastic place do spread that word – and make it accessible to all ages. "I've met quite a few children and young adults today that said they watched the channel," says Holloway. "Which is why I always keep it really clean! I don't want to sound like Mary Whitehouse, but there's not a lot of stuff on TV you can enjoy as a family. With YouTube, it's nice to do something that all ages can watch, without worrying about what's going to be said."
By keeping the content clean and the cars dirty, then, YouTube personalities like Seabrook, Richardson and Holloway, plus dozens of others, are involving more people in the hobby than ever. YouTube classic car content may not be for everyone, but it can certainly be for anyone.
Read more
This Mini camper was a big project on a small budget
The Ones That Got Away: Vicki Butler-Henderson's BMW M3 CSL and Golf GTI 16v
The Weekenders: Putting on a show comes naturally to these drivers