Who are the weekenders who like nothing more than taking our their cars and motorcycles and putting on a show for others to enjoy? At the 2021 Kop Hill Climb, situated near Princes Risborough in the hills of the Chilterns, which dates back to 1910, Hagerty met just a small number of the wonderful members of the car and motorbike community that travel from far and wide to share their pride and joy with fellow enthusiasts. These are their stories.
Antony, William and Lucy Karslake, 1920 Hispano Suiza H6B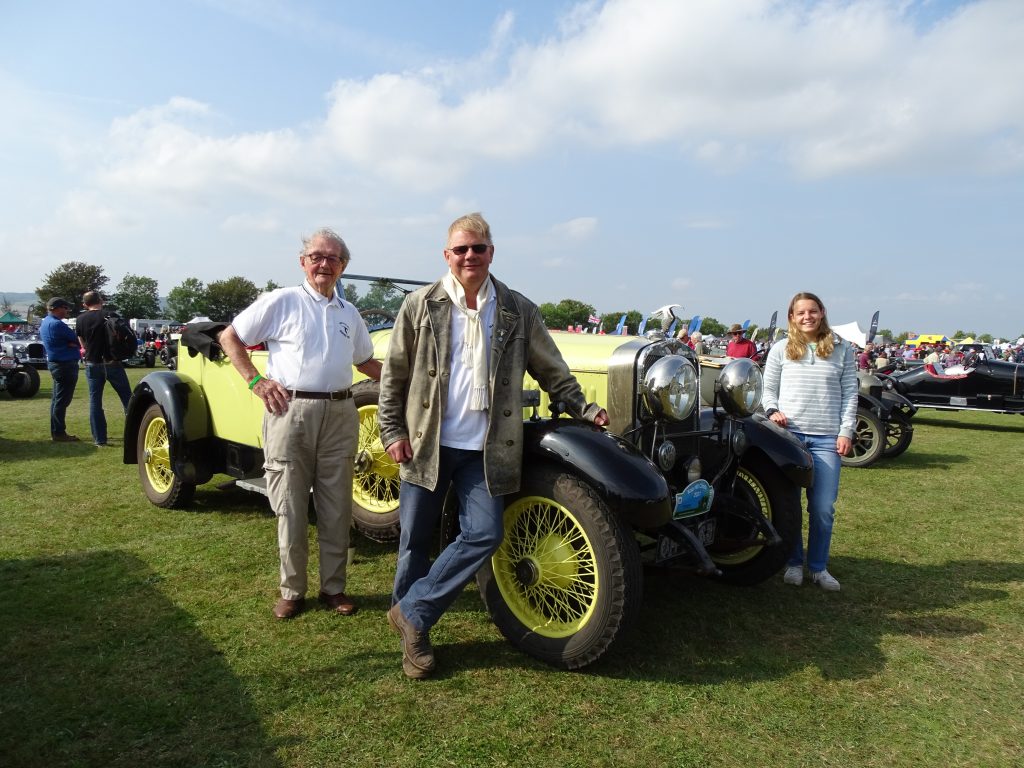 There are three generation of Karslake with the Hispano Suiza H6B at Kop Hill, but there is one who can't be with them, Kent Karslake, a motoring writer and author who died in 1988, and took on ownership of the car after the war.
The story is taken up by 89-year old Antony Karslake, Kent's son. "During the war, instead of being dumped, which a lot of cars were, it was taken over and turned into an ambulance in the Tate & Lyle sugar factory, for which they cut the body off. But at least it was well maintained, mechanically.
"At the end of the war, they said 'We really must get a proper ambulance' and it was going to be dumped. The transport manager stepped in and saved it, by approaching the Vintage Sports Car Club, and they knew my father was a Hispano Suiza enthusiast."
Photographs of the Spanish-Swiss car, taken in 1930, showed the original body complete with touring trunk, which Kent used to have body builders in Abingdon return the car to its original form. How important is it to Antony, I wonder, that the car is passed from generation to generation?
"It is extremely important. Yesterday, we were awarded the Founders Cup for the best car in show, and I thought my father would have been absolutely thrilled at that. I personally am keen to keep the car going with the family as long as possible."
William, Antony's 58-year old son, now owns and runs the car, but today is Lucy's (26) first go at trying the vast Hispano Suiza for size. Happily, she's more than comfortable behind the wheel and with the pedal reach, and gladly takes it for a gentle saunter around the paddock under the watchful eye of her father.
The 6.5-litre, six-cylinder engine boasts an aluminium block, an innovation adapted from an aircraft engine, and the car made its debut at the 1919 Paris motor show. "Two years ago, for the centenary, the French Hispano Suiza club had a big gathering in France and we drove this car from here, just down the road, to north of Paris to take part. When we got there, the secretary of the French club came up to us and said 'Only the British would be mad enough to drive a car like that all the way from England, but we do admire your sporting spirit!'"
With the exception of the 2019 event, which clashed with the French trip, the Karslakes have attended every Kop Hill climb. Is it a physical car to drive? "Not terribly. The gearchanges can make the occasional grinding noise but it's not too taxing to drive."
It seems, then, that the famous flying stalk mascot that adorns the radiator of the Hispano Suiza – the work of Francois Bazin – will be at Kop Hill for many years to come. We imagine Kent Karslake would approve.
Paul Ward, 1990 Porsche 911 Carrera Cup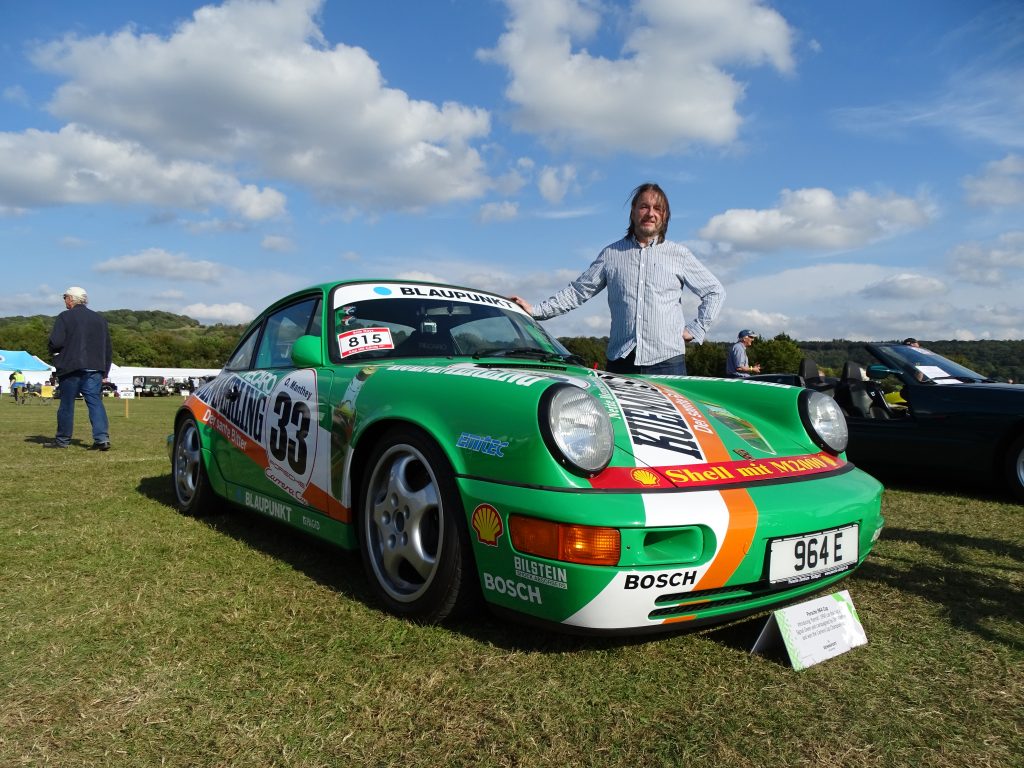 The first question for Paul Ward is an obvious one: It is a real Carrera Cup car? Sure enough, it is the real deal, and not only that but the very car that Olaf Manthey drove to championship victory during the inaugural 1990 Porsche Carrera Cup season.
"He campaigned three cars in 1990," says 57-year old Ward, who has travelled from Leeds to spend the two days at Kop Hill climb. "The first one was crashed and damaged beyond recognition, but it has since resurfaced. There was another car he did a couple of races in, through the summer, and then this car he finished the season in, and he won the championship."
Manthey would go on to play a significant role in shaping Porsche's reputation in the motorsport field. Ward bought the car through the now defunct Specialist Cars of Malton, and calls it Kermit – he has even added a picture of Kermit the Frog to the rear window.
The Carrera Cup machine has done 16,000 km (just under 10,000 miles) from new and is now road-registered. Before Ward's ownership it had only ever been raced.
The 1990 Carrera Cup race series followed in the tyre tracks of the 944 Turbo Cup. "I'm a fan of the German Carrera Cup and this is one of those. It's chassis no 7 and it's the only one of the 50 that were made that year which was green – the interior and exterior. All the other cars, which is typical of today, were all-white. So quite unusual for being green."
He has used period photos to reproduce the car's period sponsors' decals, even going to the trouble of removing more modern reproductions so that they could be replaced with decals that are layered – as they were in 1990 – rather than printed on one sheet.
Other than the fact it's rare, Ward went after the car because of the way it feels. "I like the raw experience. It's visceral, raw. You hear all these noises – ticking, grinding, graunching, rattling and banging – and it's normal. This has no sound deadening whatsoever. The engine is solid-mounted; I have had a 964 RS road car before, and that had semi-hard bushes, didn't have the roll cage, had a little bit of sound-deadening on the engine and front bulkheads, but this car has none."
Only those in the know will spot the tell-tale signs that it's a genuine Carrera Cup car, rather than a modified 911, on the public road. Giveaways include the lowered ride height, DTM-type wing mirrors – "they show nothing which explains why there were so many crashes in the Carrera Cup back then" – and the full roll cage, as well as the fact the car's left-hand drive.
Look around and you can see the roll cage, seam-welds and race seats with harnesses, a fire extinguisher and everything just as it would have appeared in the race car in period.
Ward takes it on road trips as far afield as Spa, in Belgium, joining the Porsche Club Francorpchamps for a track day. Does he wear earplugs? "No [laughs]. It is noisy and there's no radio, so the sound track is the engine."
Does he love the fact the car is from a time before aerodynamics played a part in the race car's performance. "Absolutely. It's all about mechanical grip. If you do a good lap in a car like this it's all about the driver."
Lyndon Yorke, 1937 Austin Seven Special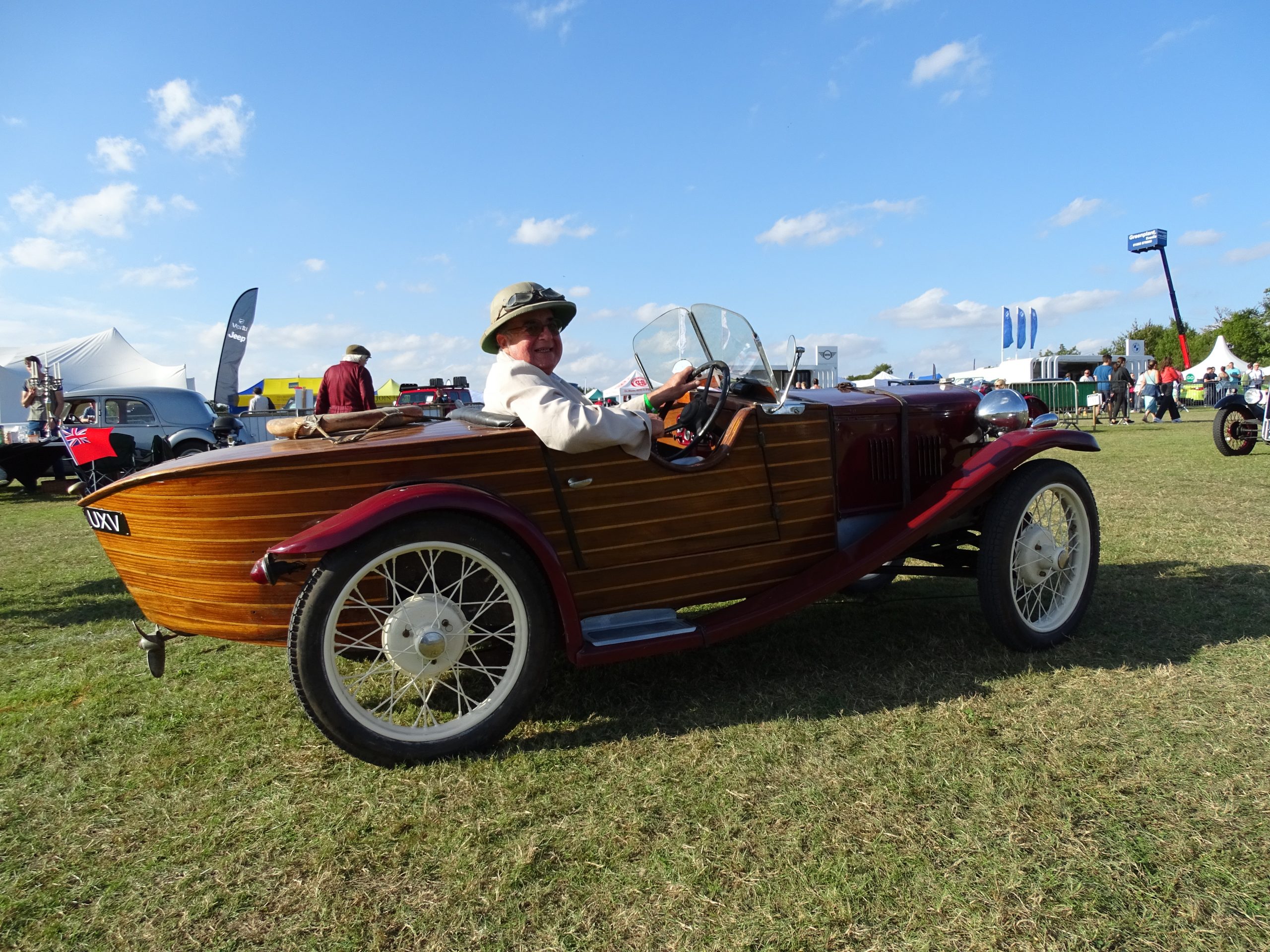 The Thames Conservancy private pleasure vessel number 1473 has sprung a leak. Fortunately, it's on dry land, so the only people getting a dunking are the handful of spectators at Kop Hill standing within the vicinity of the little Austin Seven as its cooling system gets hot and bothered and fires out a spray of mucky water from the radiator cap.
This charming creation is the work of Lyndon Yorke, from near Marlow, who laughs when asked his age age, replying 186 – "It affects my social life!"
By his own admission, Yorke has a reputation for creating whacky, eccentric and unusual things, for both the road and the river. The boat-tailed Austin Seven playfully dips a toe in both waters.
It's one of four Sevens he owns, in addition to a couple of Dutton amphibious cars, not to mention a selection of homebuilt specials that entertain crowds at regattas – and sometimes even remain afloat. You can see those at lyndonsmachines.co.uk.
Bought as a rolling chassis 20 years ago, from eBay, he describes how this Seven was an incomplete project that came with drawings and dimensions to create the boat tail aesthetic but little else. Making it up as he went along, Yorke says wood is a wonderful material to work with because it is so forgiving, and called on the help of a boat-builder friend to master the craft of manipulating it.
"The mechanics weren't too bad but the rest I had to make up as I went along. But wood is very easy to peel it off and start again before everything sets into place. In a normal season I'll attend 10 or 12 events. Everyone here has been very complimentary about the car, today. I enjoy being here – anything that's different, eccentric or an excuse for a picnic is fun."
The greatest challenge at Kop Hill, Yorke tells me, is not going up the hill but coming back down. "It's the only hill event I've ever done. The brakes always needed thinking about a mile in advance [of use] and here the cable brakes can overheat so you have to use the gearing to help slow the car."
Happily he's not had to bail out and grab the lifebuoy.
Jonathan Le Roux, 1972 De Tomaso Pantera Group 4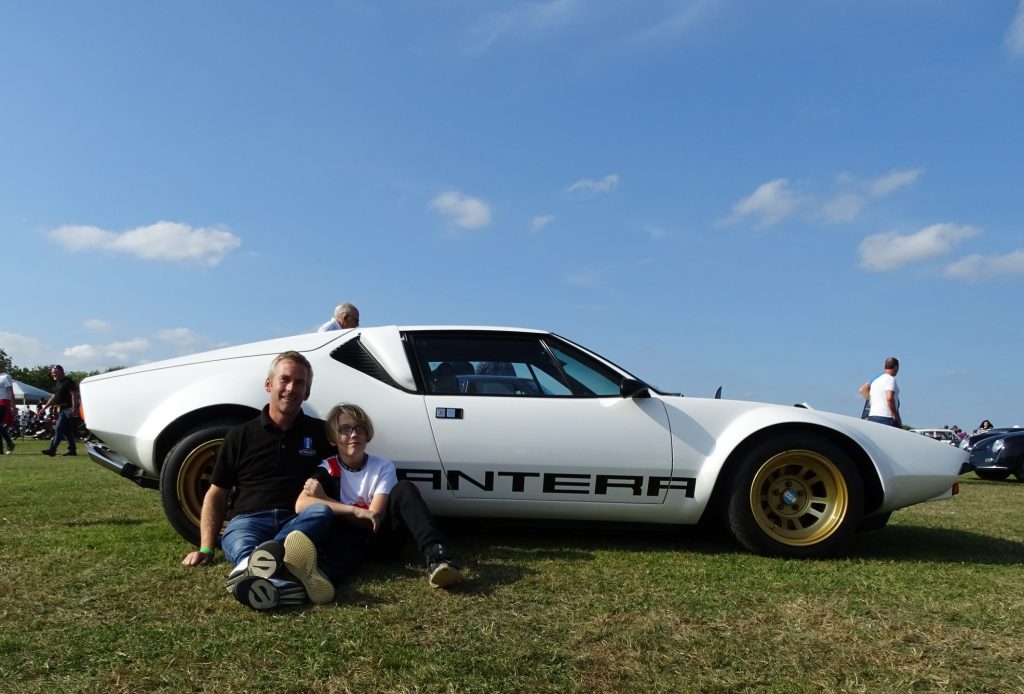 "I was brought up with a dad who was a complete petrolhead and in the late 1980s I remember seeing a black-with-gold-wheels GT5 and it just looked like a spaceship, something out of this world."
With nothing but memories, 49-year old Le Roux, from Alton, Hampshire, didn't see another Pantera in the wild until this 1972 example was advertised for sale. At the time, five years ago, he was on a weekend trip to the Le Mans 24 hour motor race, browsing his phone whilst lying on the grass banking watching the race cars charge past.
"I came straight home, made an appointment, tried to act cool but I'd already told my wife 'We're having it whatever.' I mean, it's unique because it's a Pantera, but it's a Group 4 Pantera, so that's a Pantera on drugs. "
The DeTomaso Pantera was born out of Ford's desire to repeat the success it had enjoyed with the GT40 project, and build a sports car that could outperform but undercut the likes of Ferrari. The Detroit giant chose to work with Italy's DeTomaso.
The Pantera was designed by Ghia's American-born designer Tom Tjaardaand replaced the Mangusta. Its steel monocoque was complemented by a Ford Cleveland V8 and five-speed ZF manual transmission, and when you peer into the engine bay you can see the car's racing roots, given the position of the engine which is as close to the centre of the wheelbase as possible.
The Group 4 Panteras were built to satisfy motor racing regulations of the time, and DeTomaso handed development duties to the highly respected Mike Parkes. Its double wishbone suspension was altered and complemented by bespoke Koni adjustable shock absorbers, wider Campagnolo wheels and tyres sat beneath the flared fibre-glass wheel arches, hiding uprated Girling brakes, and there were aluminium doors, bonnet and engine cover as well as thinner, Plexiglass material for the windows.
"This hasn't got the regular Cleveland engine in it, this has the [later] Windsor 408 Stroker and is all tricked out, with as much power as we can get out of it – it dynos at just over 600 horsepower."
Le Roux says when he bought the car he told his wife it wouldn't be a garage queen, which is why he's at Kop Hill climb with Oscar, one of his two sons. "Kids need to see it, people of our age need to see it. You'll get people who say they always read about them and had a poster on their bedroom wall, and then you'll get those who'll ask if it's a Lamborghini, which is really annoying because it's waaaaay cooler than that!"
Of all the cars he owns, this is the one that stands up the hair on his arms and is the most challenging to drive. "It's very analogue – slightly scary. You've got to concentrate."
"All my life, the motor car has been a passion, and while my kids grow up it will be for them, but after that I worry for its future. Events like Kop Hill, Brooklands and Goodwood are very important, and I support them the best I can so people can get excited about cars. A Tesla doesn't do that."
Roger Moss, 1934 Scott Flying Squirrel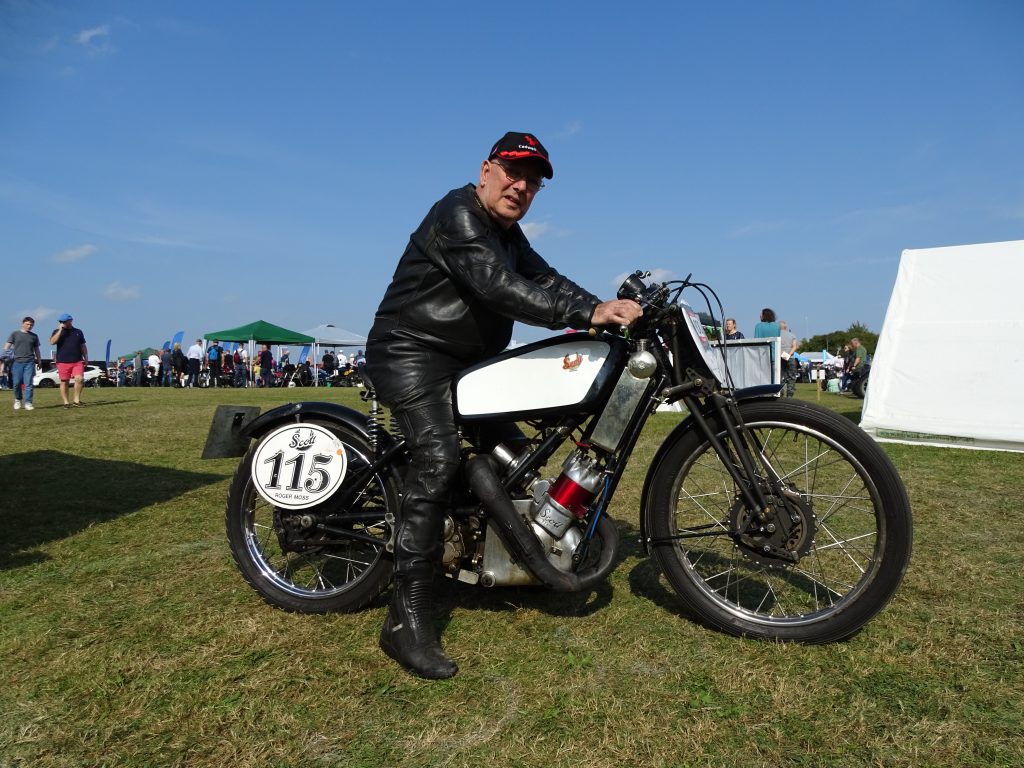 With a background in designing and making specialist manufacturing machines, Roger Moss has the most inquisitive mind for a man in his eighth decade.
After stepping back from Moss Manufacturing Tools, Moss now spends a great deal of his time rebuilding motorcycle engines for private clients, and along the way he likes to make his own improvements, notably to the two-stroke engine.
"The engine was invented by an Englishman, Joseph Day, as a machine for stirring dough," attracting attention and awards in 1892, at the International Electric Exhibition.
Moss likes to apply new thinking and techniques to the engines he works on "taking out flow impediment." For example, he fitted the Scott engine in his 1934 machine with titanium conrods, in 1977. "That was 20 years before Mr Schumacher and his Ferrari; somebody from the Institute of Metal visited me when I wanted material for crankshafts, and he was shocked, telling me, 'We've just done a commission for Ferrari to tell them what to use for Schumacher's engine in 1997 which proposed titanium conrods.' I told him, 'We take our hobbies quite seriously!"
By his own admission, the Scott is his own creation rather than an original bike, with the chassis, engine, carb, four-speed gearbox and brakes all his own work, rather than Alfred Scott. "I'd describe it as a tribute, a logical development of an existing design by a man who I respect for the originality and flair of his work. Good engineering should be simple and elegant."
Moss, from Melton Mowbray, says he has spent his life racing, but the years are catching up with him and his eyesight isn't what it used to be, meaning an Auto Cycle Union licence is out of the question. He's switched to hill climbs, and says the trick of life is to treat it as though you're going to live forever.
When not firing up the likes of Kop Hill, Moss is making engines for clients. He stresses the importance of distilling how the engine will be used, so it can be built to suit the rider's requirements. Durability and rideability can be improved without changing the engine's outward appearance. As Moss says, he might get a man from the States who wants to ride the Cannonball Run, from the Canadian border to the Mexican border and it needs to do 3000 miles without a glitch.
By the sounds of it, Moss has no plans to slow down. "I just want to keep doing it as long as I can, and I want to pass on the knowledge."
Lee Turnham, 1964 Ford Galaxie 500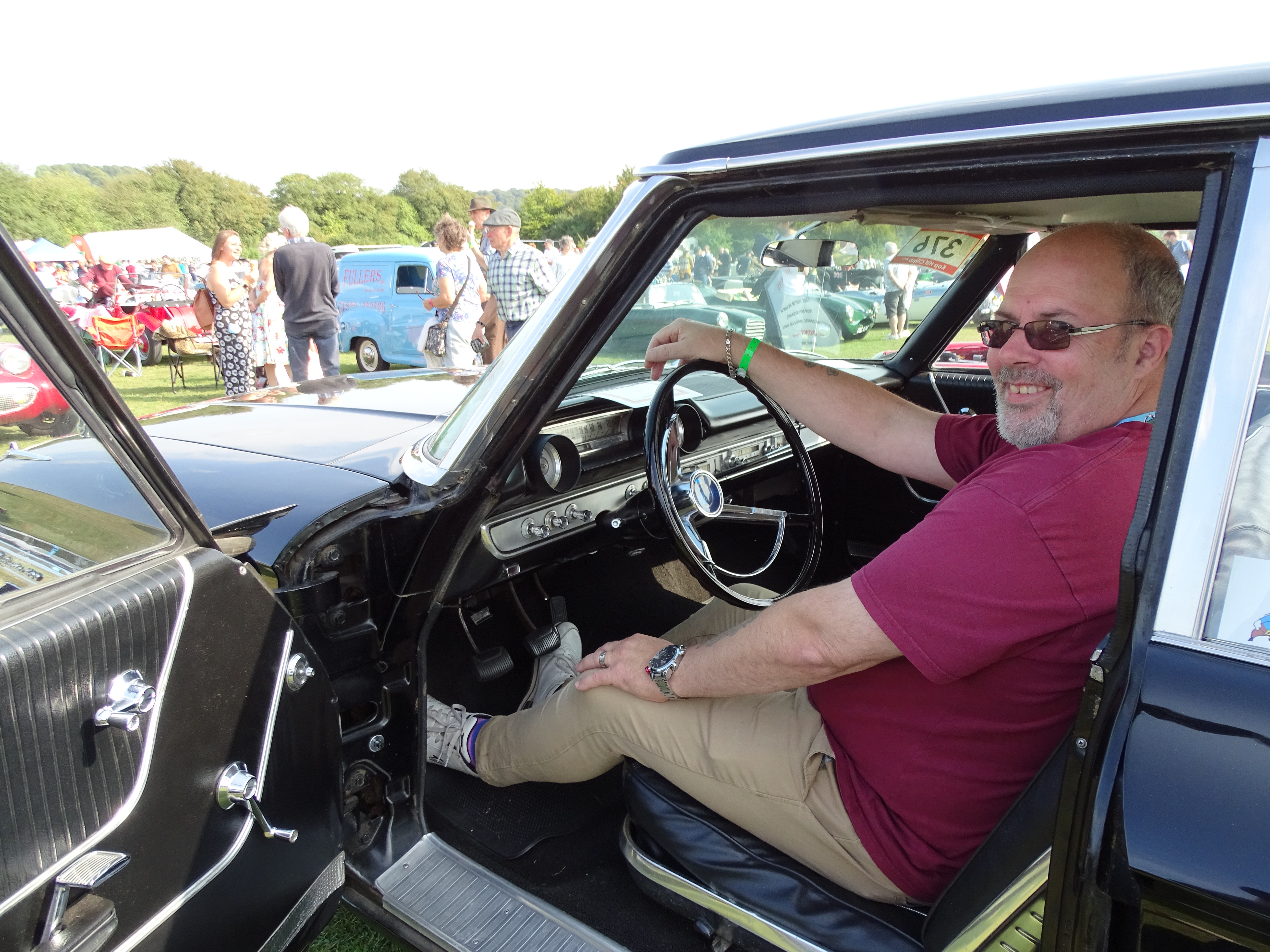 When your car only manages eight miles to the gallon, at best, it's little surprise that you tend to take it to local events like Kop Hill. For 58-year old Lee Turnham, from Aylesbury, this is plenty far enough when there's an uprated, 360 horsepower version of the 6.4-litre V8 motor under the (expansive) bonnet.
"The car is in Interceptor specification" says Turnham of the rare, four-door bodied car which features the police-spec motor and came with black paint and black interior from the factory. "When I made contact with the family of the original owner, they wouldn't tell me what their deceased father did for a living, so I left it and that and drew my own conclusions." Was it a car used by the FBI or CIA?
Bought eight years ago and now with 32,000 miles on the clock, Turnham says he fell in love with it straight away. "I've always wanted a nice American car, even though my other car is a BMW Isetta – so you can't say I don't like cars from both ends of the stick!"
It's a manual with overdrive on second and third, and its handling characteristics going up the hill are "like the QE2". The technique, he says, is to keep the throttle at a steady, consistent position to try and maintain a level body, otherwise it pitches about the place as you roll on and off the throttle.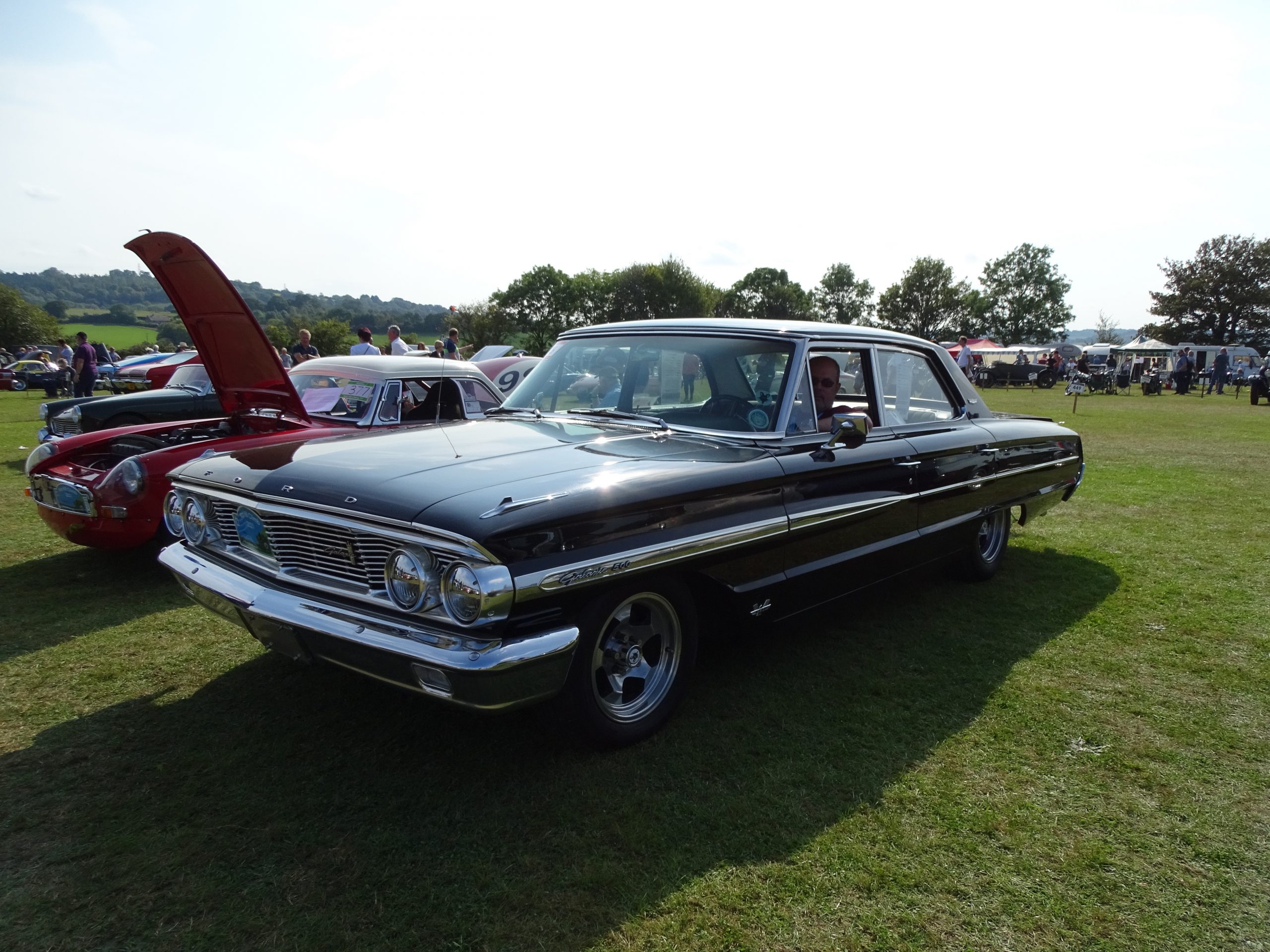 "Everyone that sees it here seems to love it. It gets a lot of positive comments. I use it whenever I can, and my wife and I see it as our sanctuary to get away from everyday life. We take it out all around the Chilterns."
It's not surprising that offers for a car as bold as this attracts enquiries from prospective buyers. At one car show Turnham had three offers for the Galaxie 500. When not displaying his car at Kop Hill he's a volunteer marshal, and praises the wide variety of cars.
The only downside to this year's show, held over the same weekend as the fuel shortage that hit Britain's filling forecourts, has been the lack of fuel. "A lot of people who wanted to come for the weekend, or return for the second day, have not been able to attend or return because they can't get the fuel."
Perhaps that's because a sinister looking, black Ford Galaxie 500 has been cruising the Chilterns and guzzling it all up?
Lorna and Tony Brooks, 1959 Austin A35 Van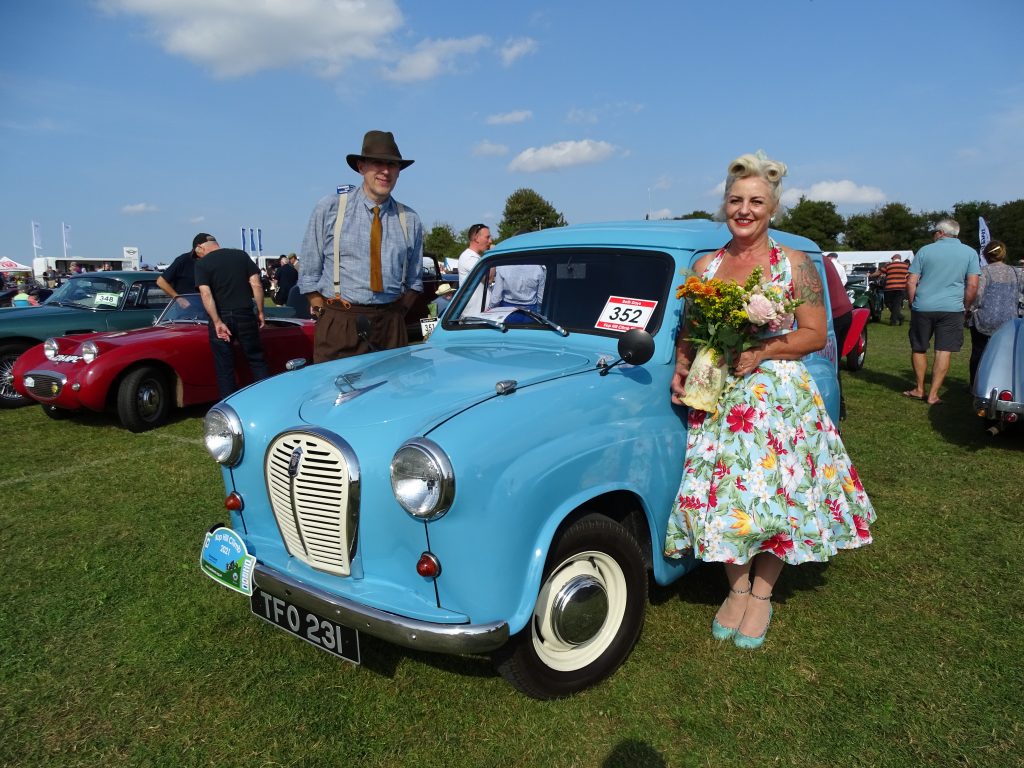 The reaction Lorna Brooks's little Austin A35 van generates at local events such as Kop Hill is one of smiles, laughter memories and shared anecdotes. Her floristry is well known about Princes Risborough, and when people see her with her A35 – and a pitcher of freshly cut flowers perched on a picnic table at its side  – they can't help but come over for a chat.
It's quite a contrast from the Volkswagen Transporter than does about 35,000 miles a year for the flower business, and a Toyota Hilux that the family farm runs.
The pair take great pleasure in sharing the story of how James Hunt's favourite car was reputed to be his own A35 Countryman conversion, in which he'd delight in undertaking far superior sports cars on the Wandsworth Roundabout, despite its skinny tyres and feeble 848cc engine.
"We were looking for an A35 Van or Morris Minor and this one came up on eBay, and it was already painted in this colour. We went to see it, in Berkhampstead, and fell in love. We bought it and trailered it home," says Lorna.
Often, says Tony, people want to be photographed with the car, as it may hold memories for them from many years ago. "We've attended every Kop Hill since 2013 and the atmosphere is fantastic. You get so many enthusiasts here, and we're quite well known because of both the van and my wife's business. The usual comment is 'My Dad had one' or 'My uncle had one' or it's often the first car anyone drove."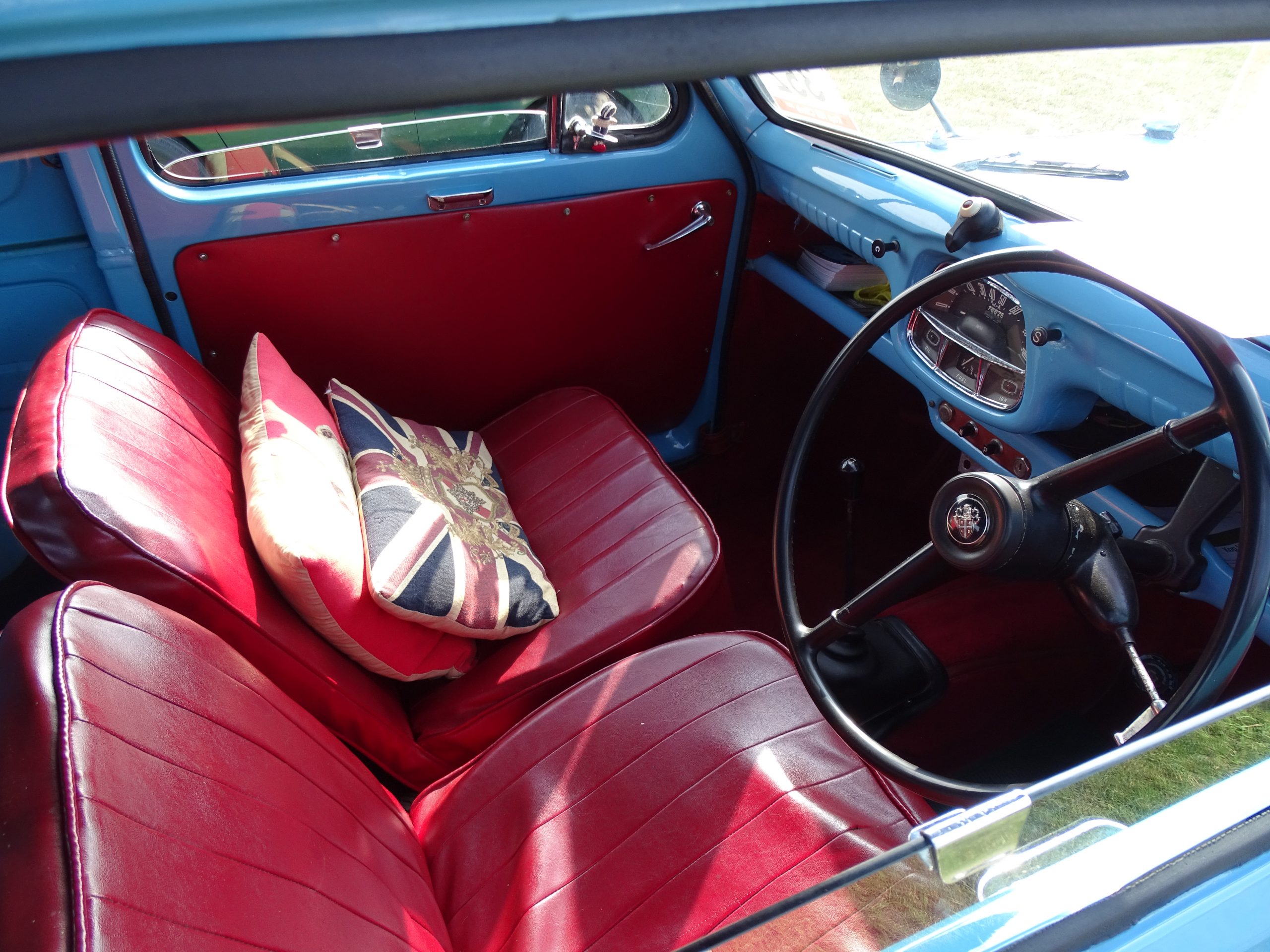 Are they throwing flowers from the A35 as they tackle the hill, I wonder? "We daren't put anything else in it," laughs Tony, "because it's not the fastest going up the hill!"
The car is affectionately known as Wendy, a name chosen by Lorna. "The whole family is quite attached to the car," says Tony. "We lost our father-in-law five years ago, and he actually came here the first year we brought the car to Kop Hill, and went up the hill in it, so it's a treasured part of the family now."
The week prior to Kop Hill, the A34 underwent a full service, the first time it has undergone any major work since they took it under their wing. "It had a new carburettor, new water pump, a few pipes, new spark plugs and complete flush of oil and water, so it's run perfectly," enthuses Tony.
Being around Lorna, Tony and 'Wendy' just makes you feel good about life, with positive vibrations from one of the most unpretentious cars on display at the event. Little wonder James Hunt was so smitten with his.
Simon West, 1971 Ford Escort Mexico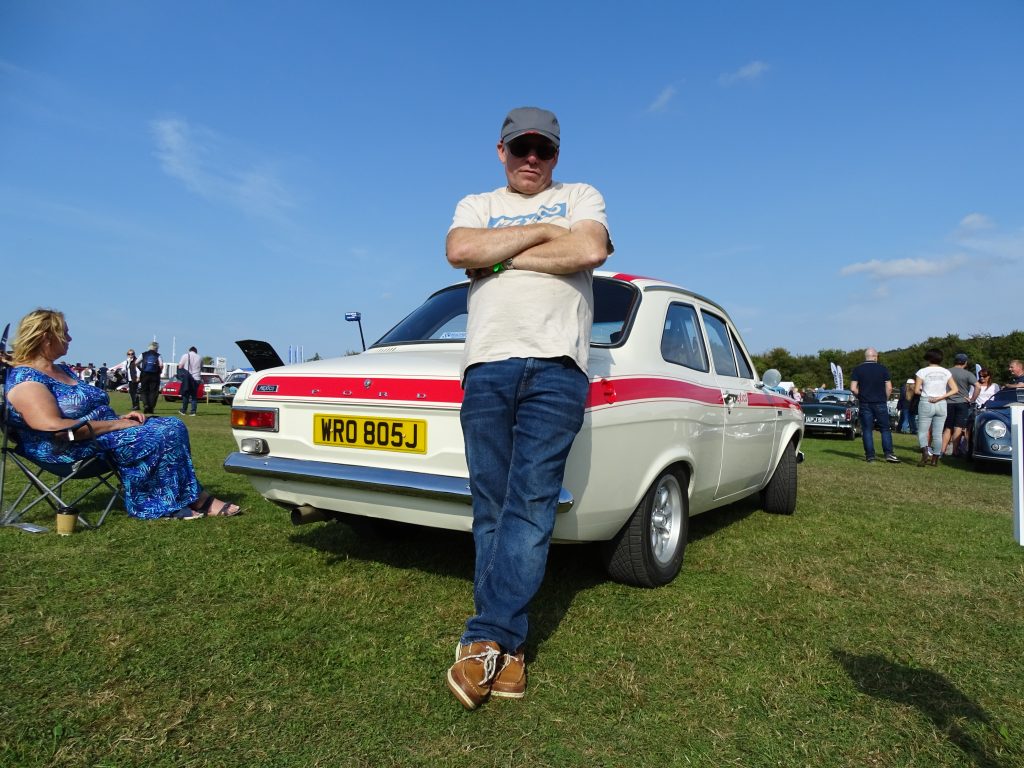 It was 1984 when Simon West bought his Escort Mexico as a ready-to-go road-rally car, after giving up on motorcycle scrambling "because I was getting hurt too often". It wasn't all that long before he nearly hurt himself in the Mexico, after he "stuffed it while spectating at the RAC Rally in Kielder, in 1991."
Not long after that he set about renovating the car, then lost interest in the project after falling for sailing, at which point the Mexico sat outside, neglected, for 16 years. It was only a ride in a friend's Escort RS2000 replica that reignited the flame for his own Advanced Vehicle Operations 'Scort.
"I do a lot of meetings with the RS Owners Club now and it has revitalised my love for the car again."
Under the surface is Bilstein Group 4 suspension, AP four-piston front calipers, the original rear drum brakes, and powering things is a 1906cc Crossflow with about 175 horspower, built around the later AX-block series of Crossflow which lends itself better to being bored out to larger capacities.
"I might do something with the rear axle ratio next, which will make it a lot quicker to drive and make it easier to launch off the line here without leaving halfshafts and a crown-wheel and pinion behind!"
It's not beyond the engine, says West, to take the engine up to 200 horsepower, fitting throttle bodies during an imminent rebuild. Is it nicely tied down or quite lairy? "When you're going quick there's a bit of roll at the front. I let my nephew drive it, and he's a much better driver than me, and he says there's nothing wrong with the handling."
Adjacent to West at Kop Hill in the paddock area is a Dino, which has caught his eye, and a Ginetta G15 – "I owned two of those in the past" – and a Velocette KTT motorcycle, while a Type 51 replica Bugatti has also turned his head.
"I think as long as events like this don't become too commercial, they're super. I call it a mini Goodwood, because they're more relaxed and there's more space around the cars. Hopefully it can keep that character."
Read more
We can be heroes: meet the classic bikers riding to the rescue during the pandemic
Sand storm: The women of speed tackling Pendine Sands in hot rods
The 13-year old role model leading by example and winning on track