Unfairly perceived as noisy, dirty and dangerous, with equally anti-social riders, motorcycles often get a bad rap. Yet during the Covid-19 pandemic, a worthy new volunteer initiative has painted bikers of Britain in a different light. A dedicated group of riders have used their time and riding skills to help those suffering from the effects of the crisis – and passionate owners of classic machinery have been doing their bit, too.
Bike Shed Community Response (BSCR) is the brainchild of Vikki and Dutch van Someren, who run the Bike Shed motorcycle club in Shoreditch, east London. More than 1300 UK riders have joined so far to help out while capitalising on the advantages of powered two-wheelers. Anyone with a bike or scooter is welcome; the dedicated website gives directions for signing up via a specially adapted version of the Gophr courier app, which coordinates the work. Additionally, Disclosure and Barring Service (DBS) checks can be carried out if the courier wishes to carry medicines, but these are not essential.
Congestion-busting bikes of all types and sizes are the perfect solution to the sort of obstacles encountered when navigating a city or suburb, and make ideal delivery machines. They keep the traffic flowing, take up little space when both moving and parked, are economical to run and have surprising carrying capacity. They're also exempt from London's Congestion Charge, and their sheer versatility means they're faster and more practical over long distances than bicycles, and more efficient than a car or van. They're the best of all worlds.
How much is your car to insure? Find out in four easy steps.
Get a quote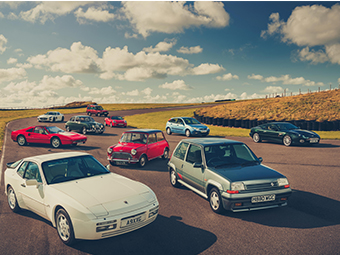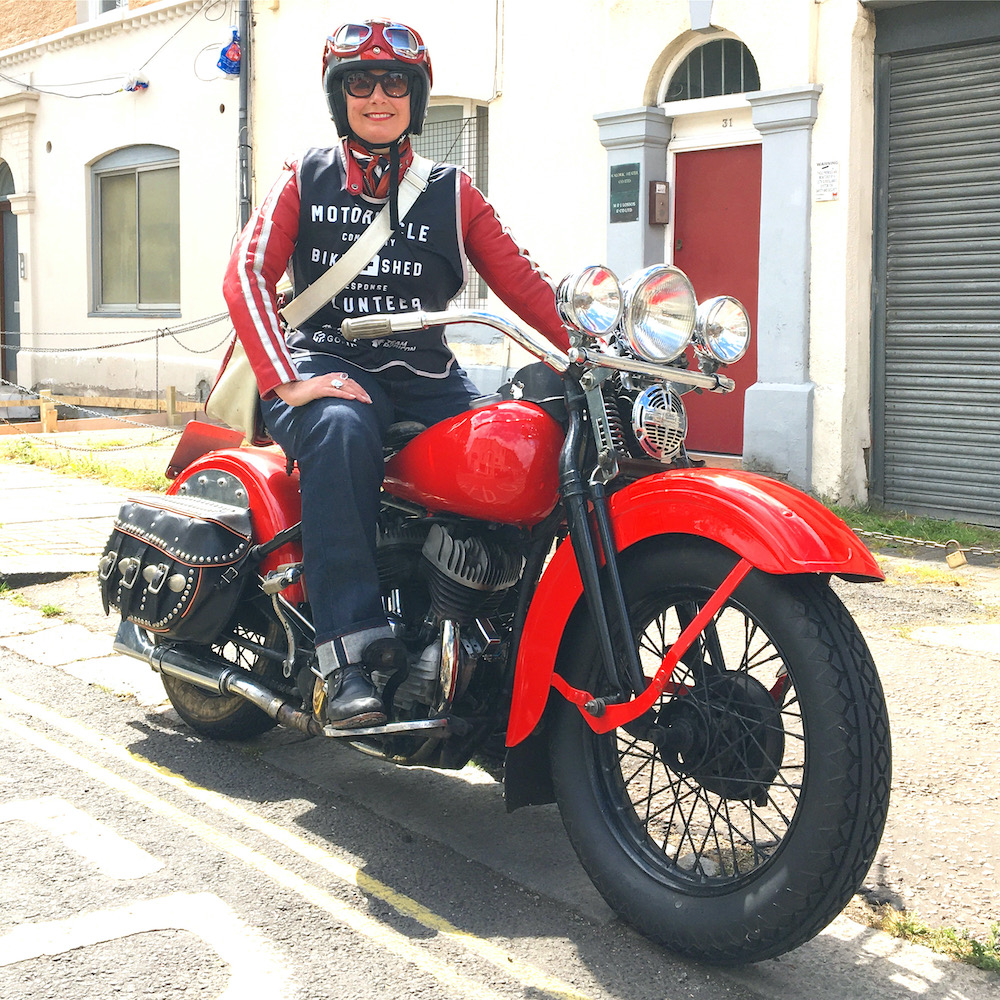 Sporting branded tabards and key-worker ID – essential when only 'vital' journeys were permitted during lockdown – the BSCR network has been liaising with the NHS, community groups, crisis-response charities and PPE networks to get essential supplies to staff in hospitals, care homes, homeless centres, GPs and dental surgeries. In addition, they've been delivering meals, medicines, antibody test kits and even life-saving pulse oximeters.
A good number of volunteers choose to use their classic bikes to carry out their work. These charming machines give unique rider engagement as well as help keep our motoring heritage – and the important industry it supports – alive. In official recognition of such 'survivors' and their environmentally friendly credentials (hey, they're the ultimate recycling exercise!), anything over 40 years old is exempt from charges for entering the Ultra Low Emission Zone (ULEZ), too.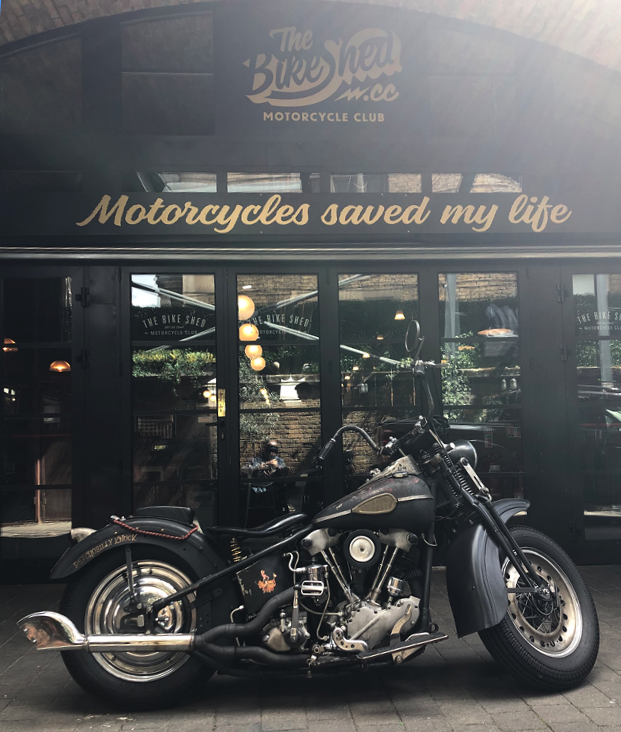 Born of a quieter, less frenetic age, the older bikes on the community response fleet were in their element on lockdown's virtually empty roads. I should know; I've been using my own 1939 Harley-Davidson WL45 and 1958 Triumph Thunderbird for numerous volunteer runs. Naresh Bhana, a fellow Londoner and Harley fan, has also been delivering essential kit in style, on his 1945 FL – although naturally he's stayed rather closer to home than the German, French and Spanish road trips he usually tackles on his rare 'Knucklehead'.
Tattoo artist Naresh, 53, has owned his FL for six years, and says a recent engine overhaul has made it more dependable than ever: "I never hesitated to use it for BSCR, because I knew reliability wouldn't be an issue. It's been great to be involved, and I've felt grateful to be legitimately out riding and doing some good along the way."
Pip Davidson, a Heathrow service protection supervisor, has owned his custom Kawasaki KH500 for ten years. Having proven its mettle attending shows as well as taking part in grass racing and hill-climbs, the 1976 machine has shown its versatility once again during the crisis. Also utilising his newer Honda Africa Twin, 49-year-old Pip has travelled from his Berkshire base to BSCR jobs as far away as Worcester and Southampton.
"It's been a privilege to be part of this community," he says. "The smiling faces of everyone I've met make it even more worthwhile. A massive clap to all the fantastic staff whose hard work made this possible. I'm full of admiration; it was a no-brainer to join in."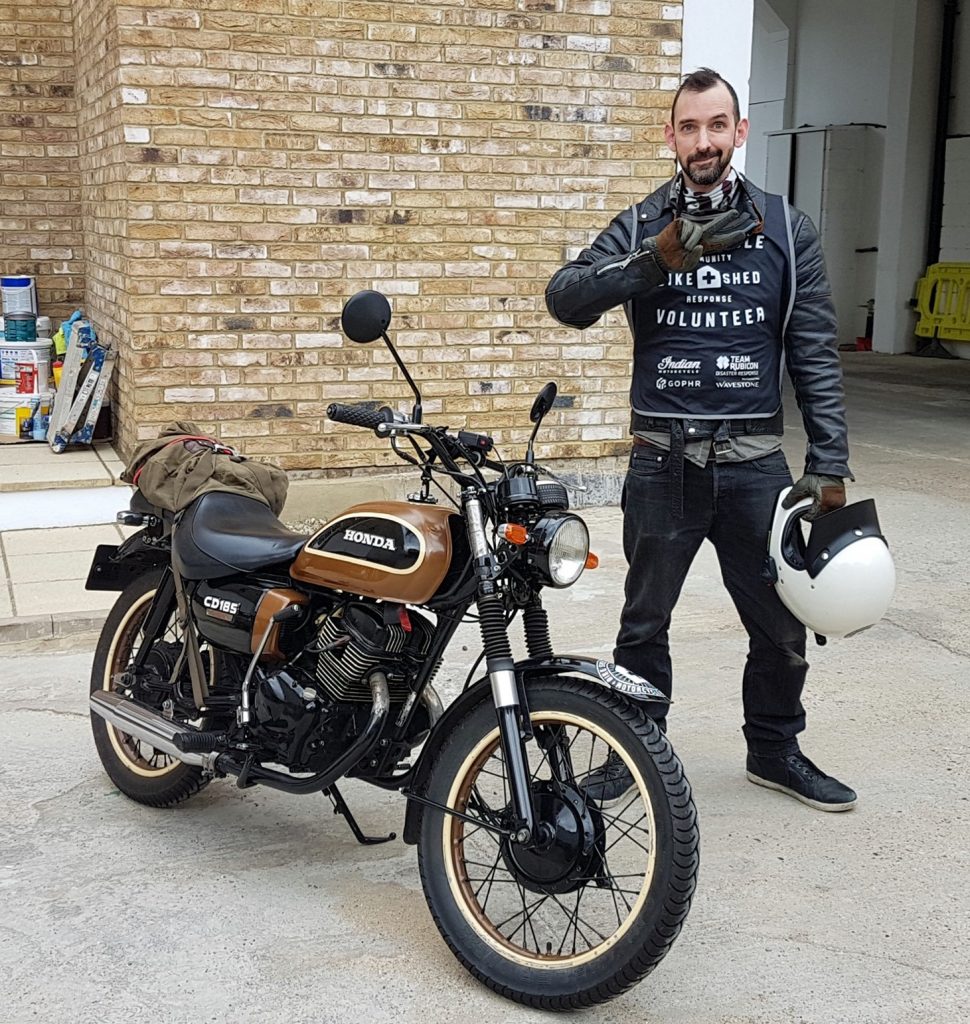 Karl Jenkins has used his 1978 Honda for BSCR runs in-between working full time as an audio-preservation engineer at London's British Library. Karl, 34, has been tweaking the little CD185T ever since he bought it in 2019, to make it into a reliable city commuter. Volunteering reflects his concerns about the Government's response to the pandemic, as well as his fears for older and less able people during lockdown, for whom charitable help proved essential.
"My first food run was to a lady who hadn't eaten in three days because she was afraid to leave the house," he recalls. "I've since met a lot of people who are really alone. When a crisis happens and we have neither properly funded provision for mental health nor Government contingency planning for those with no food, family or community support, we're giving up on a lot of people. It's kept me up at night."
Harsha Vardhan has found that helping others has boosted his own state of mind through the pandemic. A 1981 Moto Guzzi Monza named 'Elena', as well as a 1977 Honda CB400F, have been his classic steeds of choice. Hailing from Leyton, London, the 35-year-old interaction designer explains: "Motorcycles and working on them have always been a way for me to live in the moment, and helped me recover from depression and remain on the positive side of mental health. The isolation of lockdown was quite challenging – it felt like I wasn't in control and I could do nothing to help. BSCR has brought back a feeling of control and belonging.
"I love the sense of community, giving back and meeting new people. It's been so rewarding to help the wonderful NHS staff and care workers, at least a little, by doing something I love – motorcycling."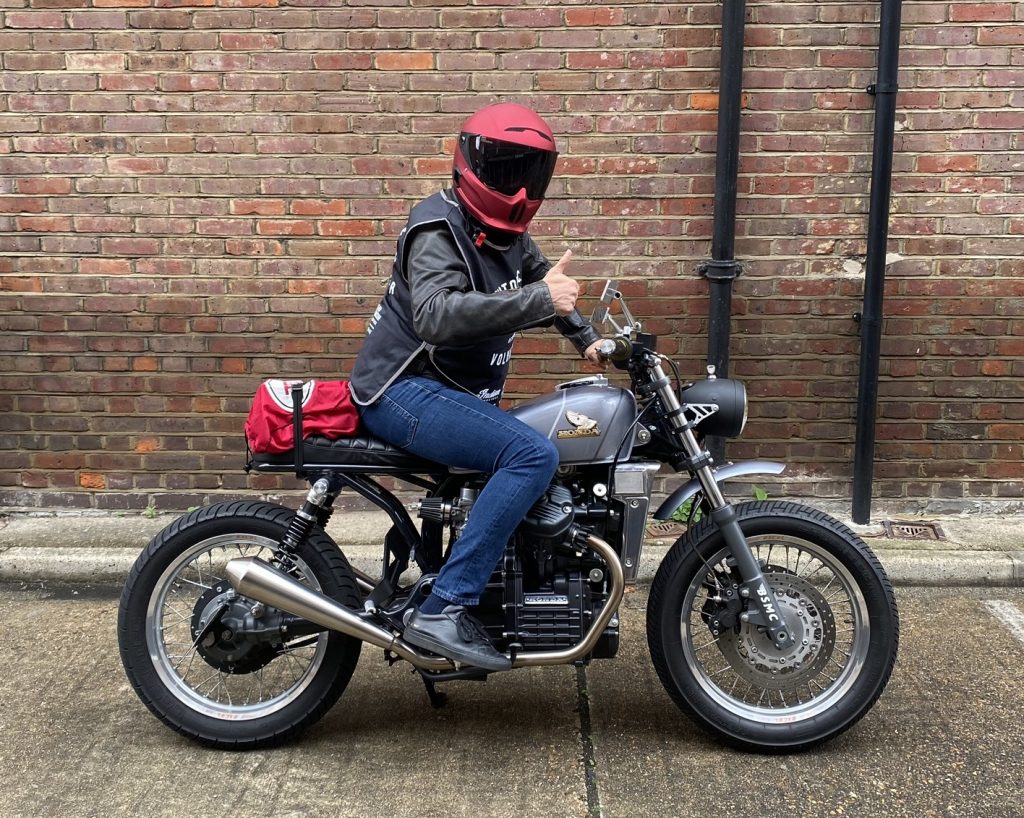 Retired Len Rinaldi, 53, has been carrying out BSCR work on his customised 1982 Honda CX500. "I've mostly been dropping off oximeters [blood oxygen-level monitors] to unwell people around the capital," he explains. "I live near that particular project's base at Hampstead's Royal Free Hospital, so I've been doing several jobs a week. It's extremely satisfying. Hats off to the BSCR team in putting this together from nothing. It's made a huge difference in the world."
The impressive carrying capacity of Simon Redfern's 1979 Moto Guzzi V1000G5 has proven invaluable when making regular meal deliveries to a north London school breakfast club, as well as for the Centrepoint homeless charity. The retired 62-year-old has owned the Italian classic since 1998; he bought it at 45,000 miles, and – 35 sets of tyres later – it's now covered 283,000 and is still unrestored and going strong: "Sure, it's a bit rusty and worn, but do I care?"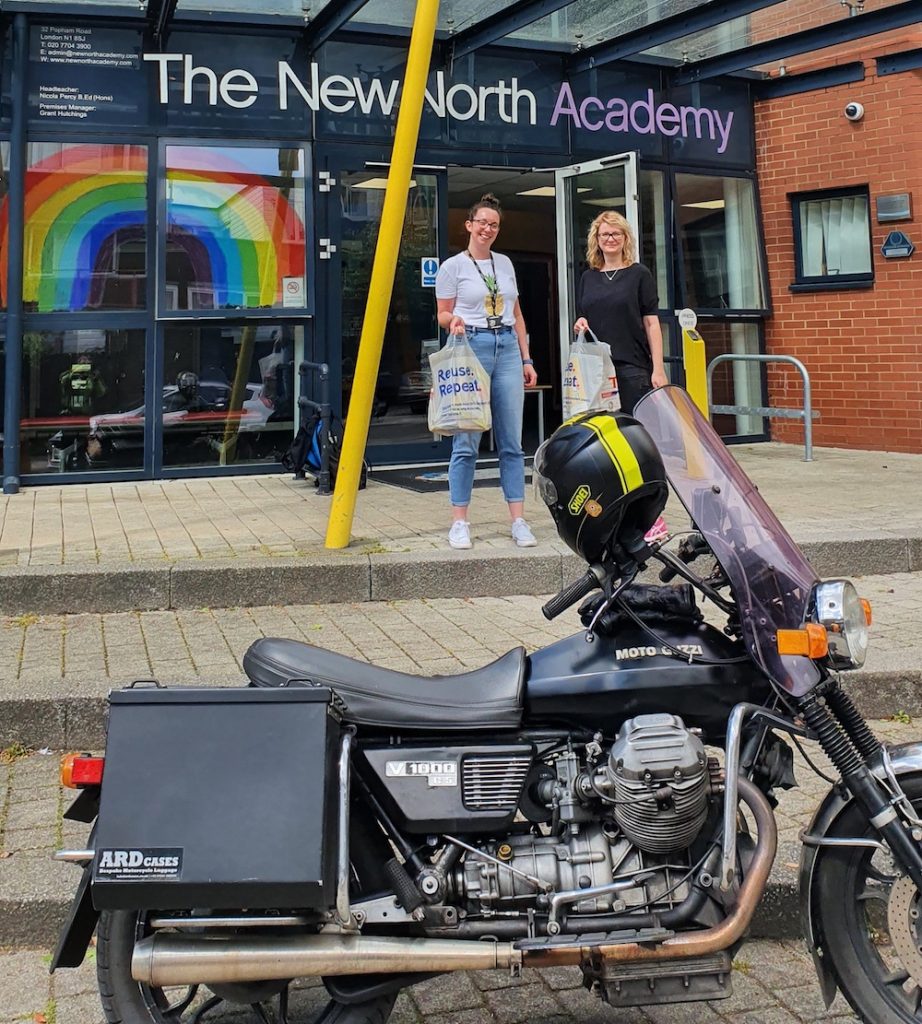 He continues: "Riding through the city has been great, especially in the early days when the population was at home. My first sight of the Thames on a still morning with no river traffic stays with me. As does the time someone asked whether I was allowed do deliveries on such an old bike. But I'm so glad to be of some help."
A 1968 BSA A65 has kept Derby man Tom Pithie busy on local BSCR jobs during the pandemic, while his modern-day Triumph Bonneville Scrambler has taken care of PPE runs further afield. 'Pixie', 32, laughs as he recalls the time the Beezer stalled at lights, and then fired a sparkplug at a pub opposite as he kicked it back to life. "That was a long, hot, three-mile push home," he says.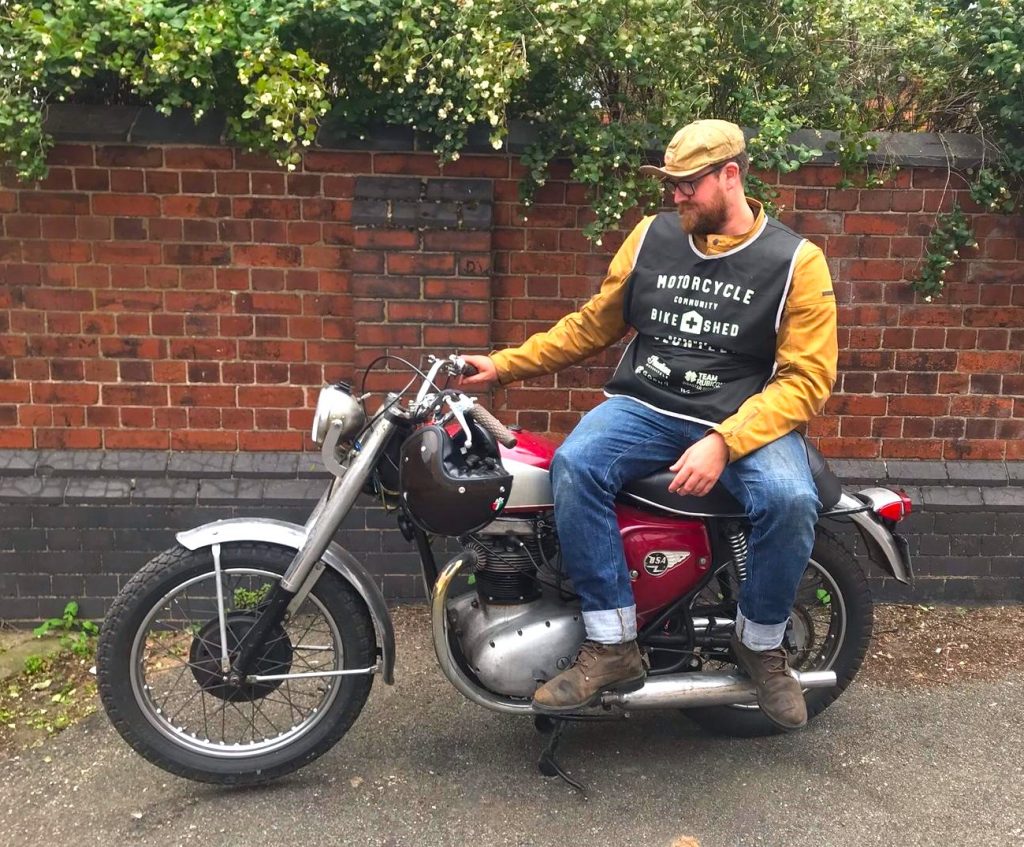 "Joining BSCR seemed the right thing to do. The amount of people who've come together to make PPE for frontline staff has been incredible. I've been happy to help in whatever small way I can."
Londoner Daniel Shell's 2008 Harley-Davidson Police Road King isn't strictly a classic, yet its all-American flamboyance and throbbing 1600cc V-twin have lifted the spirits of PPE recipients and lockdown-weary bystanders alike. As the 51-year-old sums up: "I see BSCR as a mutual partnership; a bunch of bikers who like giving something back and helping out wherever we can. I'm thoroughly enjoying being part of it."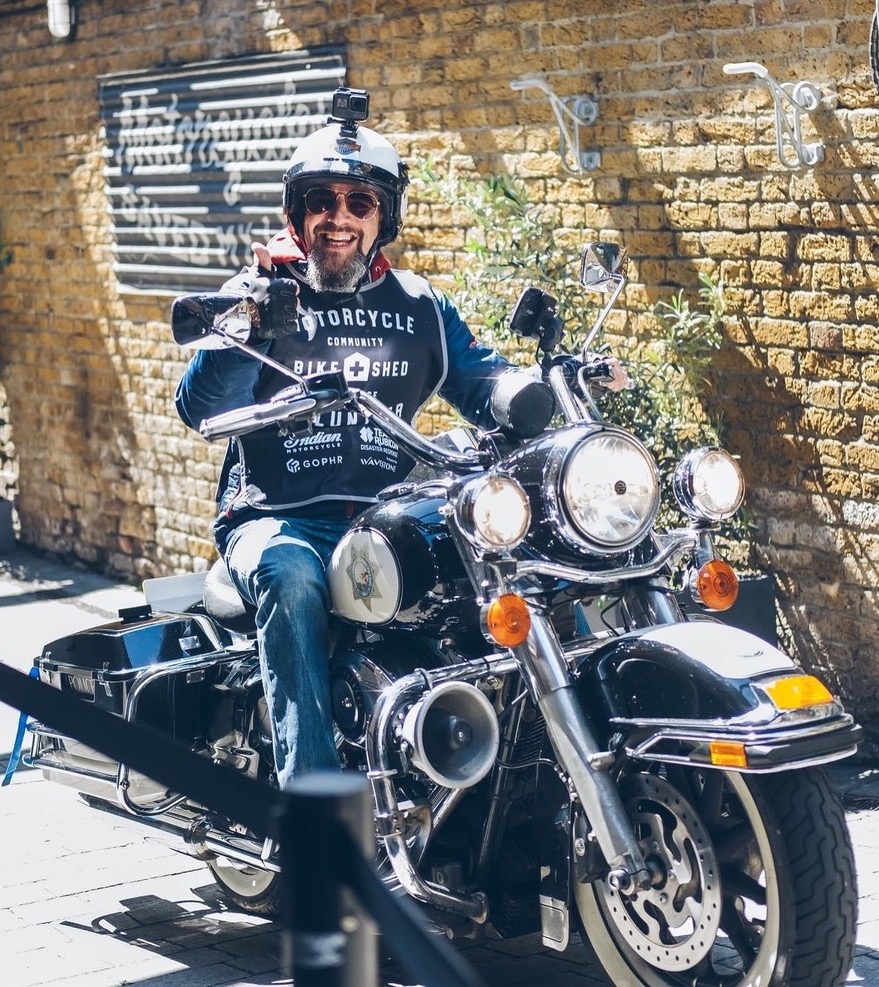 As I kick over my Triumph before heading off to collect another consignment of scrubs, I reflect on the fact that we're all relishing the opportunity to make a difference for just as long as we're needed. The fact we can do so while riding our cherished classics makes the whole experience even more satisfying. We can be heroes, for more than one day.

To find out more about the Bike Shed Community Response initiative or sign up for volunteering, click here.