In November 1970 Graham Hill drove the first Ford Escort RS1600 off the production line as Ford Motor Company officially opened the doors to its 'Advanced Vehicle Operations' factory in Aveley, Essex. The purpose of Advanced Vehicle Operations, or AVO as it is normally referred to, was to provide a dedicated facility for the production of Ford's high performance road production cars, which at the time were mostly centred around the Escort. Mainstream production at Ford's Halewood plant was struggling to integrate the additional work required to create either Escort Twin Cams or RS1600s, and with Ford becoming increasingly focused on motorsport and the sales that success in this could generate, it had taken the decision to open a dedicated facility for the production of these cars.
In the early days, AVO manufactured Ford Escort RS1600s and Mexicos, the latter having been introduced following Ford's successful 1970 World Cup London to Mexico rally victory. AVO was also responsible for finishing Escort 1300Es, although this model never went on the actual AVO production line, and a few years later the Escort RS2000.
How much is your car to insure? Find out in four easy steps.
Get a quote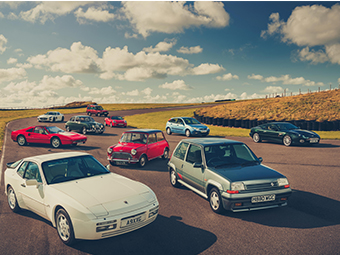 AVO ran for four years before the economics of running such an operation (which weren't helped by the energy crisis) finally became too much, and in early 1975 the carousel that the cars were built on was switched off and AVO became a part of history.
The cars that AVO built were hugely popular, and were the vehicle of choice for both the rally crowd and 'boy-racers' of the day. The demographic of the ownership meant that a lot of cars moved quickly through the normal vehicle lifecycle, and by the early 1980s a good quantity of them had been scrapped, as it was not economically viable to repair or keep them roadworthy. The tatty examples that had survived were worth little due to the level of work that would be required to keep them on the road. Recognising the importance of the cars, a small group of enthusiasts got together in 1980 and formed the Ford AVO Owners Club, with the aim of promoting interest in the classic Ford AVO cars and also to try and preserve as many as possible.
The club grew quickly, and soon had the backing of both Stuart Turner (who managed the AVO factory and was head of Ford Motorsport) and Roger Clark, Britain's star rally driver who had great success racing Escorts during the 1970s. A spares operation was set up, and the club was able to purchase a lot of parts from various Ford dealerships as they ran down their stocks of spares for the Mk1 Escort, a move that was to prove invaluable in keeping cars on the road. The club set up its own magazine, and ran numerous events for members which included auto-tests at the old AVO factory, which was still owned by Ford at the time.
By the end of the 1990s an AVO car could still be purchased reasonably cheaply. However, the tide was beginning to turn as nostalgia started to bite. People who had previously owned one of the cars wanted to relive their youth, and the demand for original Ford AVO cars started to increase. This was the point at which the law of supply and demand kicked in, and with the number of original cars having dwindled significantly over the years, the prices started to increase. And has it increased! In 2015, the classic Ford insurance value of a 'good' original Mexico is now over £20,000. A similar condition RS2000 is £30,000, and Twin Cam and RS1600s are now north of £60,000. The key word here though is 'original'. Essentially AVO took a standard body shell and converted it in to the finished product. Visually then it doesn't take much to make a standard Escort 1100L look, to the uninitiated, like any model from the AVO range, and over the years quite a few AVO cars have been re-born under dubious circumstances, especially as prices have increased.
The AVO Owners Club has been collecting details of AVO cars for 35 years now, and has thousands of entries in its registers. In addition to this, each model has a dedicated registrar who is able to offer advice and help to members who are considering purchasing a car, or who already have one. The club has been able to offer advice to numerous members who are looking to purchase a genuine AVO car, which has proved to be an invaluable aid in helping them to avoid making an expensive mistake. A valuation service is also provided by the registrars, which helps many members with their insurance requirements. Members also receive a quarterly magazine entitled Havoc, which is full of articles to help readers maintain their cars. Contributors have included ex-AVO factory employees, as well as Stuart Turner who still maintains close links with the club. The club still also runs its own spares operation, and is able to offer its members a good range of parts for their cars at very competitive rates. Each June the club holds its annual national day at Hatton World in Warwickshire, which is an opportunity to see some of the best AVO cars in the country, as well as stock up on parts from the numerous specialist traders who attend. In addition to this the club holds three regional days during the year, and also attends numerous other shows including the NEC, where it has been privileged to have a stand for many years. The club also has a popular internet forum, which contains a large volume of information and is a great place for members to chat and find solutions to any problems they may have with their AVO cars. The club also has a busy Facebook page, which has proved very popular with those making the first step in purchasing an AVO car, or for those who just want to reminisce about 'the good old days'.
Membership costs £30 per year (with an initial £5 joining fee), and discounts are available for longer term membership. Details on how to join are available at www.avoclub.com.
Hagerty provide a wide range of classic Ford insurance, and cover many AVO cars. If you would like a quote, call us and we'll be very happy to help.