They say where there's muck there's brass. Judging by a breathtaking collection of Porsches that is going under the hammer, as part of the Leonard Collection, it would appear to be true. The 38-car collection is reported to have been started by one member of a family that has carved itself a competitive edge in the commercial vehicle and plant hire sector.
The Leonard collection numbers 38 listings, all offered without reserve, and most of the cars would be at home in any world-class Porsche collection. Ending this Sunday, there are examples of just about every top-end Porsche 911 ever created, plus a selection of Ferraris, spectacular supercars, a handful of motorcycles, and… well, a tank.
How much is your car to insure? Find out in four easy steps.
Get a quote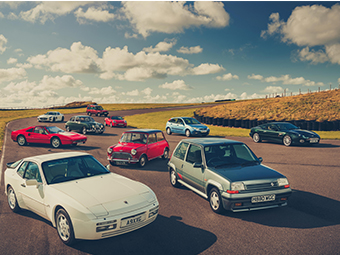 As is often the case with collections like this many of the cars are either pristine originals or fully restored, and several are on vanishingly small miles. The idea of covering just 102 miles in a 1991 964 RS, 421 miles in a 2016 911 R or 713 miles in a 2012 GT3 RS 4.0 will cause foot-stomping among some enthusiasts, but that's said to be at least part of the reason for selling them – the current custodian would prefer to see other enthusiasts take on the cars and enjoy them as they see fit.
Highlights? Plenty, as you can imagine. The aforementioned 911 R and RS 4.0 are perhaps the definitive modern Porsche sports cars, but if you happen to think their engines reside in the wrong place, or you'd prefer another four cylinders, then a Carerra GT in bright Fayence Yellow is also being offered, with a price tag already heading towards £750k with six days still to run.

Several other yellow models stand out too, the collection comprising – in order of vintage – a 1992 964 Carrera RS in a paint-to-sample yellow, a 1994 964 Turbo 3.6 (believed to be one of only 1437 built), and a 1995 Carrera RS of the 993 generation, one of even fewer cars from a run of 1104.
A similarly-hued 2008 Ferrari F430 Scuderia is also offered, as is an example of its track-focused predecessor the 360 Challenge Stradale, offered in red with the all-important centre stripe – a detail that cost £10,000 when new. Two other Ferraris form part of the collection, with 1995 and 1997 model year F512Ms, the earlier car being left-hand drive and the latter one of 41 right-hand drive cars.
It's difficult to know what to highlight next: perhaps a 2010 997 Sport Classic, a special model based on the contemporary Carrera S but with virtually every option box ticked and a ducktail spoiler and Fuchs wheels for good measure? They were expensive new – around £137,000, far more than a 911 Turbo – but with current bidding over £200,000, the gap over a regular 997 Carrera S has widened even further.
There are a handful of other 964 RSs in addition to the yellow car, plus 964 and 930 Turbos, yet another 997 RS 4.0, a 1988 Carrera 3.2 Club Sport, 996 and 991 GT3 RSs… oh, and a 1973 Carrera 2.7 RS, once owned by Jay Kay of Jamiroquai, restored between 2010 and 2012 and presented in a stunning Aubergine shade.
Of the non-Porsches, lots also include a 2017 Mercedes-AMG GT R and a 2005 Ford GT, a 1972 Corvette Stingray, and for the BMW fans, a 1987 BMW M5, a 2000 BMW Z8 and a 2017 M3 Competition. That tank? An Alvis Sabre Light that first saw service in the mid-90s, while the motorcycles are both Hondas: a 1974 CB750 and a 1985 NS400R.
In all it's something of a dream collection and several of its stars are likely to become the centrepiece in several other collections. And any mysterious benefactors reading can send that Challenge Stradale to the usual address…
Also read
RUF CTR Yellowbird | Modified with Matt Farah
Ferrari 812 special edition revs to 9500rpm, belts out 819bhp
Hammer Time! UK car auction preview May 2021