It is heartening to watch Britain's enthusiast car auction scene crank back to life and start to fire on all cylinders. And May 2021 is set to be another busy month, with Anglia Car Auctions holding a classic car auction over this first weekend of the month, Silverstone Auctions putting on a sale on 22 May, and both H&H Auctioneers and Bonhams conducting two sales in May. The vehicles up for grabs range from rough projects that you'll either need to roll up your sleeves to tackle – and set aside a commensurate budget – to precious concours cars that are ready to roll to the show of your choice. Here are 10 home-grown British classics, including two from the royal family, that caught our eye.
1961 AC Ace 2.6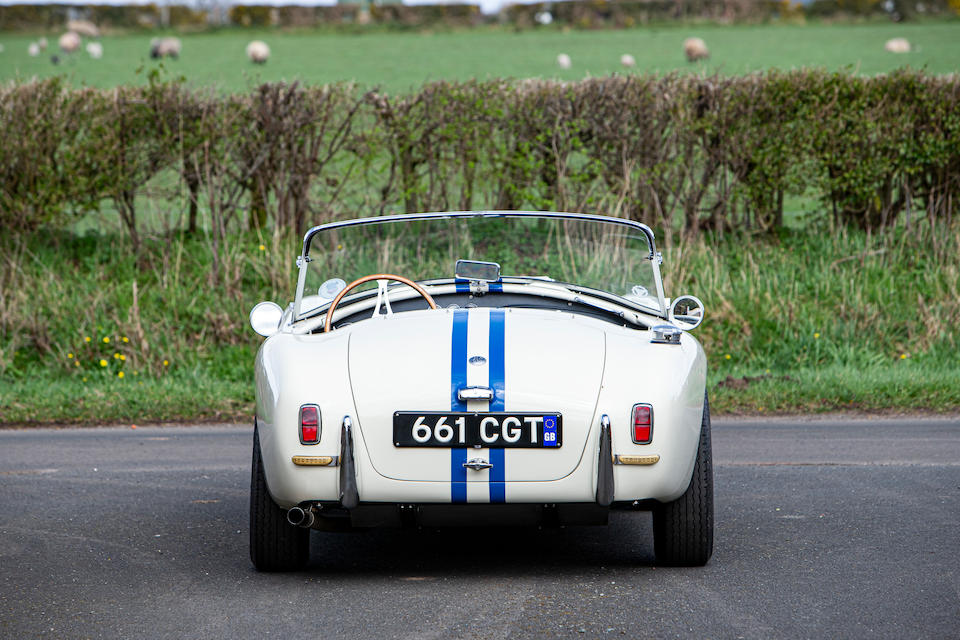 Estimate: £240,000 – £280,000
Info: Bonhams Bond Street
How much is your car to insure? Find out in four easy steps.
Get a quote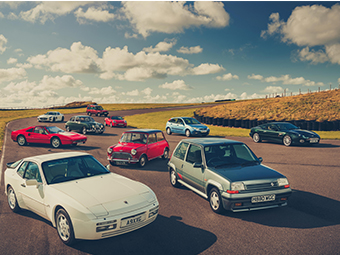 Most car enthusiasts know the basic history of the AC/Shelby Cobra. With supplies of the AC Ace's straight-six Bristol engine dwindling, Carroll Shelby swooped in with small-block Ford V-8 power. But there was a brief period when AC used a different Ford engine in the Ace: the 2.6-litre six from the Zephyr. The first Aces with the Zephyr engine were conversions done by Ruddspeed, but the factory soon caught on. Offered in several states of tune up to 170 bhp in the street cars or more in race-prepped engines, the Zephyr six was cheap and only slightly heavier than the Bristol but made significantly more power. Car and Driver said it "snarls with fierce relish." The Zephyr engine was also shorter than the Bristol unit, so AC restyled the Ace's nose with a shape more familiar to Shelby fans.
Just 36 2.6-litre Aces were built before the Cobra showed the way of the future. This one was the sixth car built. After selling new to a French businessman who bought it for his son's 18th birthday, it was in the UK by 1969 and sold to its present owner for £700 in 1971. It was off the road for 25 years, but then restored from 1994, a process that took until 2006, and fitted with Ruddspeed alloy cylinder head, forged pistons, Carillo rods, a hotter cam, and more. Modern upgrades include electronic ignition, LED bulbs, and amber indicators. The Hagerty Price Guide values a condition #2 AC Ace Ruddspeed at an average of £292,000.
1971 Ginetta G15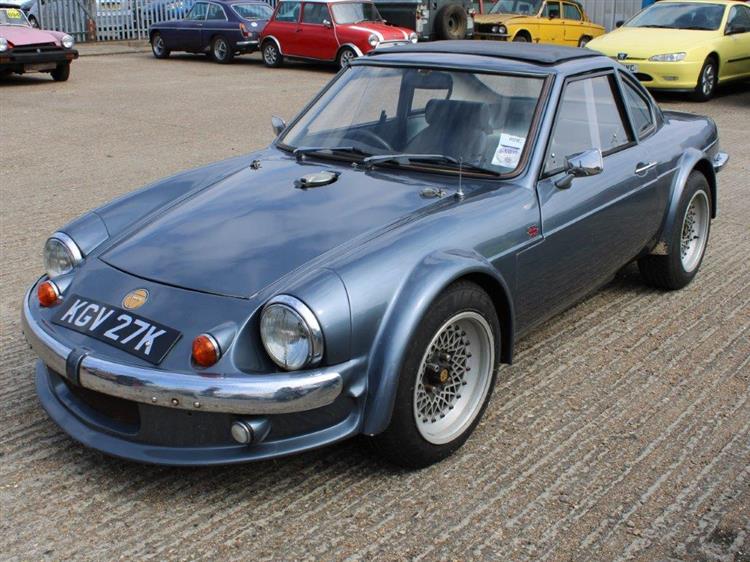 Estimate: £6,000 – £8,000
Info: Anglia Car Auctions
Back in 1969, Motorsport magazine declared that "without doubt, the Ginetta grips better than a Formula Vee racing car," and that the average Ginetta buyer "will certainly be a Lotus 7 sort of person." Sold in either kit or assembled form, the G15 was Ginetta's first road car to sell in significant numbers, and it combined a tubular steel chassis, fibreglass body, and drivetrain from the Hillman Imp. It weighs only about 550kg and stands less than four feet tall, so no wonder it drives like a race car.
This one, powered by a 930cc version of the Imp engine in place of its original 998cc lump, has been sitting for a few years so doesn't currently run. After some sorting and once it's fired up, though, it's hard to think of more fun for the money. Talking of which, the Hagerty Price Guide places the values of a #3 condition G15 at around £7900.
1974 MGB V8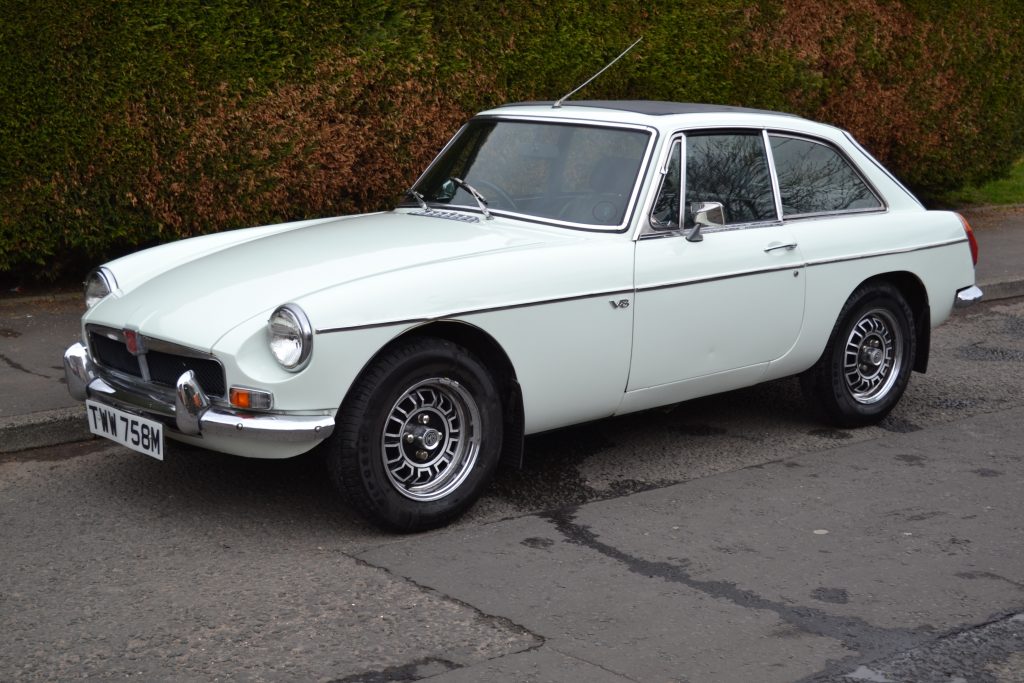 Estimate: £15,000 – £17,000
Info: H&H A|B|C Live Online Auction
The MGB had a crazy-long production run from 1962-80, with over half a million Bs built. From 1973-76, though, MG built a total of 2591 B GTs with the famous 3.5-litre aluminium V8. While in a relatively low state of tune and putting down 137bhp, that was still a bug jump from the 95bhp four-cylinder. The compact V8 also weighs less than the iron four-cylinder to boot. A period ad reads "If you've just bought a Reliant Scimitar GTE, a Datsun 240Z or an Alfa Romeo 2000 GTV, this will ruin your day."
Because the Rover V8 gives the MGB such a huge bump in power, because it fits so easily under the bonnet, and because it's a relatively abundant and affordable engine, Rover-swapped MGBs are quite popular. This, though, is one of the rare factory cars, and it looks to be in good, ready-to-rumble, order. And judging by the Hagerty Price Guide entry for the V8, the price is in the right region. But if you'd rather an MGB with a little less power, find out all you need to know in our buying guide to the range.
1984 TVR 350i
Estimate: £4800 – £5300
Info: Anglia Car Auctions
If an MGB strikes you as being a predictably conventional way to get your Rover V8 fix, consider the TVR 350i. Built on TVR's door wedge-shaped Tasmin platform with a more powerful Rover unit in place of the old Ford Cologne V6, the 350i "doesn't just sound like a dragster: it takes off like one", according to Motor magazine. Its price of £14,800 put it somewhere between a Morgan Plus 8 and a Lotus Esprit at the time, but only a little over 1000 were sold. This 19,500-mile car had been in dry storage since 2005, but was recently recommissioned and fitted with new hood and carpets, then driven to the auction – doubtless turning a few heads as its went.
1958 Austin A40 Farina Rally Car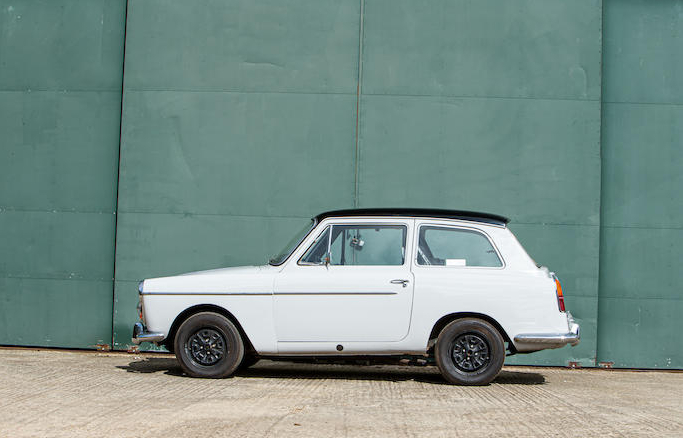 Estimate: £40,000 – £50,000
Info: Bonhams MPH May Auction
The Austin A40 may have been a humble economy car (the "40" in A40 stands for its horsepower output), but it does have performance credentials and this very car is a perfect example. At the 1959 Monte Carlo Rally, Pat Moss (sister of Stirling Moss) and co-driver Ann Wisdom finished 10th overall and second in class, and they won the ladies' prize. They came back to Monte Carlo the next year in another A40 and finished 17th overall and fourth in class, claiming the ladies' prize yet again. From those performances the pair were offered an Austin-Healey 3000, with which they won the Liège-Rome-Liège Rally overall.
Nicknamed "Zoe" thanks to its registration "XOE 778," Moss's A40 Farina was restored and profiled by Practical Classics magazine in the early 1980s, competed in historic rallies in the early 1990s, and was made ready for road use in 2016.
1967 Aston Martin DB6 Volante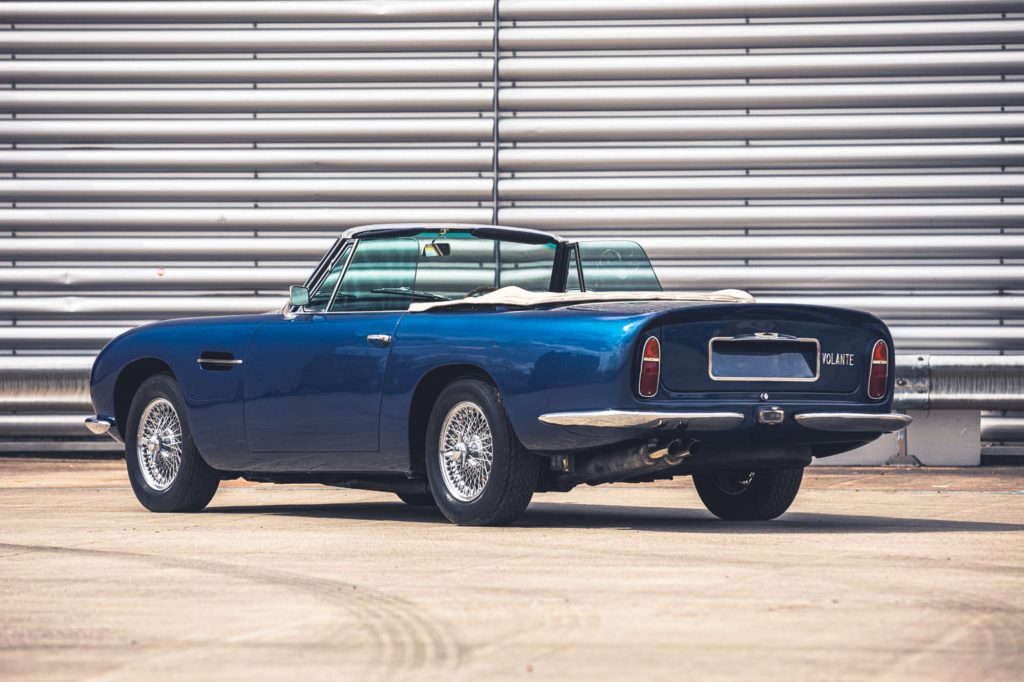 Estimate: £340,000 – £390,000
Info: Silverstone May Sale
Aston Martin only built 140 DB6 Volantes, and this right-hand drive Volante was ordered new in Sierra Blue with the Borg-Warner automatic gearbox and limited-slip differential. After spending some time in France and Switzerland, it has since had its engine upgraded to Vantage specification with triple Weber carburettors and had its auto' changed for a 5-speed manual. It now comes out of long-term storage in a private collection so will need some sorting before hitting the road again. Its estimate is some way behind Hagerty Price Guide values for unchanged examples of the DB6 Volante, a sign presumably that at this end of the market originality is highly prized.
1956 Bentley S1 by Hooper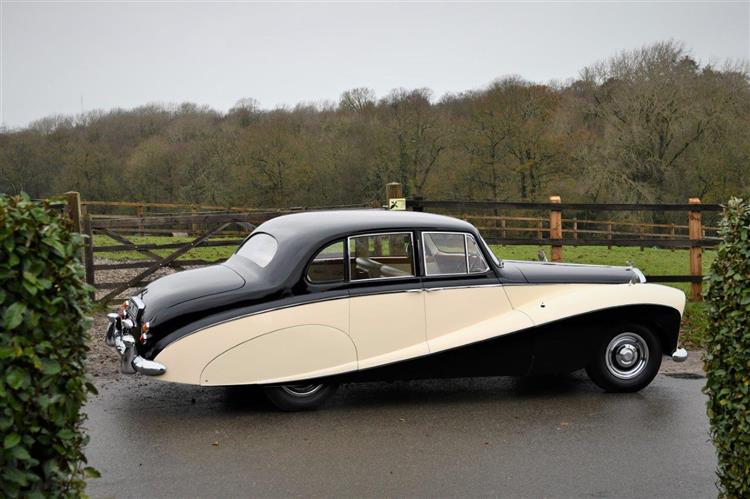 Estimate: £28,000 – £34,000
Info: Anglia Car Auctions
Westminster-based coachbuilder Hooper never built the most elegant bodywork. But the Daimlers, Bentleys, and Rolls-Royces clothed in Hooper coachwork over the years have a distinctively swoopy shape to them that always catches the eye. This Bentley S1, bodied by Hooper in its "Empress" style, is represented with three owners from new and a full history file. It was bid to £25,500 on Car & Classic's auction platform earlier this year.
1980 Rolls-Royce Silver Wraith II
Estimate: £45,000 – £55,000
Info: H&H Imperial War Museum
More exclusive and with a four-inch longer wheelbase than its Silver Shadow II stablemate, the Silver Wraith II is also rarer with just 2135 made. And possibly the most famous Silver Wraith owner was Princess Margaret, who ordered this car new. Reportedly her final Rolls-Royce, it includes features like a false floor in the rear, larger vanity mirrors on the C-pillars, small spotlights added to each rear cantrail, green cloth upholstery, and a roof-mounted police escort light turned on via a switch in the glovebox. Being a princess's Rolls-Royce, the car surely ferried some important people in its day. According to H&H it is "understood to have hosted" Queen Elizabeth, the Queen Mother, Princess Diana, and Ronald and Nancy Reagan. Princess Margaret kept the Wraith all the way up until her passing in 2002, and then passed it to her son David Linley, Earl of Snowdon. It has since passed into a private collection but is largely original other than regular servicing and a newer Everflex roof.
2013 Land Rover Range Rover Vogue SE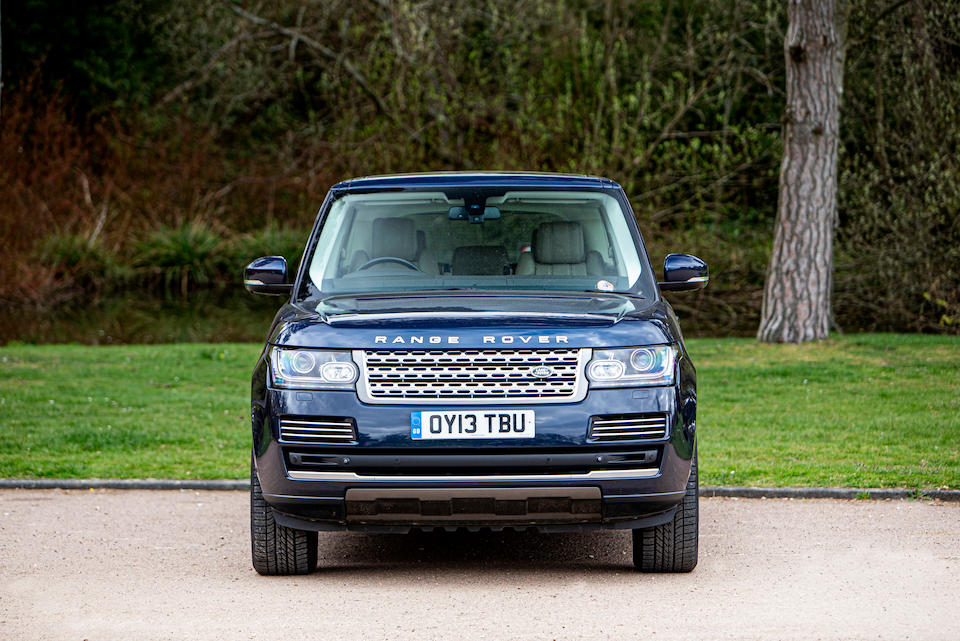 Estimate: £30,000 – £40,000
Info: Bonhams MPH May
There's nothing that remarkable about a diesel 2013 Range Rover, even a Vogue SE, but this one was supplied new to the Duke and Duchess of Cambridge – Wills and Kate to you and me – via Land Rover's VIP Department. Finished in Baltic Blue over Almond and Espresso leather, it was a personal use vehicle for the royal couple and has racked up 38,420 miles. It also comes with the same registration number used under its stint with the royals.
1962 Lagonda Rapide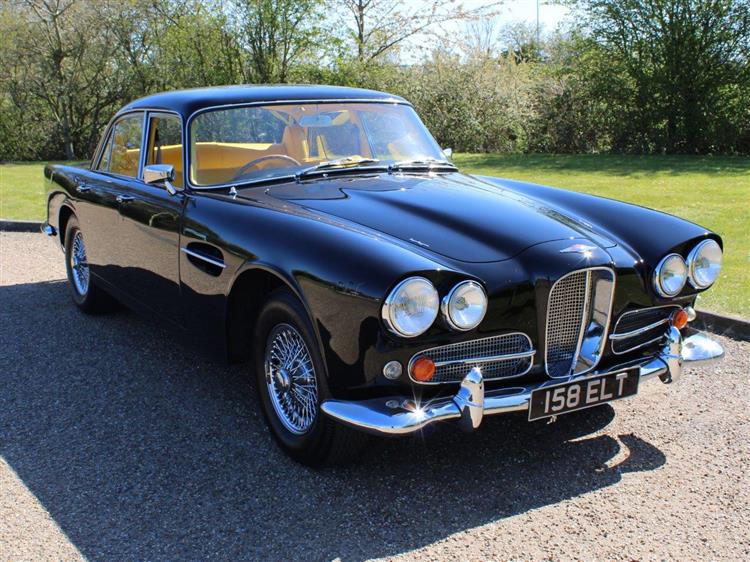 Estimate: £120,000 – £160,000
Info: Anglia Car Auctions
When David Brown bought Aston Martin in 1947, he also bought Lagonda in order to snag its W.O. Bentley-designed straight-six engine. Lagonda automobile production continued throughout the 1950s but halted after 1958. Then, in an attempt to revive the Lagonda brand David Brown launched the Rapide, a four-door saloon based on the Aston Martin DB4. Like other Astons of the day, the Lagonda Rapide wore a Touring-designed body, made of aluminium stretched over a Superleggera frame.
Even though it was offered from 1961-64, the Rapide was built by hand and just 55 were completed, mostly with a Borg-Warner automatic gearbox. This one, however, has a manual with overdrive. A home market car, it underwent restoration in the 1990s and more recent mechanical attention last year. The Hagerty Price Guide places a condition #3 example of the Lagonda at £144,000, and 'excellent' #2 cars at £185,000.
Read more
11 cars that dared to look different
Vintage milk floats have gotta lotta bottle
Auction results: Bonhams' The Monaco Sale 'Les Grandes Marques à Monaco', April 2021