Ferrari appears to be teasing petrolheads by revealing a new, special edition of the V12-powered 812 Superfast but – assuming it hasn't forgotten to christen it – withholding the name.
With the first fully-electric Ferrari arrives in 2025, the new super-GT represents the end of an era. It follows the example of the much-loved F12tdf as a track-oriented exercise in naturally aspirated, petrol-huffing V12 performance. We do know that this wild 812 will use the Superfast's 65-degree V12, a descendent of the F140 powerplant that first debuted with the Enzo in 2002.
How much is your car to insure? Find out in four easy steps.
Get a quote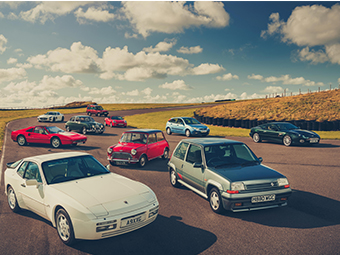 Thanks in part to new engine and exhaust components, including a "new valve timing mechanism," this V12 will likely be tuned to its highest-ever output: 819 horsepower; in the "regular" 812 Superfast, it's good for 789. In the best Ferrari tradition, the red line is stratospheric: 9500rpm, the highest of any internal-combustion vehicle from Maranello, and 500rpm north of the Superfast's 9000rpm limit. All these superlatives suggest that this "special version" (Versione Speciale) of the 812 Superfast will be a potent machine, indeed.
The aero package is the most obvious departure from the 812 Superfast. Putting the two side-by-side, the quest for additional downforce is clear. Crazy-looking louvres are scalloped into an aluminium replacement for the standard glass rear window. Vents atop the rear wings are gone, the rear spoiler appears wider and taller, and additional brake ducts score the rear panel, which also hides vortex generators and dual rather than quad exhaust tips. (Not as awesome as the fan in Gordon Murray's solution for the T.50, but we'll take it.) The front air intakes and bonnet have also been reorganised.
It's also lighter than the 812 Superfast; carbonfibre construction was the key to slashing weight, particularly on the body and in the cabin. Next, hidden within the depths of the car's brain sits the latest (7.0) version of Ferrari's Side Slip Control traction system. The 812 Superfast, for those keeping track, arrived with iteration 5.0 at its 2017 debut, so Ferrari's electronics engineers have been hard at work.
This "special version" of the 812 Superfast will officially break cover on Wednesday, May 5, so check back here for all the juicy technical details.
Via Hagerty US
Also read
F1 champ Sebastian Vettel is selling his stable of prancing horses
French bread is to become a "cultural treasure" and so should these 10 breadvans
Can Ferrari's hypercar win at Le Mans in 2023?