"Blagging test drives is something I used to do long before I was a motoring journalist. I would put on a shirt so I'd look vaguely smart, as though I might be able to afford something even though I really couldn't, and see what I could get behind the wheel of. Driving a Lotus Elise was the biggest coup, but when the new Mini Cooper came out [in 2001] I thought it was absolutely fantastic so my friend Bruce and I went along to a BMW dealership called Vines in Guildford to try our luck. We both managed to have a go in one and it was just fabulous.
In 2002, when I was 20, I was studying at the University of St Andrews up in Scotland and had been left some money by my grandparents; the sensible thing to do would have been to buy an economical diesel MK4 Golf but I cleaned myself out of funds buying a nearly new Mini Cooper. I love cars so spending literally all my money felt justifiable. I paid £11,000, filled her up with all my goods and chattels – including golf clubs and a massive great rucksack – and drove up to St Andrews. It was far more enjoyable than getting the train from King's Cross and a real step up from driving my mother's dark blue 1.4 CL Mk3 Golf.
How much is your car to insure? Find out in four easy steps.
Get a quote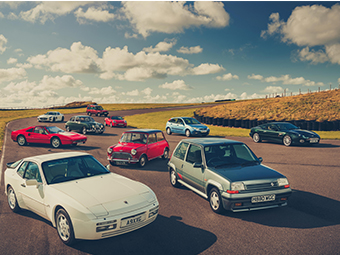 The Mini – red with a white roof, the 'Pepper pack' and the little telephone dial wheels – was the coolest thing I'd ever owned by a long margin. There was a lot of excitement about the Mini when they were brand new so it was like driving around in a supercar because everybody would look; attention wasn't something I particularly craved but I felt very proud to have something that was so desirable as my first proper car.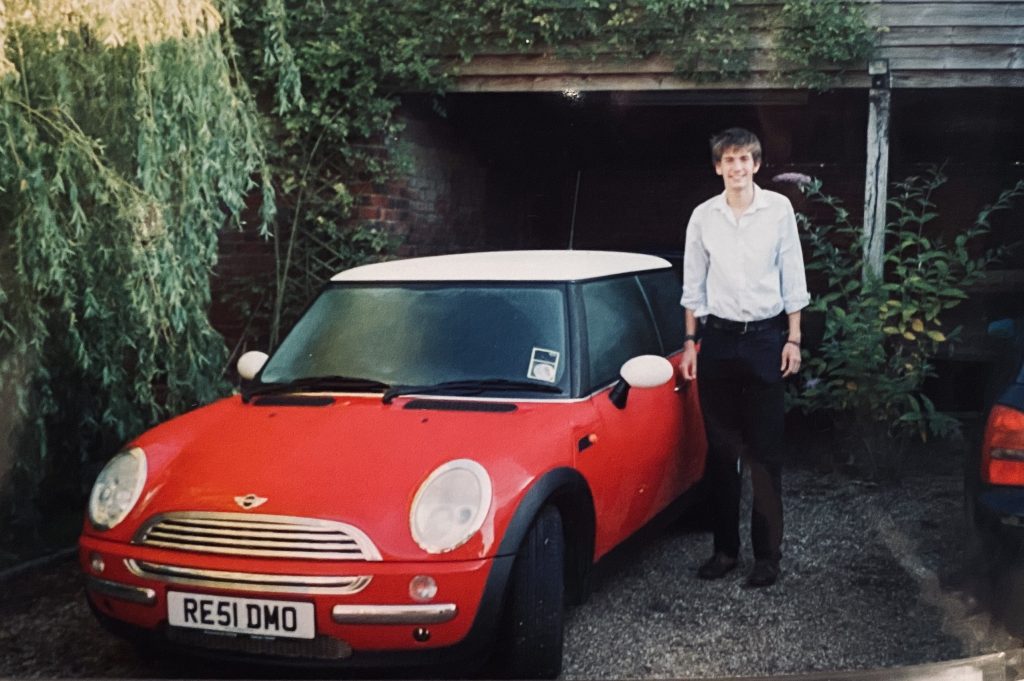 The Mini's marketing strapline was 'It's a Mini adventure,' and yeah, I had loads in mine. If I had any spare money I'd fill it up with Optimax at the Shell garage and take it for a drive; I even took some of my tutors out and scared them half to death. It certainly felt quick to me at the time, particularly in the corners; it had the little wheels, which is what you want dynamically with those cars, and it just cornered so flat.
One of the drives I used to do was out to a place called Kilmany. It's not too far away from St Andrews, and it's where Jim Clark was born. He was someone I admired enormously and my mother in particular was a huge fan of his in the '60s, so I used to drive out there occasionally and visit the the statue of him that's by the side of the road.
We had a weird term system at St Andrews and half way through January after our exams there was a bit of a lull in proceedings so some of us would disappear off to the west coast of Scotland. Finding these amazing roads like the A830 out to Mallaig made me appreciate the Mini even more. It was a genuine driver's car with a great gearshift, a decent, low driving position and fantastic handling. The electric steering did have a weird whine, though, that almost sounded like a supercharger that was permanently on!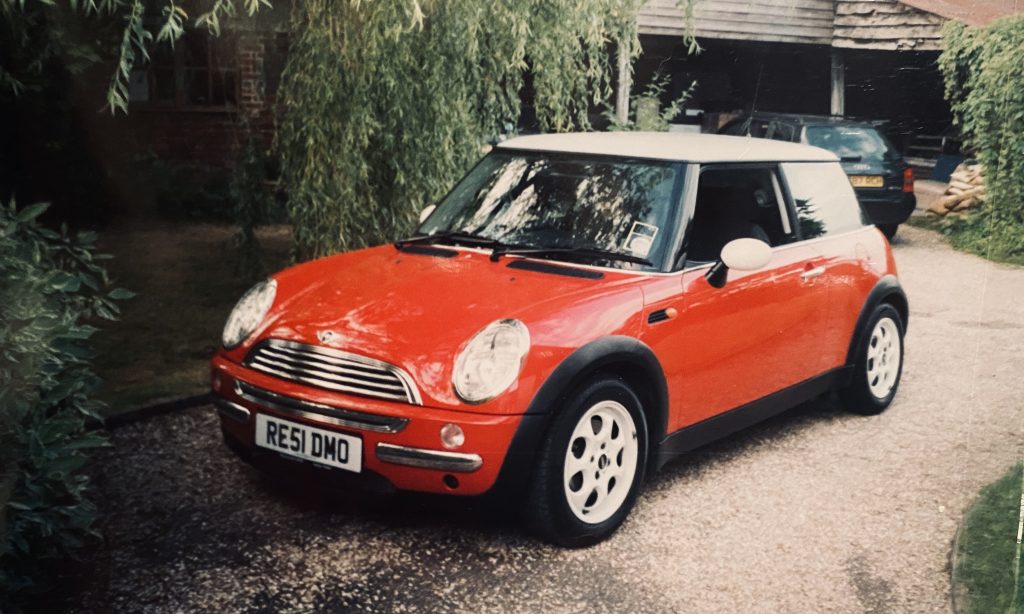 There's a standout memory from those trips and that's driving one particularly beautiful road on Skye. It's narrow, so it was perfect for the Mini, and it goes up and over the middle of the island. From the top I had this clear view of the twisting Tarmac stretching away across the moorland; I remember thinking this is what I've read about, it doesn't get any better than this. I also distinctly remember following the gritter off the island ridiculously early one morning – at that age you do crazy drives at stupid times to get to places. Actually, come to think of it, I still do.
I don't think they needed or wanted one, but I made myself the Motoring editor of the St Andrews student newspaper, The Saint, which meant I could ring up Knockhill circuit when they had a race meeting and ask for press accreditation. I'd bomb across there in the Mini, watch some motorsport, take some photos and write up the races. When I left uni, I kept the Mini and went to evo. I was getting paid very little, so sometimes if I knew I'd be getting up really early to be somewhere for a story the next day I'd save money on a B&B and instead put the back seats down and sleep in the car overnight; which was quite a feat at 6ft 5. I'd turn up at a petrol station or the services looking for breakfast the next morning an absolute wreck. On one occasion I went straight to a shoot in a studio with a Ferrari 250 LM, which was like going from the ridiculous to the sublime, or was it the sublime to the ridiculous?
As time went on, I was driving press cars more and the Mini less so I decided to sell it; there was too much money sitting there in a car that I didn't use. It took quite a while because it was the basic spec with no air-conditioning, but it had all sorts of things that made it feel like a much more special car than the price would suggest, like the toggle switches and the frameless windows reminiscent of an Impreza. I remember it had a Boost radio cassette player and I listened to the very first Radio 1 Chris Moyles show while driving down the A9. I think I eventually sold it for about £6000.
A friend of mine collects Minis of that era so keeps an eye out for number plates of interest and mine – RE51 DMO – gets flagged up because it was featured in evo as part of a buying guide. I've had a few opportunities to buy it back in the last few years and every time he says, maybe this time? I'm like, 'No, stop it!' I think it was up for about £1100 quid last time – ten per cent of its original worth. It was so tempting, but at the time I couldn't justify it. 
The reason I wanted the Mini in the first place was because it drove so well, the looks were an added bonus, and it still informs how attractive I find cars today. There are many different things a journalist can write about and I suppose what I've become known for is describing the feeling of being behind the wheel. I know a lot of the technical stuff but I'm not an engineer, I like the human experience of it all. Over time and with exposure to so much machinery, you narrow down exactly what you like in a car. You get really picky about what you would actually want to own. I can give a car five stars and know that objectively it drives incredibly well, but it might not be exactly what I love, it's a very personal thing. I think that probably comes across in my Hagerty series, The Driver's Seat, you can tell in the films when I just click with a car.
I've made peace with the fact I'm not going to buy the Mini back, I think. I had a brief go in another Cooper a couple of years ago for the 2022 Hagerty Bull Market List [see the video further up! – Ed] and although I loved it, I realised instantly how slow it felt compared to the Clio 182 I have now. Plus I haven't got anywhere to keep 'Red Mo' and I can't see myself using it that much. But that siren call of nostalgia is so strong. I'm a terrible hoarder; I've kept all the press packs I've been given over the years. But I fear it would be having it for the sake of having it and I'd rather it was out there being used and enjoyed than come back to me for purely sentimental reasons. It's probably one of those things that's best left as a lovely past chapter. I don't want to spoil the memory of all those brilliant drives. Perhaps it's best that the Mini is left to live its life without me. Perhaps."
Read more
Future classic: MINI Cooper (R50)
New Mini uncovered ahead of late 2023 reveal
Our classics: 2004 Mini Cooper S