Al Suttie is a freelance motoring journalist. He's been testing cars and perusing press packs for more than 25 years for title such as What Car?, The Daily Express, and the Telegraph. When it came to buying a classic, naturally he ignored all his own advice and bought one without seeing or driving it. Scroll down to follow his journey.
At the wheel: Al Suttie
Owned since: March 2019
Current condition: Original
Hands-on or hands-off? On, though very lightly
How much is your car to insure? Find out in four easy steps.
Get a quote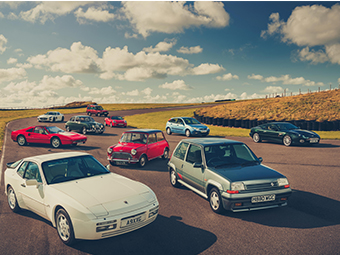 18 May, 2021: Welcome to my Mini Cooper S
Company cars are wonderful things, right up to the point where you suddenly don't have one and need a car pronto. That was the situation my wife, faced in early in 2019. The original ideal was to replace her company Volvo XC60 with something similar on a personal lease deal. Yet, the more we looked at costs versus mileage, which was much reduced with Mrs S's new job and the reason for the company wheels evaporating, the more it seemed we'd be paying a small fortune for the neighbours to look at a shiny new car parked on our driveway.
Ever the opportunist, I suggested something a little more fun that might gently accrue in value rather than chew through our money like a Labrador at the biscuit tin. For the price of a deposit on the lease of a mid-size SUV, we looked at what was available for around £3500. It had to have four seats, so we could carry the kids, look good and not take up too much space on our tightly packed driveway. This is when the first generation of BMW-built Mini Cooper S entered into the picture.
I've always been a fan ever since testing these cars when they were new and my wife has happy memories of her Mum's Cooper version – a model that has been highlighted by Hagerty as a Future Classic. The hunt was on and it quickly became apparent there were plenty to choose from, though many were high milers or had been subject to dubious modifications. Then, an advert popped up for a 58,000-mile, 2004 car in Electric Blue with a white roof and bonnet stripes. It had a half-leather interior, bulging history file, and was at the other end of the country.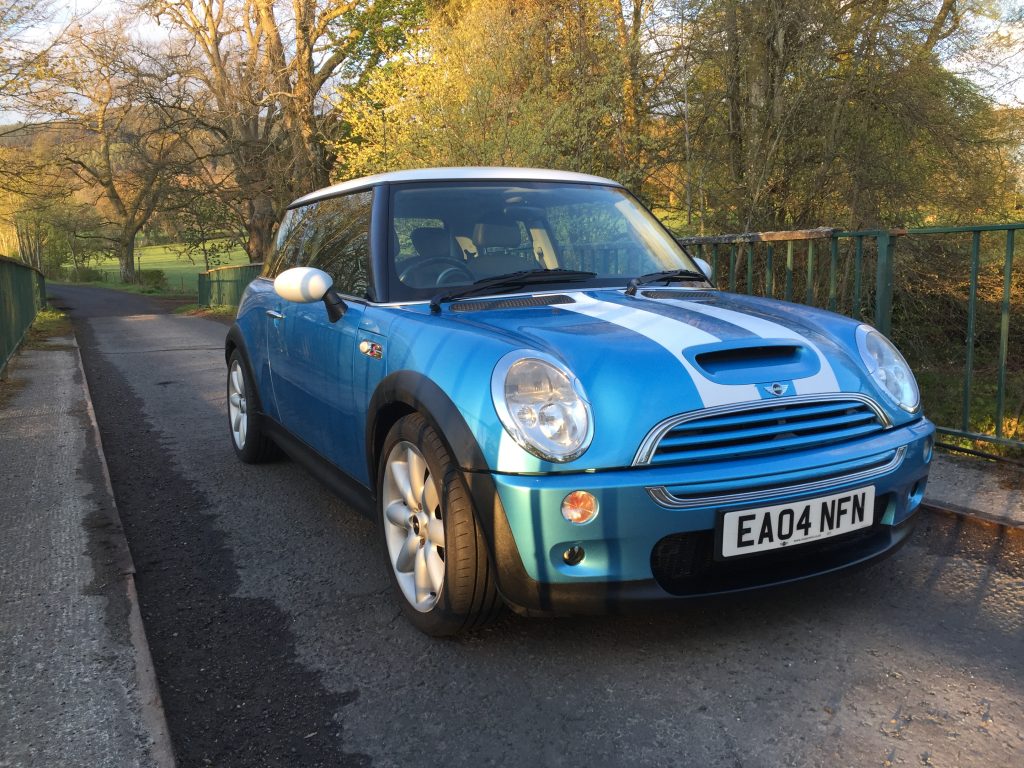 A long conversation with the owner proved he was as fastidious as me about maintenance and we settled on a provisional £3250 price after a friend in London had looked it over. One day later, the call came that all was tickety-boo and that, if I didn't buy the car, my friend would. Deal sealed.
Living in Scotland can add to the logistics of buying a car, but in this case my London-based brother was happy to scoot up in the car and dovetail it with a few days' holiday. When the car arrived, it was every bit as tidy as the photos suggested and drove exactly as I remembered from my days ragging – I mean reviewing – new cars.
With daily driving in mind, I treated the car to a full service within the first week of it arriving. This included all fluids and consumables, and my regular local mechanic declared it very sound. The only thing I added to the list of work was a new coolant expansion bottle, which any Mini owner can tell you is prone to cracks and leaks. This turned out to be a good move as it was just on the cusp of letting go.
Since the car arrived, it's been used as daily transport by my wife, spent lockdown in 2020 not going very far, and I use it at weekends to get my hot hatch fix. It's a hoot to drive and has only had routine servicing, though that has included a supercharger service, which we can talk over in a future running report.
The only upgrade has been to add a DAB adaptor so the kids can torture my ears with Capital and I can get my revenge with Radio 4 Extra. It's also useful for hands-free phone use, and it was simple to install and hide the receiver and wiring.
For the price of a lease car deposit, we now have a chirpy modern classic hot hatch. To my mind, that's a much better deal. Let me know if you've ever done something similar.
12 July, 2021: Prevention is better than cure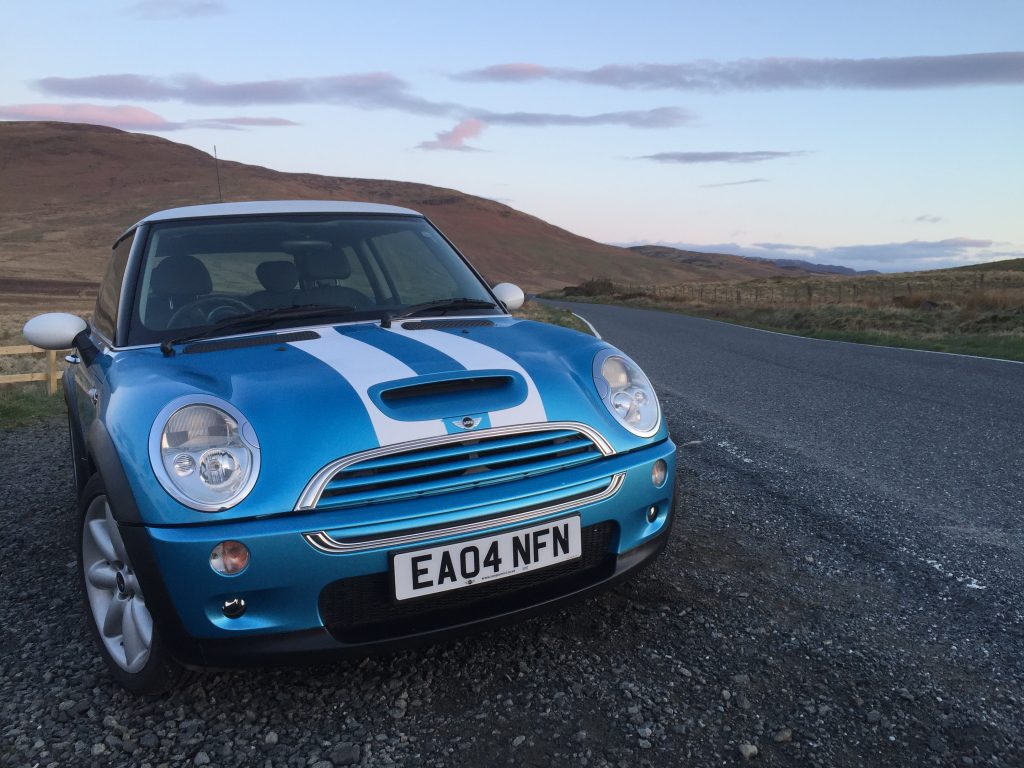 What's the best kind of maintenance? Preventative maintenance, that's what, although a car that never needed any would be friendlier to my wallet. With the Mini Cooper S due its MoT and annual service, it was time to tackle one of the jobs particular to this model: the supercharger service.
With only 65,000 miles on the clock from new, and a yearly mileage of around 5000, it could be argued the Cooper S would last out a long time before the supercharger needed any work. After all, the accepted wisdom is the compressor has a service at 100,000 miles. However, at 17-years old, I wanted it checked and sorted as a precaution to make sure the 1.6-litre, four-cylinder motor carries on delivering the smooth, punchy performance it does so well.
Servicing the supercharger is well within the scope of the home mechanic, but with no garage space and the MoT due during a very chilly March, I took the easy route. A check on the usual Mini forums promptly pointed me in the direction of Mini specialist B&M Centre in Glasgow, and it was booked in for an MoT, service and the supercharger work.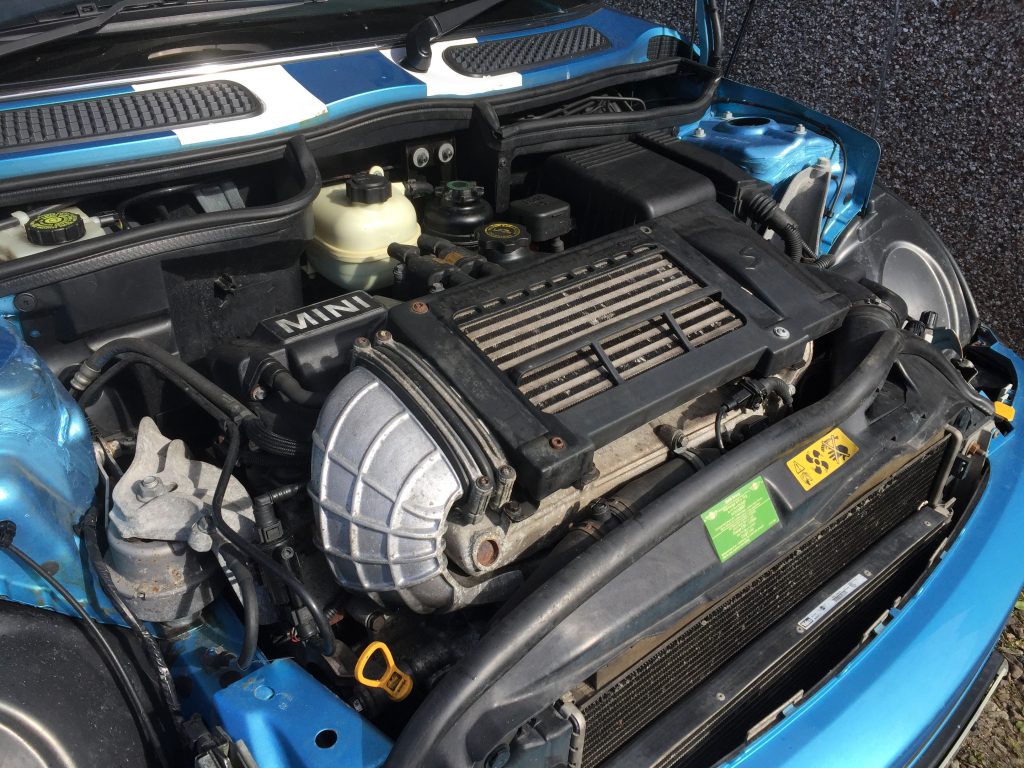 There's a fair bit of stripping to get at the supercharger, though the service itself if straightforward. The main thing is to replace the oil within the supercharger, and there are two reservoirs to drain and refill. Even though the amount of oil is very small, it's vital to the smooth running of the supercharger.
Fortunately, B&M reported no problems here, but one of the plastic coolant pipes cracked during reassembly, which took a couple of days to arrive as this was still during the lockdown period. However, still with my preventative mindset, better that a brittle pipe showed itself now than later while driving.
The rest of the car was pronounced fit and healthy, and it breezed through the MoT. All in, the bill came to just shy of £900, which is good value in my book for the amount of time a supercharger service requires and the other work done. The only other thing B&M sorted was a replacement key for the one of the originals that is falling apart. This is a pukka BMW-supplied key that is then coded to the car. All in, that was another £180.
A much cheaper bit of preventative work I tackled myself was the fuel cap sealing ring. It's another known weak point with Minis that can throw up engine fault codes as the seal breaks and allows air to leak into the fuel tank. An online order produced a swift replacement in the post from Mr O-ring. It took less than a minute to remove the old one and fit the new, which for £5.99 is not a lot to pay for long-term peace of mind.
Sadly, there's no prevention from other people's poor parking and carelessness, which has resulted in some scuffs and scratches on the Cooper S. There are small paint rashes on all four corners and one quite deep scratch where the bonnet meets the front A-panel. These will require a professional's touch, so I'm now looking into either a local bodyshop or mobile paint repairer. Given the Mini's metallic Electric Blue paint, I suspect getting a good match might be tricky, so any suggestions on this front would be very welcome.
The good thing is, the Mini feels fitter than ever after its recent work and continues to dish up loads of fun while not costing a fortune to run. If you're running one, or have any questions, drop me a note, in the comments below.
Tweet to @alsuttie
Follow @alsuttie
Mini fan? Bookmark this page as Al will regularly report on his Mini Cooper S.
Read more
Our classics: 1996 Subaru Impreza Turbo
Our Classics: 1994 Mazda RX-7
Buying Guide: Mini Cooper (1961-1971)